7 Top Email Marketing Courses Online (Paid & Free) You Need to Take
Email marketing is a valuable skill to master for modern-day marketing, whether you're an entrepreneur, business owner, or marketer.
Even understanding the most basic email marketing terms, strategies, and best practices can help to improve your return on investment (ROI) from emails.
Email marketing, is it worth learning?
The research and results say, yes!
Despite new social media apps and marketing trends, Smart Insight found that email marketing is still a top contender when it comes to effective digital marketing.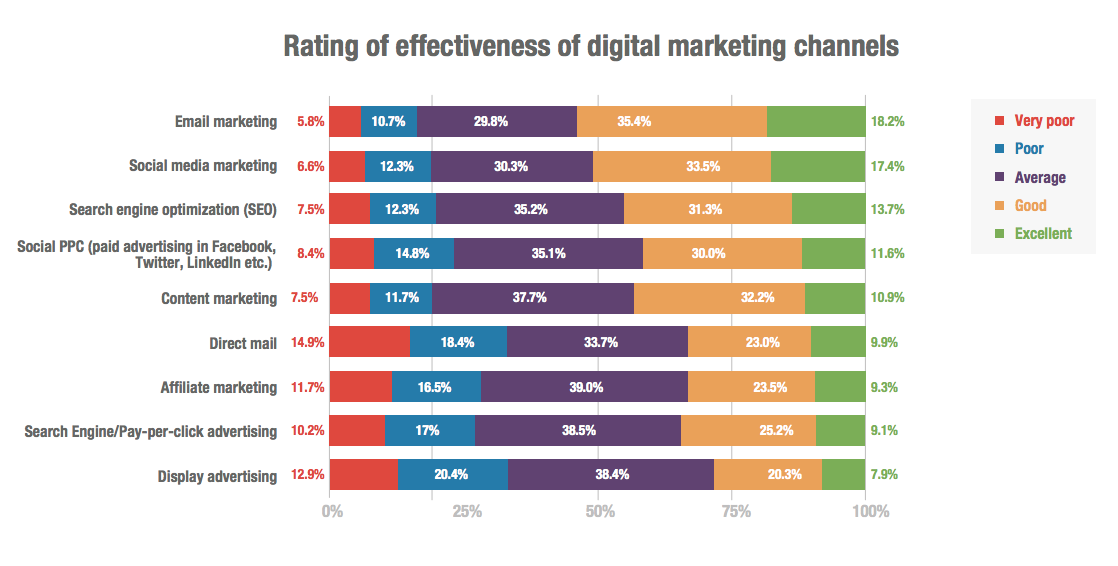 Email marketing has an average return rate of $38 for every $1 spent. Now that all sounds good, but the truth is unless you know how to send and create a solid email marketing strategy for your brand, you won't experience these successful results.
It's time to learn
As an avid learner myself, I know how frustrating it can be to search the depths of the internet to find an online course, only to leave the course more confused than when you started.
So here are the top seven email marketing courses online (paid & free) you need to take.
1.Wishpond Email Marketing Master Class for Beginners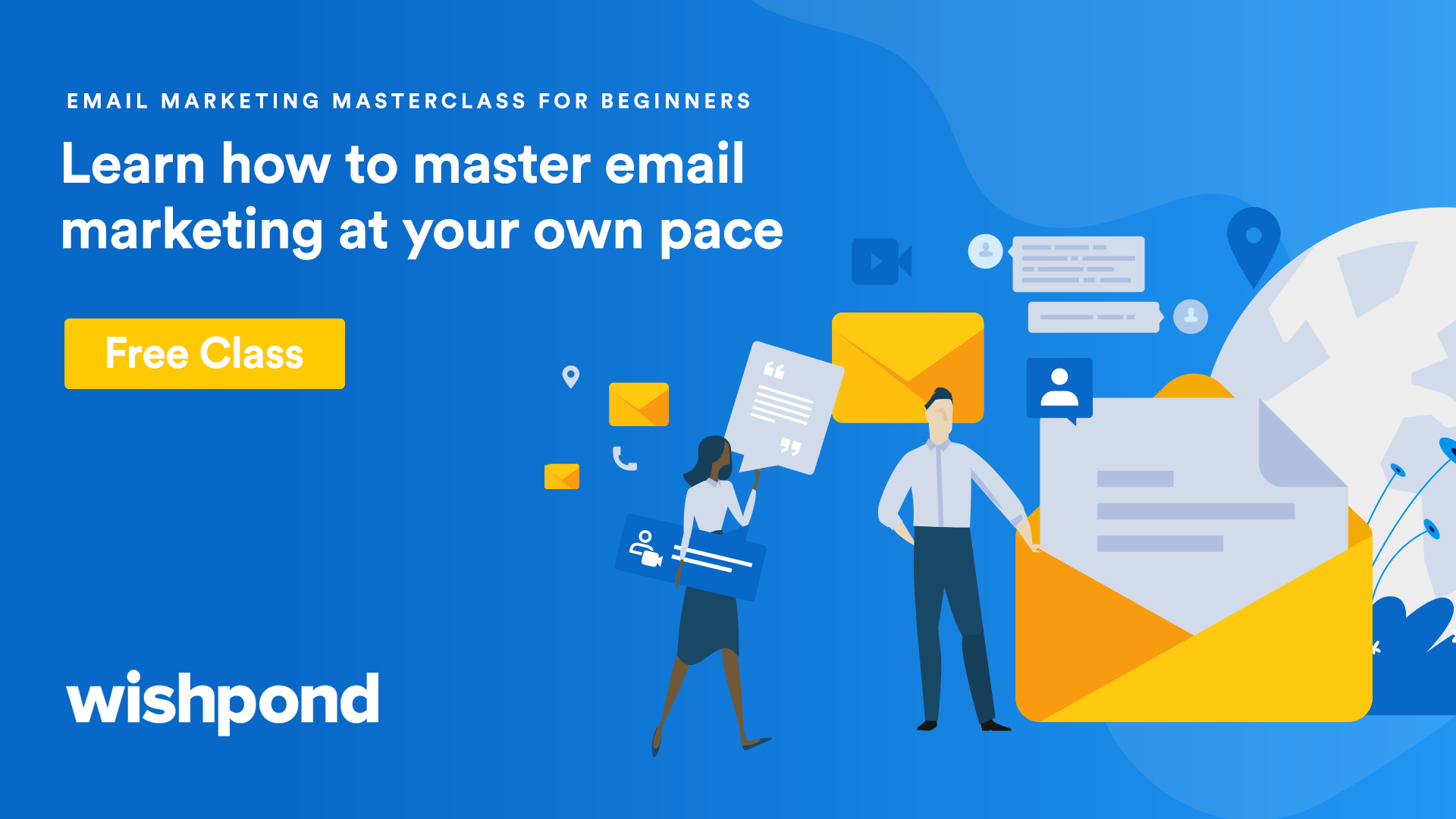 If you're completely new to email marketing, or you're looking for something to bring you up to speed, this course is an excellent place to start.
This email marketing course covers; how to meet your email marketing goals, types of emails to use, how to create an email marketing strategy customized to grow your business and your career.
In under an hour or at your own pace, learn the basic in's and outs of email marketing: from personalization and segmentation to ways to measure your email marketing strategies success.
Not to mention free workbooks and an exclusive Wishpond students mastermind group.
At the end of this course, you'll be able to apply what you've learned with ease. If you choose to further your education, you'll be starting with a solid email knowledge base.
Duration: 40 minutes
Price: Free
Sign Up: Click here
2. The Complete MailChimp Email Marketing Course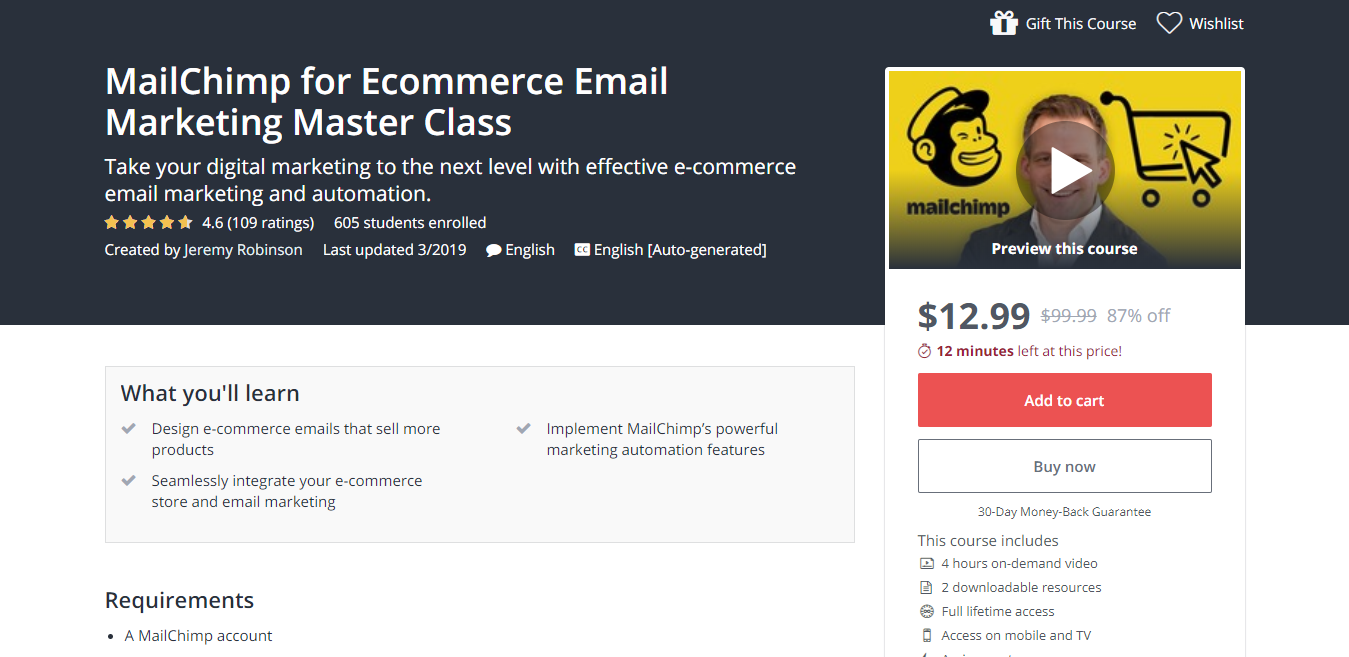 This Udemy course was created by Jeremy Robinson, a seasoned marketer with ten-plus years of experience, teaching students how to master MailChimp for an eCommerce business.
If you're familiar with Udemy, you know that it offers hundreds of courses on a wide range of topics. However, not all of them are great; you sometimes have to search to find gems like this course.
It's primarily focused on using Mail Chimp, so you'll need an account to follow along.
MailChimp is one of the most popular email marketing platforms and you'll learn how to create a MailChimp account as well as:
Learn how to create A/B split test campaigns with MailChimp
Create highly optimized and high-quality email marketing campaigns in MailChimp
Understand and navigate the MailChimp platform
Set up and build hyper-segmented MailChimp email lists
Create opt-in and signup forms on MailChimp
Before you start your course feel free to integrate MailChimp with Wishpond for more dynamic marketing options. Automatically sync (import/export) leads between your MailChimp and your Wishpond account.
Duration: 4-Hours
Price: Usually $99.99 (But when on sales $12.99 USD or less)
Sign Up:Click here
3. Email Marketing Essentials: Designing Effective Emails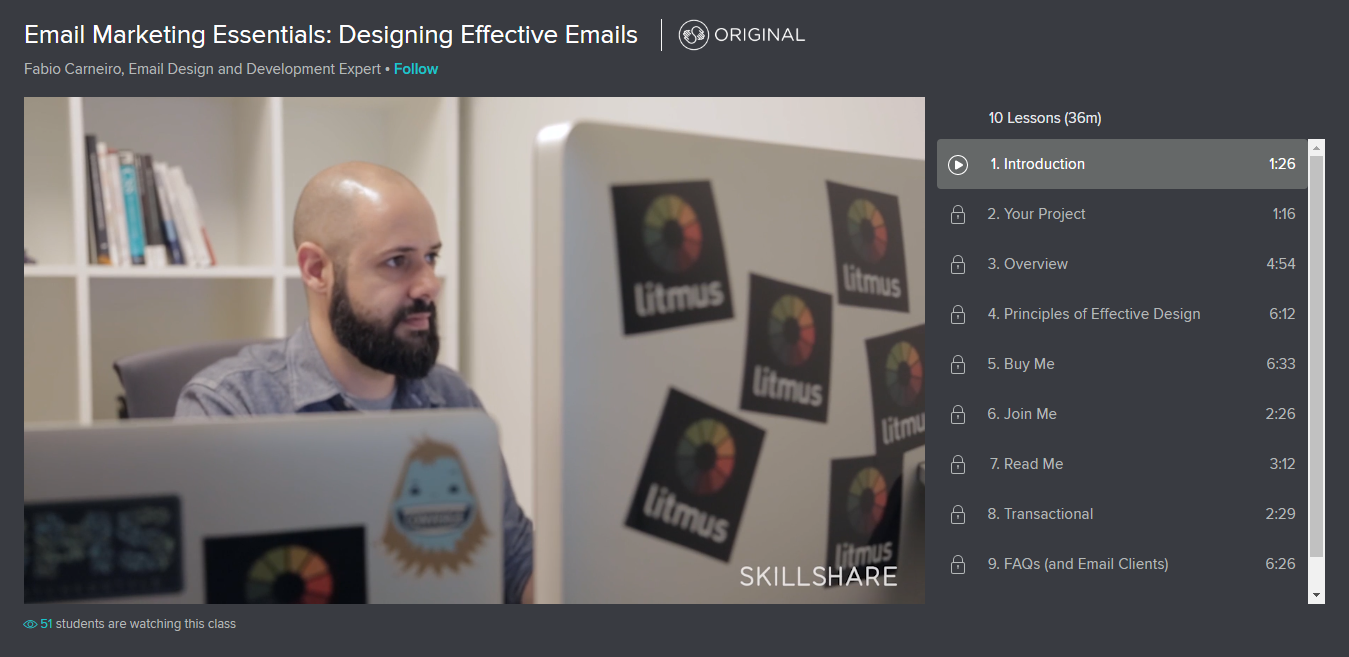 If you're more interested in mastering your email designs than email marketing campaigns, I found Fabio Carneiro's Skillshare class on designing effective emails to be the perfect fit.
The course is focused on crafting, coding, and developing various email designs, not to be confused with doing graphics and design.
Skillshare is another online learning community that offers thousands of classes in design, business, tech, coaching, and more. It's recommended by marketing experts and influencers alike as one of the best platforms to host and take classes.
In this course, Fabio gives a step by step overview of email design, covering:
The difference between web design and email design
Key considerations for designing and developing emails
Best design practices
Feel free to take a look at the work that some students have done during and after they've taken the course.
Duration: 36 minutes
Price: Get the first month FREE when you sign up
Sign Up:Click here
4.OMI: Email Campaign Fundamentals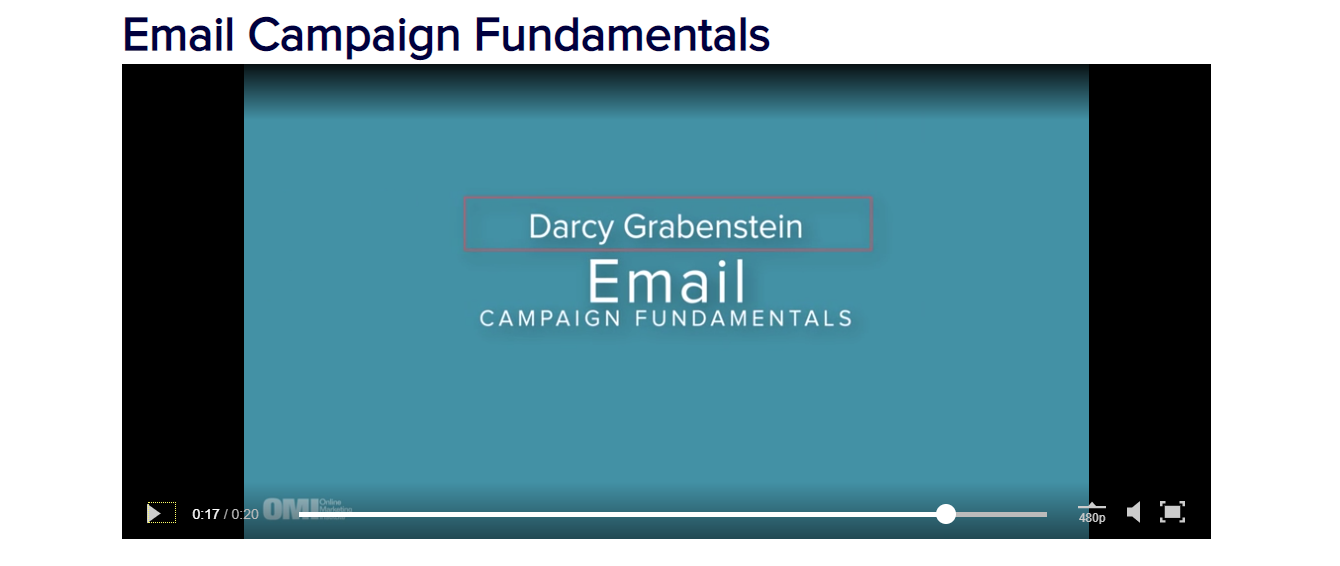 The Online Marketing Institute online class on email campaign fundamentals can help to teach you the fundamentals of creating your email marketing campaign.
The course aims to teach basic traditional and modern marketing practices you can use in your content mix. From the buying process, customer journey and customer lifecycle, and how each impacts your campaign messaging and timing.
The course is taught by marketing veteran Darcy Grabenstein, who covers:
The four P's of marketing
How email marketing is direct marketing
Types of tactics used for retention
How to measure acquisition and retention objectives
You can also take a look at their Dissecting Email Copy course if you're also struggling with creating good copy for your emails.
Duration: 30 minutes
Price: Free 10 day trial then pick a payment plan.
Sign Up:Click here
5. Email & Affiliate Marketing Mastermind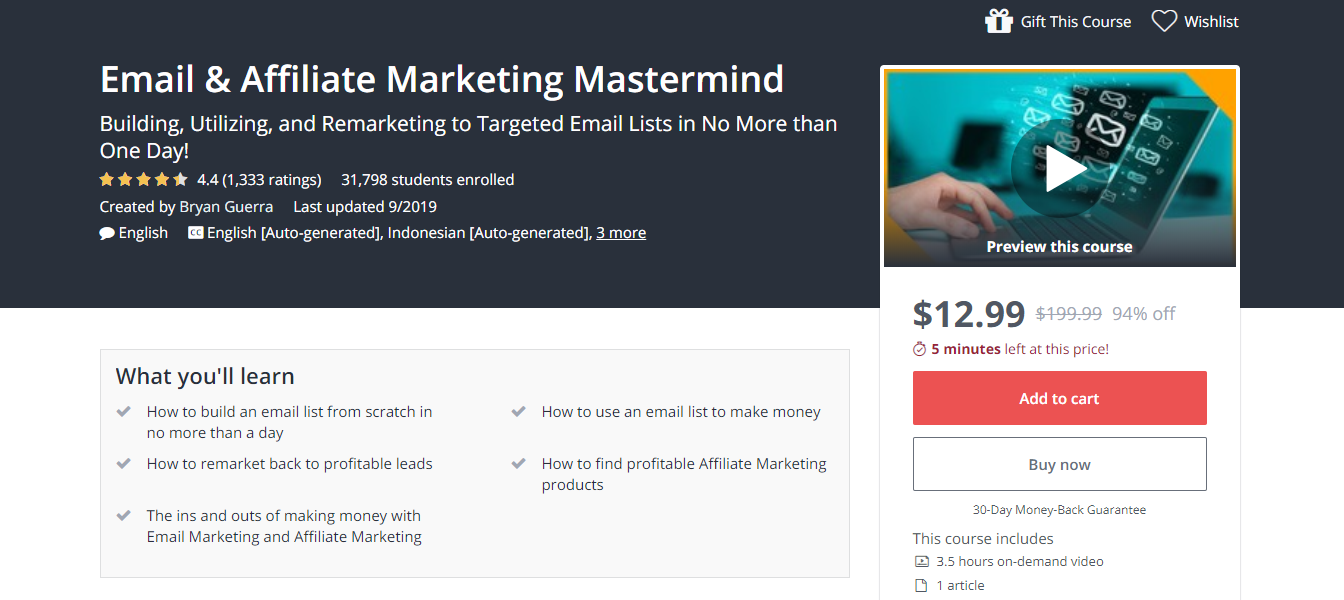 It's very rare to find a good email marketing course that's specialized in affiliate marketing on Udemy. This course was highlighted as a go-to for email marketers by One-Click Lindsey herself.
That's where Bryan Guerra's email and affiliate marketing mastermind course comes in. You'll be able to create an email marketing campaign to help grow your affiliate marketing research.
In this course, you'll learn a basic understanding of building an email list and email campaigns and the ins and outs of making money with Email Marketing and Affiliate Marketing.
Duration: 3.5 hours
Price:Usually $199.99 (But when on sale $12.99 USD or less)
Sign Up:Click here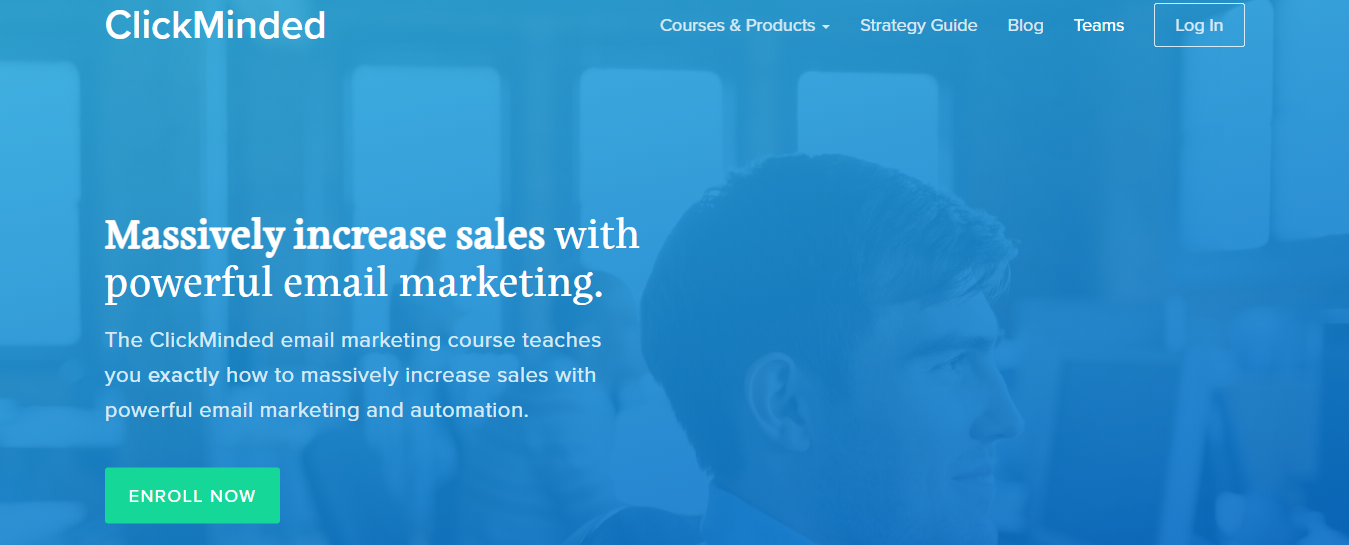 The Click Minded email marketing course is centered on common practices for successful email marketing and automation.
Click Minded courses are known to be taken by marketing experts who manage and maintain email marketing strategies for major brands like WeWork and Grammarly.
Email Strategist for Airbnb Lucas Chevillard teaches this course.
He goes through step-by-step guides on implementing email & automation strategies similar to Airbnb. This course includes both the high-level strategy and the specific tactical walkthroughs perfect for intermediate and expert learners.
Starting with just five questions, you need to answer before you even begin setting up a new email campaign.
Want to find out what they are?
Click on the link below to sign up and find out.
Duration: Self-paced
Free Trial: 7 days
Price: $497
Sign Up: Click here
7. Conversion Xl Lifecycle Email Marketing for Ecommerce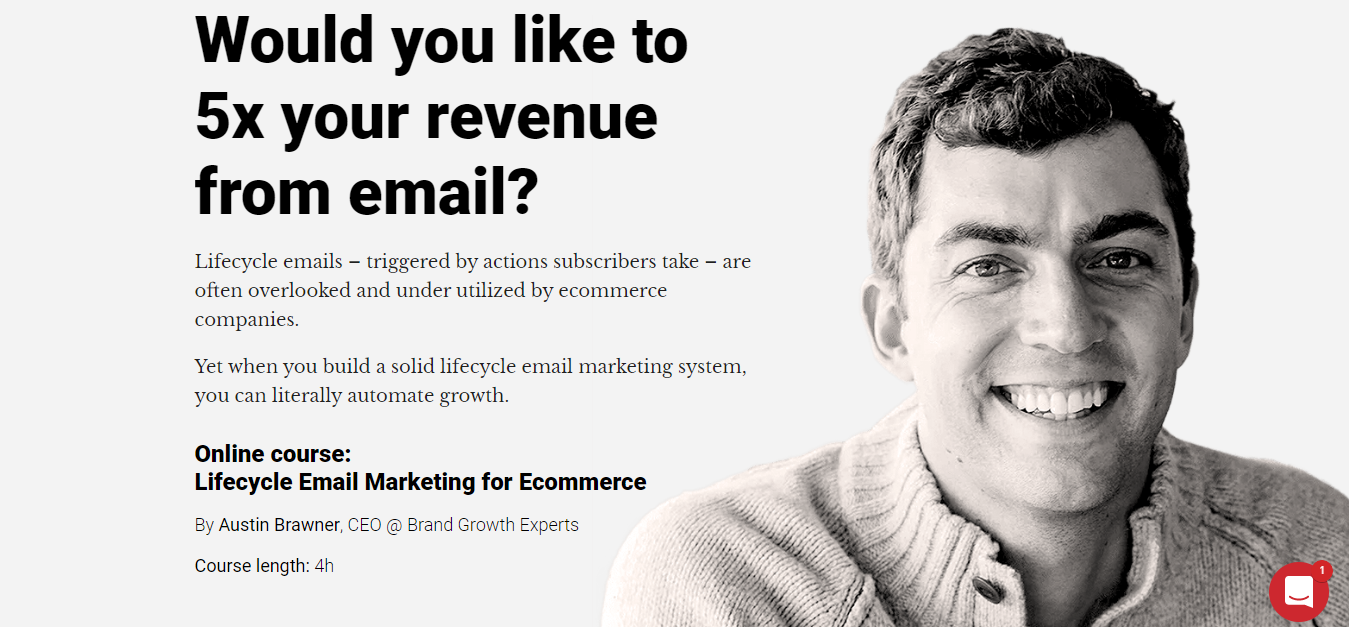 Last but not least is Conversion XL's Lifecycle email marketing for eCommerce.The course is perfect for someone at an intermediate level when it comes to email marketing, then this course is worth the investment.
Conversion XL is a paid online learning platform, however, it's worth the cost. Learn from active professionals in their field teaching you practical techniques, both marketers and intermediate email marketers, can use on their own and see results.
The course is taught by the podcaster and CEO of Brand Growth Experts, Austin Brawner. He delivers clear and real-life examples to show you:
In-depth marketing, analytics, and optimization content on our blog.
Data-driven marketing training programs for people who want to be in the top 1%.

How you can grow your mid-market to enterprise-level company's online revenues via managed conversion optimization programs

Duration: 4 hours

Price: $499 USD
Sign Up: Click here
Summary
Every year there are more marketing hacks and tips on how you can improve your emails, but if you look deeper, the fundamentals of email marketing stay the same.
Here is a list of the top seven email marketing courses:
Wishpond Email Marketing Master Class for Beginners
The Complete MailChimp Email Marketing Course
Email Marketing Essentials: Designing Effective Emails
OMI: Email Campaign Fundamentals
Email & Affiliate Marketing Mastermind
Click Minded Email Marketing Course
Conversion XL Lifecycle Email Marketing for Ecommerce
Each of these courses was selected because they prove a solid foundation for anyone to build on as they begin to use these email marketing practices to grow their brands.
What about you, what email marketing course do you think you'll be taking today?
Comment below and let me know.