Bakery Marketing: 11 Ways to Get New Customers into Your Bakery
As someone who walks by a bakery every morning, I know just how tempting the industry's offerings are.
And I'm not alone: in the US, bakery products account for almost $311 billion in total economic output.
That's a lot of bread and cupcakes.
But how much dough is your bakery currently raking in? If you knead to get more customers into your bakery, it's time to roll out these 11 essential bakery marketing methods:
1. Run a sweet giveaway
If you want to generate buzz about your bakery online, running a giveaway is one of the best options.
Why? Because many times, simply by entering the giveaway, your social followers are promoting your bakery online to all of their followers and friends.
To enter the giveaway, you can ask your followers to:
Post a picture of themselves at your bakery
Comment on one of your pictures with a clever caption
Tag someone they want to share their next pastry with
Answer a trivia question
Share their favorite treat from your bakery
The more people enter the giveaway, the further the news about your bakery will spread.
As a reward, you can offer a free treat for the winner from your selection of baked goods, or another kind of prize. Check out how Primrose Bakery used a giveaway to promote their bakery, offering their signature cookbook as the prize: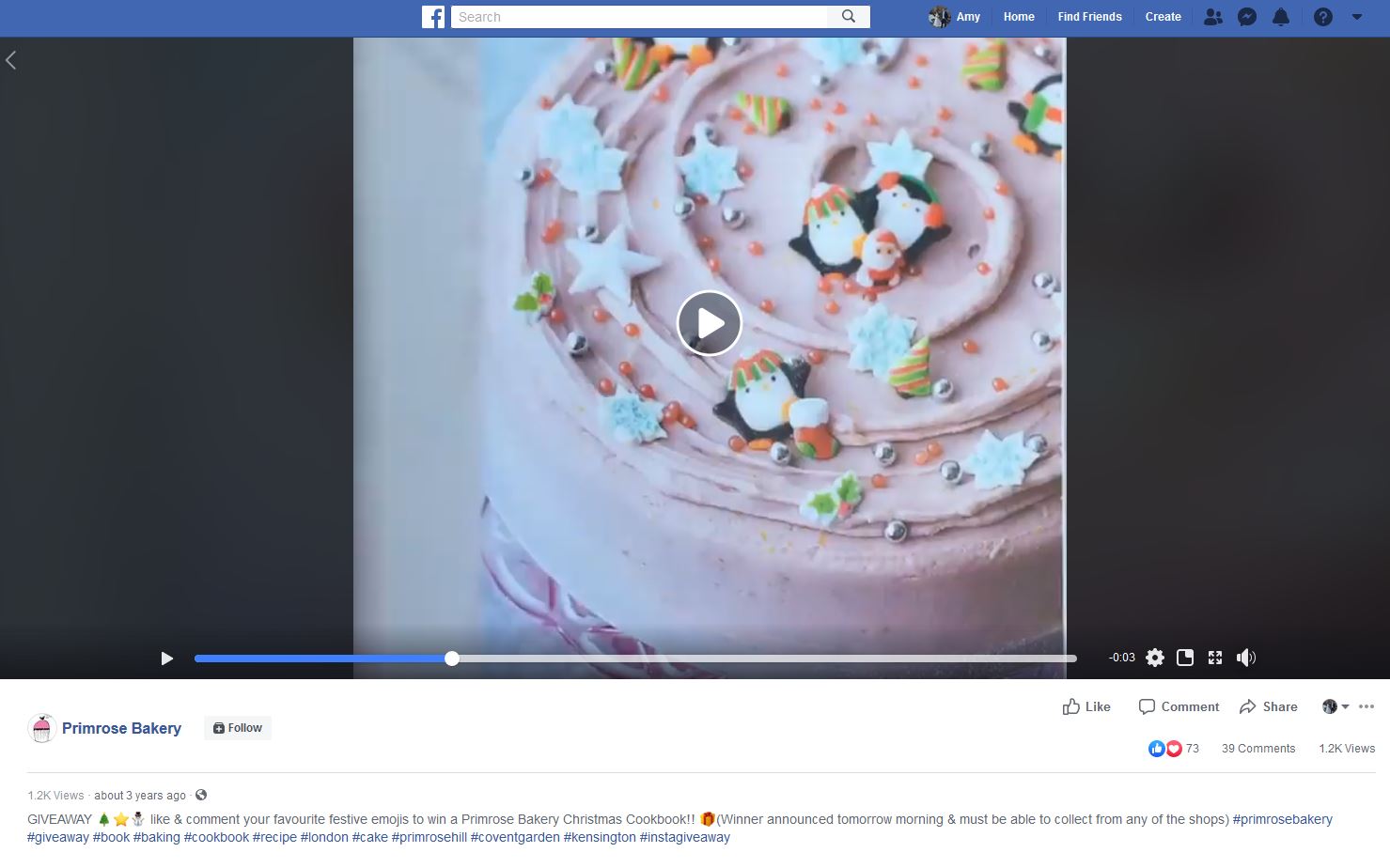 Using these social media giveaway ideas, you can feature your best products and get people talking about your bakery.
2. Satisfy people's hunger for on-trend goodies
Food trends come and go, but some are quite a bit stronger than others. For example, the gluten-free fad has continued to grow. In fact, the total gluten-free food market is projected to grow from $3.7 billion to over $6.4 billion by 2025.
So, one way you can stay on-trend is by offering gluten-free products.
To keep up-to-date with what's currently on trend, use a social listening tool like Buzzsumo and check out what food-related conversations are getting the most reach. Then, you can adapt some of your products to fit that trend.
Another way to find out what's popular is by asking people directly. For example, you could run a survey through a tool like SurveyMonkey to your email subscribers, and find out what kind of pastries or foods they'd be interested in seeing. Find out what's important to them, whether it's gluten-free, vegan, organic, sustainable, or anything else!
To see how well this bakery marketing method works, check out the popularity of this vegan bakery in Texas: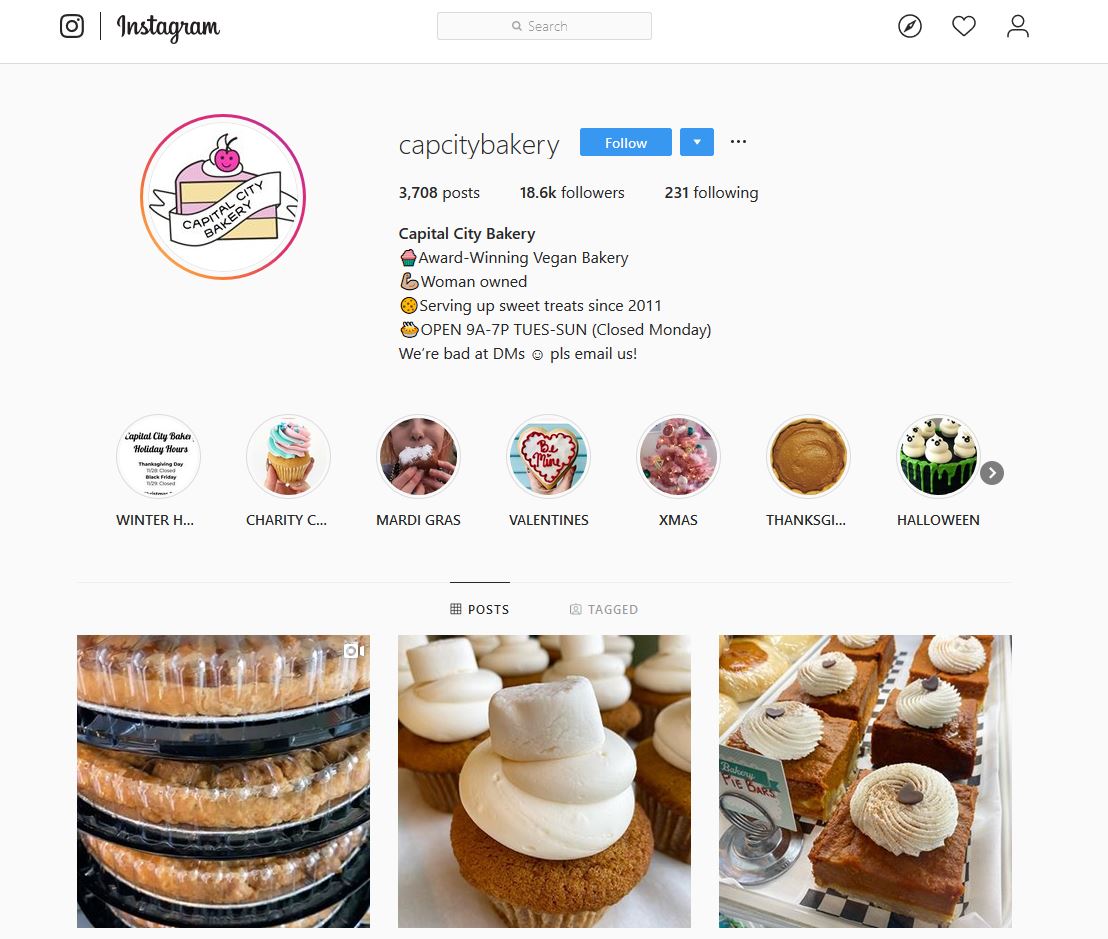 By staying on-trend with their vegan offerings, this local bakery has amassed a social following of over 18,000 people!
3. Use delicious videos to draw them in
No one can deny that a quality video of delicious pastries can make your mouth water.
If you want to give people a hankering for your bakery's best treats, draw them in with videos of what you offer.
For example, check out this video from Magnolia Bakery:
Seriously, who can resist that?
If you want to get creative, here are some video ideas for your bakery marketing scheme:
How it's made: Videos that show the process of making your pastries

Before and after: Show your products before they go into the oven, and after they're done

Tour of the store: Give new visitors a view of what your bakery looks like, from the inside and on the outside

Baking tips and tricks: Give your audience some insider advice on how to bake better
This kind of content establishes your authority as a baking expert, and builds anticipation in your audience for that delicious food.
4. Get your followers involved in new creations
People love to feel included in what their favorite brands are doing. So, why not run a poll on social media and see what people think?
For example, let's say you have two different design ideas for a seasonally-themed cupcake. Post a picture of both of them, and ask your audience which one they like better.
This feeling of inclusivity is very powerful. Once you start selling the product that your audience had a part in producing, they'll feel much more motivated to go out and buy one for themselves!
5. Make reviews more visible
According to one survey, 86% of consumers will read reviews for local businesses, and 68% said that reading positive reviews about a business will directly influence whether or not they use that business.
That's why one of the best bakery marketing methods involves making those good reviews more visible to those searching for them.
There are a few different ways to do this:
Create a Google My Business Page
A Google My Business page not only puts your bakery on the map: you'll also be able to collect and respond to reviews from your happy customers.
By taking responsibility for this page, you'll make it easier for customers to find your reviews. Also, when they search for bakeries near them, they'll be able to see the best bakeries, along with their star ratings.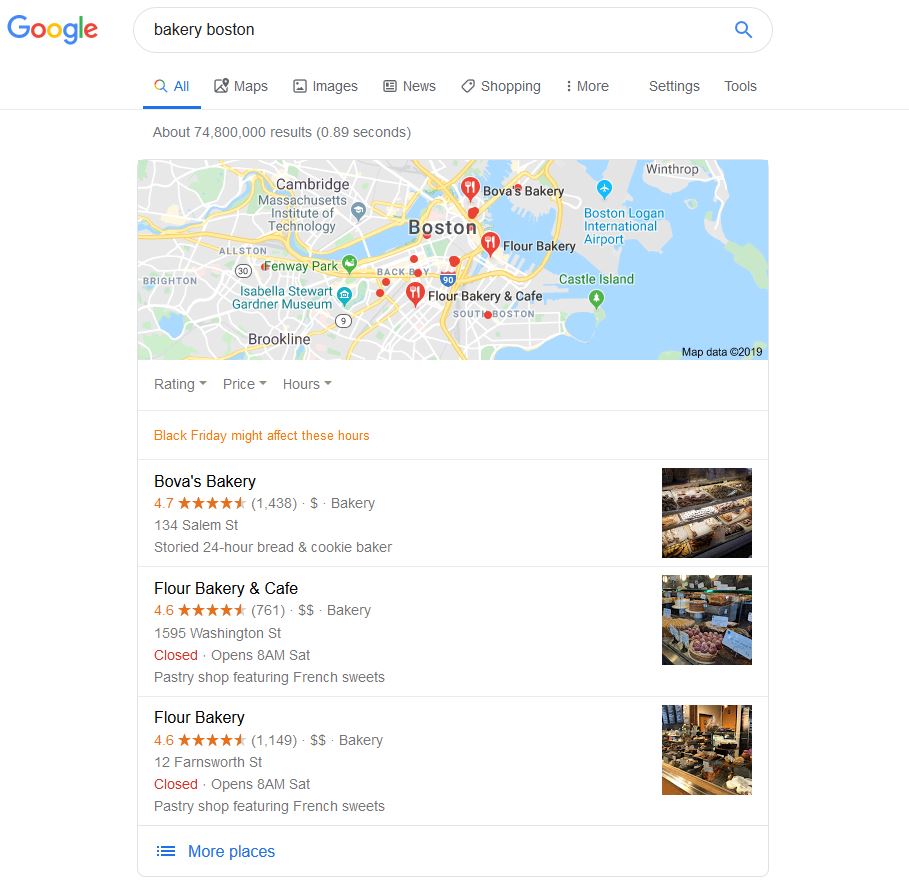 Claim and update your Yelp profile
Yelp is a powerful place, especially for food-related businesses.
More importantly, your business may already have a page on Yelp. If left unclaimed, that page could promote inaccurate information about your business.
Once you claim your Yelp business page, you can respond to reviews, add photos and your website, and keep track of how many views and leads are coming in from your Yelp page.
Feature your best reviews on social media
To leverage the power of your best reviews, let's take this one step further.
Sure, people can find your reviews online: but why not feature them on your social media accounts?
For example, you can take one line from a great review, and place it as text on your Facebook ads. It could look something like this: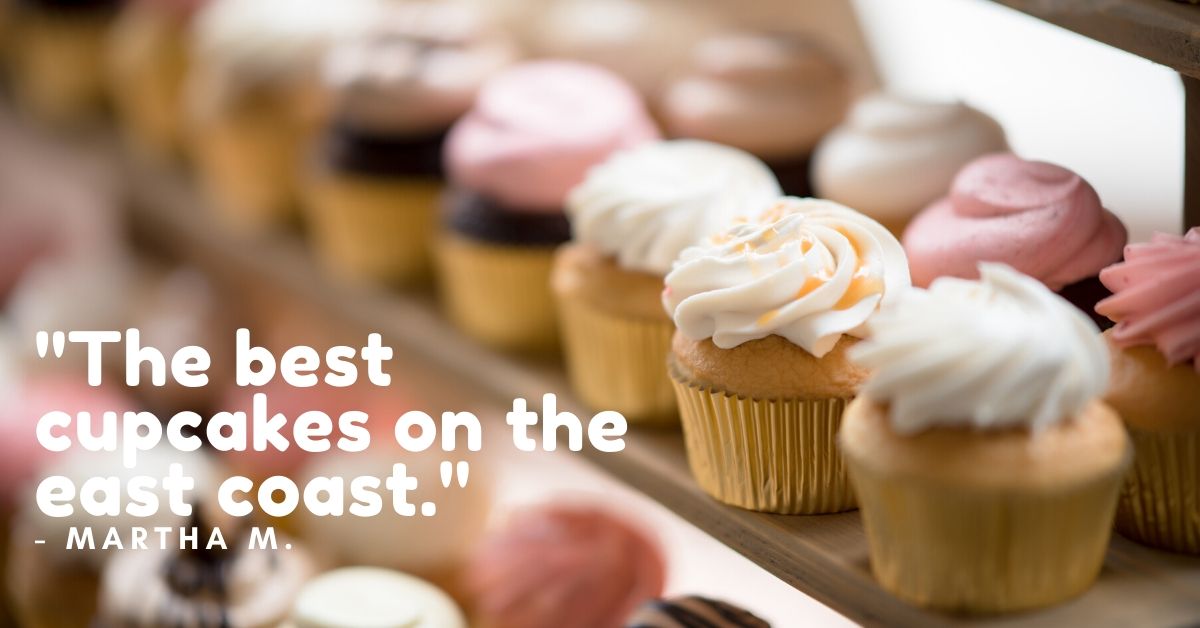 By featuring these excellent reviews, you're able to show potential customers just how much people already love your bakery.
There's no doubt that reviews have the power to influence people's decisions. Highlight great reviews, and you'll help people see why they should be coming to your bakery.
6. Build custom landing pages for each paid campaign
Whether you're using social media ads or paid search, each ad has its own individual goals and objectives. But, how do you know if you're really accomplishing your goals?
For a bakery, creating individual landing pages may seem like more trouble than it's worth. However, creating specific landing pages for each of your paid campaigns doesn't have to be difficult, and it has some serious benefits.
For example, if you've created a social ad that features your bakery's new line of cupcakes, you could create a landing page like this:
With Wishpond's drag-and-drop page editor and responsive templates, you can create a landing page like this in just a few minutes.
Once you create your landing pages, you'll be able to A/B test to see what works better. Plus, you'll be getting real-time analytics to see how your page is performing in the moment.
With individual landing pages, you'll see exactly how much traffic each ad brings in, which ones are bringing in the right type of customers, and which ones need to be adjusted.

7. Become a fountain of local knowledge
Many local businesses abandon their website's blog after just a few posts. The biggest issue always seems to be: what should I talk about?
Your local business must become a face that the community recognizes and appreciates. So, your bakery's blog can feature guides and articles about the local area.
For example, you could write about 10 foodie favorites from your city, the best nearby hiking trails, or local events that people should keep up with.
You can also partner with other local businesses, featuring them on your blog and generating mutual and complementary leads. They, in turn, can return the favor.
A blog can do amazing things for a bakery. In fact, Pink Cake Box, a specialty cake shop in New Jersey, has created a blog with over 120,000 visitors per month, and owner Jesse says that the blog drives a large percentage of their orders.
8. Keep up-to-date with popular hashtags
When you're working on your social posts, it's essential to understand the best hashtags for your business.
By using popular hashtags, you can get your social posts (and thus, your brand) in front of your target audience.
But there's a catch: your use of hashtags needs to be strategic in order to work well.
Basically, there are three different types of hashtags that you'll want to focus on:
Branded hashtags: These are the hashtags that include your company's name or motto, like KitKat's #HaveaBreak. These hashtags identify posts as being either by or about your brand.
Local hashtags: Your local area probably has its own hashtags. These types of hashtags help your local business be found by those in your area. To find these, check out what local-based hashtags other businesses in your area are using online.
Trending hashtags: The biggest trends are easy to find with tools like Hashtagify or All Hashtag. Always try to ride the wave of popular hashtags, jumping into the conversation while it's still going on.
By staying informed of your local area's popular hashtags, as well as the hashtags that are currently trending across the media, you'll be able to put your social posts in front of the right people.
Check out how Martha's Country Bakery did this by jumping onto a popular hashtag that was relevant to their local area, as well as including their own branded hashtag: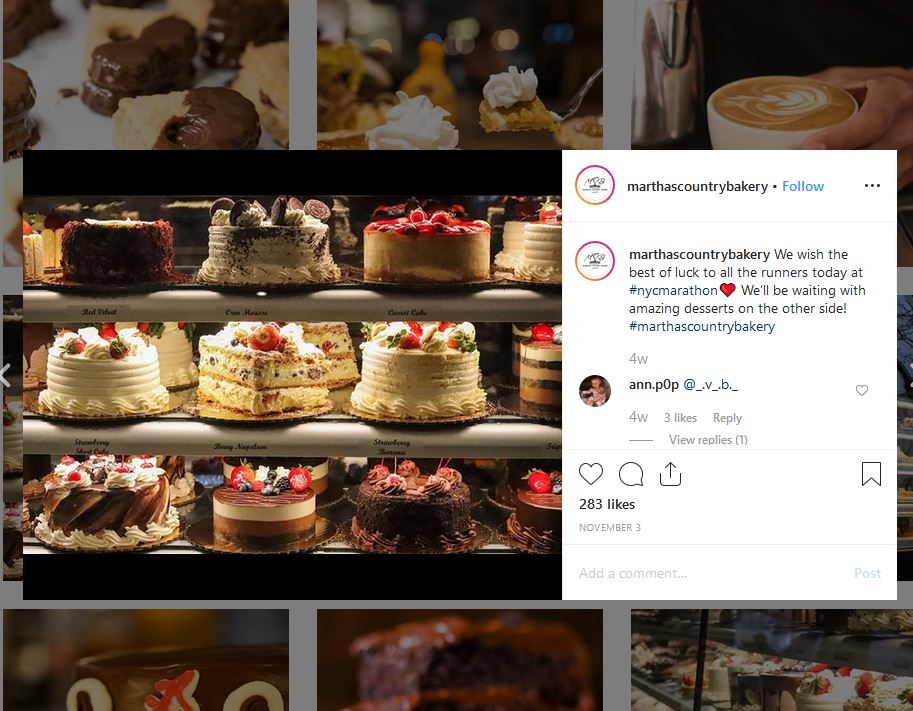 This post outperforms most of their other recent posts, and drew in quite a few comments. Could your bakery do something similar?
9. Host local events
Connecting with your community in-person is one of the best ways to build awareness for your bakery.
So, why not get out into the community and host or sponsor some local events?
For example, you could join forces with a local charity organization and sponsor an event to raise money.
Or, you could follow the lead of Bread Ahead Bakery and create your own baking school. That's right: this bakery hosts regular baking courses to help their audience learn how to bake.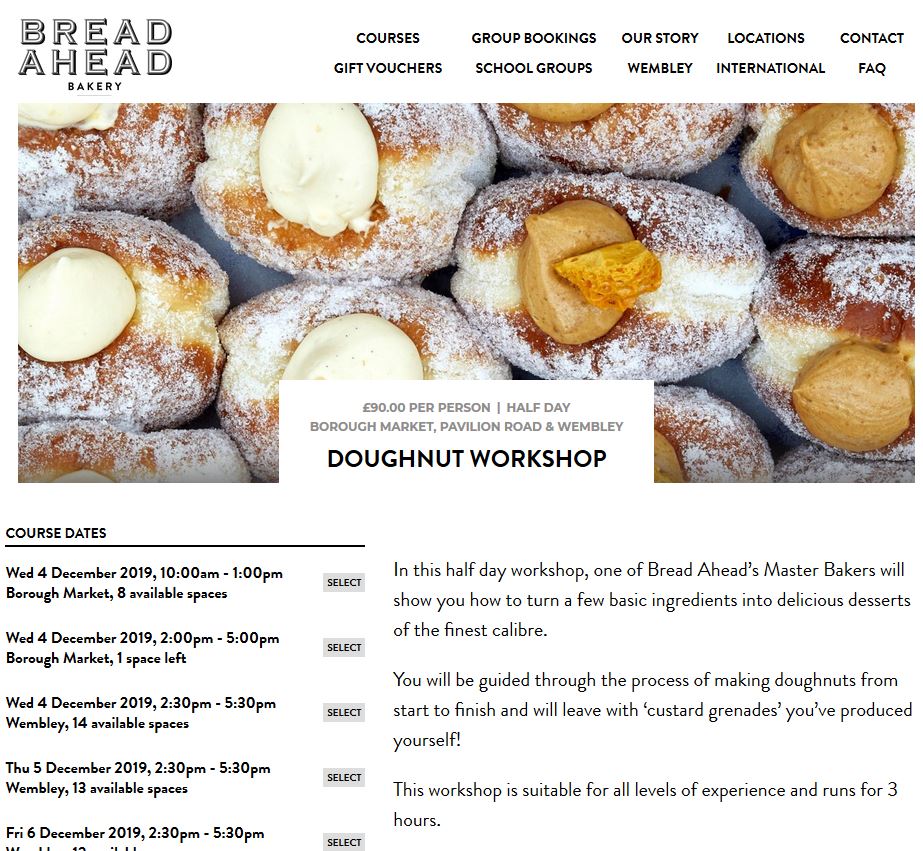 Why does this work? Because it shows people exactly how the process is done inside your bakery, and it proves that your bakers are experts in creating delicious goodies. It also gives you the ability to connect personally with your customers, develop relationships, and get people talking about you.
(Also, let's not forget that this is a serious revenue opportunity in of itself!)
During your event, make sure to get some great pictures. Then, after the event, you can post those pictures on social media to help get the word out. You could even tag the people who came to the event (with their permission). That way, all of their followers will also see your brand.
Check out how Bread Ahead Bakery does this with posts about their Baking School: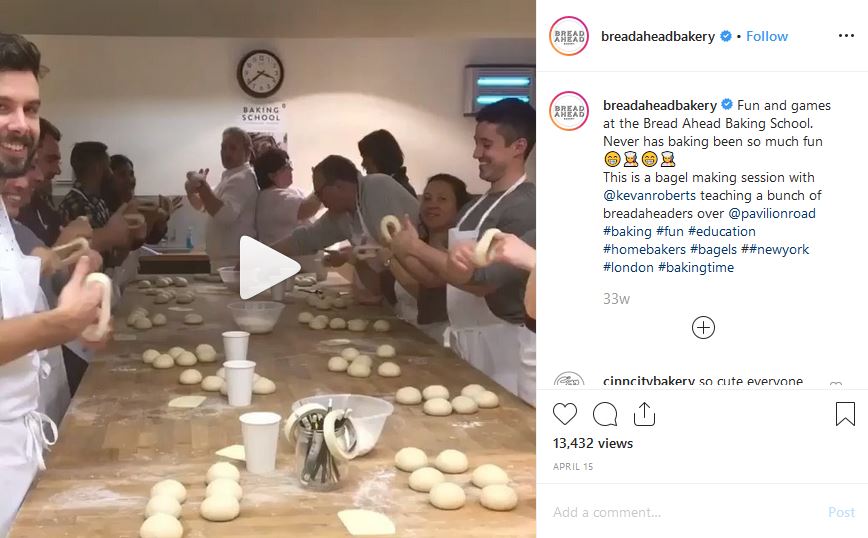 10. Offer a loyalty program
Did you know that 79% of people say that a loyalty program made them more likely to continue doing business with a brand?
More than that, 73% of people said that they were more likely to recommend a brand if it had a good loyalty program.
Obviously, loyalty programs can have a serious impact on your business and can help promote the kind of word-of-mouth marketing that will make your bakery a local legend.
Loyalty programs don't need to be difficult to develop. Start by deciding on what rewards you'll offer (free coffee, free doughnuts, etc.), and then decide how customers build-up to those rewards. For example, customers could earn one point for every $1 spent, or they could get a reward after a certain number of visits.
However you choose to run your loyalty program, it will help you engage better with your audience, as well as driving new sales to your bakery.
11. Use location tags in your social posts (and get your customers to as well!)
The last essential bakery marketing tip we have for you is not to underestimate the power of location tags.
On most social platforms, you can tag your location. Then, when people search for pictures of that location, your photos will appear.
So, always tag your location when posting on social media.
By doing this, you'll make your bakery more visible on a local scale. And, as a bonus, you can even encourage your customers to post their own pictures of your bakery with the location tag.
How?
Check out how DK's Donuts and Bakery did this by creating a perfectly Instagram-able spot just outside their bakery: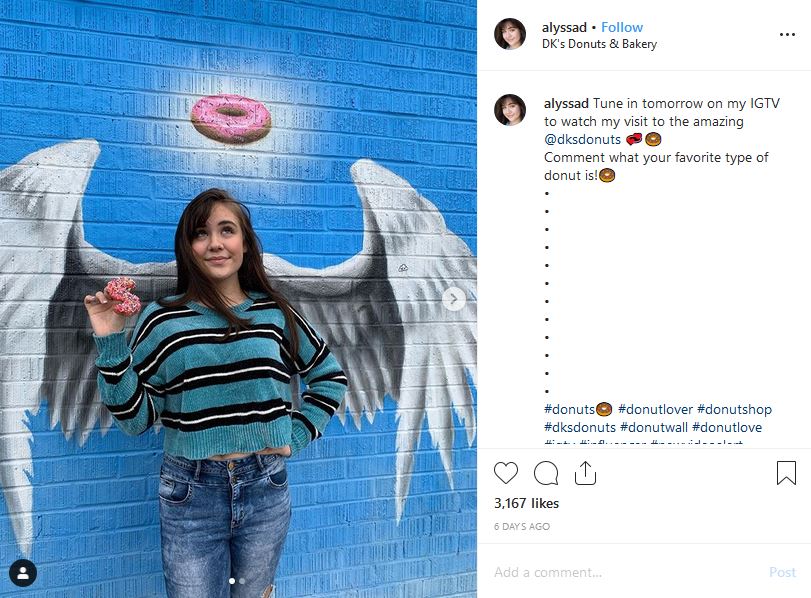 Now, their own customers are promoting their bakery by posting pictures with the location tag. Just think about what your bakery could do with a social media photo spot like this!
Turn the heat up on your competition with these bakery marketing methods
It's time to build your bakery into the local legend it deserves to be. Just remember to keep using these 11 bakery marketing methods:
Run a sweet giveaway
Deliver on-trend goodies
Use delicious videos
Get your followers involved in new creations
Make your reviews more visible
Create custom landing pages for your paid ads
Become a fountain of local knowledge
Keep up-to-date with trending hashtags
Host local events
Offer a loyalty program
Use location tags in your social posts
Using the right tools, like Wishpond, you'll be able to leave your competition in the dust and become the go-to bakery for your local area.
Ultimately, you'll have happier customers who keep coming back for more. That's the icing on the cake! (My last bad pun, I promise.)