5 Top Customer Appreciation Emails to Send to Improve Customer Loyalty
So, your business is doing well. Customers are happy and you are getting good feedback.
Yet, things aren't as successful as you had planned. And you have noticed one thing; you are struggling to keep a loyal base of customers.
Of course, you can use VoIP services to contact customers and make a connection that way.
However, a sure-fire way to get a more loyal customer base is through appreciation emails. But you need to put in more effort than a quick 'thank you' message after a sale.
Using various lead generation techniques will enable you to think outside the box. Especially when it comes to appreciation emails. They are a great way of making the customer feel loved, making them want to come back. Let them know they aren't a walking dollar sign, and email campaigns will help increase sales too.
Email campaigns work best when they are engaging. This is measured by the click through rate, which also helps craft lead opportunities.
Today's article outlines some actionable tips to catch customers' attention. Helping bring leads from hyper-segmentation to creating eye-catching content.
1. Send Them a Happy Birthday Wish
Everybody loves a little gift. Especially on their birthday. Why not take an opportunity to send a happy birthday email to a customer. Then give them 20% off in the store. Remembering someone's birthday is top-notch customer service. And is more than some of their friends and family do.
It's a good way, too, to put a human face on an enterprise ecommerce brand. It's a sweet personalized touch that lets them know you are thinking of them. And it means at some point in the next few days they will be treating themselves in your store.
A company that does this well is Estee Lauder. They use hyper-segmentation to tailor products and wish you a personalized happy birthday. They also give a lovely compliment, too. The fashion company offers an actual free gift along with further benefits. The birthday gift is offered throughout the month and is part of the brand's loyalty program.
If you don't feel like offering a free gift, and you think money isn't enough. You could always offer something a bit more fun. Like a free dessert, a hand massage, or spin around a go-kart track. Think outside the box and optimize what you sell.
Always include a person's name and always pop in a fun birthday 'card' or picture. Make someone smile on their special day. Even if they only briefly read your email on their phone and don't take up your offer, you'll still have made a positive impression.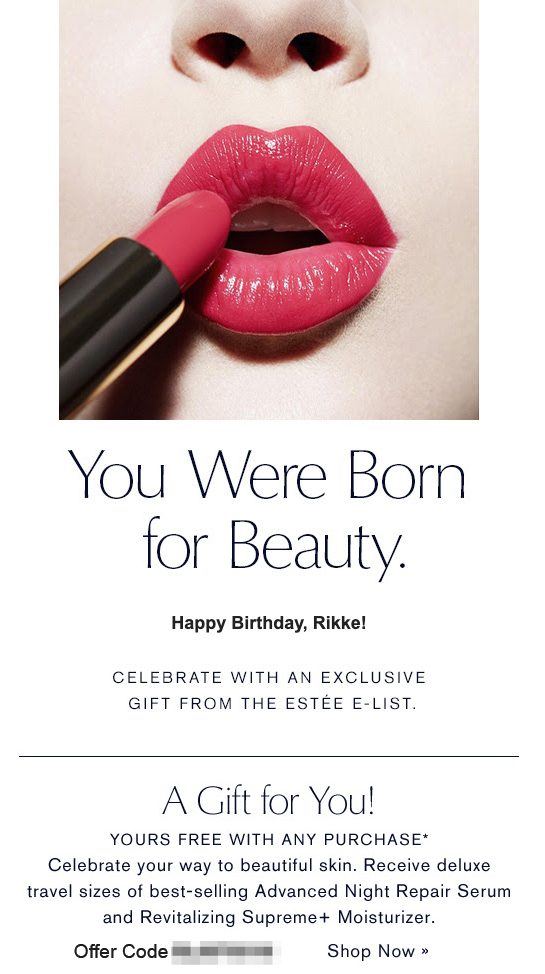 2. Add Video to Your Next Video
People have been trying to install videos into email campaigns for a couple of decades. Often without much success. But now that we have the best marketing tools to hand, it is so much easier to make an engaging appreciation email.
Wouldn't it be fun to know that your favorite firm is joining in the holiday spirit? Imagine if at Halloween you were sent an email with a video that gave you a scare at the end. Followed by a scarily big saving as a thank you for being such a great customer.
You don't have to make the grand gesture of a video to create something eye-catching. But the point is to think outside the box to build a brand voice and explore new lead generation techniques. It's a really great way to interact with customers.
Patagonia is a company that has nailed the video email. One idea they had was to embed a short clip of a film called 'Force'. This was about one man's trip to the Patagonia region. The video then has links to the shop or the choice to see more of the film.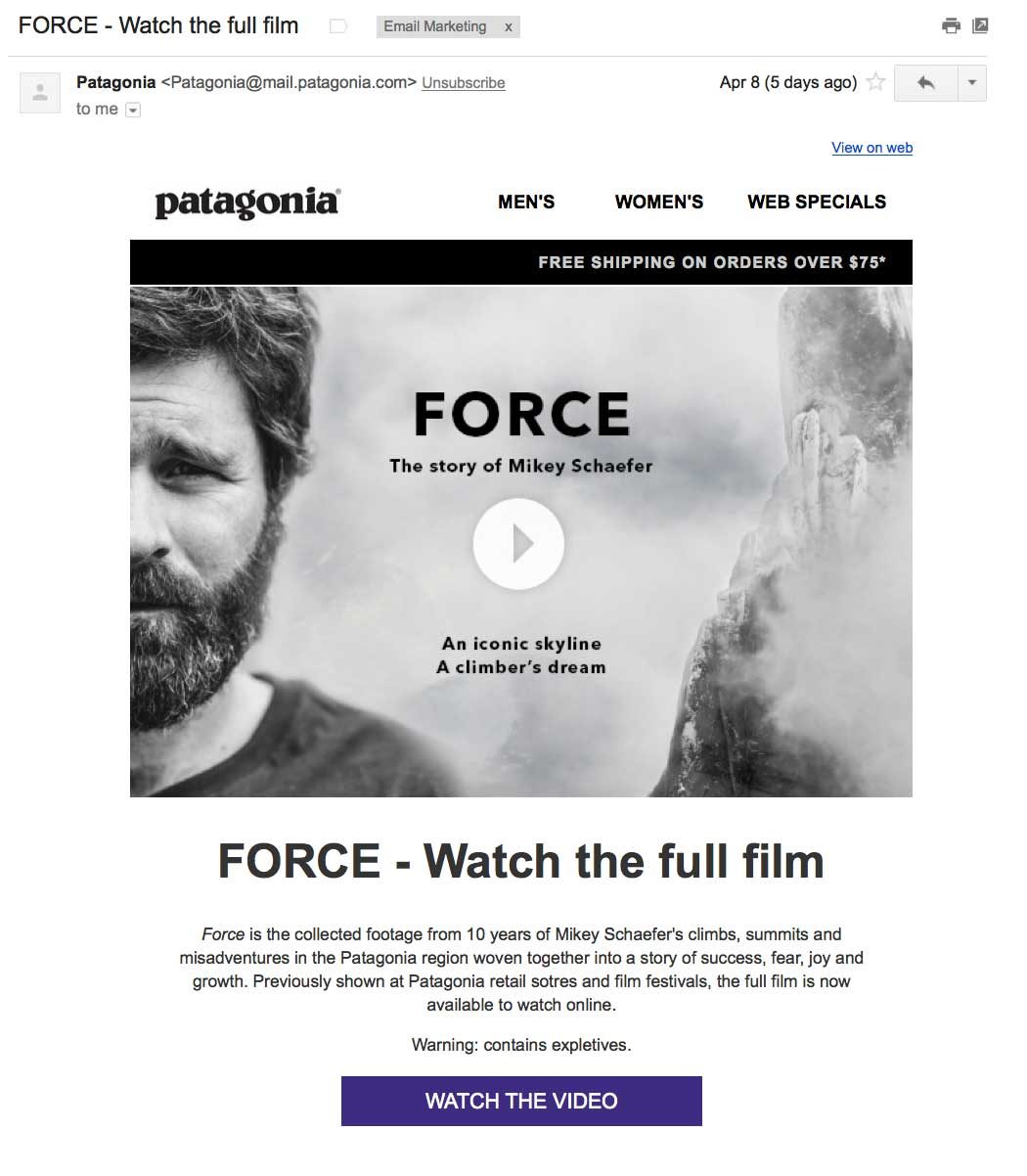 It is important to get these emails right. Make sure that a video of the CEO dressed as Mrs. Clause looks intentionally cheesy and fun. The point is to show appreciation to your customers. So, you don't want to come across as self-indulgent or cringy.
You also need to be culturally and socially sensitive. Not everyone celebrates Christmas or Halloween. So if you come on too strong, this could turn people away.
If you are going to send people a Happy Easter video, you should also send them a Happy Eid and Happy Hanukkah video, too. Even just 10 seconds of you and your team wishing people well and saying thanks. It will show what a well-rounded company you are.
Ready to start automating your email marketing campaigns?
Book a free call to learn how our team of marketing experts can help you to create high converting email marketing campaigns today.
3. Create Eye-Catching Content
This could be as simple as sending an email with a fun message or a brightly illustrated image. Whatever it is, use your creativity to make it pop.
Start by writing a catchy subject line. Then pop in a bright picture or GIF. Think about the color scheme you want to use and what kind of content you want to use. Are you telling a story? Making an offer or sending a newsletter? Give written information in a personal and upbeat tone of voice, making it personal and interesting.
Tools are available to help with this, depending on what kind of content you want to make.
This example from The Collaborative fund shows how they have used bold colors, simple writing, and catchy pictures to draw the viewer in.

The image below explains the reasons why emails are deleted or ignored. Making eye-catching and relevant emails will prevent this from happening. It will get customers interested in the content and keep them hooked with your brand.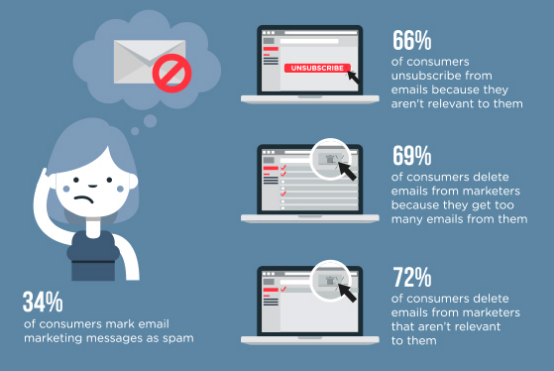 Allbirds is an environmentally friendly shoe company that does just that. They send moving GIFS of simple drawings mixed with real photos of people in their shoes.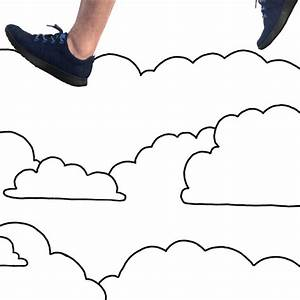 Another thing they do is to send playful appreciation emails. The emails are personalized and are sent after each purchase.
Creating stand out content is a good opportunity to link to other types of media and use different lead generation techniques. For example, along with an email, you may want to engage a client with a thank you SMS that also links to your site.
Another thing you may decide to do is to send a newsletter. But again, be inventive. Make it colorful and playful to draw people in. You could make advice pieces with titles like "How to get a business phone number", or "The best ways to spot a bargain".
You could even make a short quiz and turn your newsletter into a competition or put fun facts about your product.
There are so many ways to make an email stand out, you just need to get the cogs whirring. Then illustrate it and put it in an email.
4. Reward Customers for Feedback
Have you been wondering how to get reviews on Amazon? A good solution is to thank customers for their feedback through rewards.
It's always polite to send a thank you email after a sale, regardless. Especially on a site like Amazon, where there is so much competition. And competition means feedback is vital.
But let's face it, writing comments after buying can be, quite frankly, a bit boring. Thus, offering rewards to customers, such as 10% off their next shop, is a good idea.
This way, you increase the chance of feedback, making you stand out from the competition. Not to mention being a good way to increase click through rate from your message. You also get a chance to say thank you in the meantime.
Sending an email like that is also a good chance to put in a few more details. Like who you are, what your values are, and a Contact Center Solution number in case of any problems. To support the email you can also build customer behavior with a physical thank you sent right to your customers door by offering a corporate gift. We all need a little surprise and delight these days!
Of course, this doesn't just apply to Amazon. This rule goes for anyone who is looking for feedback in any way.
M&M's world is a good example of this. This big company offers 10% off the next sale in-store after feedback. They also discuss how the survey will be used, which creates a level of trust with the customer.

British supermarket, Aldi, even puts customers in a prize draw when they give feedback. With a prize of £100 ($125).
5. Wish Them a Happy Anniversary
Aww! Happy anniversary! How long is it now? Two years? Have 20% off in-store. In fact, because you are such a loyal customer, have a free box of our finest chocolates on us, too. Romantic, hey?
This may be a slight insult from a romantic partner, but from a store, it's a very loving gesture.
To show that they remember how long you have been with them is a very personal touch. And to reward you for it is even better. And who wouldn't love an email with a free box of chocolates in?
This is another great lead generation technique as it builds sales. The box of chocolates helps to increase click through rate from your email, bringing the recipient to your store, while 20% off encourages them to shop further.
Giving these gestures is also a way of tackling the challenges e-commerce customers face. They may not be getting a smile face-to-face, but they are getting a token that creates a personal touch.
Chairish is a decoration firm that handles this well. They offer $50 when you spend $150 to celebrate an anniversary.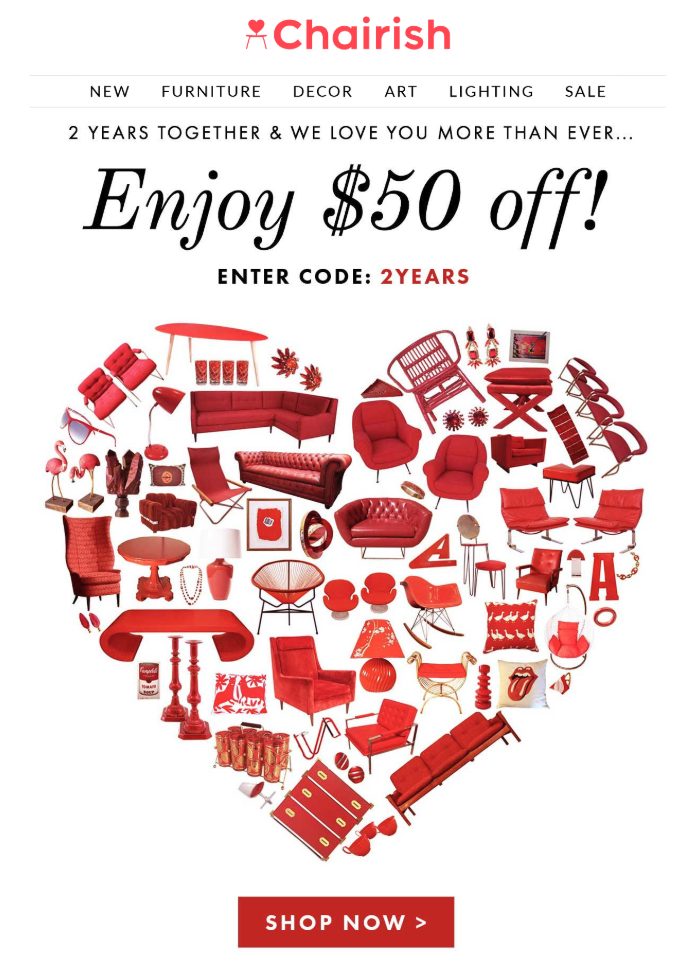 But uh oh, you forgot their anniversary. There is no need to worry. You can celebrate your own anniversary instead.
Send out an appreciation email that tells them how long you have been a company for. Have you been around for ten years! Amazing! Customers and staff can celebrate together with a free gift in store.
Showing Appreciation Is Good for Business
There are a plethora of ways you can say thank you to a customer be it through calls or through appreciation emails. The main thing is to stand out and be genuine. Images and videos are a great way of drawing people in. Whilst offers and gestures make help increase click-through rate.
Keep it personal and fun. Show that you really care and that you genuinely value customers. After all, they are real people and the more you appreciate them, the more they will appreciate you.
About the Author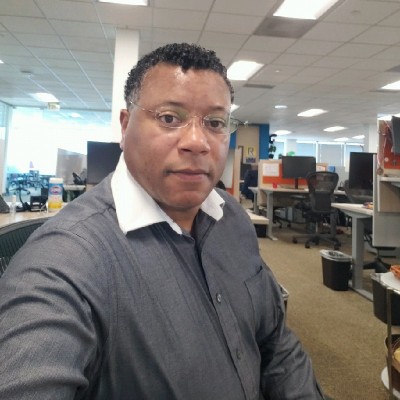 John Allen, Director, Global SEO at RingCentral, a global UCaaS, VoIP, and contact center software provider. He has over 14 years of experience and an extensive background in building and optimizing digital marketing programs.