Black Friday: 10 Tweetable Stats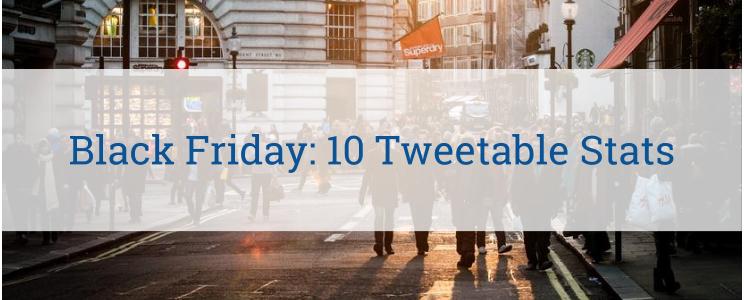 We know you're preparing for your turkey hangover today - and maybe getting ready to enjoy battling the crowds this Thanksgiving weekend (well, 57% of you in-store shoppers are!).
For those of you on your phone, tablet, or even desktop, just chomping at the bit to tweet a stat…. at Wishpond, we've put together a few clickable data morsels to satiate your need! (and, hey, this gives us time off too!)
Here's part one of our click-to-tweet stats this weekend: Black Friday.
Black Friday: 10 Tweetable Stats from Wishpond
Click on each statistic to tweet it!
1. 307 million people went shopping, in stores, on Black Friday 2012 (source: Nationwide)
2. 1 in 3 adult Americans: That's how many shoppers will physically be in stores this Friday (source: BuzzFeed)
3. Do you enjoy shopping on Black Friday? 57% of shoppers like battling the crowds! (source: Nationwide)
4. Midnight on Thanksgiving day - that's when 28% of foot traffic shoppers started buying last year (source: Retail Industry)
5. 41% of all Thanksgiving weekend spending was online, and Nielsen predicts it'll be 51% in 2013 (source: Marketing Land)
6. While brick-and-mortar sales were up by only 3% last year, online sales rocketed by 15% (source: Marketing Land)
7. On your phone? Mobile purchases went up by 16% between 2011 and 2012 (source: Marketing Land)
8. $423 was the average/person spend last Thanksgiving weekend - it was $398 in 2011 (source: Money.CNN)
9. Most popular items purchased last Black Friday? Clothing and Accessories (57%) (source: Nationwide)
10. Are you reaching your customers? Last year, online ad spend was up 29% from 2011 (source: Marketing Land)
Have a profitable weekend!
Also, check out: Cyber Monday: 10 Tweetable Stats
Written by The Wishpond Team