12 Holiday Marketing Tips: Contest Ideas
Need a few social media marketing tips for the holiday season?
Your customers are online, and they're connecting with family and friends through social sites like Facebook, Twitter, Instagram and Pinterest. As a retailer, you need to be where your shoppers are.
How do you do this?
Think of original prize ideas and run contests and coupons directly on your social sites and your website!
Here are 12 social contest ideas to give your holiday marketing the boost it deserves.
Why social contests?
---
Social contests have proven to be an effective method of driving holiday sales.
With contests and coupons you can:
get immediate sales
drive traffic to your ecommerce store
generate email leads
everyone's on social - reach your market where they are
deepen your brand loyalty
and lots more
Big brands are doing it… You can too.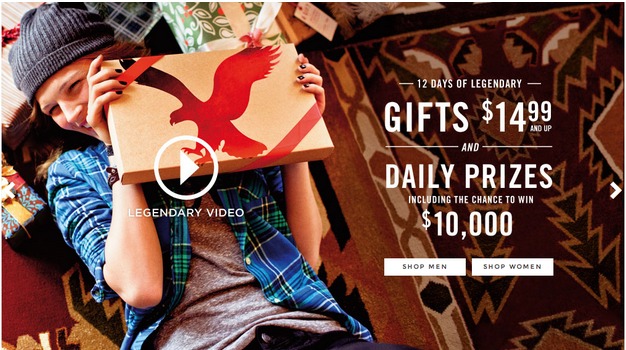 American Eagle is running a "12 Days of Legendary" contests, with daily prizes and a grand prize of $10,000.
Prizes
---
Just a note about incentives before we get to the contest ideas…
The prize is key to gaining tons of contest participants - and ultimately drive traffic to your online store or in-store. Write down some prize ideas, evaluate them and choose a prize that connects with your target market and is brand related to get the most out of your marketing campaigns.
Gift cards are one of the best incentives. Whether your cards are redeemable online or in-store, gift cards make a great prize for shoppers at this time of year. As most retailers know, when someone gets a gift card, that customer is likely to spend a little more at your store, too.
Popular products are amazingly successful at this time of year too. Make an email-gated contest, and giveaway your most sought-after item. I've recently seen a luxury handbag store get over 10,000 new Facebook Likes and emails - in one day. They gave away one coveted Louis Vuitton bag.
Okay, almost at the ideas…
12 Holiday Contest Ideas
---
At this time of year, everyone loves to get a great deal, and take part in the shopping excitement. Hosting holiday contest campaigns gets your brand top of mind for shoppers in-store and online.
Social contests can be run on your:
Facebook Page
Twitter
Pinterest
Instagram
eCommerce site
Website/ Blog
The Social contests at Wishpond are mobile optimized.
We also make it easy to email-gate your campaigns. We give you a social contact database for your lead generation, and we've just introduced email marketing automation - so you can set up really effective lead campaigns, to nurture your new connections, and get more sales - even after the holidays.
From a technical perspective, our contest, sweepstakes and coupon apps are super easy. You can have your campaigns set up and running live in about 10 minutes - really. So, it's not too late to boost your holiday contest marketing - right now!
Here's 12 ideas to boost your holiday marketing…
1. Sweepstakes
---
Sweepstakes are easy to enter. Make the prize enticing to your consumer, email-gate it, and you'll get lots of new email leads - and sales.
3 tips for Sweepstakes:
Sweepstakes are easy for contestants to enter - all they need to submit is an email and/or Like and Follow
Run one sweepstakes a day to encourage more engagement with your brand
Make your giveaway inclusive by offering many winners, with a small prize each (for example, 100 winners of a $25 gift card)
2. Photo Contest
---
Photo contests are a fun way to get user-generated content from your social consumers. Show your entrants' photos together on your social sites to encourage a sense of community around your brand.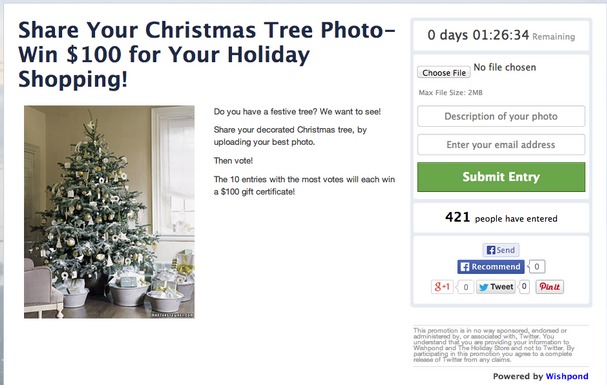 3 tips for photo contests:
Make your photos holiday themed and related to lifestyle, to get User Generated Content (UGC)
Festive themes could include: Christmas trees, home decor, home-made baked goods, holiday vacations, etc.
Include voting, so that the photo with most votes wins - this encourages much more engagement with friends and family
3. Instagram Photo Contest
---
Instagram photo contestsare a cool way to get your Instagram followers involved with your brand or product. Instagram is a mobile platform, with a youngish demographic - use photo contests on it to connect quickly with your consumers.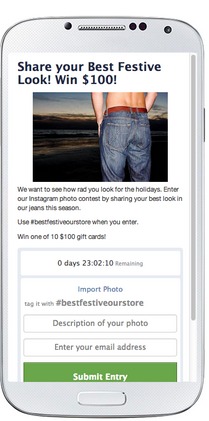 3 tips for Instagram photo contests:
People on Instagram love to share their photos
Make a holiday themed photo contest, that's related to lifestyle or products
Set up a contest-specific hashtag for all entrants to use, to spread the reach of your campaign, and build a common stream
4. Vote Contest
---
Vote contests are easy to enter, and they can be both fun and emotionally charged. Make your contest choices festively themed, and light yet meaningful.
You could set a up a new vote contest for every day of the holiday shopping season, and get your customers engaged with you and your customers. We all like to share our opinions, don't we?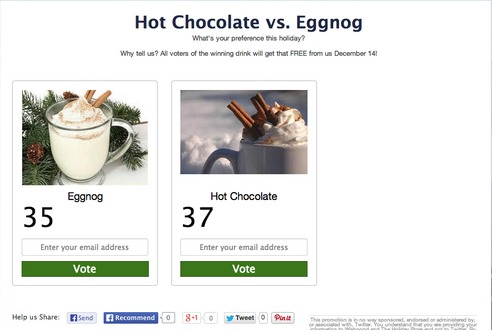 3 tips for vote contests:
Vote contests are easy to enter - all participants need is to voice their choice
Make your vote contests festively themed, and a little bit controversial - to encourage motivation to enter
Topic ideas: "fake tree vs. real tree"; "turkey vs. ham"; "gift card vs. wrapped gift" (to get; to give); "eggnog vs. hot chocolate"; "vacation to visit family; host family; travel somewhere warm", etc.
5. Essay Contest
---
An essay contest is a great way to get your customers sharing stories and tips about the festive season.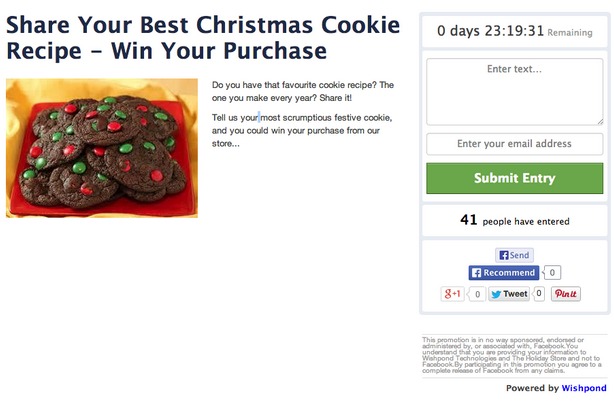 3 tips for essay contests:
Make a short word count limit for your entries - keep them easy to read and skim
Make your essay contest topics emotionally meaningful
Topics ideas: "What do the holidays mean to you"; "Share your best recipe of ____"; "Share a charitable moment this season", "Dear Santa letters"
6. Coupons
---
Everyone loves a great deal at this time of year. Make coupons on your website and social sites.
Email-gate them, so you can collect participants' contact information. Nurture your new leads by sending out automated emails - and keep your your customers coming back in the new year.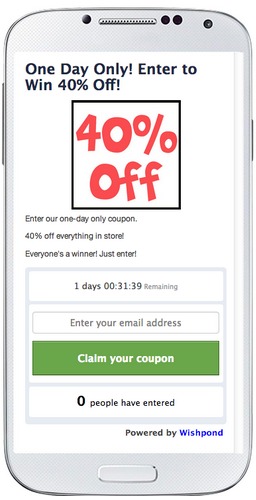 3 tips for coupons:
People love to get a deal at this time of year
Make coupons available for your Facebook Fan, Twitter followers and website visitors
Make your coupons mobile enabled
7. Group Coupons
---
Like a coupon, group couponsare a top engagement tool at this time of year. Set up a coupon, and get a minimum number of participants to unlock your deal.
You don't need to pay the Groupon commission fees. Use a good third party contest and coupon app to make them - for one monthly fee.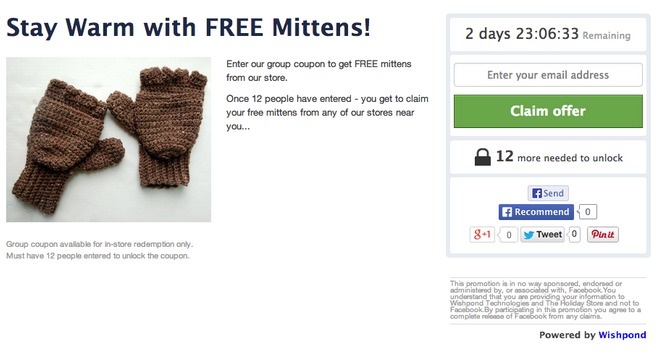 3 tips for group coupons:
Encourage more participants with group coupons
Make steep discounts, or free products available to get more participants
Run a new group discount daily
8. Refer a Friend
---
A "refer a friend" contest can motivate your customers to market your offers for you. Give progressively better deals to people who can get their friends to enter.
For example, set up a refer a friend contest to give 50% off to people who get 5 friends to enter, and 70% off for people who get 15 people to enter.
You get lots of new email leads - and immediate sales.
3 tips for "Refer a Friend" contests:
Entice your customers to market your contest for you
Give great deals and prizes to entrants who refer the most friends to sign up
Email-gate and Like-gate your refer a friend contests to drive leads
9. Photo Caption Contest
---
Photo caption contestsare fun and easy to enter. They're really easy to set up - so you could run a new one everyday of the 12 days of Christmas.
By running a new contest each day, and giving away a daily prize, you'll build up momentum - and get more email leads and sales.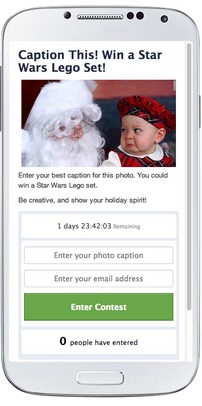 3 tips for photo caption contests:
Caption contest are a lot of fun - and are easy to enter
Use holiday related images, and keep it related to your brand lifestyle
Photos of animals and kids generate lots of captioning engagement
10. Music Contest
---
Music contests can be cool at any time of year. For the holidays, make your contests festive, by hosting a Christmas carol contest, for example.
You can set up music contests through your Facebook, Twitter or website. People can upload their best music recordings through their computer - or soundcloud.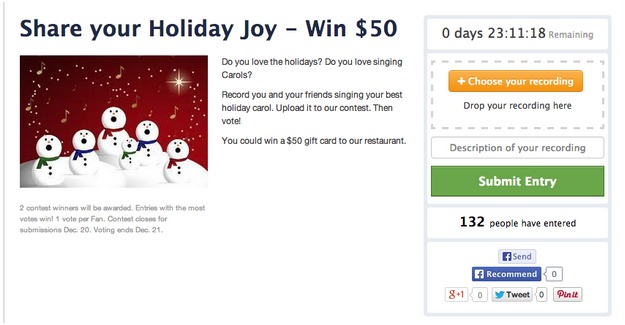 3 tips for music contests:
Let your participants enter via a recording on their computer, or through soundcloud
Make your music contest holiday themed
Get participants to sing Christmas Carols - to spread the festive cheer
11. Pin It to Win It Contest
---
Pinterest contests are perfect at this time of year. Your female demographic is likely on this site, and looking for the perfect gift.
Get your products shared by hosting a 'Pin It to Win It' contest.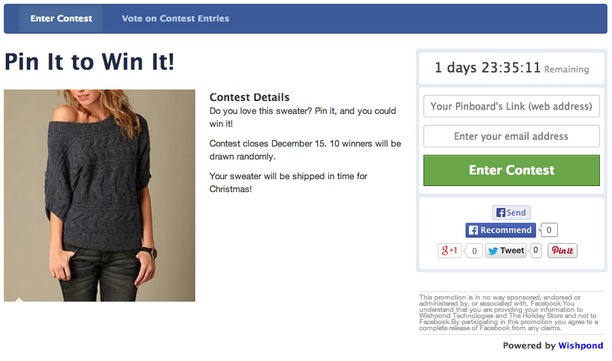 3 tips for Pin it to Win it contests:
Pinterest users love to repin
Incentivize repins by hosting a Pin It to Win It contest, with a holiday related prize
Cross-promote your Pinterest contest on your Facebook Page with a Pinterest tab
12. Video Contest
---
Videos are quickly becoming the cool way to share communication online. For a lot of your younger customers, they're also not that hard to make.
Host a video contest that's festive and emotionally evocative. You'll create a bond with your participants - and get lots of great UGC for others to see, too.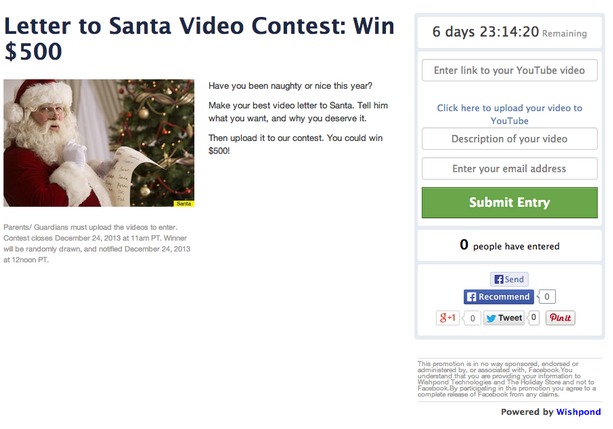 3 tips for video contests:
Conclusion
---
How have you been marketing your retail goods this holiday? What creative tips can you share? What successes have you had?
Get a few more social media marketing tips for the holidays