An Easy Guide to Winning Event Planning Marketing
If you're starting a new event planning business, once you've set the foundations, you have your next challenge: getting a steady flow of clients.
As anyone who has started their own business knows, this is easier said than done. Promoting the events you throw is one thing, but getting customers to your business itself requires different tactics.
If you're looking to get your event planning business off the ground, here's an easy guide to event planning marketing to get customers to your landing page and in your calendar.
Help People Find You
Even the best business will sink if nobody knows it exists.
Increasing your visibility and making sure your business is as accessible as possible to potential customers will be crucial to your business' health.
A well-designed landing page where clients can see the services you offer, view your portfolio, submit inquiries on the go, scroll through your gallery or book an appointment will be key to your success.
It will also give customers an idea of your personality and working style from the outset.
For inspiration, check out Canadian event planning agency Love By Lynzie's website: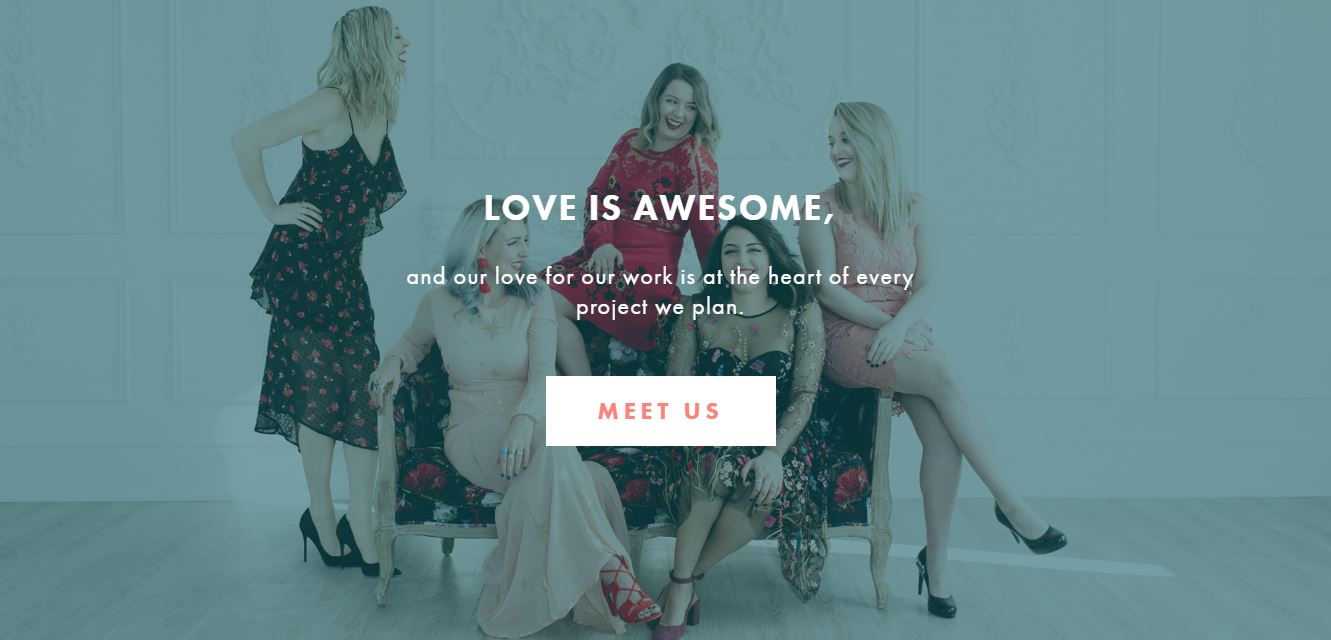 Not only does it make clear from the outset what kind of events they specialize in, but their website introduces them to the real faces behind the brand, their personality, an idea of price range and multiple ways to contact them, through social media or directly.
(Psst: Wishpond's landing page gallery has pre-designed pages optimized for conversions. All you have to do is customize them!)
Also, when it comes to event planning, don't count out old school marketing just yet. Leaving business cards or brochures in relevant places, where your target audience is, is less wide-reaching than social media but has its own distinct benefits. It:
Ensures you're reaching your local community

Lets you target related areas (e.g. if you specialize in event planning for businesses, you can leave business cards in conference venues, or if you love organizing weddings, you can ask to leave brochures in church halls)

Gives potential clients physical collateral for an extra personal touch
Networking (Online and Offline)
Don't confuse a social media presence with getting to know people. No amount of digital wizardry supplants the need to network.
Instead of relying on social media to do the work for you, use it to augment your reach. That means thinking strategically about where you put your efforts.
"Meet your potential clients in the spaces that have worked for you before - put 80% of your effort there, and let yourself experiment with 20% of your effort," advises Freelancing Females.
Facebook and Instagram are the most commonly discussed outreach methods for small businesses, but keep an open mind: your main channel might be something else: Google Ads, your newsletter, blog, Pinterest or word of mouth marketing.
Courses are another good way to meet relevant people in the industry. Especially at the beginning of your career, meeting more established members in the industry who can point you in the right direction or pass on leads can make a huge difference to your career trajectory.
If there aren't many things available locally, check out these from Eventbrite or on Udemy.
Showcase Your Expertise
The old adage of 'show, don't tell' should be one of your signposts when starting your business.
Now more than ever, it'll be crucial to prove your ability to deliver a great event and satisfied customers.
Here are three ways to start showcasing your expertise:
Testimonials, testimonials, testimonials
As event planners, your service is intensely personal. Your product isn't a cold product or subscription package.
It's an end-of-year dinner to celebrate a successful end to a brutally hard business year.
It's a conference bringing together people from all over the world.
It's the wedding day someone has dreamed of since they were a teenager.
Your customers will need to be sure that their event will be safe with you, and that you understand its significance.
While photos of prior events will undoubtedly help, the most powerful testimonials (aside from attending a successful event you've thrown firsthand) are those that come straight from other customers.
Even Chicago's A Perfect Event, listed as one of the best event planning agencies in the world, places testimonials front and center on the website.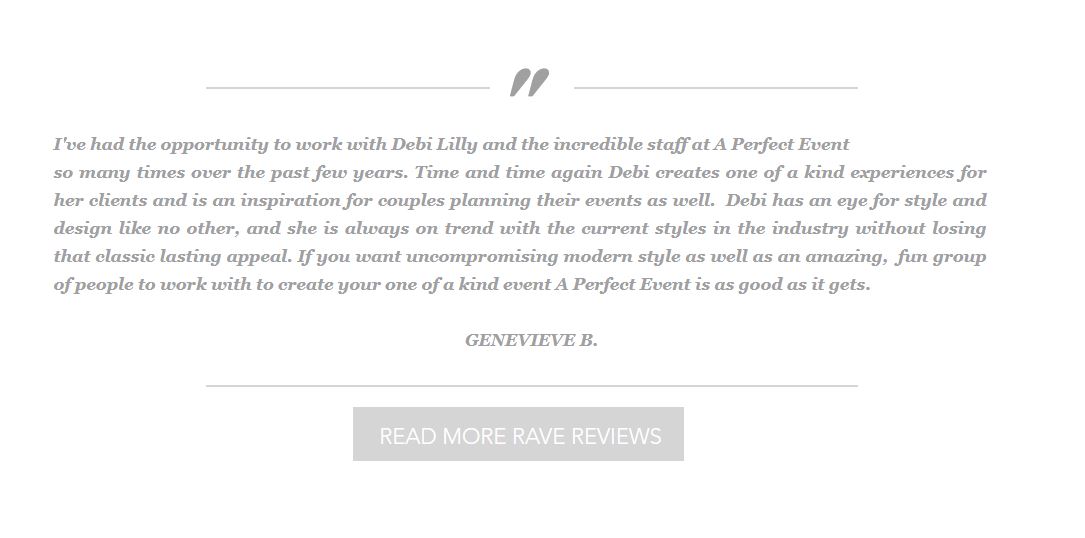 Note the 'more rave reviews' in their call to action button. They know there's no such thing as too many votes of confidence.
Need more testimonials to put on your landing page or website? Easy! You can run social campaigns to generate organic testimonials from your customers. Here are 4 strategies you can try today.
Volunteer
When you're building your business, the last thing on your mind may be providing your services for free. However, getting your name out there by helping out with a charitable event or in community groups can be a good way to bolster your reputation and get a good start for a fledgling business.
Another good thing about charitable events is they can attract people in a number of industries, across circles, so it's a great way to expand your own network and service name.
Content marketing
A good outlet for event planners with creative chops, content marketing has long been part of an event planner's playbook.
Ideas for content marketing include:
An email newsletter is a popular and powerful way to drive traffic to your website and get people invested in your personal brand (and your professional service!)
Starting a blog is a great way to build an audience, establish your voice and build strong connections with readers and potential customers.
Infographics are easily digestible ways to get across complex ideas, and fantastic creative outlets for people who like creativity, but not necessarily copywriting.
Contributing articles or reviews to leading industry publications.
(P.S. Want to know more about content marketing? Check out our free ebook on blogging for business!)
Summary
Getting a business started can be tricky, but with these steps, you can help expand your reach. As a review, here are three focus areas you can think about when starting your event planning marketing for your new business:
Help People Find You: Don't make your clients do all the work! Make your name one of the first that pops up, either online or on other people's recommendations lists, when they start wondering who should plan their event.

Networking (Online and Offline): It's still about who you know. Get connected, online and off.

Showcase Your Expertise: If you know it, flaunt it. There are multiple ways to let people know that you're at the top of the event planning game, even when you're not actively throwing an event.
Are you an event planner? What marketing methods have worked for you early on in your career? Let us know in the comments!