13 Savory Tips from the Best Restaurant Instagram Accounts
Instagram marketing is now the norm. Restaurants are no longer limited to marketing withing their local community, but can now peak the interest of globe trotters as their next must-visit spot when they travel.
If you're still unsure about Instagram marketing for your restaurant, here's a couple stats to peak your interest:
Approximately 80% of all Instagram users follow a business on Instagram. Followers are ready and willing to engage with businesses on the platform.

Brands have been known to see a 5-2X increase in sales in stores due to Instagram ads, proving more effective than other social media platforms like Facebook and proving Instagram as a genuine contender for online ads.

Almost 40% of Instagram users have high levels of disposable income.
In this article, I'll be showing you some savory tips from the best restaurant Instagram accounts and how you can apply them to your restaurant's Instagram account.
Ready to learn how to cook up some Insta-worthy content?
1.Show Off Your Restaurant's Authenticity
What makes your restaurant different from the rest?
It could be as simple as the items you serve on the menu, your restaurant's location, or the people that love your food.
Pinpointing what makes your restaurant truly authentic is something worth sharing on Instagram.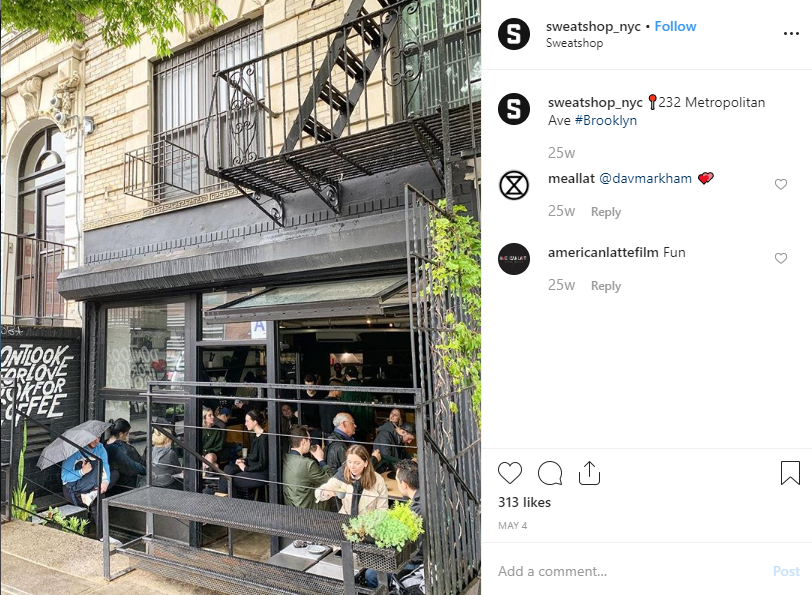 Sweatshop is a Brooklyn-based coffee shop and cafe. It's listed as one of the most "New York" coffee shops in Brooklyn. This restaurant has become a modern-day staple to locals in the neighborhood and is listed as a "hot spot" for Instagrammers and coffee lovers passing through the big apple.
Things that make Sweatshop unique include the look and feel of its black concrete exterior and crates used for coffee tables. There's also a number of quotes peppered throughout the cafe space.
Showing off what makes your restaurant authentic helps your content in two ways:
It differentiates you from all the other restaurants in your area.

You'll attract your ideal customers. For example: If you spend 2 hours to make one dish, because perfection is part of your process, you'll attract Instagram followers who have a deep appreciation for your cooking craft.
A good place to start is by deleting any old photos that don't truly reflect your restaurant. Start capturing the culture of your restaurant's experience, food, and preparation.
2. Use Outside the Box Content
You might have to step away from the dinner table and cook up some creative content.
Use outside of the box content on your Instagram page. About 60% of [Instagram users use the platform daily](https://www.pewresearch.org/internet/2018/03/01/social-media-use-in-2018/, scrolling through and binging content so if your content doesn't catch their eye or peak their interest, your Instagram post can easily get lost in their feed.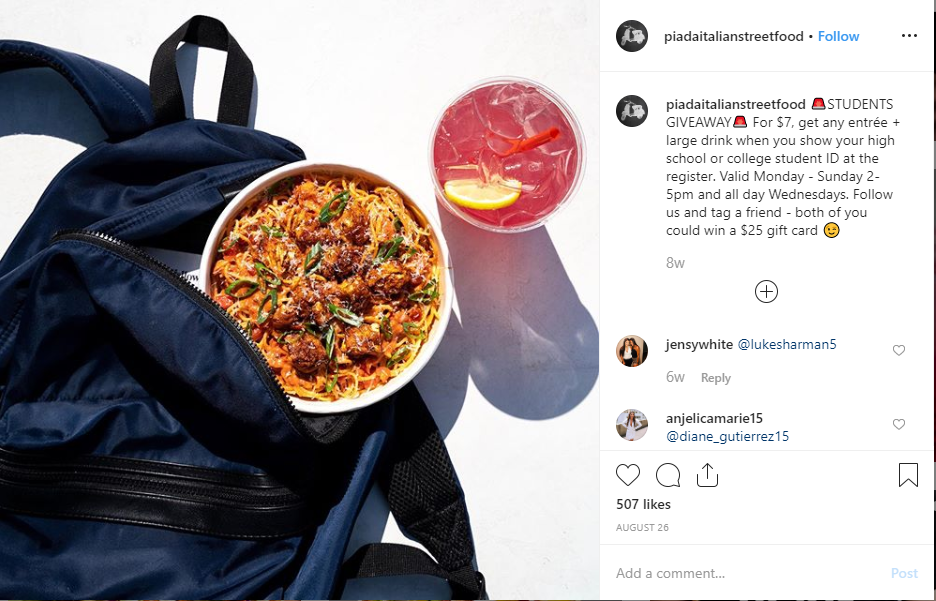 For a back to school special for college and high school students, Piada used a school bag and savory food bowl to show off their fun side and flavorful dishes.
So why should you put so much effort into your restaurant's Instagram content?
CMI's digital content marketing report found that 72% of marketers have seen good content marketing have a direct impact on revenue and sales.
In other words, good content attracts customers. So shake things up!
To get started, you can try these four food photography ideas for your next Instagram post: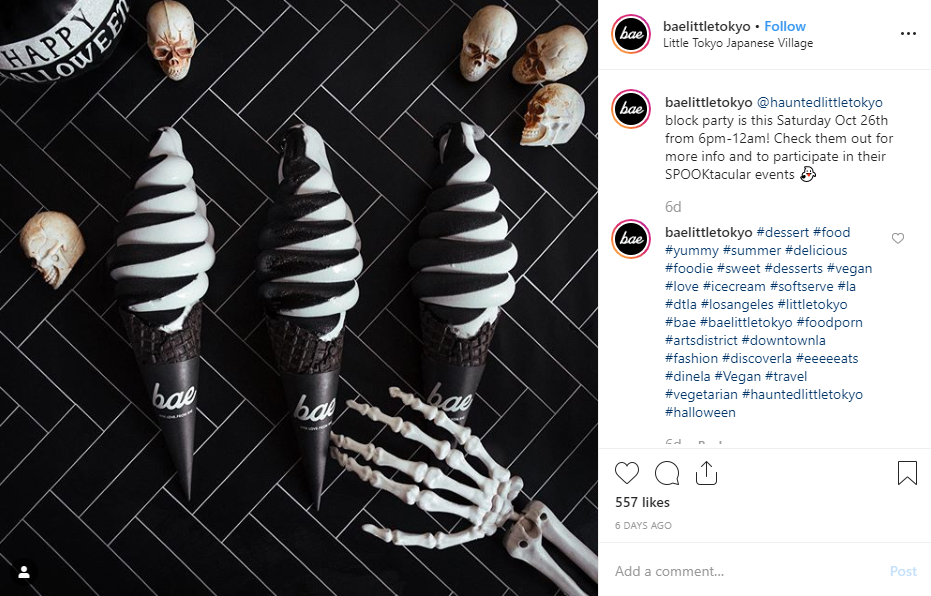 You can start by planning holiday-themed content shoots.

Try using neutral backgrounds when shooting images of your food. Choose backgrounds like black, white, wood, blue, or nude to highlight the food on display.

Take pictures of your food or drinks in motion: capture splashes, spills, and gooey cheese shots to capture the texture and taste of your food.

Ditch the plate and play with your food. Use nature, your neighborhood, and your outside surrounds as backgrounds and for inspiration for your next shot.
3. Take Detailed Shots
Next to finding creative ways to capture your food, you need to take detailed shots of your delicious dishes.
Close-ups and macros shots can put your dish at the focal point of your post. Foodies love when your post is more focused on the food than the restaurant itself.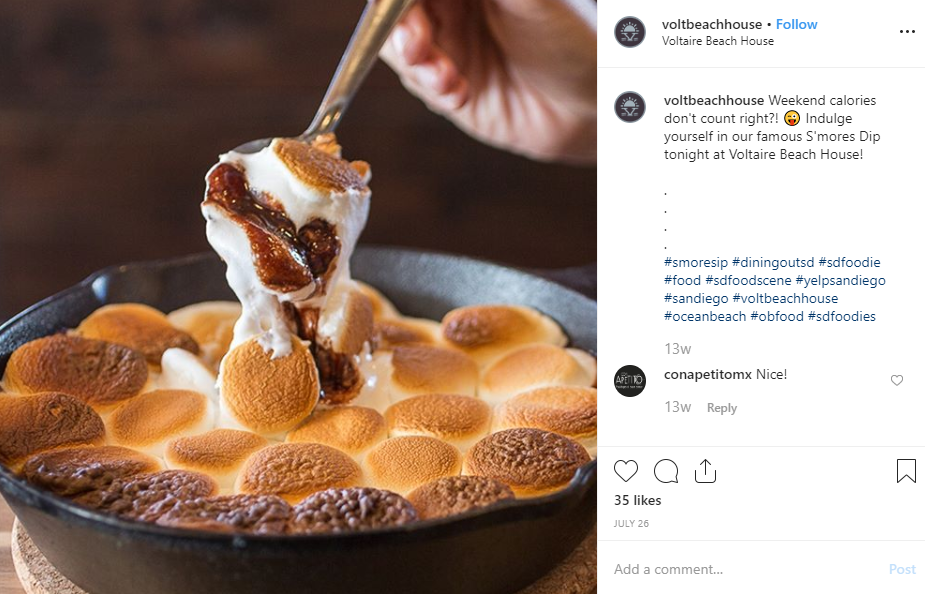 When taking pictures be sure to make your food look vibrant and yummy, use editing tools to add an extra touch.
Take a look at the example below. The only difference between the image of the right and on the left is an Instagram filter.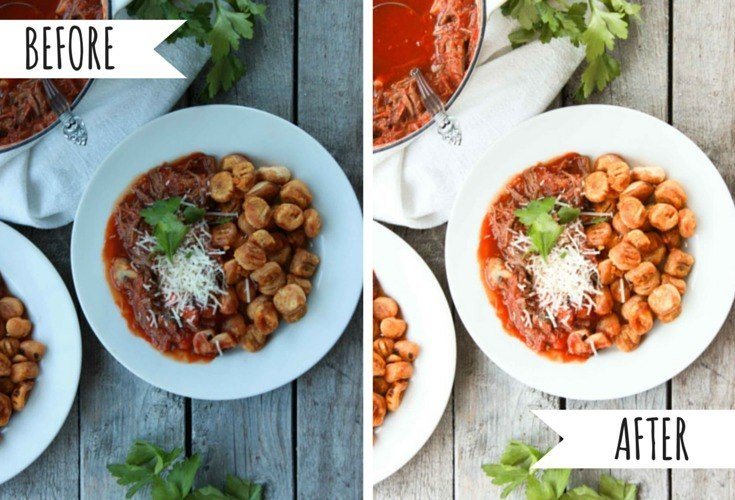 There are a lot of apps on the market, but luckily we found the 12 Best Instagram Apps to Create Amazing Content.
4. Collaborate with Food Influencers
Influencer marketing is a multi-billion dollar industry; it's no stranger to food brands and restaurants.
Restaurants like "Burgers N' Fries Forever" (also known as BFF) increased its brand awareness as one of Canada's top burgers and fries spot in the market by adding influencer marketing to their content mix.
Still not convinced?
About 71% of consumers stated that they'd most likely make a purchase based on a social media referral, the catch is, most social media referrals are from influencers.
Plot twist, whether you intend to use influencers are not, they can still have a say in how people view your restaurant. So why not control the narrative so their content works in your favor?
Take a look at how food influences like Tom Big eats can drive sales for brands by giving honest reviews.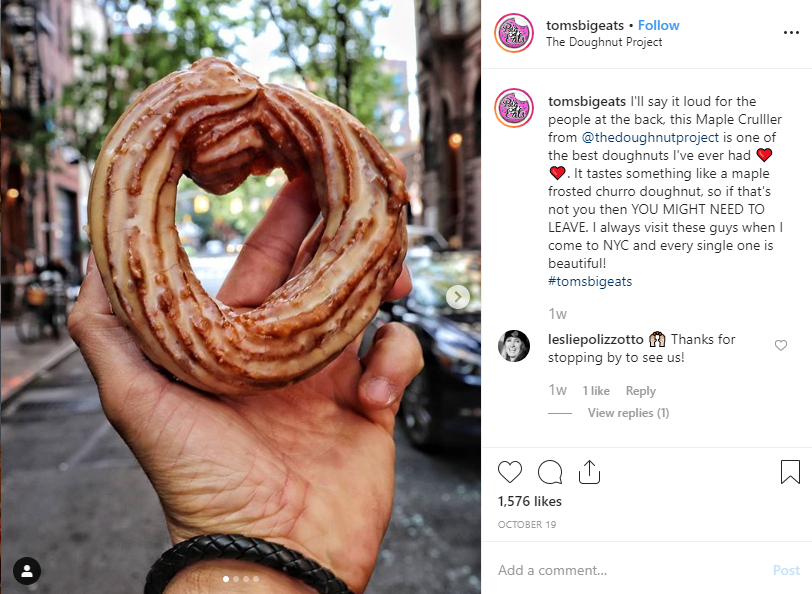 Three ways to find your dream food influencer:
1. Monitor Instagram and Check Hashtags: Take a look at the people your followers and fans engage with regularly. Search hashtags like #influencer #foodblogger and #foodie, and take a look at the person posting content with that hashtag.
2. Host a Tasting or Event: Host a (free or paid) tasting to attract attention and influencers to your restaurant. Reach out to local influencers or bloggers, make it an exclusive event to build buzz.
During the event, mingle with influencers, watch and take notes about who captures your food best. After the event, you should reach the Influencer of your choice, and ask them to repost your content, work together during a brand campaign.
3. Work with an Agency: Use online Influencer marketing agencies to help you find the perfect fit for your restaurant. Influencer agencies are like talent agencies; they allow you to view each influencer, their past jobs, and brand collaborations.
Agencies can act as a proxy to ensure that partners receive payment and the quality of work meets requirements. Just be sure to have a budget in mind when working with an agency.
Here's an Essential Guide to Getting Started with Influencer Marketing.
5. Show Off Your Foodie Fans on Instagram
Every restaurant has its super fans, and what better to get free content than reports and to show off your fans.
Hint it has a name; it's called "User Generated Content."
User-generated content is content created free of charge by your fans and followers. This could include an interior shot of your restaurant, or a picture of an entree just as it's served.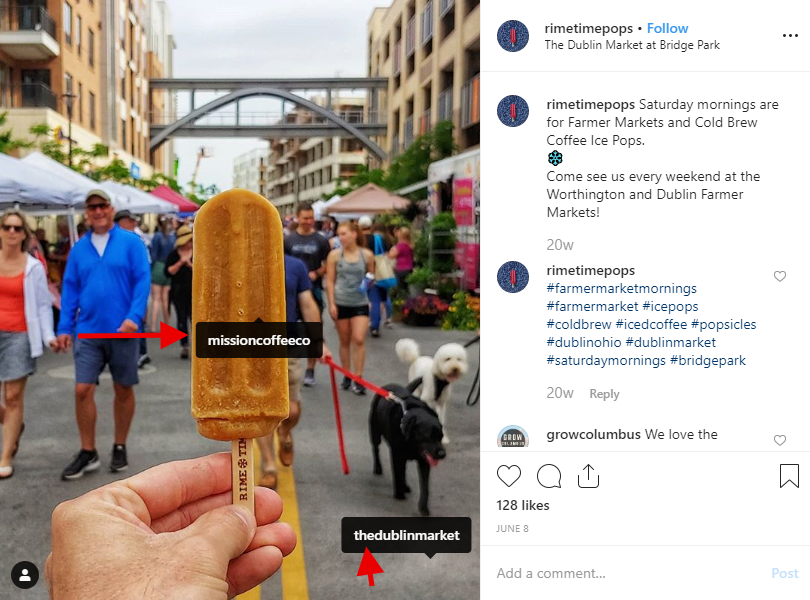 Rime Time Pops is a sweet treat brand that loves to repost UGC from their Rime Time fans.
Instagram etiquette: always tag the person or influencer in the content that you repost on your Instagram.
People share UGC because they want a brand to notice them, and to get the recognition for their content. Tagging people encourages them to continue sharing more content for your brand.
Start taking a look at the people tagging your brand or using your brand's hashtag. This is also known as social listening; the funny thing about social listening is that you can do it on every social media platform to find UGC.
Take a look at these tips on How to use User-Generated Content Effectively (and Why it Works)
6. Use Foodie Hashtags
Hashtags make your post discoverable for people who aren't following your account. It helps to increase engagement and allows your target audience to find and connect with your brand.
Naturally, each industry has its own set of popular hashtags, including restaurants and food lovers.
For the restaurant's post to get the most out of hashtags, you'll have to use more than one hashtag. Use hashtags that your followers or potential customers would be interested in, for example, if you're an Italian restaurant, you'll need to use hashtags like #pasta #italian #restaurant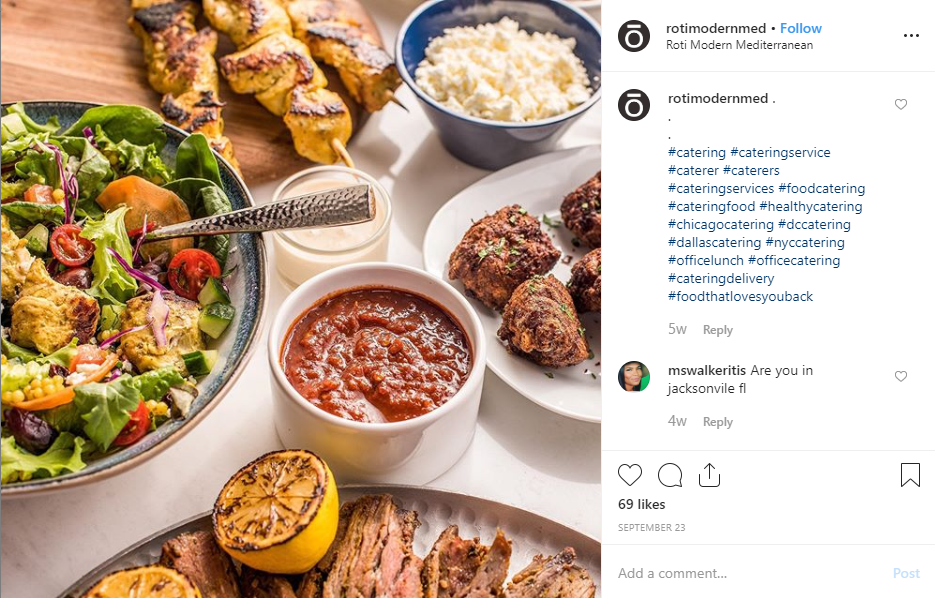 A fabulous Indian and Mediterranean restaurant uses Dallas hashtags to help them to be locally discovered.
Instagram posts that include hashtags between 21 and 24 characters in length perform better than average.
Initially, Instagram allows you to use up to 30 hashtags, so you'll have to use it wisely. Check out The Most Popular Hashtags: The Ultimate List, and pick out 30 of the most popular food hashtags for your next post.
7. Set the Table & Show Off Your Layout
A restaurant's ambiance can set the tone for the culture and people it attracts. A nice space can feel like home or even a great escape for your customers.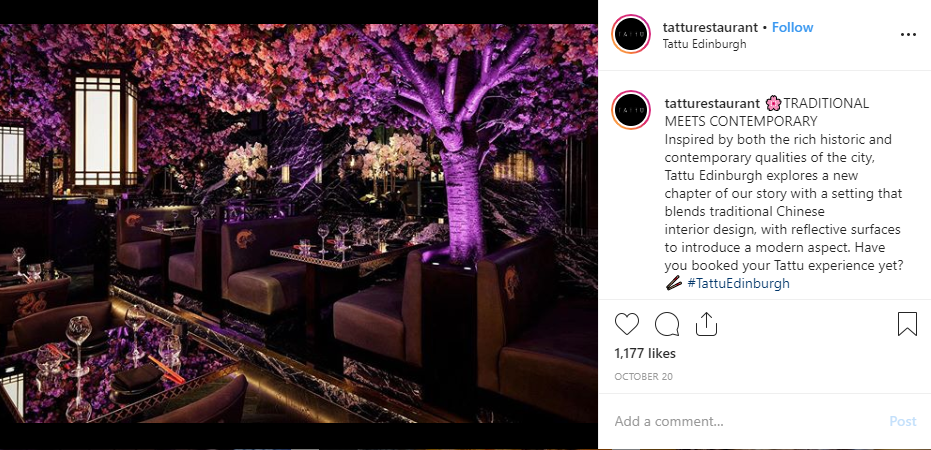 Tattu has been listed as one of the most Instagrammable restaurants in the United Kingdom.
They're one of the many restaurants that have mastered their layout and ambiance perfectly.
Not sure if your restaurant decor might not be Insta-worthy? Here are 7 Easy Ways to Update Your Restaurant's Decor.
8. Show Off The New Menu
When customers are discovering new restaurants, they might want to take a look at your menu to get an idea of the food they'll be getting.
Post about your menu in your stories or social feeds. Create a saved reply in your dm's to share with anyone who messages you.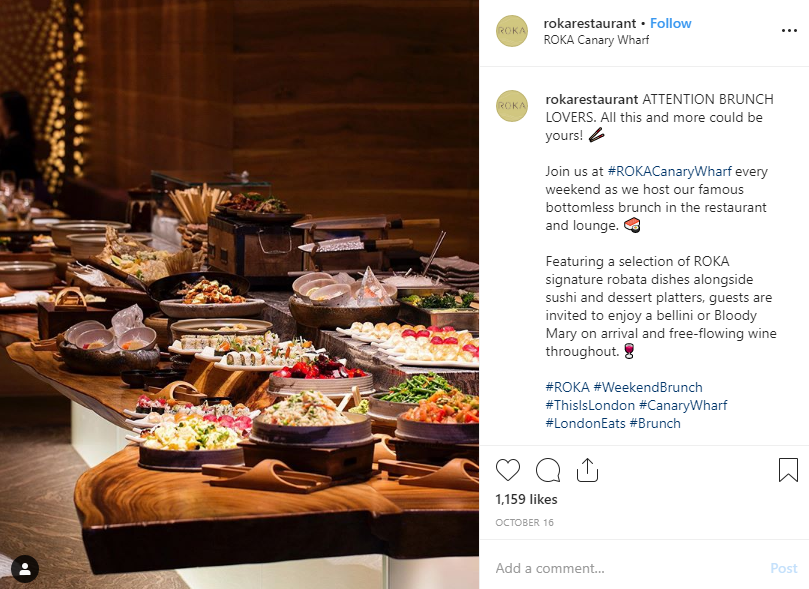 If your menu changes daily then you can post it in your Instagram story, which disappears after 24-hours leaving you with enough time to inform customers and get ready to post a new special after it's gone.
9. Fill Your Stories With Mouth Watering Treats
Instagram stories have grown since its launched in August 2016, and now more than 500 million Instagrammers use stories daily.
You can share daily menus, treats, and drinks that you'd be serving for the day. Add text, stickers, and hashtags to add a creative touch to your story.
Instagram stories only last for 24 hours before disappearing. But If you want to keep your IG story around for long, you can create an Instagram highlight.
Highlights allow you to save and segment your stories so people who follow or view your account can go through past and present stories with ease.
Check out how GT Fish & Oyster categories their Instagram stories.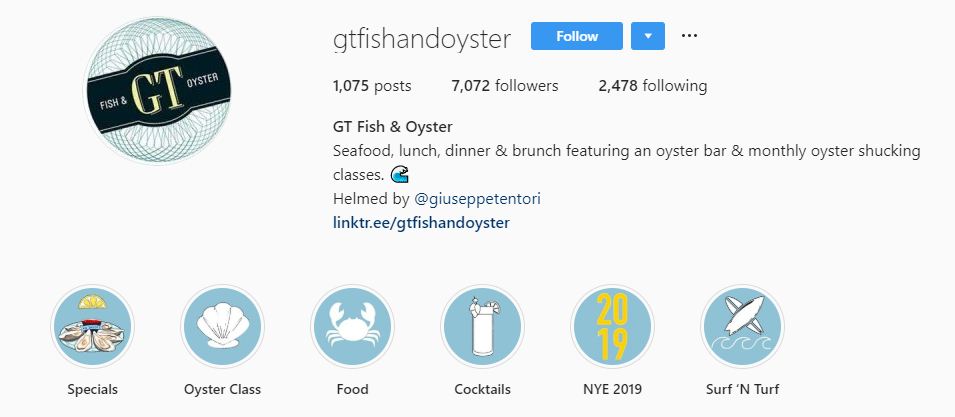 10. Introduce Your Staff on Instagram
The people behind the food are just as important as the plates they serve. Your employees are your first and most influential brand ambassadors, followers, and fans.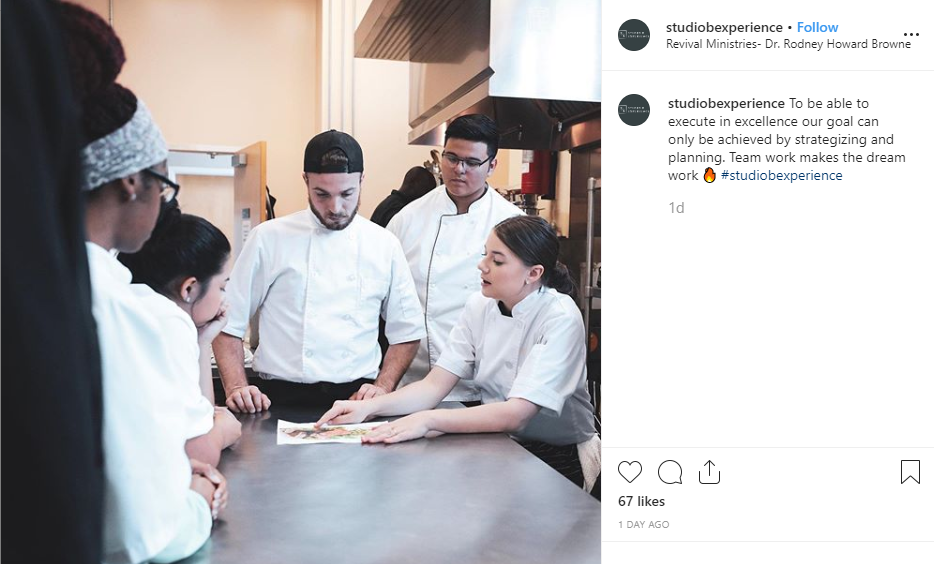 Instead of racking your brain for content, highlight members of your staff on your Instagram post or story.
According to a study done by Hinge Marketing, 96% of businesses point to increased brand visibility and recognition as the top two benefits they get from implementing an employee advocacy program.
Ask employees to follow or promote your restaurant page to help with marketing by being your brand ambassadors.
11. Get Your Content Curated
One way to market your restaurants and Instagram content is to get your content curated or highlighted by a food Instagram page or blogger.
Get your food highlighted on pages like Feast on These with a massive following of food lovers.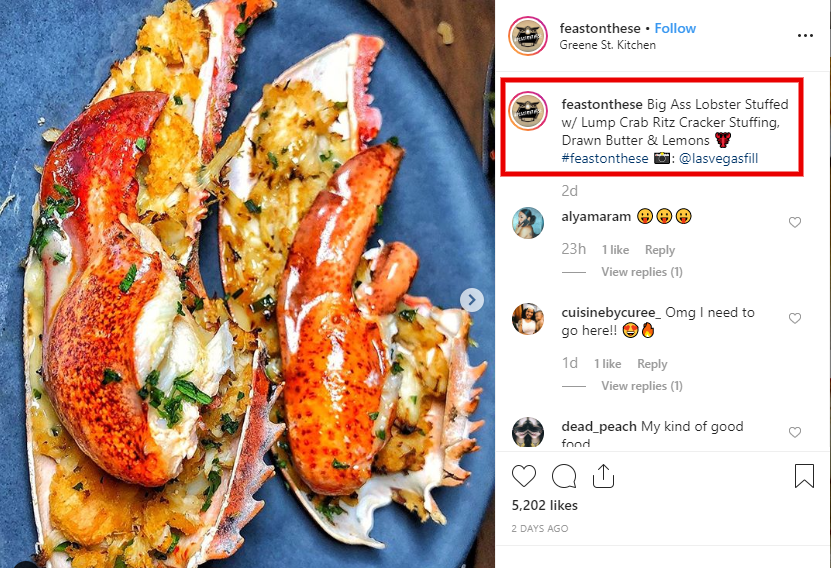 Maybe food pages aren't your style, reach out to food magazines like Bon Appetit to highlight your restaurant, food or chef to get further exposure.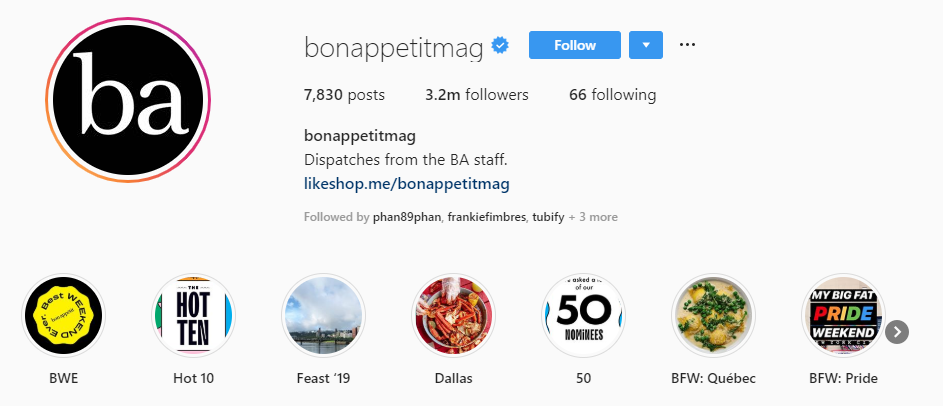 12. Highlight Your Customers
Your customers can be your biggest fans. So show them some love on Instagram.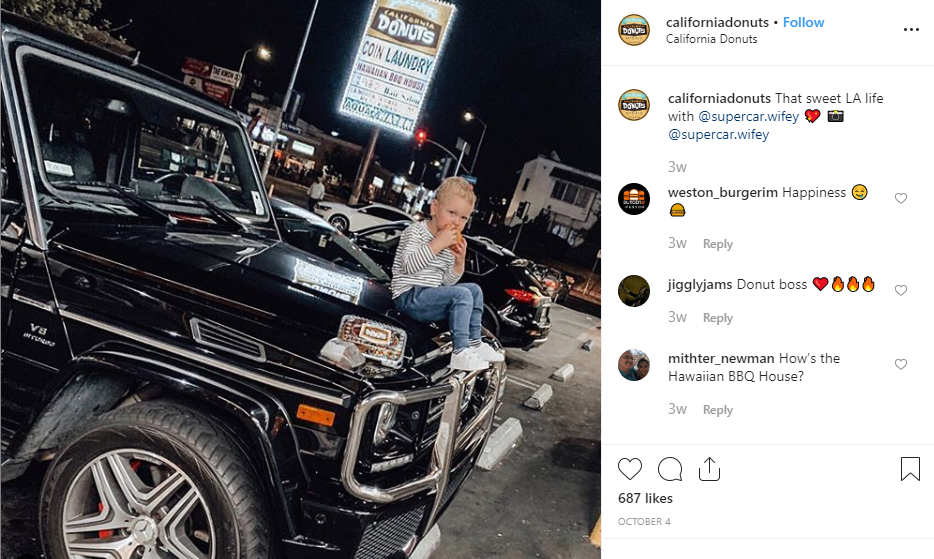 Here are a few ways to show customer love on Instagram:
Like, share and comment on customer posts about your brand and food. Let them know that you see and care about what they have to say about you.

Handle your customer's queries and services on your Instagram. Marketing Charts found that 7 in 10 survey respondents indicated that a brand's response to online consumer reviews or messages actively changed their perception of a brand.
Here are 6 Tips for Using Instagram for Social Media Customer Service.
13. Cook Up Specials on IGTV
Last but certainly not least, show off your restaurant with IGTV.
What is IGTV and why should you use it?
On June 20, 2018, Instagram launched IGTV to combat Youtube, the second largest search engine. It's still growing but the platform is a hit on Instagram with its full screen and vertical videos.
It's a great way to show what goes on in your restaurant, from ingredients to plate. IGTV allows you to give people a tour of your restaurant or to show them how you create your most-loved dishes.
Once you've created your IGTV channel and video, they're automatically stored in your feed next to your post and tagged images.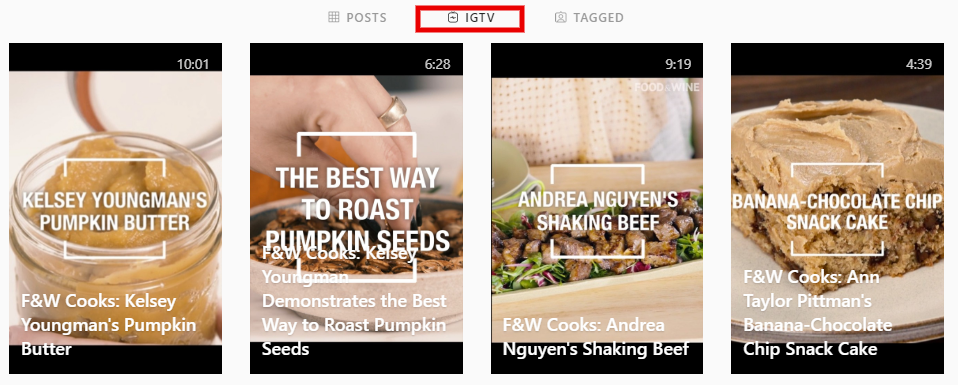 Summary
Instagram isn't just a social media platform; it's a community for people who love food, sharing their experiences, and capturing the moments around it.
Here's a quick recap of 13 savory tips from the best restaurant Instagram accounts:
Show Off Your Restaurant's Authenticity
Bring the Food Outside
Take Detailed Shots
Collaborate with Food Influencers
Show Off Your Foodie Fans on Instagram
Use Foodie Hashtags
Set the Table & Show Off Your Layout
Show Off The New Menu
Fill Your Stories With Mouth Watering Treats
Introduce Your Staff on Instagram
Get Your Content Curated
Highlight Your Customers
Have Fun With Your Account
Related Articles