The Ultimate Retailers Marketing Strategy To Increase Sales
Retail marketing has changed over the years, and with advances in online marketing, the rise of social commerce and eCommerce stores, now more than ever, having a solid marketing strategy is the only way to grow and advance in the retail industry.
Don't get me wrong. Retail is thriving. Both retail and eCommerce are steadily increasing in sales and reach.
Retail Trends found that 69% of consumers believe attending live experiences helps them connect better with the brand, their friends, and their community. This includes going to your local brick and mortar store to make a quick purchase or go on a spending spree.
But retail isn't thriving on its own, that's where omnichannel marketing comes in place, the combination of multiple marketing channels with a singular goal, to increase sales. To effectively keep a steady flow of customers and sales, you'll have to combine online and offline marketing together.
After all, it's all apart of the new buyer's journey. About 81% of shoppers do online research before committing to a purchase. They can either end up at your store or your website. Although shoppers will never wholly abandon brick-and-mortar stores, they expect retailers to offer a convenient online alternative.
Today I'll be showing you how to craft your ultimate retail marketing strategy to increase sales and purchases.
In this article, I'll be covering retail marketing strategies:
Retail Website Marketing Strategy
Level Eleven found that 94% of people say web design is the reason they mistrust a website. If you're a small retailer, this can be a hard blow to your sales.
Websites and eCommerce stores that are well optimized are proven to generate sales. Having a website up and running isn't enough to keep your potential customer engaged.
Here are eight website marketing strategy tips to follow:
1. Improve Your Website's Design & Navigation
Around 75% of people base the credibility of business on how their website looks. So it's essential to ensure your website looks as professional as possible. Your website design and navigation should be uncluttered, allowing users to have a seamless experience moving from page to page.
Have you ever hear of the term simplicity is key. Well, that's because it's true. That's because 6 out of 10 shoppers say the usability of a website is important when they're online shopping, according to Statista. Keep things simple and easy to make their online experience better.
2.Use Stunning & Professional Product Images
Did you know that 75% of online shoppers rely on product photos when deciding on a potential purchase?
Since most online shoppers aren't able to touch or feel your online products or attempt to visit your store, it's up to you to provide them with professional images of your products.
Around 22% of returns occur because the product looks different in person. The last thing you need is a negative review from a customer caught off guard by an unwanted product.
Try to take images of your product from various angles, layouts, and colors. You should also include a zoom feature so that customers can see your products up close.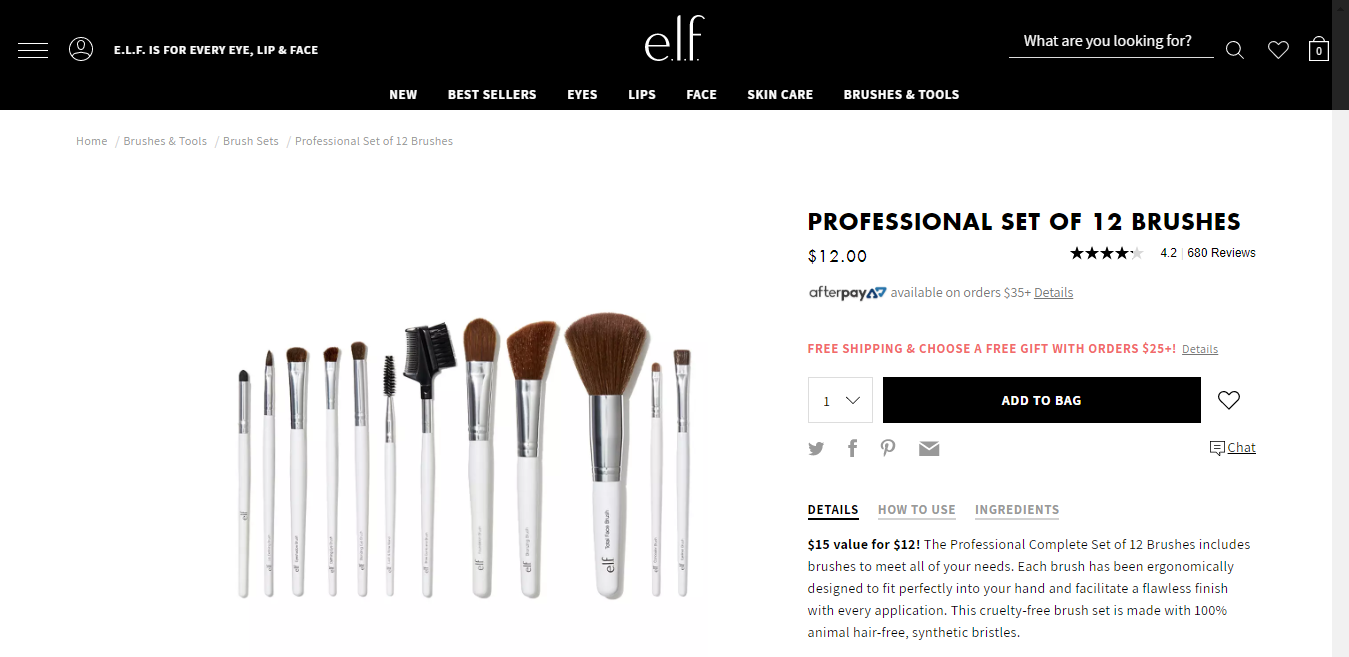 3. Use Website Pop-ups for Lead Generation
If you want to ensure that customers visit your website, you can collect a few emails along the way to retarget them again for sales, updates, and new product alerts. But we'll talk more about emails later.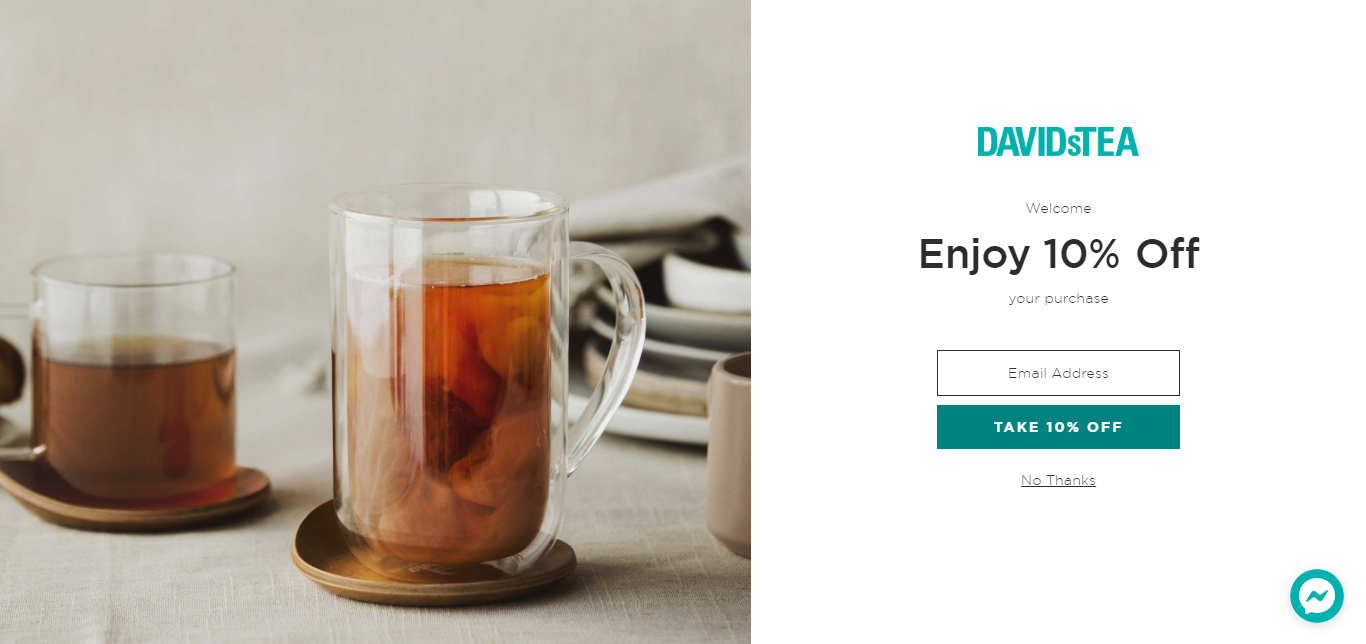 Pop-ups are annoying, but they work, even you're guilty of signing up for email updates from your favorite online brands. A pop-up is a limited-time offer, which justifies your interruption of a possible lead's arrival to your page. This is something they understand needs to be seen now (as the promotion ends soon).
You can do this by setting up website pop-ups and forms that are triggered when visitors land on a page or a reservation section on your website.
Wishpond's simple drag-and-drop editor makes it easy for anyone to create amazing pop-ups, without the need for design or programming knowledge.

Here are some more guides on website pop-ups:
4. Highlight Customer Reviews on Your Website
Customer reviews are the backbone of any business. Bright Local found that 93% of local consumers use reviews to determine if a local business is good or bad.
What your customers have to say, especially online, can block or encourage potential customers. Now more than ever, customers understand the power they hold when it comes to your business representation.
Make it an effort to check reviews and online mentions on your website. Don't consider bad reviews as just complaints but ways that you can improve your product or customer services. How you handle those reviews can help your business. After all, 41% of consumers say that brands replying to reviews make them believe the company really cares about their customers.
5. Add Upselling Apps to Your Website
Upselling is the art of nudging your customers to add more items to their cart, or repeat purchases. Have you ever walked into a store to buy one item, however, the retail sales rep just finished helping you fill your shopping bag with five to ten items instead.
That's the magic of upselling.
Add upselling apps that offer personalized product suggestions based on their search or purchase history. Or you can show real-time alerts when a bestseller or new product is purchased on your website.
You can also add alerts that let customers know when a product is in low stock, so they should buy it before it's gone instead of leaving it in their cart. This drives FOMO for new or current shoppers and helps to decrease your shopping cart abandonment rate.
Ready to learn more about upselling? Here are 150 Best Shopify Apps (Paid & Free) To Increase Sales for 2019.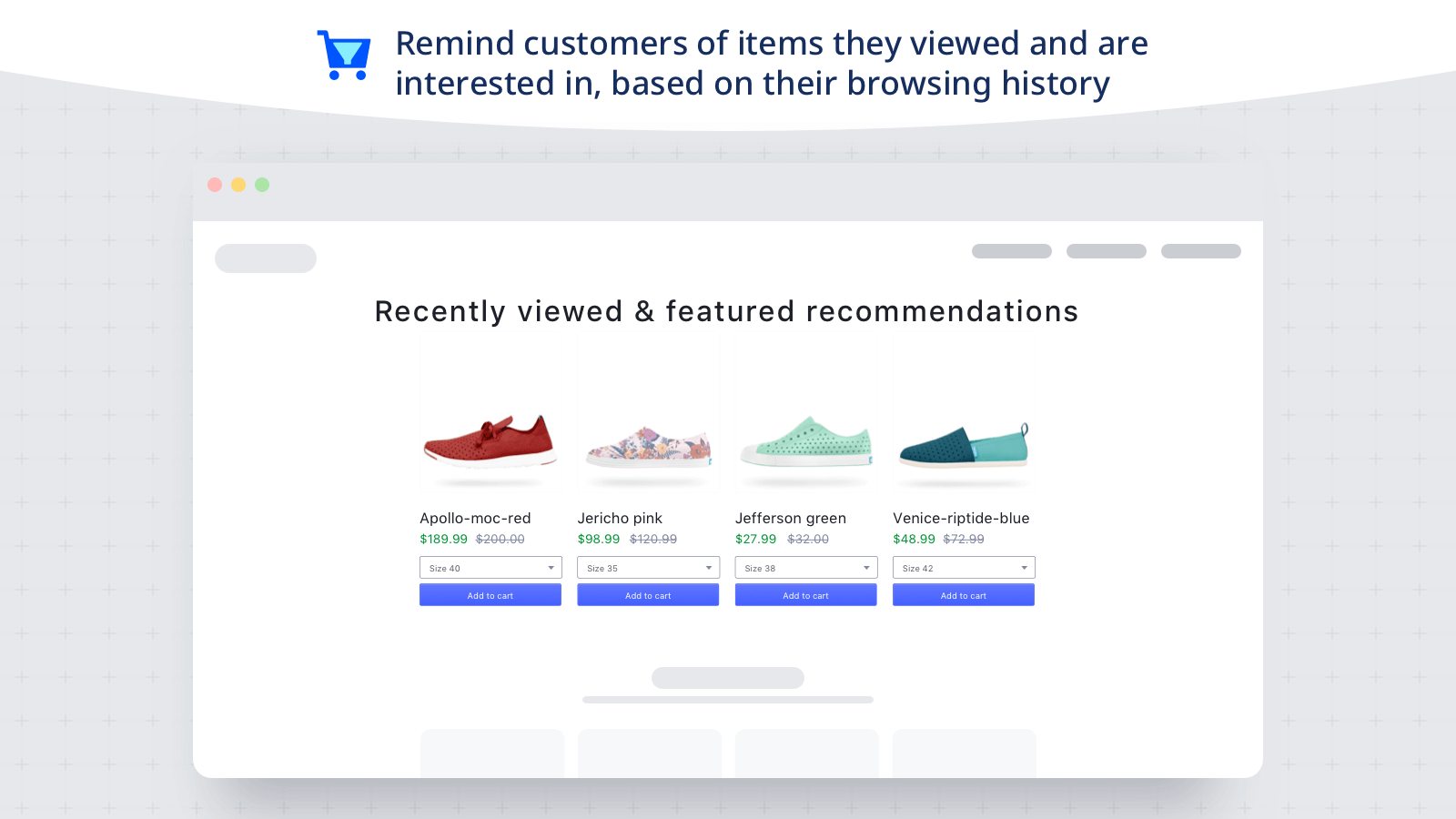 6. Add Currency Convertors to Your Website
When you have an online store, you open your doors to a global audience of shoppers looking for items that you provide. Having a way to show local currency helps your customers see your product prices in their local currency, which makes it easier for them to know how much they're actually spending.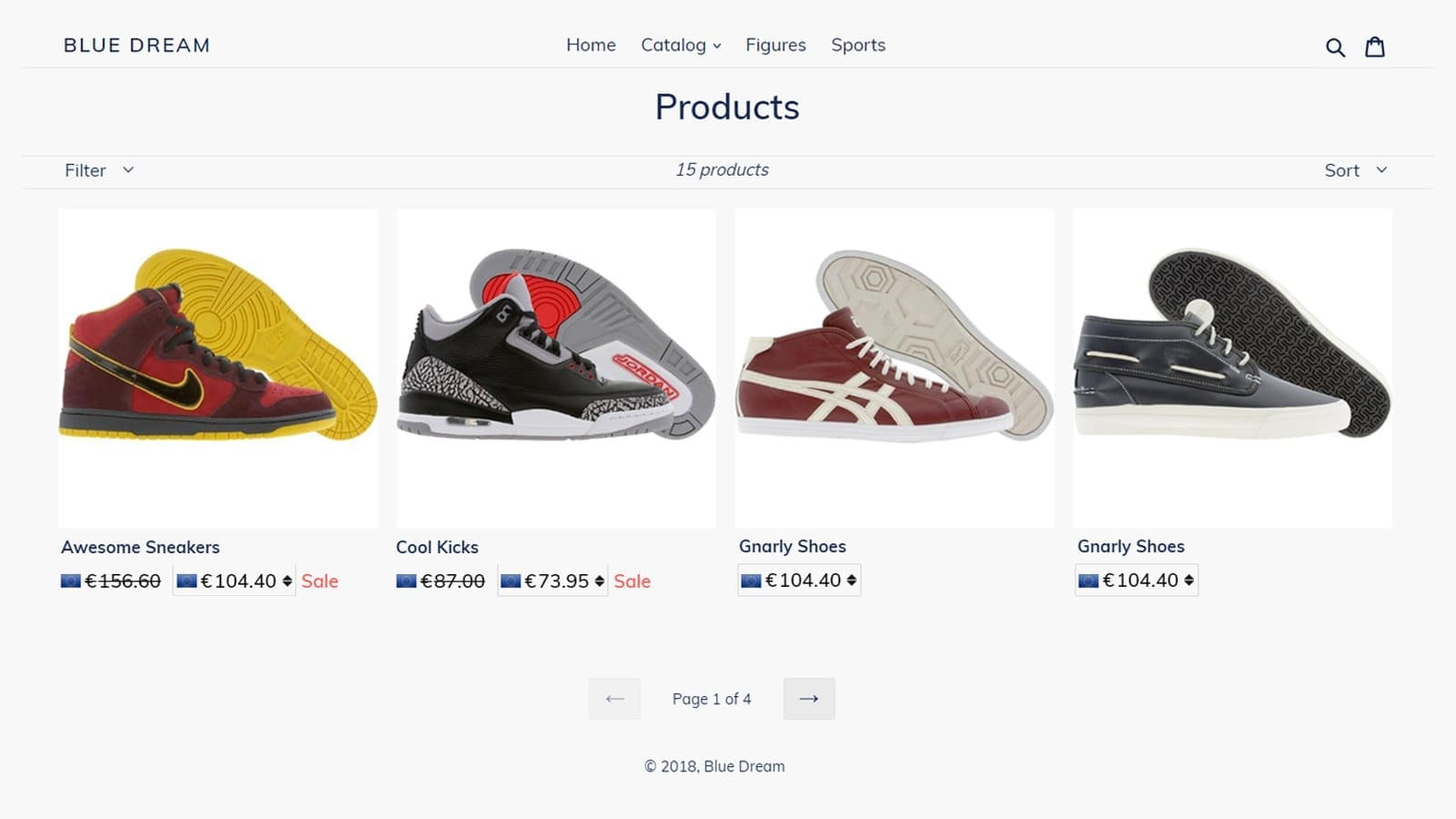 7. Optimize Your Check Out with Payment Options
Your checkout page should make your customer's final purchases. They should be able to see their payment options, details of their order, and the chance to use discount codes.
Not only that, but they should have multiple payment options. Not everyone uses the same payment method. Some prefer Paypal, credit cards, or even Apple Pay. When customers feel limited by payment options at check out, it means they might have to create an account or leave your website. This can lead to shopping cart abandonment and buyers' frustration.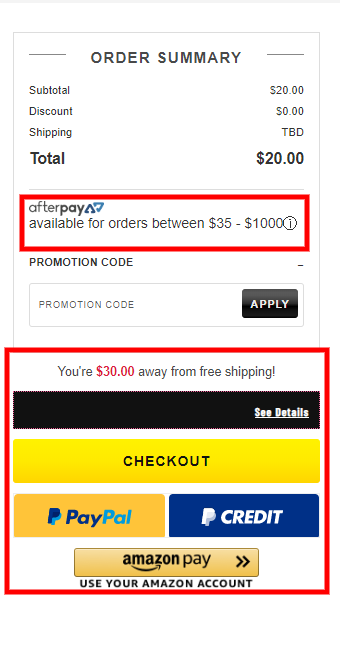 8. Add Delivery Options to Your Website
Online shoppers take their shipping options seriously. It's what stands between them and their package. About 82% of consumers say they are more likely to purchase from a brand with multiple delivery options.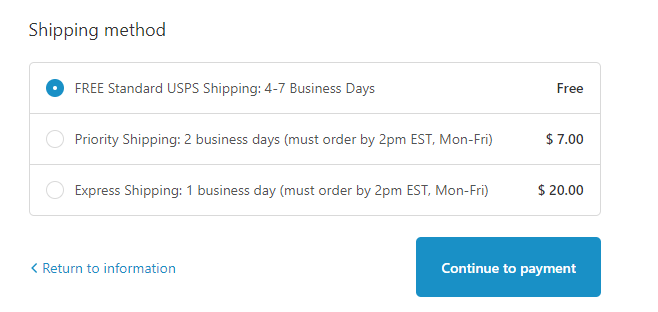 Offering free shipping isn't the only way to keep customers. An NRF Study found that 75% of U.S. consumers expect free shipping even on orders under $50,. However, 52% of shoppers have prioritized guaranteed delivery dates over free shipping.
This means if you promise shipping in 5-7 business days, then your customers are expecting their package in 5-7 business days. And trust me they'll keep count. It's important to put an estimated time frame and disclaimers if customers are ordering from different countries or need additional custom charges before clearing packages.
Check out Shopify's "Beginner's Guide to Ecommerce Shipping and Fulfillment."
Social Media Marketing Strategy for Retail
Social media is one of the most powerful marketing tools to date and shows no sign of slowing down. Social media is a permanent part of our day to day lives. We use social media for entertainment, to shop, research brands, and products.
Here are some social media marketing facts to prove it:
Curalate found that 76% of American consumers purchased a product after seeing a brand's social post.

Edelman reported that 39% of customers only trust brands if they have interacted with them on social platforms.

eMarketer found that 77% of people use Instagram for viewing photos, 51% for watching videos, 45% for sharing content, 23% for networking, and 11% for finding/shopping for products.
Here are the top social media tips you should start implementing for your retail store.
1. Update Your Social Media Profiles
An outdated social media profile gives customers the impression that you aren't worth following, or the information you've provided (including contact information) is obsolete. According to Sprout Social, 65% of consumers feel more connected to brands that have an active presence on social media.
Here are three effortless ways you can update your social media profiles with examples from Burlington:
1. Update your display image or profile picture: Your profile picture helps your customers to identify who you are without searching. Choose from your store's logo, CEO, or an employee representative to be the face of your social media profile.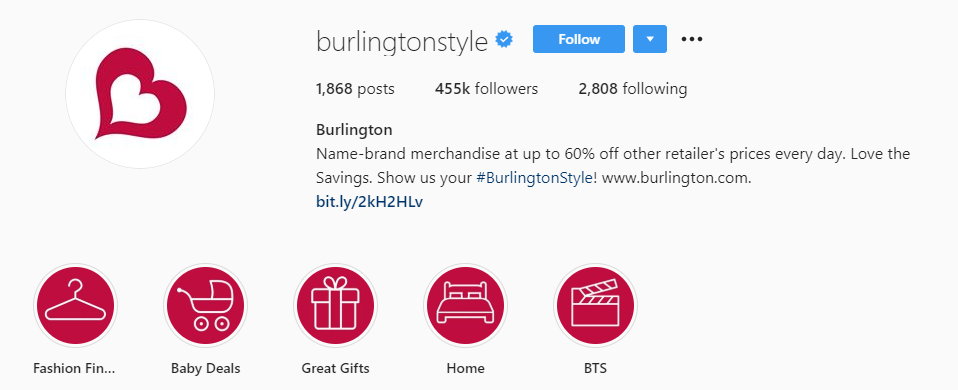 2. Add a description to your bio: Your bio is your chance to impress your new follower or customer. Let them know what you do and why they should shop with you. Based on your social media profile, you only have a few characters to say your piece, so use them wisely. Here's a free guide on how to write every kind of social media bio.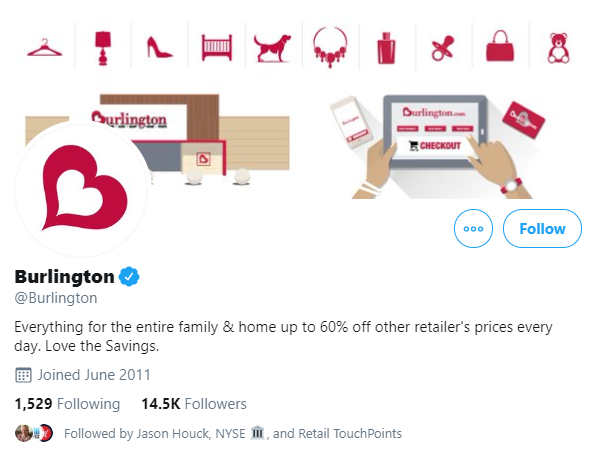 3. Add your contact information: You want to make it as easy as possible for customers to reach out to you online. Leave no stone unturned! Add contact numbers, your website, and location so customers can have every possible method to reach your store.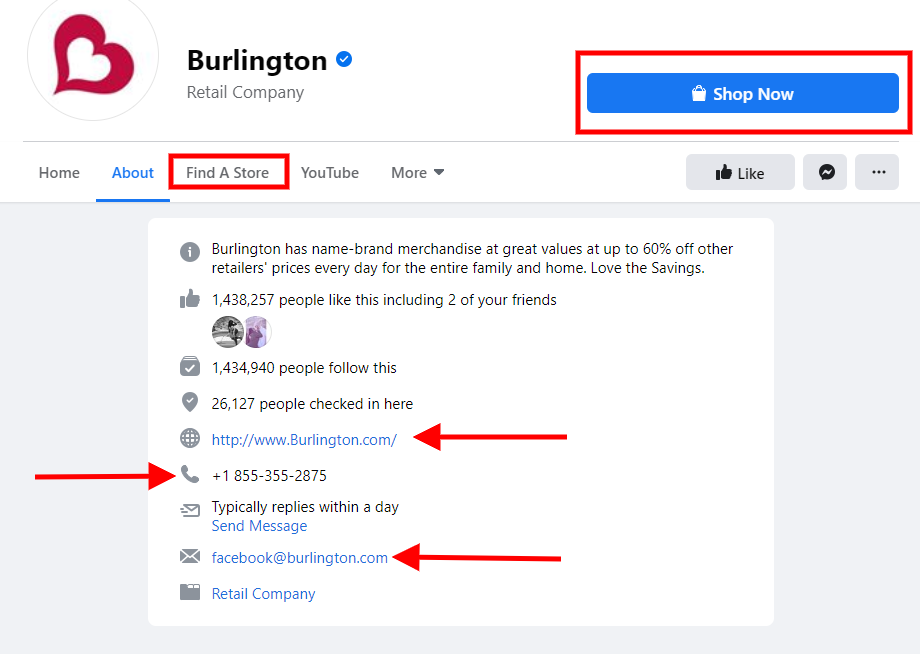 2. Show off Customer Reviews on Social Media
Social media and customer reviews go hand in hand, The Drum found that online reviews influence the purchase decisions for 93% of consumers.
What customers have to say about you on social media can spread like wildfire; it can either attract more customers or turn them away.
Never buy anything from @Forever21 online because they won't refund your order that was made over a month ago and never delivered, and on top of that I've called in over 15 times to speak to a manager and they promise a callback but it's been 36 days ? thieves

— Madison Marie (@madness_marie) July 4, 2019
Customers understand the power they hold when it comes to social media, so before you go ahead sharing positive reviews, it's time for you to handle the haters. Here's a step by step guide on how to handle haters on social media.
Once you handle the negative comments on social media like a pro and put procedures in place to prevent or manage them, then it's time to show off your favorite customers and reviews.
Super Goop is known for its sunscreen beauty products and highlighting customer reviews for all of its products. Products with reviews are 270% more likely to be purchased than products without. Yes, 270%.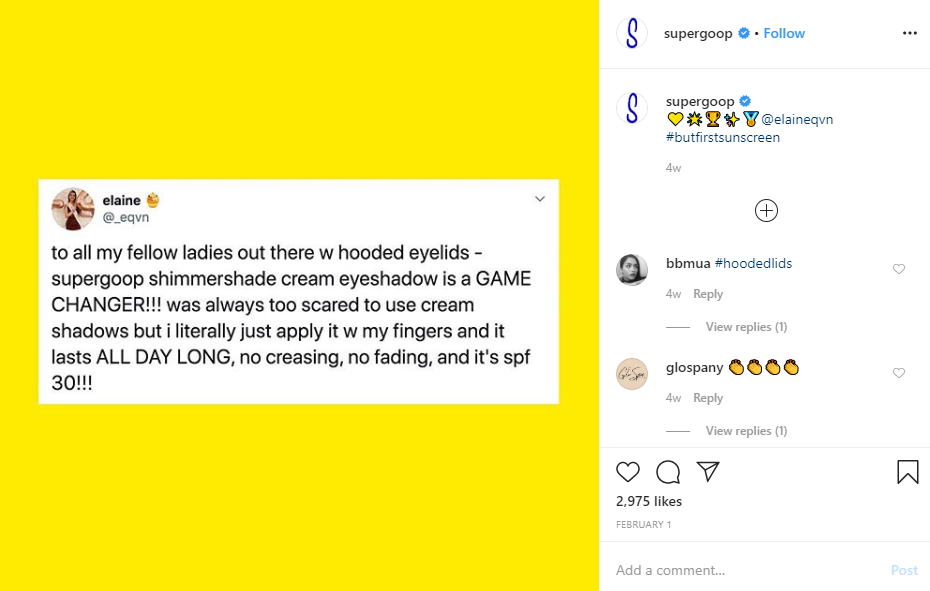 Here are 7 Easy & Effective Ways to Drive Customer Reviews
3. Use Social Media Ads to Boost Your Presence
The average Facebook user has clicked 12 ads in the last 30 days. Social media ads can help you to expand your reach to a detailed target audience. You can push promotions, sales, and new products sold in your retail store.
Organic reach on social media can only go so far, with the help of social media ads, you'll not only increase your following but boost your social media presence.

Here are detailed guides to help you make the most of your social media ads:
4. Highlight New Products & Post Amazing Content
Use social media as a way to introduce your products to your ideal audience, platforms like Facebook, Instagram, and Pinterest give you the flexibility to add videos, multiple images and even allow customers to shop directly on your profile.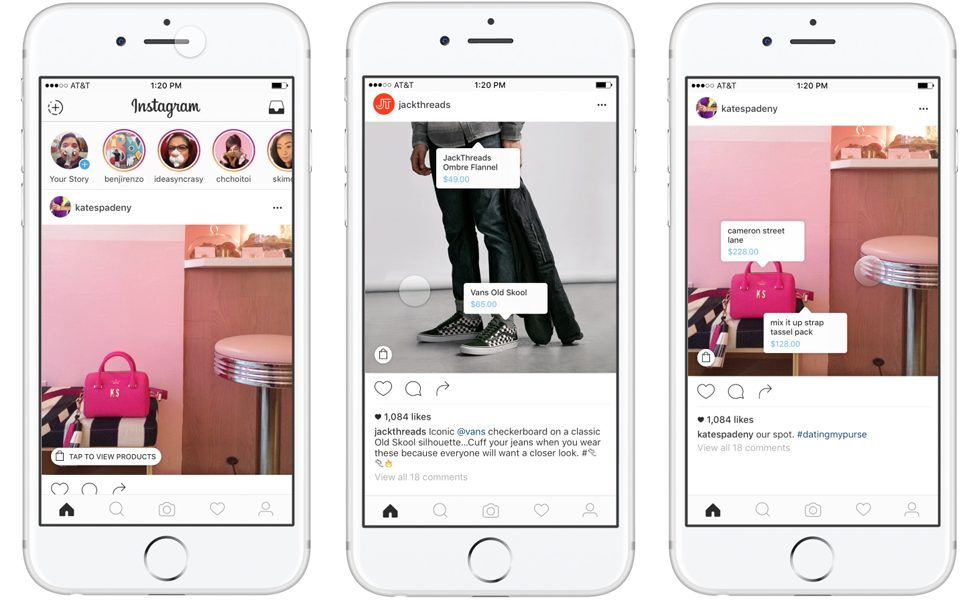 The key to winning on visual platforms like Pinterest and Instagram is to publish high-quality photos and content that connects with your retail audience. For example, "Italic," the Insta-favorite of unbranded luxury goods, has one of the best Instagram presence because of the content they choose to publish.
Try to invest in social media editing apps and tools as well as a photographer or camera so that you can capture each product professionally. Here are 200 Instagram Photos: Examples, Ideas & Resources for Your Business.
5. Partner with Influencers on Social Media
Mobile Marketer found that 93% of influencer marketing campaigns now use Instagram. In fact, the use of Instagram Stories in influencer marketing campaigns grew 60% in the last quarter, while the use of Facebook and Twitter declined.
Influencer marketing has become saturated with brands and new influencers alike. Still, it's ROI is still in good standing with marketers.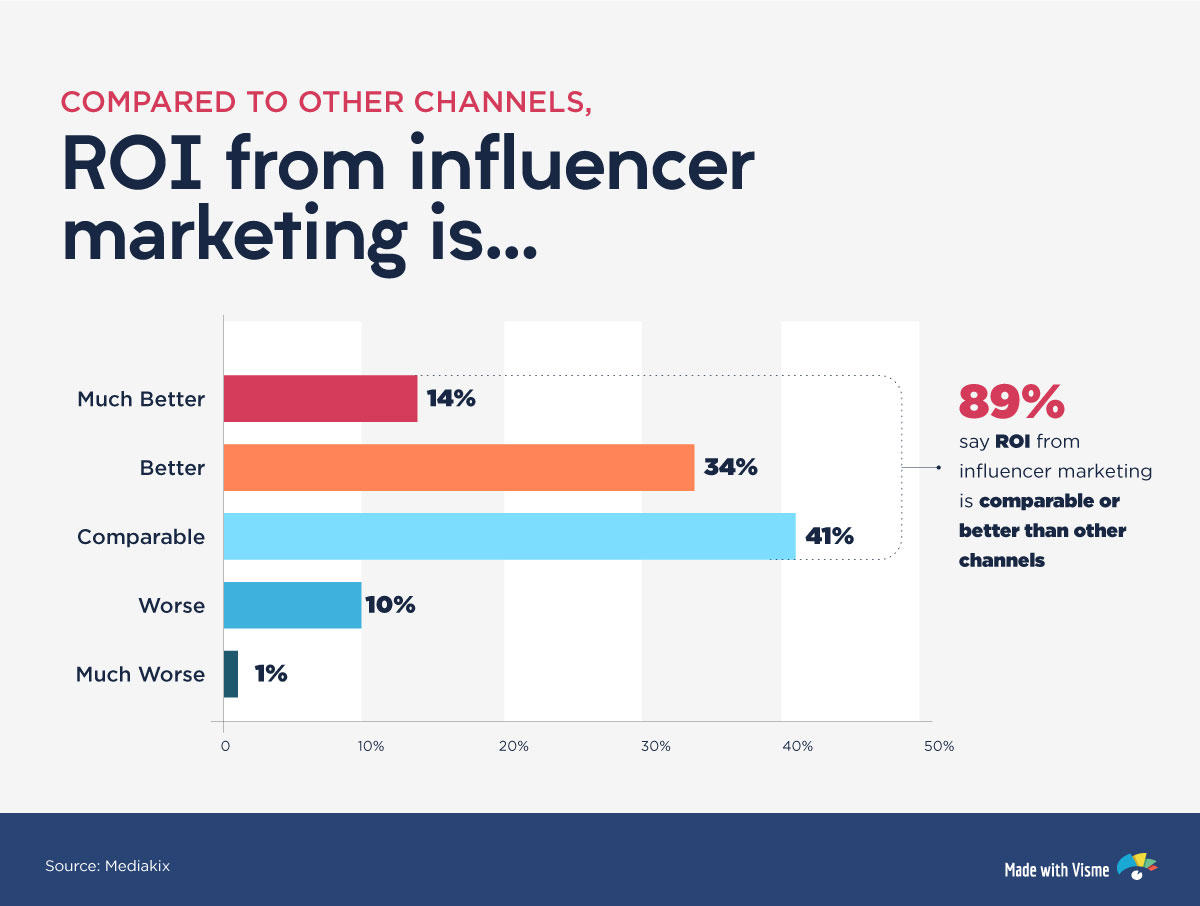 Brands like Nasty Gal, ASOS, and Gym Shark have grown their multi-billion dollar business with the help of influencer marketing.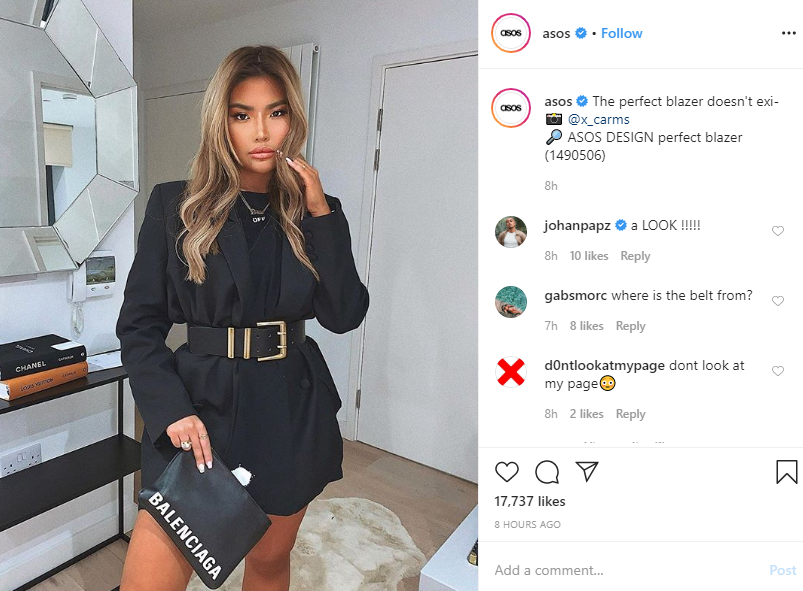 When working with an influencer here are a few tips you should consider:
Decide what your marketing goal is before approaching an influencer. Goals give you clarity about what actions or content you'll need from an influencer. Asking them simply to take a picture or share a post can only go so far, but when you have intention behind it, that's where you can start seeing results.

Pick an influencer who has high engagement, not followers. Today anyone can buy likes and followers. If you want to find out if an influencer has "influence," ask them to share their engagement rate, last three Instagram story stats, and success rates with past partnerships.

Be prepared to pay. Influencer marketing is in demand. It's now seen as a serious profession. A seasoned influencer already has a set of rates or works with an agency to manage their deals, and free products aren't always going to cut it.
Check out these detailed guide on influencer marketing you should read before you reach out to an influencer:
6. Host a Social Media Contest
Social media contests have the power to generate leads, grow your email list, and boost your following on social media. Brands like BHU Foods received a 35% increase in online sales by adding social media contests to their marketing strategy.
Social media contest, are easy to create, maintain, and manage. A good social media contest has a goal, follows social media guidelines, has a grand prize, and an easy entry method, among other things.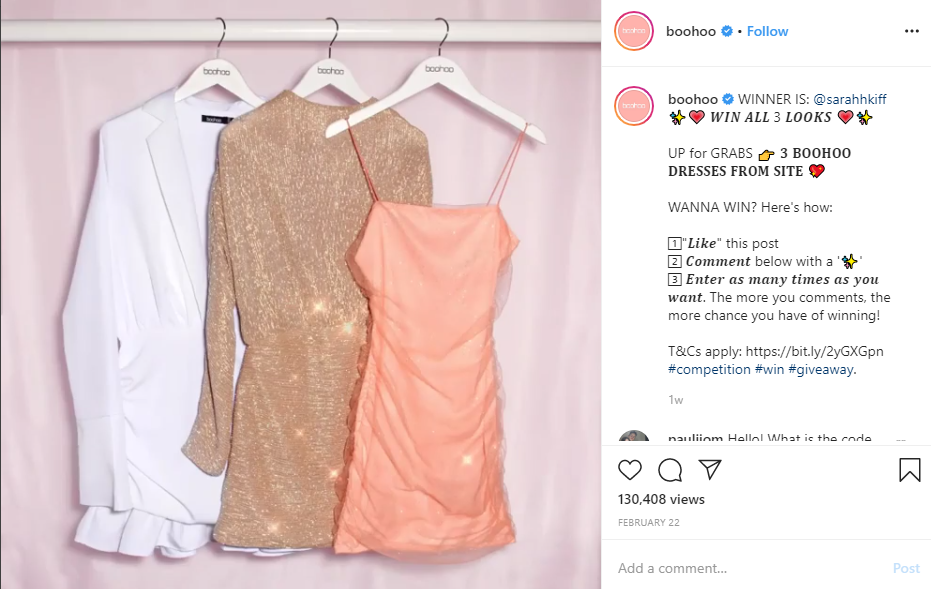 Need help with your next contest ?
Book a free call to learn how our team of contest experts can help you create high converting social media contests today.
7. Use Social Media to Provide Customer Service
PR News Wire found that 83% of people expecting companies to respond to social media comments within a day or less.
Failing to respond can give you a 43% decrease in customer advocacy, while a reply can increase it by 20%. With social media comes customers who are ready to socialize with brands online.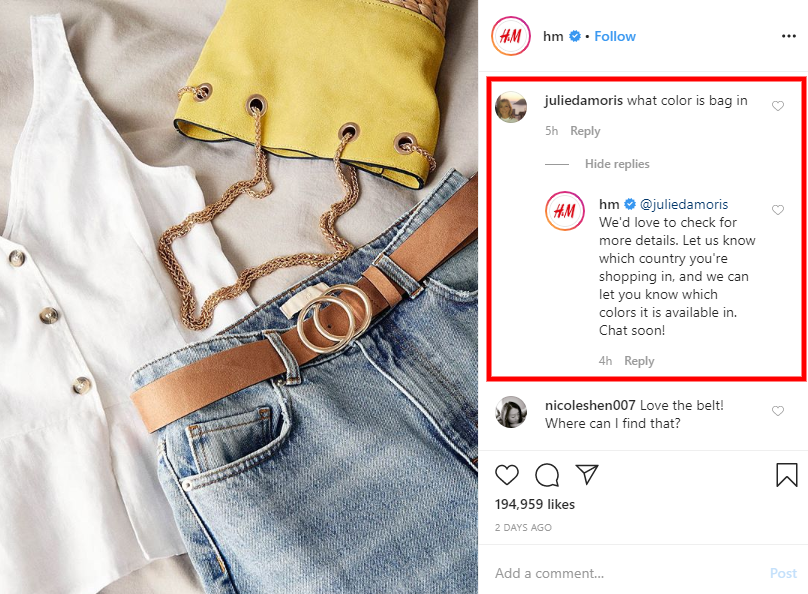 Having a social media manager or setting aside time to answer comments and dm's allows you to engage with your customers regularly. If you're not that organized, you can get started with this FREE social media checklist.
Google Marketing Strategy for Retail
Google is the holy grail of online presence. Not only is Google one of the biggest search engines, but they've provided platforms and tools to help you to maximize your business SEO, CTR, and sales.
1. Use Google Display Ads to Boost Sales
A study by Wordstream found that eCommerce retailers have the highest click-through rate out of all industries at 5.23%, with an average conversion rate of 3.58% with the help of Google Ads.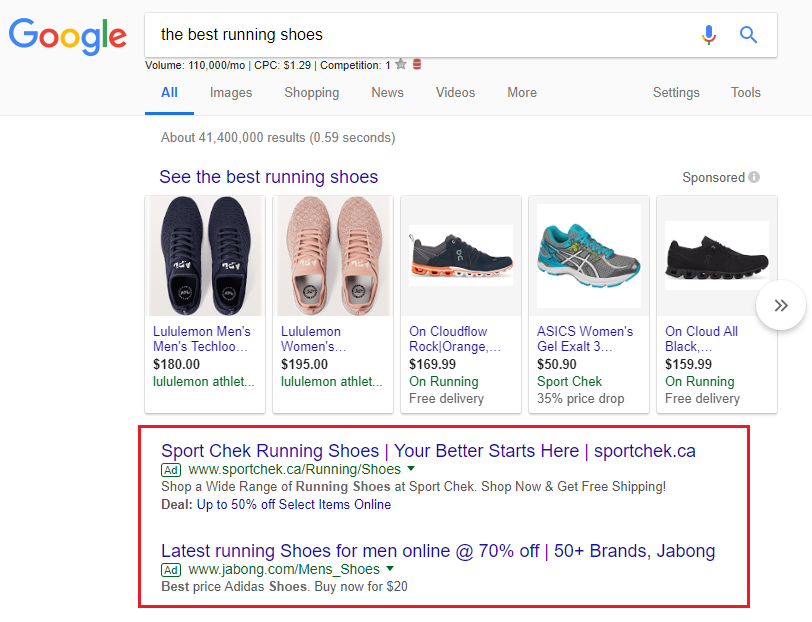 Google Adwords enables you to reach your customers nowhere they're located. If you're going to localize your Google Adwords campaigns, be sure you're localizing the ad's corresponding landing page as well. There's no point in driving traffic interested in seeing brick-and-mortar results in their area to a generic site not optimized to receive them.
Get started with Sell Bright's guide to Using Google Ads for Ecommerce.
2. Use Google My Business to Solidify Your Online Presence
You can allow customers to find your retail store with Google's online directory of companies. Having a Google My Business Page allows online users to find everything they need about you with just the click of a search button.
You can sign up for free anytime. Plus, you're added to a Google My Business listing when you create a Google Account.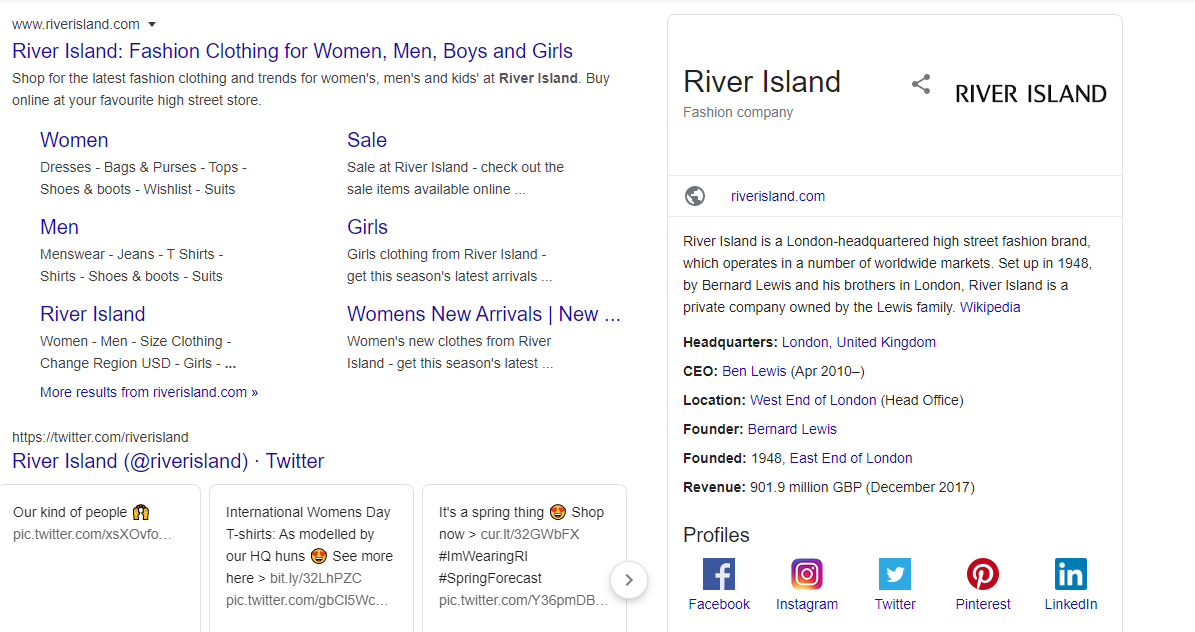 Here are 10 Proven Benefits of Google My Business & How to Use it For Sales.
3. Add Google Maps to All Your Online Profiles
Adding Google maps to your website is a subtle modern-day marketing feature. Customers can easily find the best route from their current location to your restaurant along with landmarks, so they don't get lost along the way.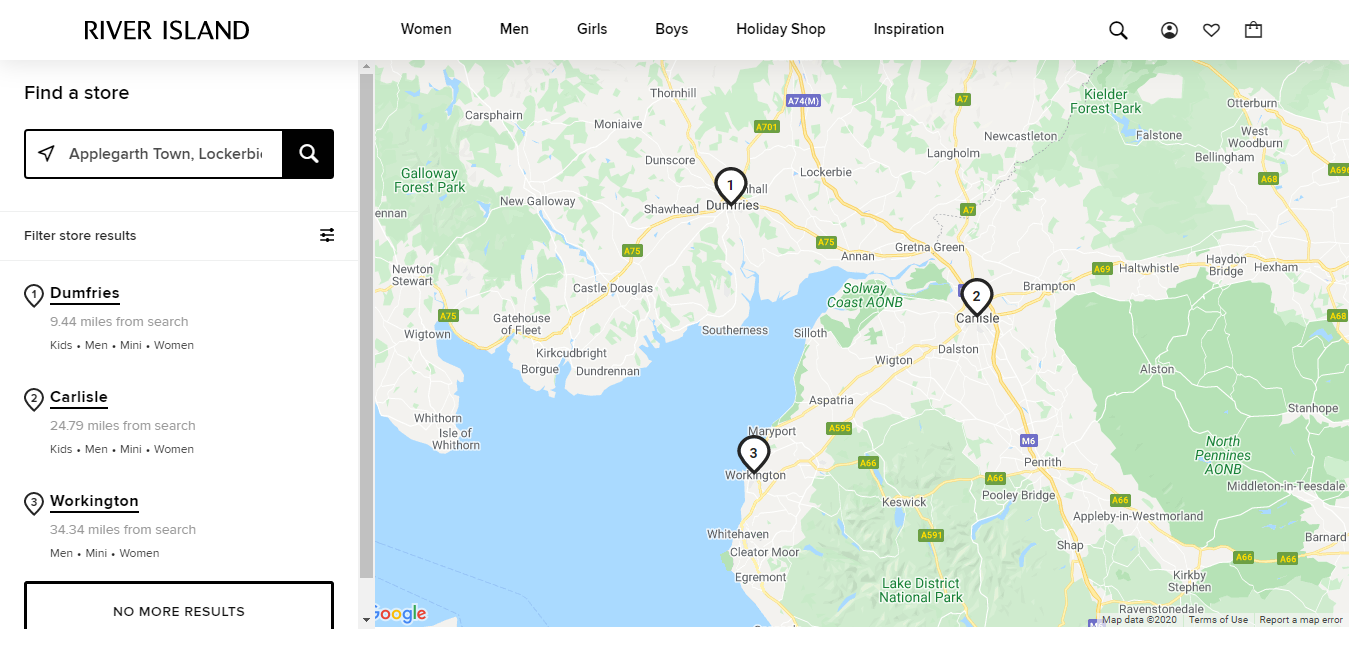 Email Marketing Strategy for Retail
Around 40% of B2B marketers say email newsletters are one of the key features to their content marketing success.
As a retail store, it's essential to cover all your bases, including email marketing. Once you've captured emails from current or potential customers, it's time to keep active and keep them coming back for more.
1. Welcome Email Marketing Campaign
The worst thing you can do as a brand is to collect an email and never send a welcome email to your new subscriber. Never treat your new subscribers like your old subscribers.
The average open rate for a welcome email is 50%. That makes it 86% more effective than standard newsletters. That's because just ask you'd like to be greeted by a sales rep when you walk into a store. A welcome email has the same effort on new subscribers. It makes them feel visible, validated, and ready to learn why they should trust your brand for their needs.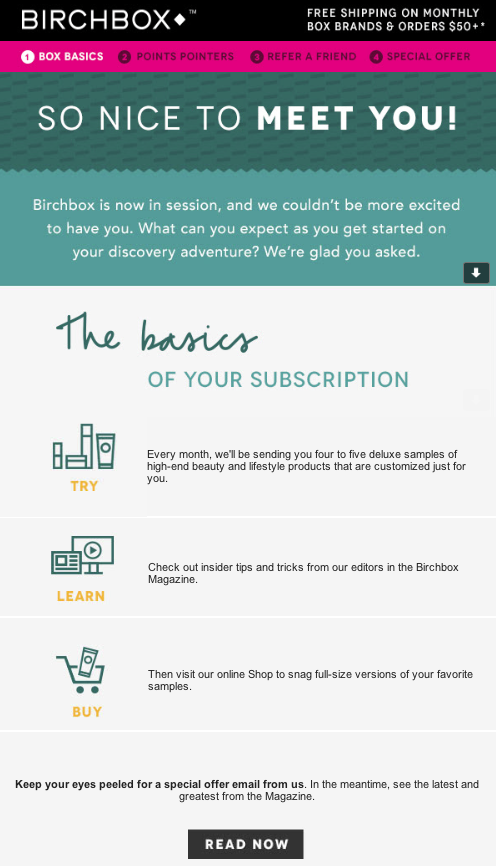 2. Send Product & Discount Emails
Have you ever signed up for a newsletter on your favorite site and hours later, received an email with a list of their best seller, new products, and seasonal collections? If they're really good, they probably sent you products based on your previous orders or interest based on your search history on their site.

You should also send discounts to shoppers who haven't made or completed a purchase. This tempting offer will allow you to get a few sales along the way with new or current customers.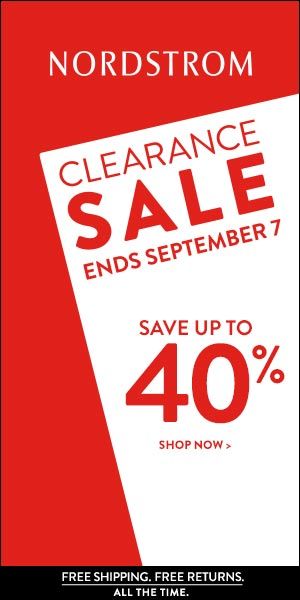 3. Send Shopping Cart Abandonment Email Campaigns
Shopping cart abandonment is when your customers come to your online store, fill their carts, and then, for some reason, leave without completing their order.
Maybe their boss walked in while they were sneaking in some online shopping or they're checking out a competitor to compare prices. It happens a lot more often than you think. The average cart abandonment rate is 67.91%. Shopping cart abandonment emails are one of the best ways to recover lost sales.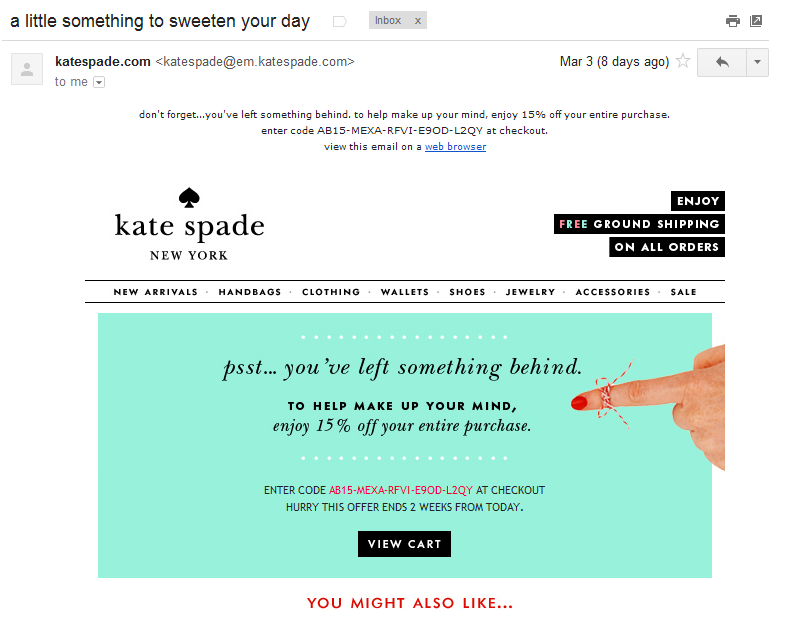 4. Allow Customer to Unsubscribe from Your Email List
One of the worst email experiences you can give a customer, not allowing them to leave your twilight zone of endless emails. Let customers opt-out of your email list, or you'll end up with your emails in spam or worst, social media backlash.
@OldNavy this is a terrible customer experience. I'm unsubscribing but you should probably quit sending SO MANY EMAILS! pic.twitter.com/Dj9bdSJ3Bg

— Crystal Parra (@crysparr) February 24, 2020
Testing 1, 2, 3...
Marketing your retail store is no easy task. It takes consistent effort and actions, not to mention an active ad budget. Following these tips will allow you to take your online marketing to the next level.
Feel free to incorporate these tactics and platforms with traditional methods like posters and flyers. If managing your online marketing adds too much to your plate feel free to check out Wishpond's marketing automation tool.
Ready to start automating your marketing?
Book a free call to learn how our team of marketing experts can help you create high converting email marketing today.
Related Reading