11 Best Ecommerce SEO Tools Marketers Need to Start Using
Getting to the first page of the SERPs for the products you sell isn't easy, especially when you are competing with major eCommerce brands like Amazon and Walmart.
However, with the right tools at your disposal, you can significantly increase your chances of outdoing your competitors.
Here are the 11 best tools for eCommerce SEO marketers.
When it comes to measuring your online store's performance, no tool can match the level of Google Search Console (GSC). The data comes directly from Google so you can easily trust it.
Advantages of Using Google Search Console for Ecommerce SEO:
As an eCommerce store owner, you add several new pages to your site every day. Hence, you want these pages to get crawled immediately. GSC helps you to submit a sitemap which informs Google to crawl all the new pages on your site.
With the URL inspection tool, you can quickly retrieve the data from Google index. You can see if the page is crawled or if the Google crawlers are facing issues while crawling your website.
Plus the number of mobile shoppers are increasing. GSC helps to identify any mobile usability error in your site. By fixing all the mobile usability errors, you can provide the best shopping experience to your users.
It is essential to understand how your ecommerce store is performing in search results as it helps plan future strategies. GSC shows you the total number of clicks, impressions, average CTR, and average position in Google search results. You can change the date range to check if your SEO strategies are working or not.
When selling products online, eCommerce store owners often display product reviews on the Google search results page using rich snippets. With GSC, you can also check if Google could or could not read rich results from your website. This ensures rich snippets are displayed correctly and generates the maximum clicks to the site.
Many eCommerce store owners create AMP pages for their website to improve the loading speed on mobile devices and their ranking. GSC displays errors that are preventing your AMP pages from appearing in Google search results, helping you improve your SEO performance.
This tool is also essential for eCommerce store owners to determine the keywords searchers are using to find their website. GSC displays all the keywords on which the site is ranking. It also shows the number of impressions and clicks your results received so that you can optimize your site for better search performance.
Example: How You Can Use GSC to Optimize Your Ecommerce Website
For example, you are looking to improve the amount of traffic to your website. You can use GSC to identify all the underperforming keywords.
Click on Performance and compare the difference between clicks and impressions. If there is a big difference between impressions and clicks then it means that your site is ranking for that keyword but is on the second page or third page so fewer people are clicking on it.
You can drastically improve the traffic on your website if you are able to improve the rankings of such underperforming keywords.
Pricing: Google Search Console is completely free to use.
Every eCommerce store needs powerful email marketing software to assist customers during every stage of the buyer journey. Wishpond allows you to run tests, create powerful popups, and nurture leads based on their real-time activity.
Advantages of Using Wishpond for Ecommerce SEO:
You can test various SEO strategies help you determine what resonates the best with your target audience. This, in turn, enables you to create campaigns that drive better results. Wishpond allows you to run various tests.
At times, it gets difficult to convince shoppers to buy. But with popups, you can encourage them to stay on your site for longer. The more time they spend browsing products, the more likely they are to purchase. Wishpond's popup features help you trigger pop-ups based on the visitors' actions. Another benefit of this is that it increases the dwell time.
Not to mention your website's design plays a crucial role in influencing customers to purchase. However, it is essential to determine what design works best for your business. Wishpond allows you to create and test professional-looking landing pages in minutes without any designing or coding knowledge.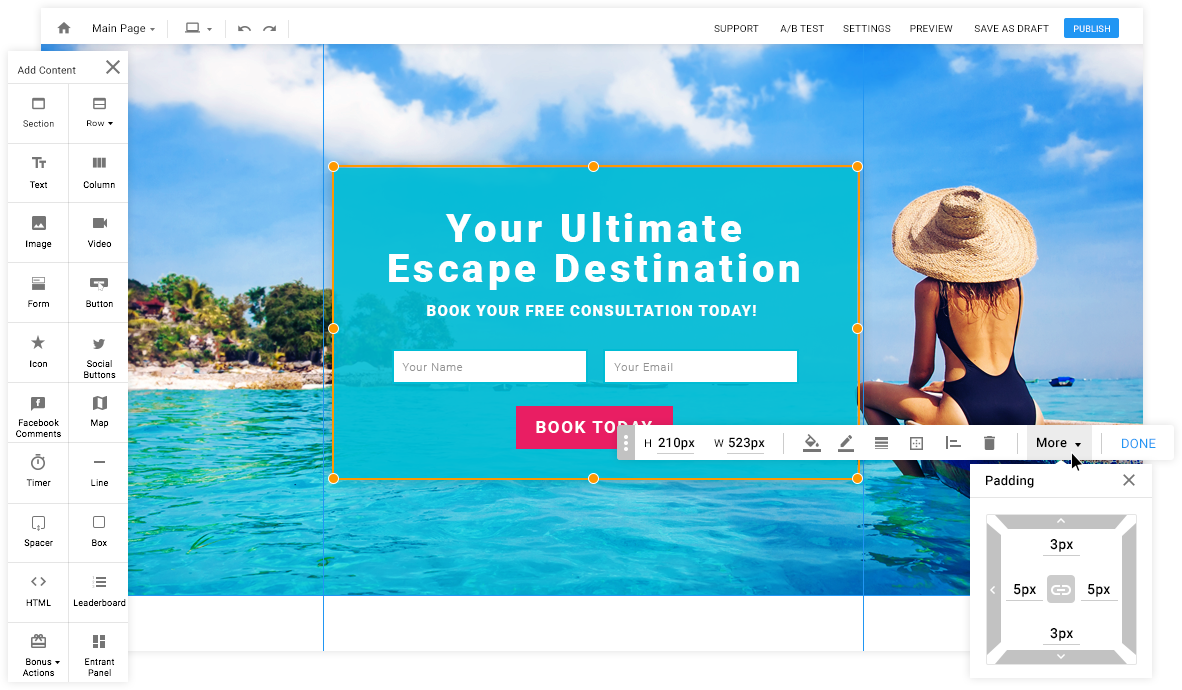 The problem with consumer behavior is that it changes continuously. What works for your business now, might go out of trend in a few months. To cope with that problem, Wishpond allows you to test unlimited variations of your pages with a one-click A/B split testing feature and analyze their performance with real-time analytics.
Every eCommerce store owner wants to convert as many visitors as possible. Wishpond's built-in popup tool helps you make visitors stick to your website for longer, thereby increasing the chances of conversion. You can trigger the popups on entry, exit, scroll, click, or with a timed delay.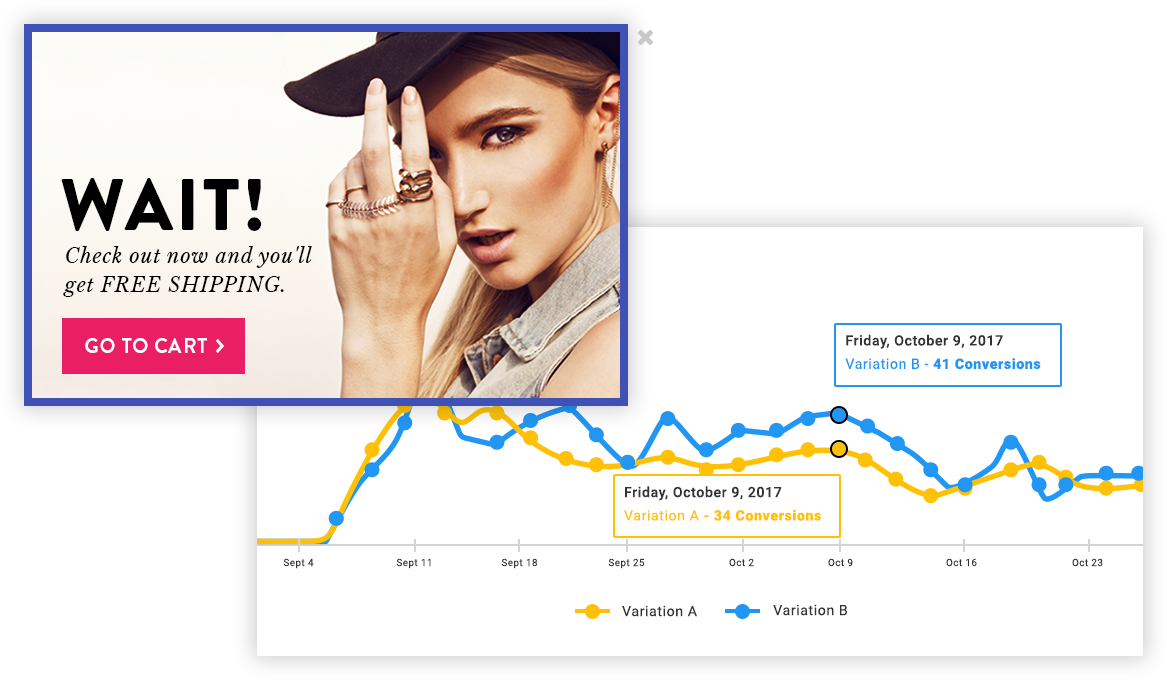 It delivers personalized weekly statistics to your email. Just choose the metrics that matter the most to you, and you will get the email every week.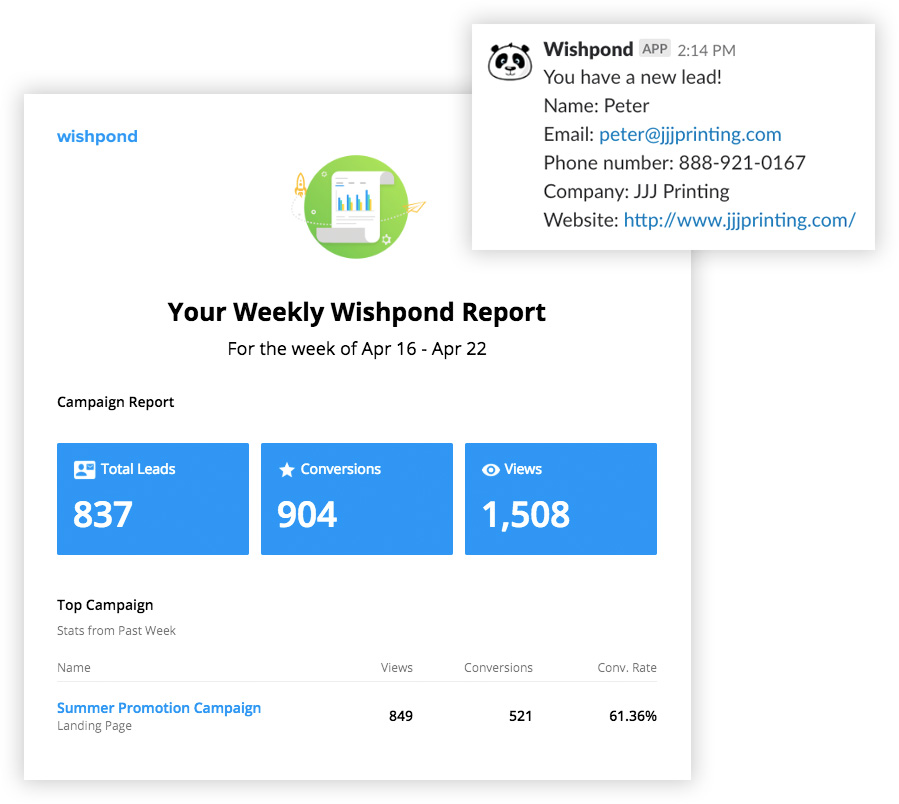 Example: How You Can Use Wishpond to Optimize Your Ecommerce Website
Wishpond offers a powerful collection of tools that are crucial for eCommerce conversions.
Every eCommerce store faces the problem of abandoned carts. With Wishpond's automated email marketing feature, you can create rules based on customer behavior. For example, when the customer adds something to their cart but doesn't buy it for three days, you can automatically send an email reminding them to complete the order.
What's more is that Wishpond's free pop up tool lets you create different popup tools such as welcome mats, entry, exit, and slide-in pop ups. Popups are extremely useful and they assist the customers at every stage of the buyer journey.
For example, you can present a discount popup when the prospects are at the top of the customer acquisition funnel or you can run a refer-a-friend contest on your site. Similarly, you can run daily deal popups or new product announcement popups. All these pop-ups are crucial for customer engagement.
Pricing: Wishpond has three pricing plans.
If you have just begun selling online, choose the "Starting Out" package: $49/month.
If you are a small business, select the "Everything You Need" package: $99/month.
If you are a fast-growing business, choose the "Rapid Growth" package: $199/month.
Screaming Frog is a website crawler that analyzes your ecommerce store for on-page and technical SEO errors.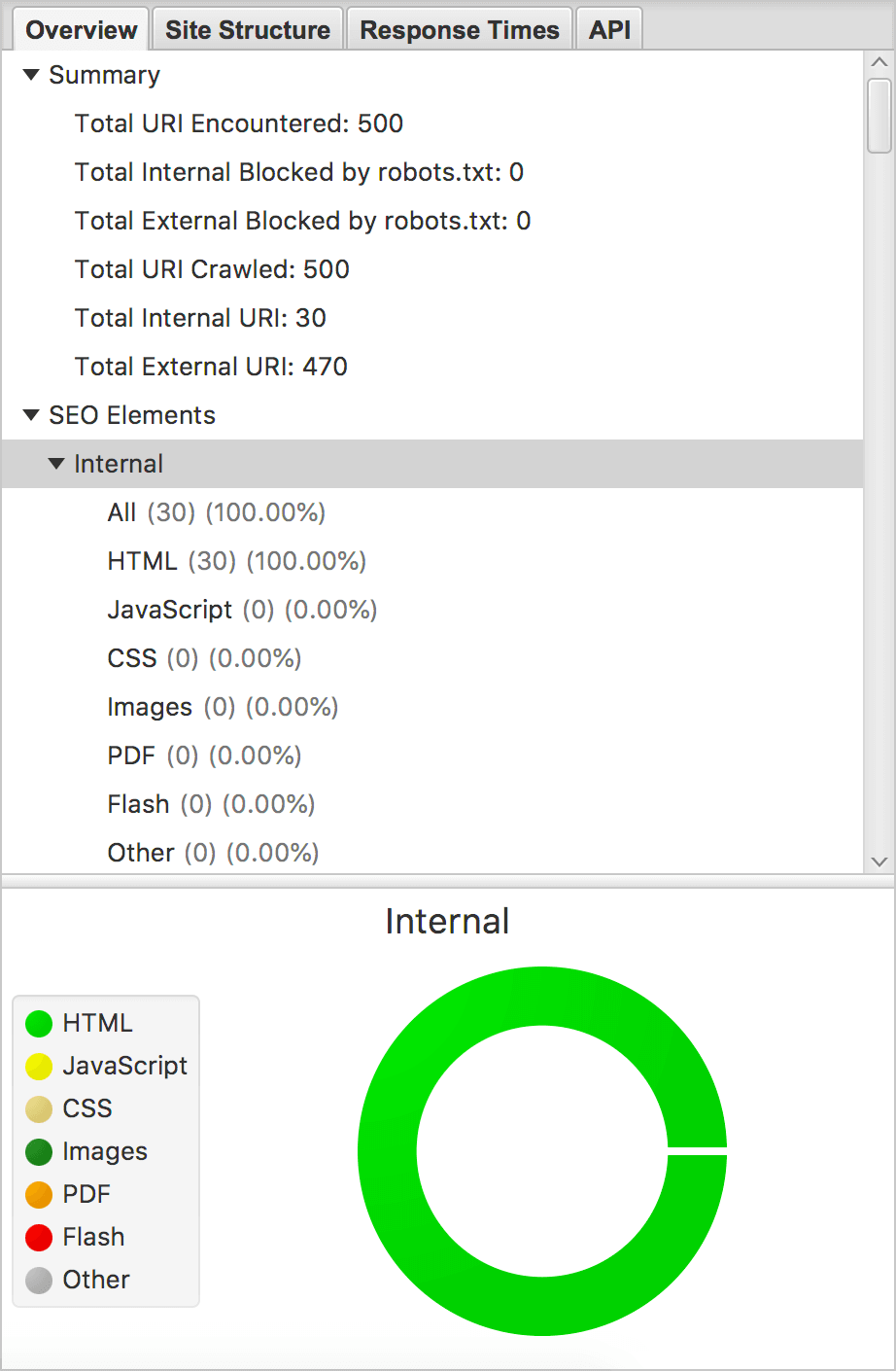 Advantages of Using Screaming Frog for Ecommerce SEO:
Technical SEO issues can hurt your website's ranking. Screaming frog helps ensure your site's technical SEO is in place.
Ecommerce websites have thousands of pages and you would want Google to crawl each one. Screaming Frog allows you to generate sitemaps for your website. This, in turn, helps search engines read all the pages on your site.
Ecommerce SEO marketers face difficulty in improving their internal linking structure. This is primarily due to the fact that all the products are different and have little to no relation with each other. Screaming Frog provides suggestions into how you can enhance your internal linking structure.
Scanning thousands of pages on your online store to find technical issues can take days. Screaming Frog helps find broken links and server errors within minutes. You can then bulk export the links to send it to developers.
Manually checking all the titles and meta descriptions is not feasible. Screaming Frog helps analyze page titles and meta descriptions of all the URLs on your website instantly. It even shows which of them are long, short, missing, or duplicated across your online store, thereby saving time.
At times, ecommerce store owners update their inventory and eliminate certain products. They then redirect the page to a different URL. Screaming Frog helps find temporary and permanent redirects that might hurt the user experience, allowing you to fix them.
Analyze the number of words on each page. Check which of them have missing or duplicated H1, H2 tags. This is essential as many eCommerce websites have the same H1 tags for similar products or variants, which hurt your SEO.
Example: How You Can Use Screaming Frog to Optimize Your Ecommerce Website
As an online store owner, you would not want Google to trim essential information about any product. Screaming Frog helps you ensure it doesn't happen.
For example, to check how a page appears in organic search results, click on SERP Snippet at the bottom of the page and you will see how your pages look in the search engine results page.
This also allows you to experiment with different titles and meta descriptions to see how well they fit.
Besides, with a quick scan, you can easily identify the pages on your site having duplicate titles, missing titles, missing H1s, incorrect 301 redirects, and every other technical SEO issue which might be hard to find the manual way.
Pricing: You can index up to 500 URLs for free. Or you can purchase the license at £149.00 to crawl unlimited pages. I would suggest using the free version of Screaming Frog to get acquainted with the tool before buying it.
SEMrush is yet another great tool that helps marketers optimize their website and boost rankings. From site audit to keyword research and competitor analysis, you get everything you need to do SEO.
Advantages of Using SEMrush for Ecommerce SEO:
Unless you know how your SEO campaigns are performing, you can't improve it. SEMrush allows you to track your SEO performance and enhance your strategy.
Ecommerce marketers face stiff competition. To outrank your rivals, you first need to know what they are doing. SEMrush helps find your competitor's top-performing pages and keywords. It also shows the type of content they are publishing.
SEMrush displays which keywords you are currently ranking for and at which position. The organic research report also shows the average monthly search volume, keyword difficulty, and CPC.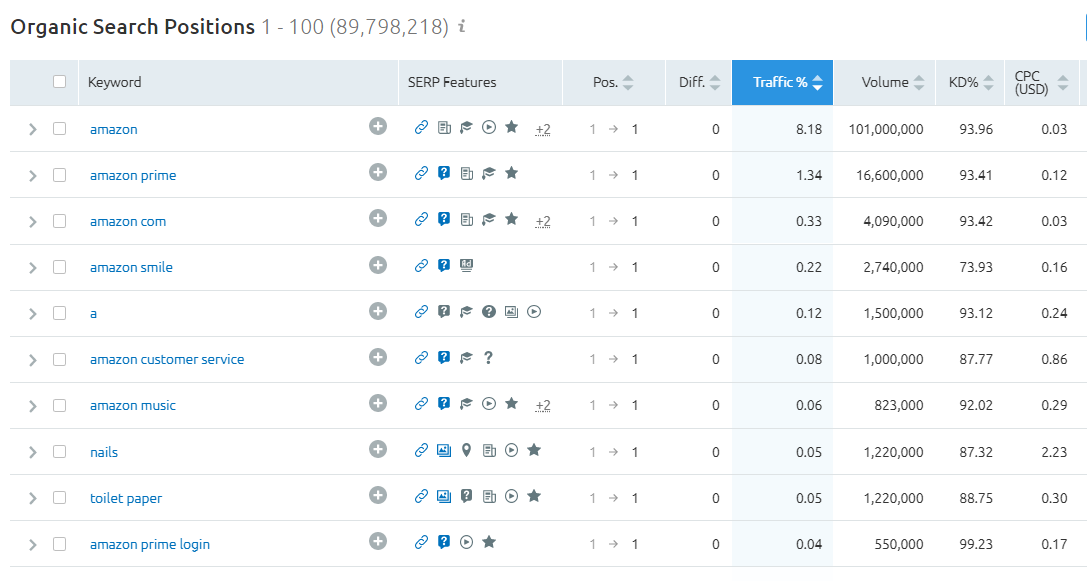 SEMrush shows changes in organic positions for your website. This is vital as it helps you determine if your competitors are outranking you. You can also check the impact of the change in ranking in terms of traffic.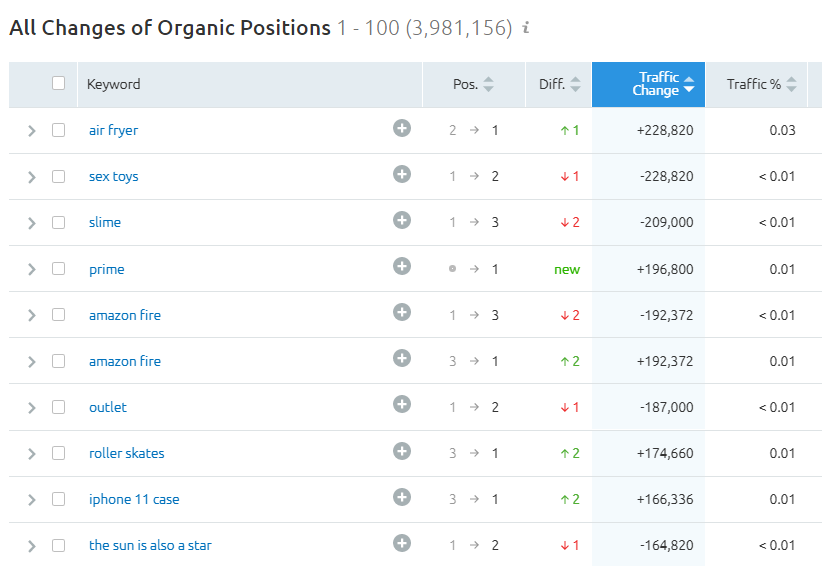 What I liked the most about SEMrush is its competitor analysis tool. You don't need to enter your competitors URL to spy on them.
Just type your domain, and SEMrush will find your top organic competitors based on the keywords you are targeting.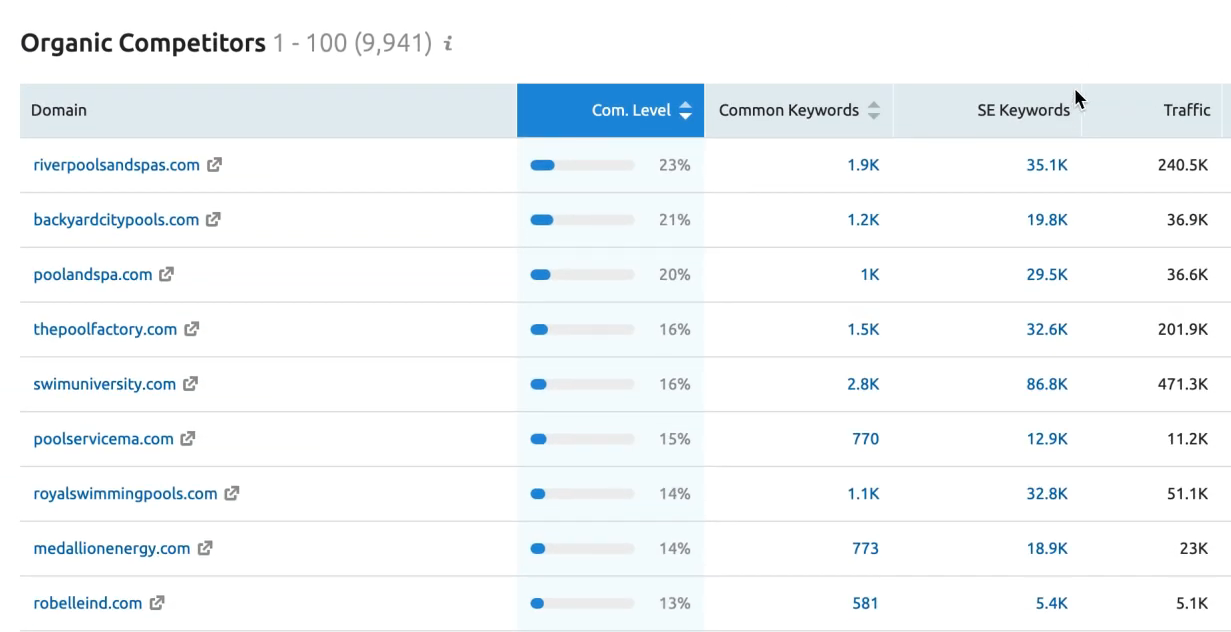 * SEMrush's Backlink Analytics tool helps you audit your link profile and compare it with your competitors. This is important as it empowers you to find backlink opportunities.
* It also has an On-Page SEO checker that offers a list of suggestions to help you improve your website ranking. It includes readability analysis, backlink opportunities, semantically related words to use on your pages, and target content length. It also shows the potential traffic you will receive after you follow all the recommendations.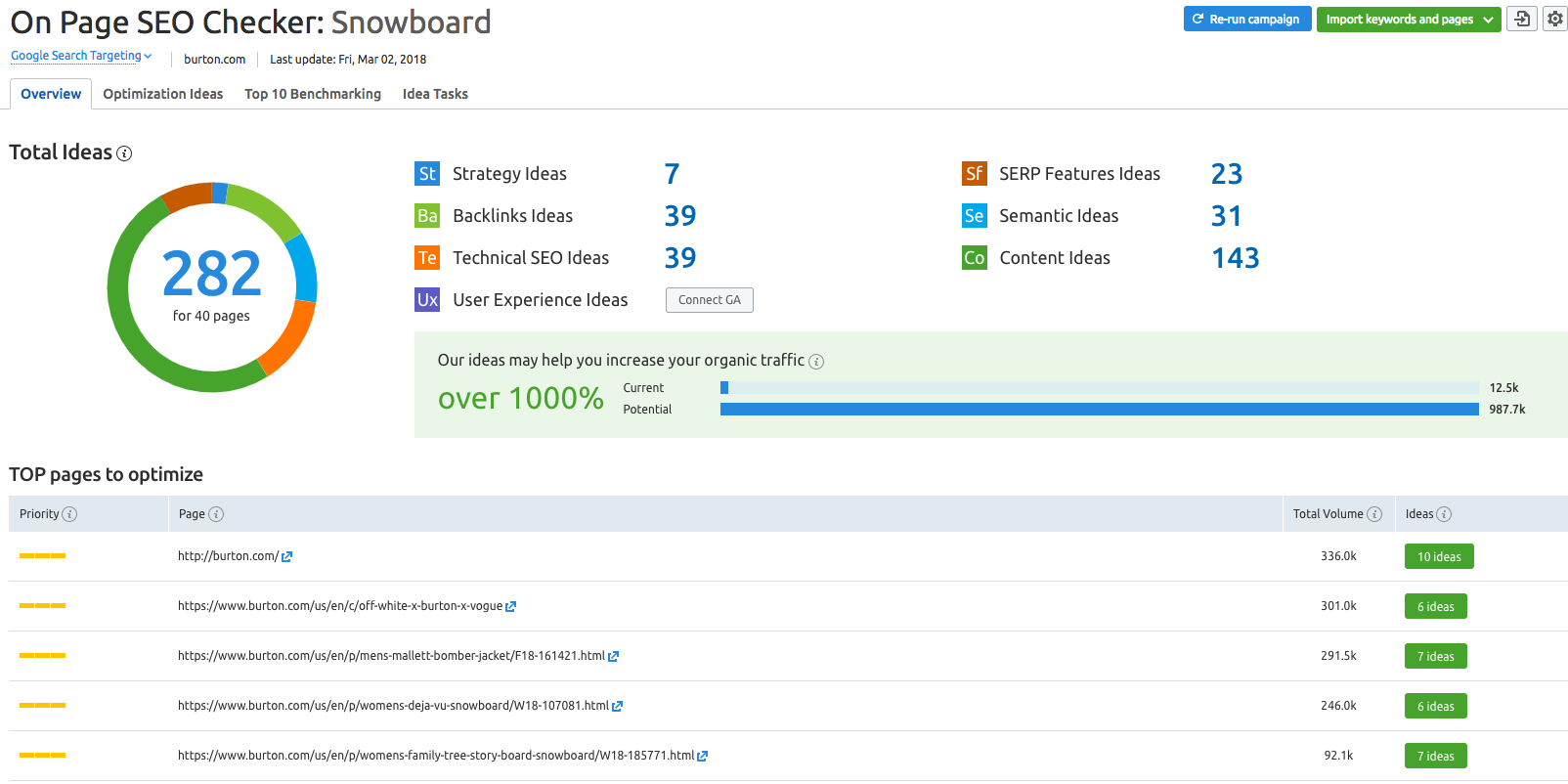 Example: How You Can Use SEMrush to Optimize Your Ecommerce Website
Thrive Market, a membership-based e-commerce retailer, was struggling to align content with searcher's intent. This required going beyond blogging to include product and brand pages in their content marketing strategy.
They used SEMrush to find the most relevant keywords for their company. This helped them create content that reflects users' actual interests. As a result, Thrive Market now ranks for more than 124,000 keywords.
Pricing: SEMrush is a freemium tool. However, it offers very limited features for free.
SEMrush has three plans:
For freelancers, startups, and in-house marketers (Pro): $99.95 *For SMBs and growing companies: $199.95
For large eCommerce companies with an extensive web presence: $399.95
NordVPN is a virtual private network that helps you change your geo-location to any area you want. If you are serious about eCommerce SEO then you certainly need a VPN in your SEO tools arsenal.
Advantages of Using NordVPN for Ecommerce SEO:
Since Google displays different search results for the same search query depending on the user's location, you must analyze what resonates the best with your target audience. NordVPN lets you do that.
Protects your identity online, thereby preventing your site from hackers.
Allows you to bypass geo-restrictions. This is essential as it helps analyze who your competitors are at each location and their SEO strategies.
The tool encrypts your data while you browse the internet. It has servers in 5000+ locations so you can target any area for SEO research in the world.
One account lets you connect up to six devices, enabling your team to conduct research simultaneously. Plus get 24/7 support to help you get the most of the tool all the time.
Example: How You Can Use NordVPN to Optimize Your Ecommerce Website
To use NordVPN for eCommerce SEO, all you need to do is choose a server of a location you want to target. Then, enter your seed keywords to find who your competitor is in those areas.
Check the type of content they are publishing as those are the ones that resonate the best with your target audience in that very location.
For example, here's how the search results look like for the keyword "buy shoes" in the Atlanta location.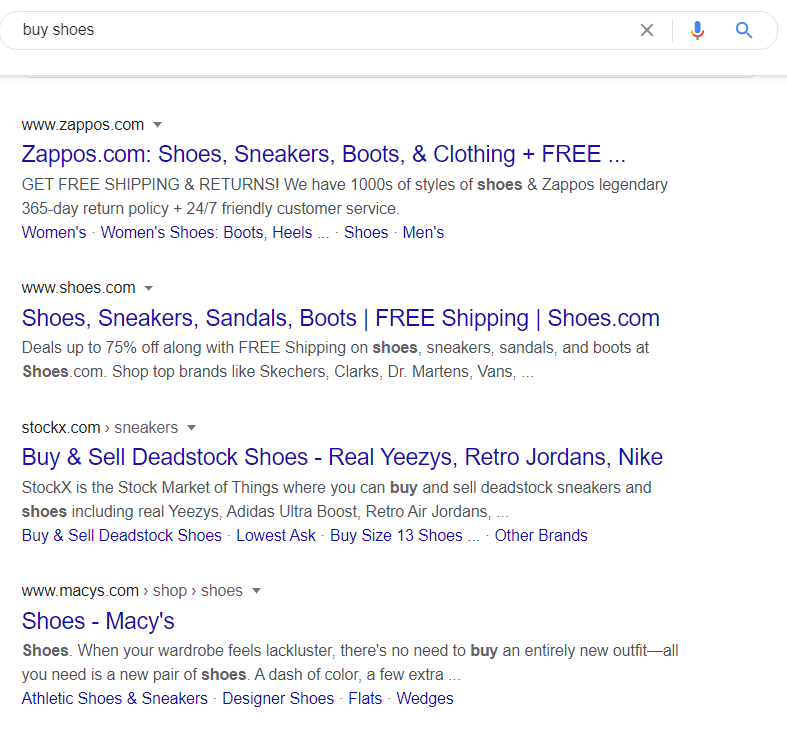 I changed my location to the UK using NordVPN and searched the same thing. Here's what Google returned.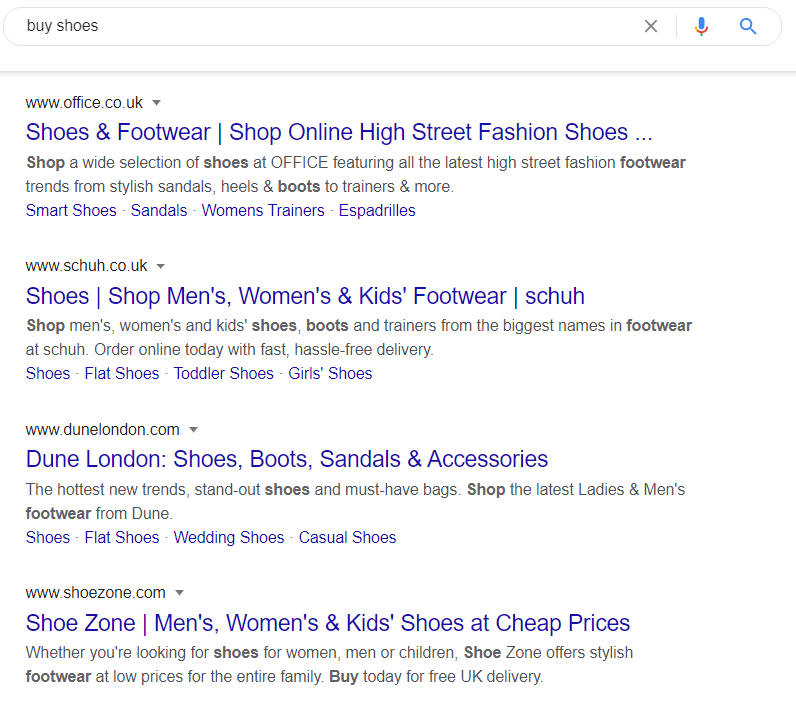 As you can see, both the results (for the same keyword) returned two different results. For eCommerce businesses offering their services to multiple locations, this can be the best way to find competitors in real-time.
Repeat the steps for all the locations you serve to, and you will be better positioned to outrank your competitors in all the places you serve.
Pricing: NordVPN has four plans:
One-month: $11.95
One-year: 83.88 ($6.99/month)
Two-year: $119.76
Three-year: $125.64
Omniconvert is a testing tool that allows you to run experiments to determine what works the best for your business. The tool makes it easier to understand your customers' needs and assists you in improving your overall website experience.
Advantages of Using Omniconvert for Ecommerce SEO:
With Omniconvert, you can learn how your visitors interact with your site (design, CTAs, checkout, etc.).
This will help you provide the very same thing your site visitors are looking for and improve the overall user experience.
You can A/B test different ideas and it also helps you to create campaigns that
your ideal customers are more likely to respond to, optimize user experience, and reduce the bounce rate.
The tool allows you to check various dynamic variables while running experiments in Omniconvert. It includes current logged-in users, products customers are viewing, total cart value, and revenue per visitor.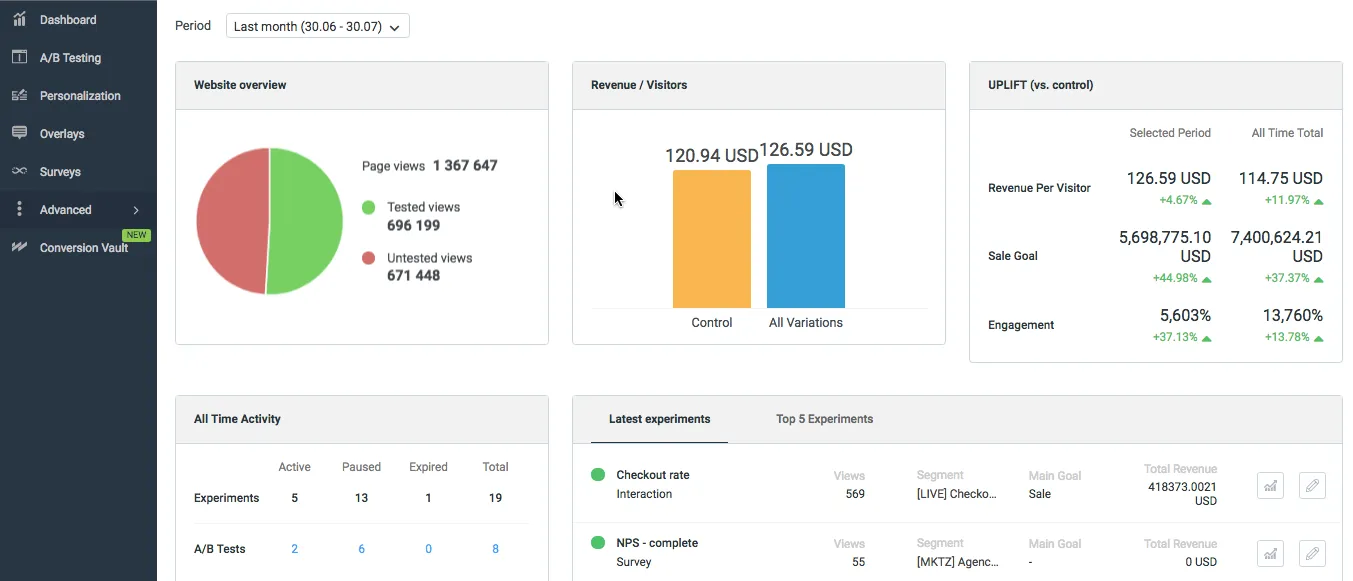 You can quickly automate experiments with the help of machine learning. It even reveals what makes customers stick to your website. You can then use the insights feature to fuel your SEO campaign and attract more visitors.
What I liked the most about Omniconvert is that it allows you to run experiments for specific locations, giving you a better understanding of your customers in each area.
Example: How You Can Use Omniconvert to Optimize Your Ecommerce Website
Omncionvert is a conversion optimization tool. The best use of Omniconvert is running A/B tests to optimize your website for better UX and higher conversions.
Ideall.ro, a Romanian eCommerce store, struggled to compete against retailers with a higher market share. They used Omniconvert for data analysis, A/B testing, interactions, and surveys. As a result, they saw a 22% boost in conversion rate and a 14% increase in revenue within the first six months.
Pricing: Omniconvert has two plans:
For growing companies: $167/month or $1,990/year
For enterprises: You will need to contact the company for pricing
Trustpilot is a review platform that allows you to collect and analyze reviews. It supports your overall SEO efforts by improving your trustworthiness and credibility in front of search engines.
Advantages of Using Trustpilot for Ecommerce SEO:
You get additional content when customers leave reviews on your site, thereby increasing your chances of appearing for various search queries.
*Empowers you to build trust with your target audience.
This tool helps encourage customers to leave reviews for your products and allows you to respond to customer feedback from Trustpilot's platform itself.
You can integrate Trustpilot reviews on your site to help customers make informed decisions and enhance your online reputation.
Example: How You Can Use Trustpilot to Optimize Your Ecommerce Website
For instance, a user searching for the Dot bank black card might see this result (sourced from a customer review) because it contains relevant keywords.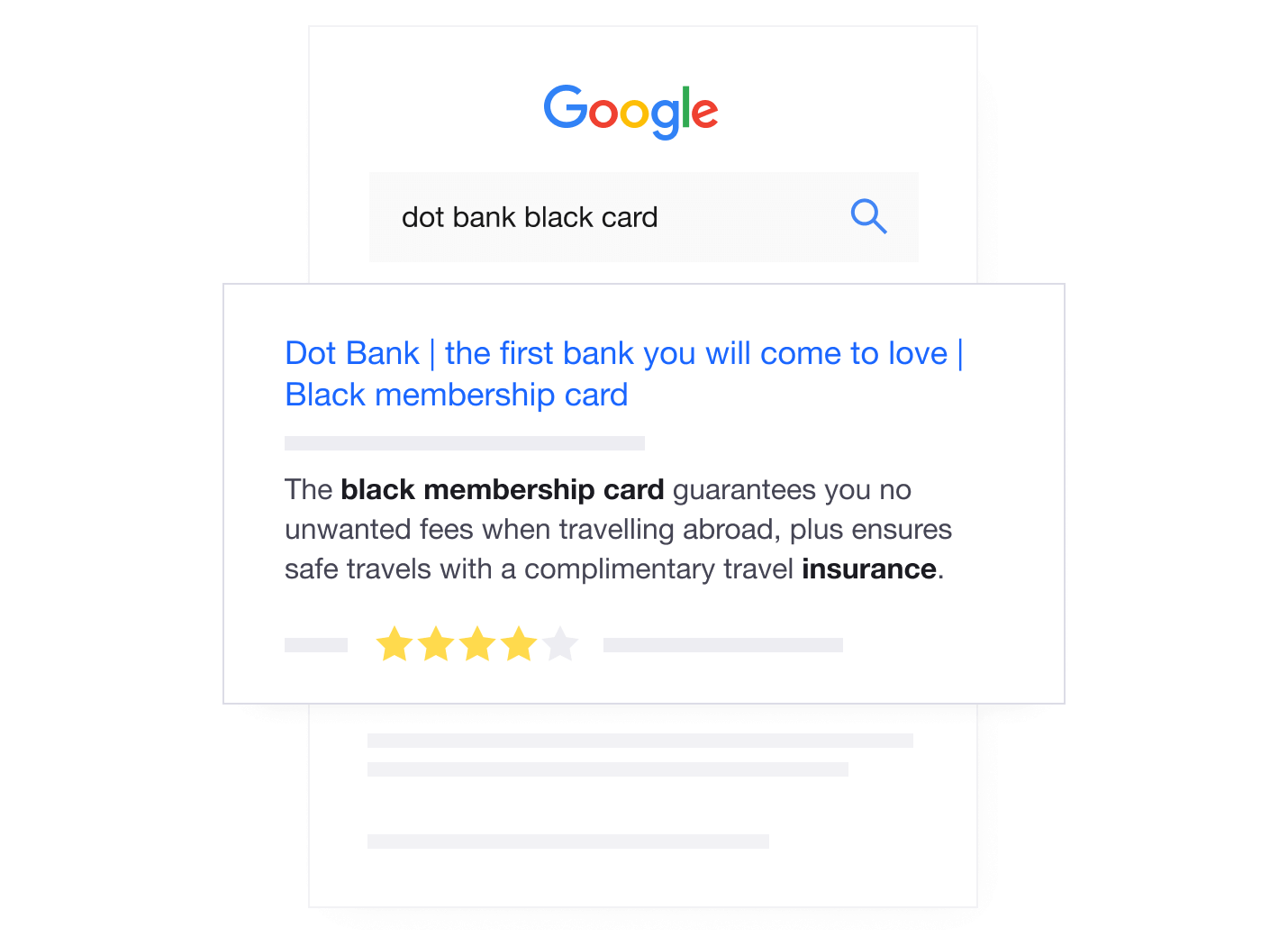 Now, imagine how many other relevant keywords your online store can start ranking for when you start using Trustpilot to enable customers to leave reviews on your site.
Moreover, Trustpilot also helps to improve the level of trust customers have on your site because genuine reviews from existing customers is the best way to optimize the user experience.
Pricing: Trustpilot premium plans start from $199 per month (standard). It also has an enterprise solution, prices for which haven't been disclosed. You will have to reach out to the company to know the costs. Or you can create your own plan depending on your requirements. Prices differ based on the add-ons you choose.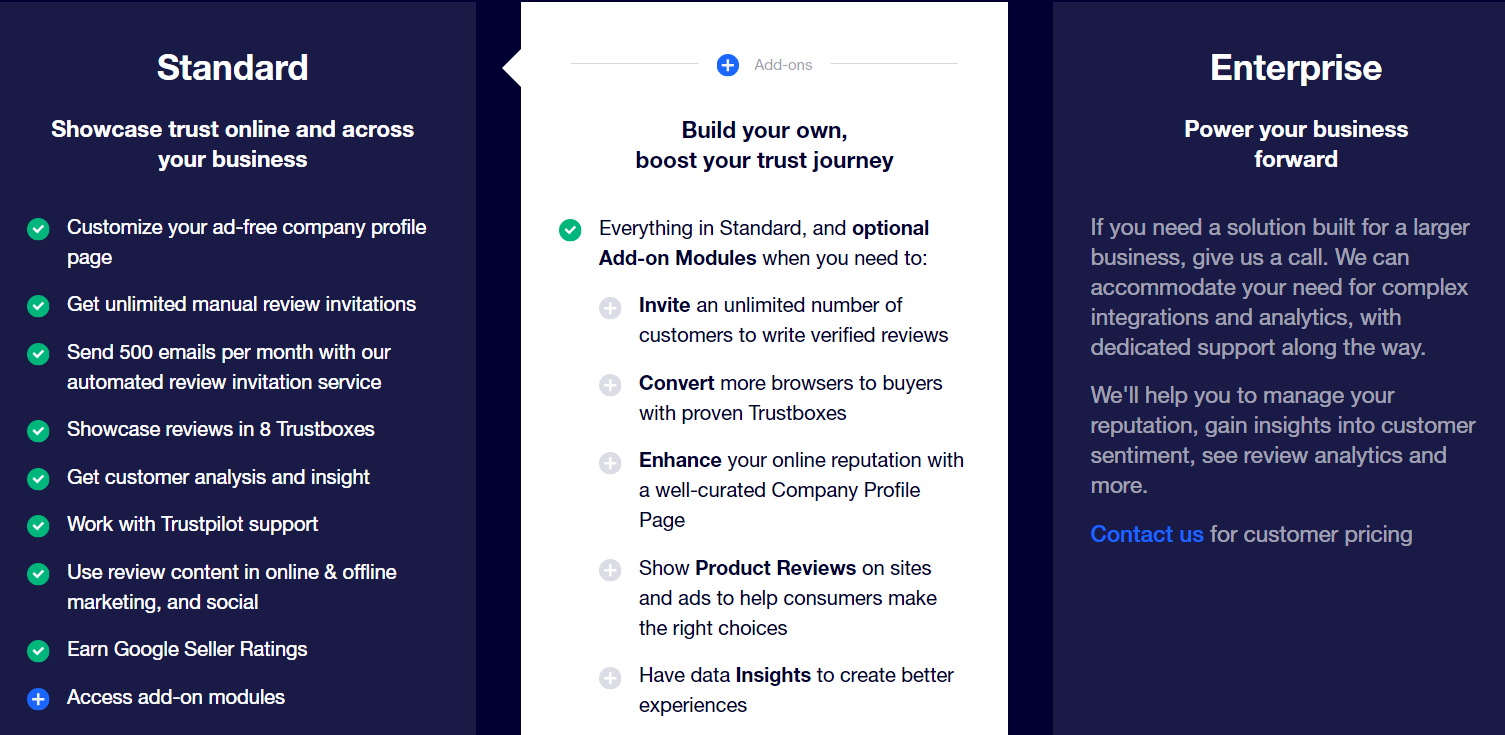 GTmetrix is yet another great SEO tool that helps you optimize your website's performance. Site speed plays a crucial factor in the Google ranking algorithm.
The upcoming page experience update is all about UX and page speed. Hence, you need this tool to fix all your web core vital issues and mobile-usability issues.
Advantages of Using GTmetrix for Ecommerce SEO:
Helps ensure your site loads quickly in all the locations and devices. It shows how fast your website loads on different locations and devices. You can use these data to ensure your eCommerce store loads quickly irrespective of the visitor's device or location.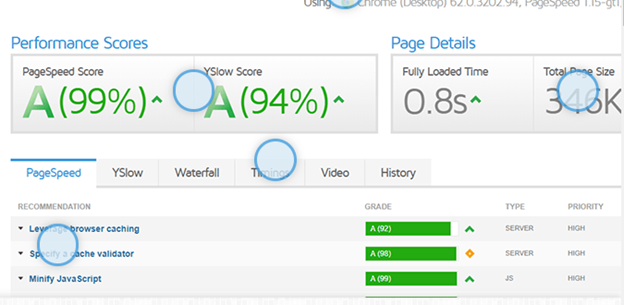 It also shows performance indicators, such as Timings, Waterfall, PageSpeed, and Yslow. These metrics help you find how you can optimize your website to perform better on search engines.
GTmetrix offers pre-scheduled monitoring, allowing you to stay on top of your site performance. Notifies you every time your page underperforms.
Example: How You Can Use GTMetrix to Optimize Your Ecommerce Website
RankPay, a digital marketing agency, struggled with a higher bounce rate and load time ever since they built their website. Their website was quite heavier compared to Javascript and CSS sites.
By leveraging GTmetrix, RankPay was able to find bottlenecks in their website code. Here are some issues they found with the help of GTmetrix:
Too many separate Javascript and CSS resources.
Slow TTFB
Imperfect caching
A few unoptimized images
Redundant analytics resources
Using the recommendations of GTmetrix, RankPay was able to reduce their loading time by 3.5 seconds, increase overall organic presence by 10%, and decrease the bounce rate by 20%.
Pricing: When you opt for the GTmetrix free (Basic) plan, you can only monitor 3 URLs, get three custom filters, and enjoy archive options for up to 20 URLs.
GTmetrix offers three premium plans:
Bronze: $14.95 monthly
Silver: $49.95
Gold: $149.95 per month.
Ahrefs is one of the advanced ecommerce SEO tools in the market. From site performance report to keyword research and rank tracker, Aherfs provide you with almost everything you need to optimize your online store.
Advantages of Using Ahrefs for Ecommerce SEO:
This tool shows what keywords your website ranks for, identifies the top pages and displays the content gaps. This is helpful as it allows you to gauge your SEO performance and discover new opportunities. It helps to keep an eye on your competitor's SEO.
This enables you to find SEO issues in your sites and provides recommendations to fix them. Allowing you to conduct a complete backlink analysis. You can find who is linking to your competitors and backlink opportunities.
It lets you track your organic rankings and how it affects your website traffic. You can also check if you appear in the featured snippet for your target keywords.

It has a keyword comparison and content gap tool, which allows you to compare your unique keywords and those of your competitors.
It provides a list of the top ten searched keywords. This helps you focus on the search phrases that can improve your site ranking.
It has a content explorer feature that you can use to discover the most trending topics and develop the best content for your site.
Example: How You Can Use Ahrefs to Optimize Your Ecommerce Website
Links play an important role in the ranking of every ecommerce site. Higher the number of links pointing to your site, the higher will be the chances of ranking. Ahrefs makes it easy for you to optimize your link profile.
For example, if you want to analyze your or your competitor's backlink profile, visit the Ahrefs Backlink Checker tool. Enter your target domain, let's say, "underarmour.com" and click on "check backlinks." You will see a page like this. It shows the domain rating, total backlinks, and referring domains.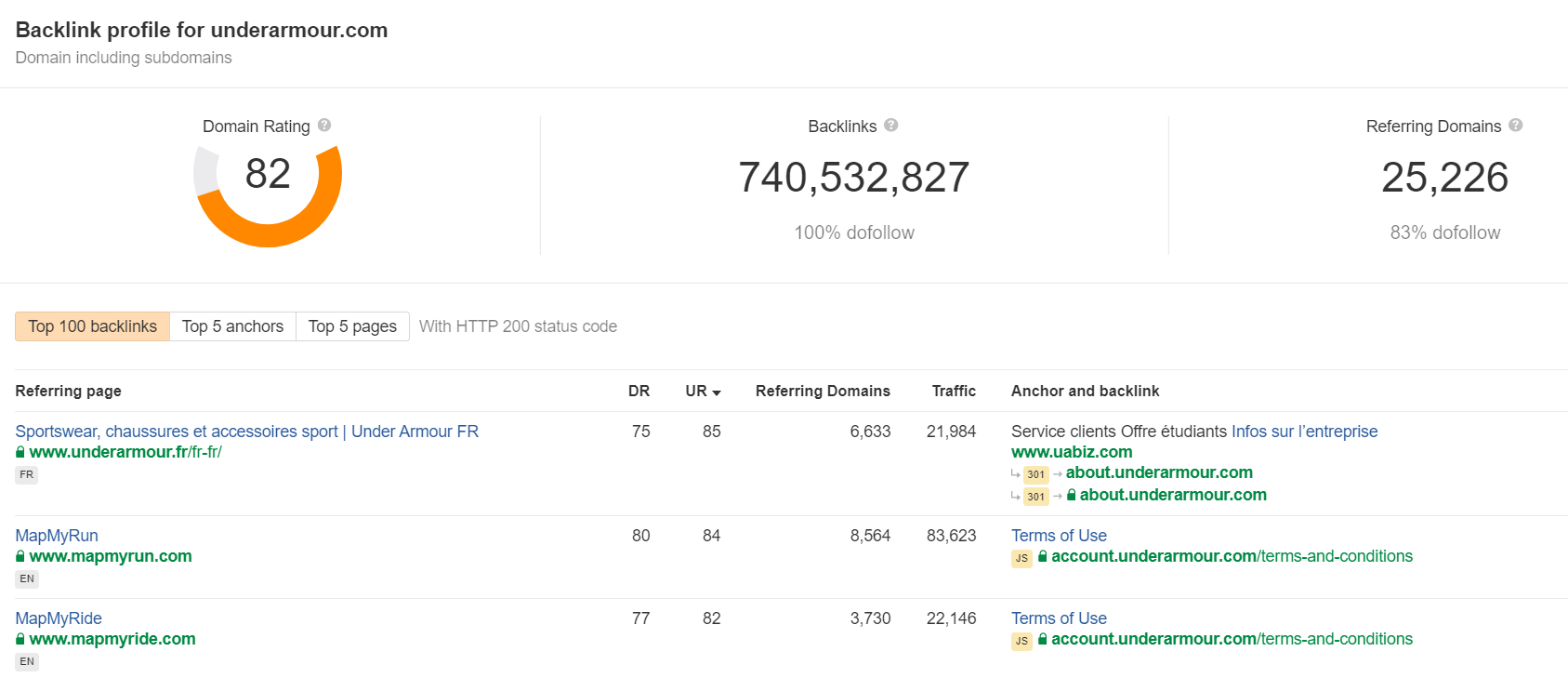 Moreover, to track your ranking progress, use the Rank Tracker tool. Just set up a project and enter the keywords you want to monitor.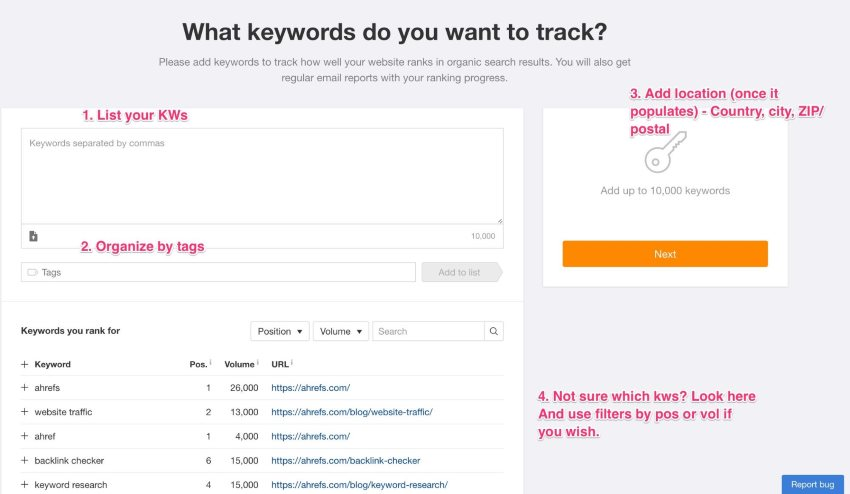 The tool will then show which keywords you are already ranking for and help you keep an eye on them.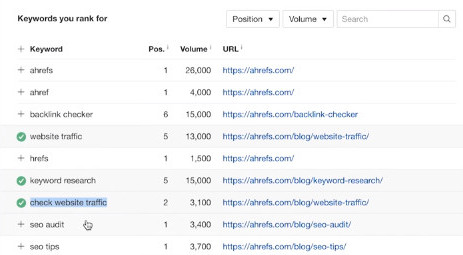 Pricing: Ahrefs offers you four different price plans.
Lite: $99/month
Standard: $179/month
Advanced:$399/month
Agency: $999/month
SpyFu is a competitor analysis tool that enables you to find and download your rivals' top keywords.
Advantages of Using SpyFu for Ecommerce SEO:
*Reviewing your competitor's SEO helps determine where they are focusing their efforts on, which keywords they are targeting, and the domains that are linking to them.
You can then compare it with your SEO strategy to ensure you are not missing out on anything. That way, you will be able to outdo your competitors quickly.
It helps you to check the keywords you are ranking for and its value (in terms of revenue).
With SpyFu, you can check metrics like estimated monthly SEO clicks, newly gained and lost rankings, and percentage of organic traffic.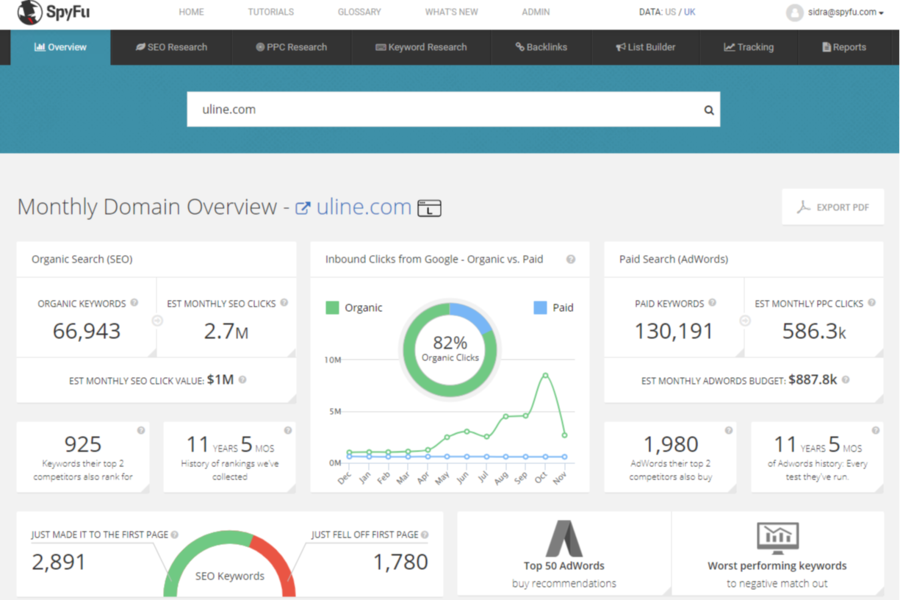 It offers an SEO competitor analysis tool that you can use to study your top competitors and create a better store strategy. It has a PPC research tool for Ad History, PPC keyword suggestions, PPC keyword grouper, and recommendations.
You can use this to discover the most profitable paid keywords of your competitors to be used on your website.
This tool allows you to track the ranking history of any page or website on a keyword. This helps you discover if your site optimization strategies caused it to fall or rise. Or keep track of every website in your eCommerce niche. This enables you to catch changes in rankings over time.
Example: How You Can Use SpyFu to Optimize Your Ecommerce Website
For example, to identify your top organic competitors, just enter your website URL in SpyFu, and the tool will return with a list of domains you compete with.


To find your competitor's most profitable keywords, enter their domain in the tool, and click on "SEO keywords." You will see a list of keywords along with other details like rank, cost/click, ranking difficulty, searches per month, estimated clicks, and the value of those clicks.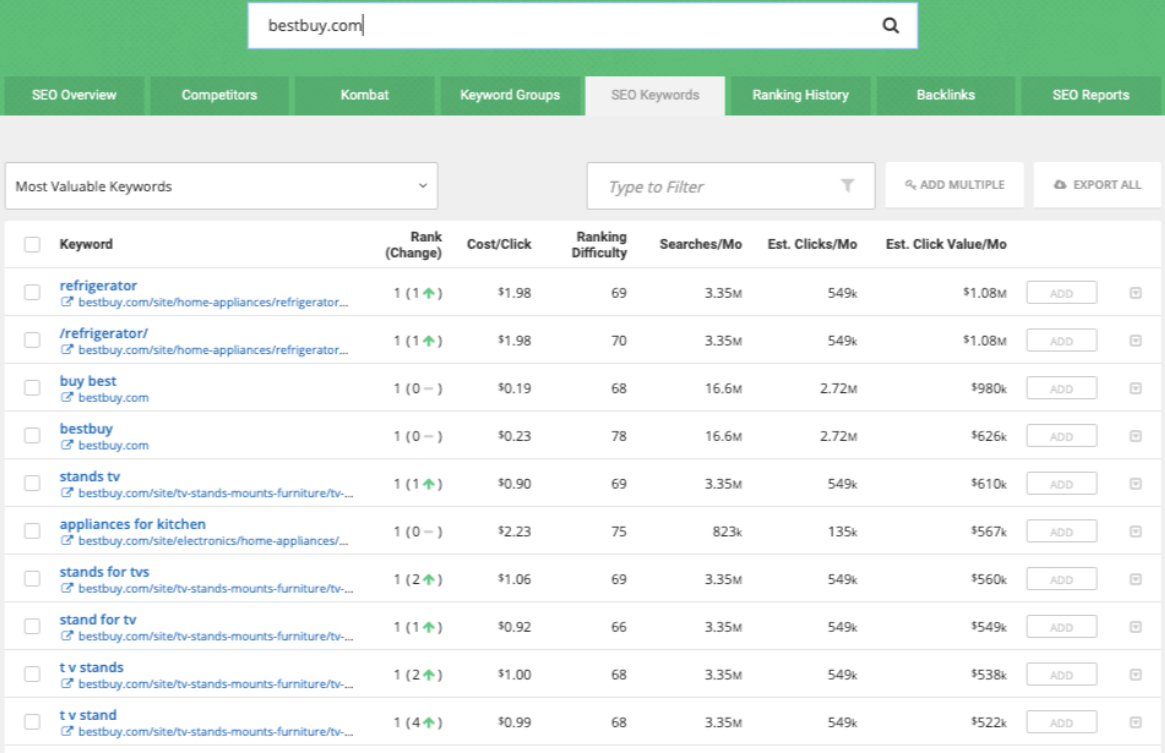 You can use this data to create relevant pages for the products, add new keywords to your existing SEO strategy, find keywords that have a high estimated click per month, and find keywords that have high estimated clicks value. With such data in hand, you can easily optimize your eCommerce site for more conversions.
Pricing: SpyFu has three plans:
Basic: $39/month
Professional: $78/month
Team: $299/month
Moz is one of the most popular SEO tools. It allows you to audit all your product pages, discover the best keywords, and lets you analyze your website backlink profile to improve the rankings.
Advantages of Using Moz for Ecommerce SEO:
Moz allows you to explore relevant keywords that you can target and helps you enhance your link building research.
Moz enables you to measure site rankings, link Explorer lets you discover broken links on your site, and find the top-performing content in your niche.
It helps you research your competitor backlinks, compare their link profiles, and learn how they are earning their links. So you can you to monitor your site rankings by scraping data. It lets you monitor up to 50 Google results.
The Page Optimization report analyses up to 27 on-page SEO factors and scores your website on a scale of 0-100. It also shows if there are any factors that are hurting your SEO.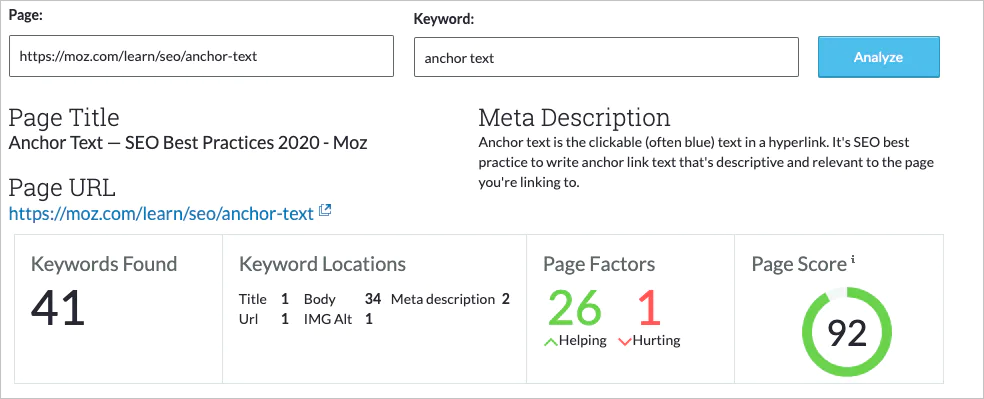 Moz allows you to check key SEO metrics, such as Page Authority (PA) and Domain Authority (DA).
Example: How You Can Use Moz to Optimize Your Ecommerce Website
An eCommerce company in the health industry wanted to build its online reputation and emerge as an international brand. To move from a small, local retailer to a globally recognized brand, they needed data-driven insights to plan their SEO strategy.
Their team used Moz Pro to fuel their keyword research. They identified a few low-hanging opportunities that were easy to rank for along with highly competitive keywords. They also used the link explorer tool to identify link opportunities.
With the insights in hand, they were able to create an SEO campaign that resulted in a 146% increase in organic traffic, a 56% increase in search visibility, and a 37% increase in keywords ranking on the first page. All of this in just four months.
Pricing: Moz offers four plans:
Standard: $99/month
Medium: $149/month
Large: $249/month
Premium: $599/month
What's Next?
Doing SEO for an eCommerce website is a tedious task, especially because of the vast amount of products it has. However, with the right SEO tools, you can save a lot of time and increase your probabilities of getting to the top of the search results.
The 11 software mentioned in the article is the best eCommerce SEO tools in the market right now. Which of them have you used? Which of these are you thinking of trying? Let me know in the comments!
About the Author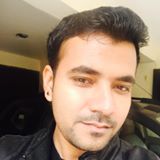 Joydeep Bhattacharya is a digital marketing evangelist and author of the SEO blog, SEOSandwitch.com. He has over 9 years of experience in helping businesses make the most of online marketing. Content writing is his passion and he is a regular contributor on sites like SEMrush, Ahrefs, Search Engine Watch, Smartinsights, and others. You can reach him via LinkedIn.