Are you missing out on new email leads? Are your blog Calls-to-Action (CTA's) optimized for conversions?
You may have the best email-gated content and lead generation incentives. You may have even thought of the consumer reading your article and matched your email-gated content and CTA's with that buyer persona. You may even have four or five of the best designed CTA's on your blog. But if you're not placing your asks in the right locations on your blog pages – you could be missing out.
In this article, I'll show you examples of seven of the best and most current placement areas for CTAs on your blog. These all come from proven CTA examples. Start getting the leads you deserve.
1. CTA's to Generate Leads from Your Blog: Top of Blog
---
Placing a CTA at the top of your blog is a tried and true method of generating leads.
What are the  first things people tend to look at on your blog? Your image and your article title. A short glance up, and your reader is staring directly at your well designed CTA and enticing email. While your reader may not initially convert, it gets them immediately thinking about the benefits of subscribing to your daily updates or getting your content-related ebook as they continue through your blog article.
A blog header banner placed directly above your header image can increase conversions. As well, a closeable header (with an 'x' on the right hand side) is a popular conversion tactic with the forward-thinking online marketer. Design your form with your online consumer's behaviour in mind by creating an email entry field and colour contrasted CTA button located in the upper right hand corner of your blog page (it tends to be where the eye naturally directs).
Here's an example of how Impact Brand and Design deploys this email building technique on their blog: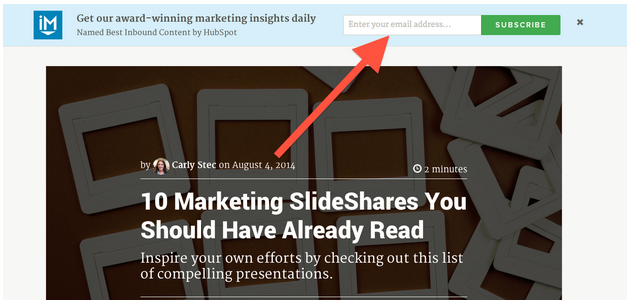 2. CTA's to Generate Leads from Your Blog: Footers
---
A footer CTA is read by the truly engaged blog visitor. If your reader has completed your article and they are still scrolling further, they're likely impressed with what you've had to say. This make the footer a perfect location to code in a lead-generating ask.
Since your readers already have some familiarity with your brand, you could even try a CTA for something more than just a daily blog update.  Even though your blog is generally an early stage in the sales, take your footer CTA further with an offer for a free trial or to request further information.
Test it yourself for your business, your products and your particular demographics.
Here's an example of an effective footer CTA from the Buffer Blog: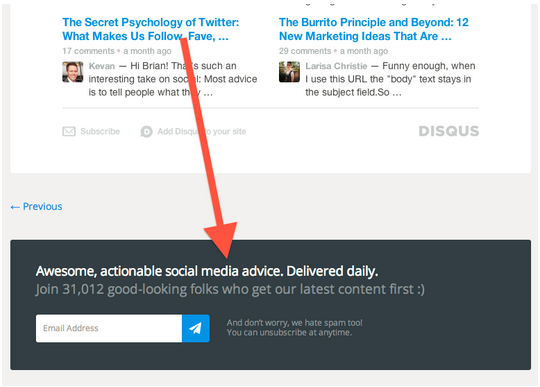 3. CTA's to Generate Leads from Your Blog: End of Content
---
Place a CTA button directly at the end of your blog content. This is different than the footer position as it is located directly under (and within) your article text.
One of the best content types for this placement is a highly relevant ebook. Like the footer, if someone has spent the time to read your article to the end, they are clearly enjoying your article and have an interest in that particular subject matter.
Take advantage of the opportunity to give your engaged visitor the chance to read more. Give away a free ebook. The more exactly the topic correlates with your blog topic, the higher conversion rate you will get.
We use this tactic here at Wishpond, and we average over 100 new leads a week simply by linking a related ebook banner to the ebook's landing page.
Check out how the KISSmetrics blog uses this method too: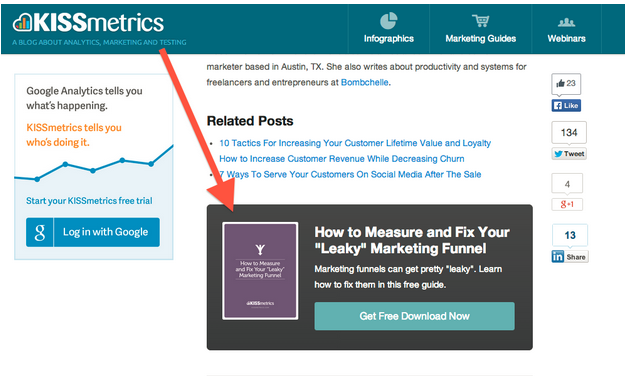 4. CTA's to Generate Leads from Your Blog: Sidebar
---
Sidebar CTA's are another staple in generating leads from your blog.
A sidebar CTA is generally located on the right hand side of your blog. For optimal results, place your CTA near or at the top of your article, directly parallel to the blog post title and under the search function box (if your blog has one).  This placement drives action from readers, particularly those who want to know more about you.
The best asks in a sidebar CTA are for blog subscriptions. It's a simple ask from your interested readers, with obvious benefits for them (they get to read your awesome content daily – for free).
Here's how the popular Shopify blog uses sidebar CTA's: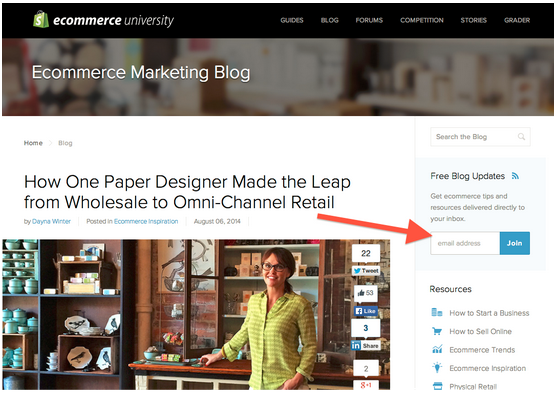 CTA's to Generate Leads from your Blog: Pop-Ups
---
The final three CTA placement methods are a bit different from the first four. These final three are all types of pop-ups. If you're like me, you've been seeing a lot more of these email generating forms on leading blogs. Pop-ups work. We've been using them here at Wishpond, and I know firsthand how beneficial they are. In fact, they've blown away my expectations in the leads we're now generating.
We've been averaging a whopping 300 new leads a week from one single scroll pop-up on our blog (You may be seeing it right now!). The pop-up took about ten minutes to create – from copy, design and technically coding it. Yeah, pretty cool.
They work by impacting readers who are becoming blind to the more traditional, stagnant email getting forms. A pop-up gives your reader a little wake up with action on your page.
Here are three types of pop-ups that work best on blogs for building your email list.
5. CTA's to Generate Leads from Your Blog: Timed Pop-ups
---
A timed pop-up is a pop-up that appears to a blog visitor after they have been on your page for a specified duration of time.
Generally, you'd set your timed pop-up to show at 20, 30 or 50 seconds (and so on). The best way to know how long to wait to show your pop-up is by checking your analytics and determining the average time spent on your targeted pages. (If the average time spent on your blog articles is 30 seconds, you'd want to set the timed pop-up to show at 10 to 20 seconds to ensure you catch your viewers attention before they bounce, for example.)
Timed pop-ups are one of the most common types of pop-ups. They're great for getting blog subscribers, ebook downloads and other email-gated content. When someone enters their information and clicks your CTA button, you can set up a post-sign up page for people to download your content directly from the pop-up (without having to visit another email-gated landing page).
Here's how Duct Tape Marketing does it: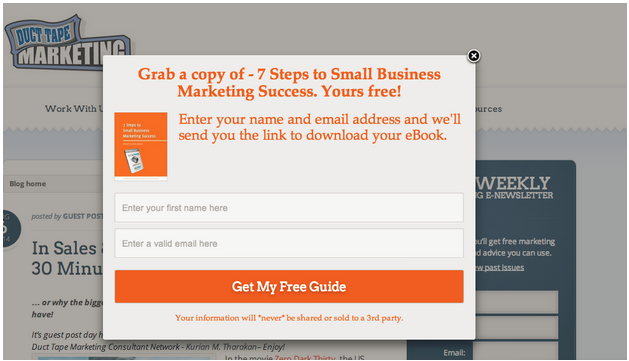 6. CTA's to Generate Leads from Your Blog: Scroll Pop-Ups
---
A scroll pop-up is sort of like a timed pop-up, but better. A scroll pop-up takes out the guess work of when to show your lead generation form based on average time on site. Instead, you can set up when to show your email-gated form based on how far the reader scrolls down on your page.
Scroll pop-ups tends to get relatively high conversions as you can target your pop-ups based more on viewer engagement. If someone's read 66% of your article, for example, they're likely pretty interested in your content. When you show them the opportunity to get more free content from you, that's highly relevant to the article topic, your conversion rate increases.
Here's how the Visual.ly blog uses scroll pop-ups. It shows after readers scroll about a 30% down the page: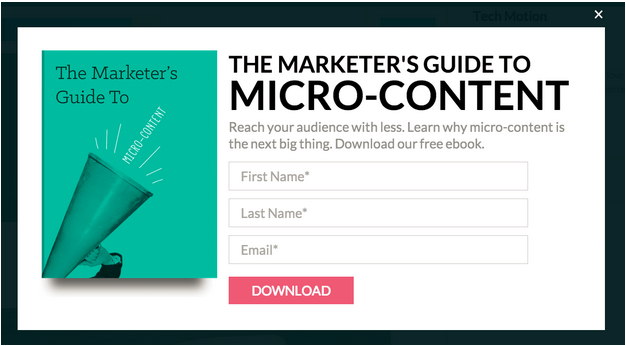 7. CTA's to Generate Leads from Your Blog: Click Pop-Ups
---
Click pop-ups are one of my personal faves. They're a new pop-up type you see on more leading edge blogs. A click pop-up appears to your visitor after they've click on an image or text on your page.
Here's an example of how we use them on the Wishpond blog: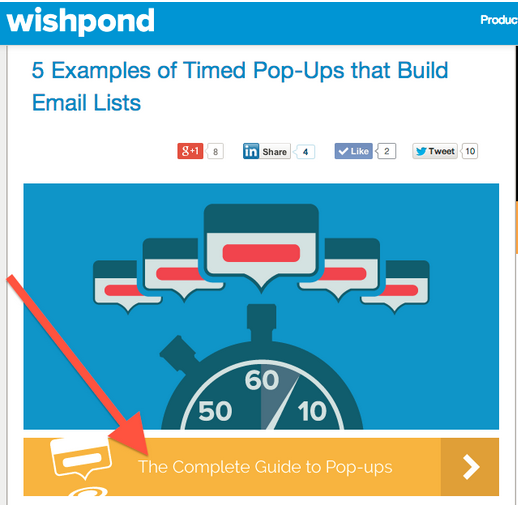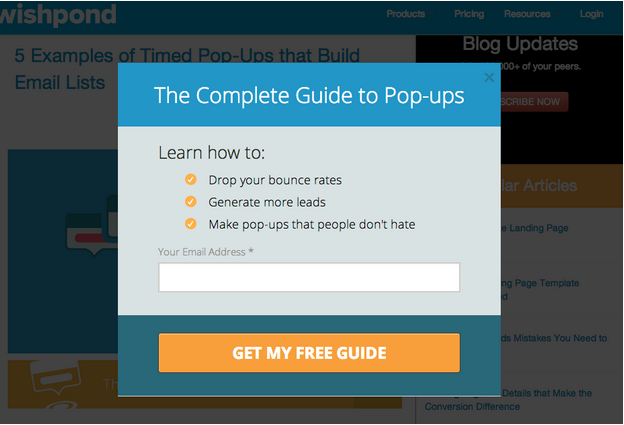 When you click on the CTA image, an email-gated pop-up is displayed, with the CTA "Get my free guide". When you enter and submit your email, you get your ebook in one click. There's no more forms needed to complete or additional pages required to visit. The fewer steps it takes to get a conversion, the more likely your readers will stay with you – and not drop off your conversion funnel.
Conclusion
---
Where and how you place your Calls-to-Action within your blog matters. Optimize your conversion rates by trying out these CTA placement tips. As with all and any of your online marketing tactics, be sure to A/B test your CTAs and get the results from where they're located on your page.
Further reading:
What do you think? Where do you place CTA's on your blog pages? What's increased your conversion rates?
Written by Krista Bunskoek

wishpond