Follow this guide for a list of the best and most effective Facebook giveaway ideas for all kinds of brands.
Are you sold on running a Facebook giveaway but struggling a bit with an idea for your giveaway?
It's a common occurrence. You know you want to get the social media boost and email generation of a Facebook giveaway, but you're not exactly sure what kind of Facebook Contest Ideas will give your business the results you need.
Hopefully this article will help. Here's what I'll cover:
A breakdown of the 25 best Facebook giveaway ideas and strategies
Real-world examples of these Facebook giveaway ideas and strategies which worked for businesses like yours
Let's get into it.

Facebook Giveaway Idea #1: Holiday Themed
---
So much of running a successful contest is about tapping into what people are thinking about (that'll be a running theme in this article), and holidays are the most proven way of doing that.
People want to make their holiday special for themselves and their loved-ones. A prize which gives that to your entrants is special indeed, and more than worth an email address. Again and again our most successful giveaways coincide with one of the many holidays throughout the year.
A Holiday-Themed Giveaway Example:
A real-world example of a company doubling down on the holiday theme:
More Ideas for Holiday-Themed Giveaways on Facebook:
A Mother's Day giveaway offering Mom a spa day with a girlfriend, a family photo session or a date night with her partner.
A food-focused giveaway around the holidays. Whether it's Christmas, Thanksgiving, the 4th of July or Labor Day, people are thinking about food. Offer any kitchen item around these holidays, and you're good to go.
A Valentine's Day giveaway which offers something different: a weekend car rental or limo service, hair and makeup package, concert or art gallery tickets, pin-up modelling photoshoot or boat cruise.
The possibilities for holiday-focused giveaways are endless. Check out this incredibly successful contest run on Hug Your Cat Day (apparently a real thing)…

Facebook Giveaway Idea #2: Target Market Only
---
Giveaways get a lot of flack from critics. They say, "there's no point in running a giveaway; you'll only generate useless entrants who you'll never be able to turn into clients!"
They have a point unless you stay smart and run a giveaway the right way.
Create giveaways which target the people you want to have as clients. If you keep that one maxim at the forefront of your giveaway strategy, the return on your investment will be significantly better.
There are a couple primary ways to do this: offer products or offer gift cards. Both these prizes will attract only people who you can turn into customers down the line. If you offer straight cash or an unrelated product (like a trip to Hawaii if your business is in electronics) you'll only generate entrants who are interested in those products (and the critics will be right). Stay smart and target your market with your giveaway.
A Target Market Only Giveaway Example:
More to Brag About:
This merchant has run regular sweepstakes (like the one above) for the past year. They exclusively offer their own products, consistently invest in a visual layout, and keep their messaging short and to the point.
And it's paid off. Below is a screenshot of the campaigns they've run since last November. I've blurred out their name, but you can see the results on the right:
Yep, that's an average conversion rate of 36.96% and a total of 31,862 email addresses – just from product giveaways on Facebook.
More Ideas for Target Market Giveaways on Facebook:
Target couples with a romantic spa or engagement/wedding photo shoot (run this in early summer before wedding season starts).
Target prospective leads in the tech community with a foosball table, personal consultation with a sector expert, a month of weekly pizza, or a "startup package" of bean bag chairs, stand-up desks and several flats of Redbull.
Target fine diners with a one-on-one culinary lesson with your restaurant's head chef, a five-course meal or a night on the town (partnering with a limo service and theater).
Give away your product. This one's pretty simple. A small caveat, though: gift cards are (though less visually appealing) actually more desirable for your target market. Not only do they give your giveaway winner the opportunity to buy any of the products you offer, they also give you the opportunity to put a large dollar amount on your giveaway's page (which is one of the most essential best practices of giveaways).
Facebook Giveaway Idea #3: Seasonal or Event-focused Giveaway
---
Like holiday-focused giveaways, seasonal or event promotions are all about giving your entrants exactly what they're thinking and wanting most at that point in time.
The best part of seasonal and event giveaways is that there's always something going on, and (with a little creativity) those seasons or events can be tied to your business.
A Seasonal or Event-focused Giveaway Example:
More Ideas for Event or Seasonal Giveaways on Facebook:
A super-bowl giveaway offering a VIP gourmet snack package with all the goodies, delivered to the winner's door on the day.
A spring cleaning giveaway in mid-March with your newest cleaning products, a maid service or an interior decoration consultation.
A summer giveaway run in May, offering camping gear, luggage set, travel insurance, swimwear, etc.
Back-to-school giveaway like the Facebook giveaway example above, offering sports team sponsorship, an e-reader, or a cold/flu car package with tea, a blanket, a hot water bottle, and bubble bath.
Facebook Giveaway Idea #4: Social-Focus
---
One of the primary objectives for brands running Facebook giveaways is increasing their Page Likes. And why not? A giveaway on Facebook gives you the same return as dozens of hours spent creating smart and time-sensitive Facebook posts or hundreds of dollars on Facebook advertising.
Focusing on social engagement is a great idea for a Facebook giveaway, and there's a couple primary ways you can do it:
Prompt entrants to Like your page with arrows, prompts and CTAs within your giveaway Page
Create a "Like-This" entry popup which appears over your giveaway's Page (only available through select Facebook Contest Apps, like Wishpond)
You used to be able to require entrants to Like your Facebook Page before they could enter your contest (called a "Like-Gate") but Facebook banned it. Luckily, many brands are finding that the "Like-This" entry popup actually generates more valuable Fans (because people are more actively choosing to Like, rather than being forced into it).
It looks like this: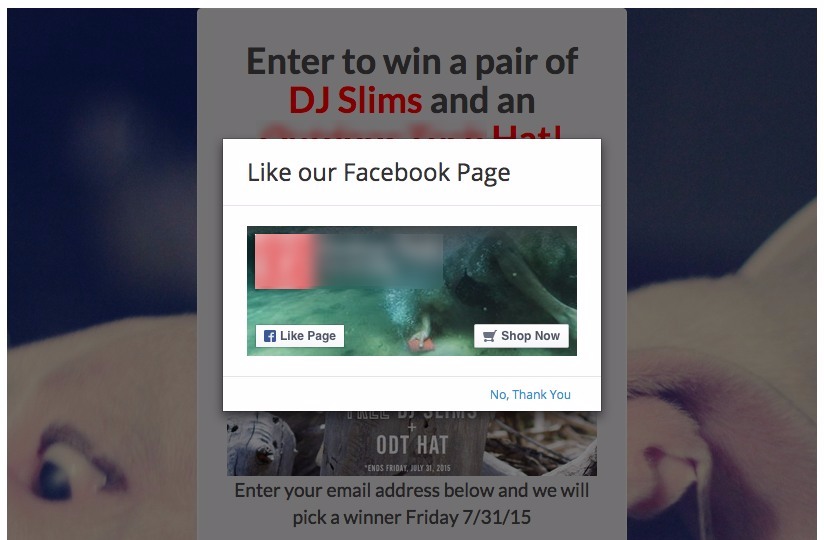 A Social-Focused Giveaway Example: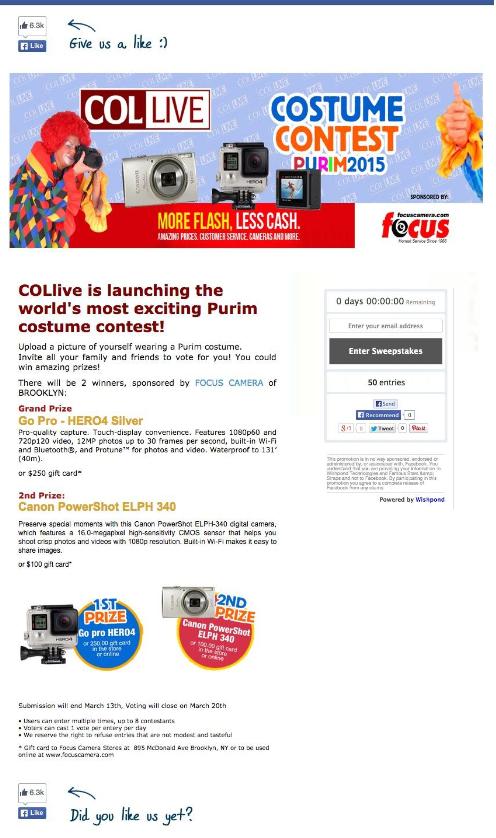 More Ideas for Socially-Focused Giveaways on Facebook:
Prompt your giveaway entrants to share with their family and friends and get them to vote for the entrant's submission (use a vote or photo contest for this). This drives serious traffic to your Facebook Page.
Use Wishpond's Like-prompt popup, with your brand logo, an image and a request to Like your Page (they can always disengage by clicking anywhere away from the popup)
Facebook Giveaway Idea #5: Give Something Priceless
---
This is where you have to get creative to get ahead: offer something your entrants will never have seen before, something they've never experienced and something which is worth more than any dollar amount.
A Priceless Giveaway Example:
More Ideas for Priceless Giveaways on Facebook:
First-Chance at a Product giveaways are a priceless offer. Everybody can have your 7,000th product, but there will only be one first edition.
One-time Q&A with a sector expert. Connect with a paid consultant (or use one of your own business' experts) and give away an hour of their time. Remember to put the normal dollar value of that time front and center in your giveaway page.
Feature the winner to your large audience or connect them to someone with a large audience. Consider working with a radio station to feature the top-chosen music clip from your giveaway, a YouTube channel with a sizeable following, or your own website (so long as it has a substantial number of visitors).
Facebook Giveaway Idea #6: Vote Contest
---
Though sweepstakes are great because anyone can enter them easily, they're not always the most engaging for entrants. Hosting a vote contest gets people thinking more about your brand and product as it requires them to form their own (hopefully positive!) opinion on your brand. Make the vote brand-relevant – for example, getting entrants to choose their favorite color of your newest product.
A Vote Contest Example:
Facebook Giveaway Idea #7: Prize Package
---
One is the loneliest number! Instead of just giving away one small prize to a small number of entrants, up the ante and give away a package of prizes to a grand prize winner. This can be a collection of products from your line, or your product along with relevant accessories or complementary products. For example, if your product is a fitness-focused waterbottle, you might include some gym apparel or a yoga mat.
A Prize Package Example:
Facebook Giveaway Idea #8: Multiple Prizes
---
I know for some people (myself included), entering a contest can feel like a waste of time because the chances of winning are so slim. Giving away more than one prize can be a great way to entice potential customers into entering your contest. The other prizes don't need to be of equal value to your grand prize; a large number of smaller prizes will work just as well. This increases the chances that people will win, and will boost your entry rates.
A Multiple Prizes Example: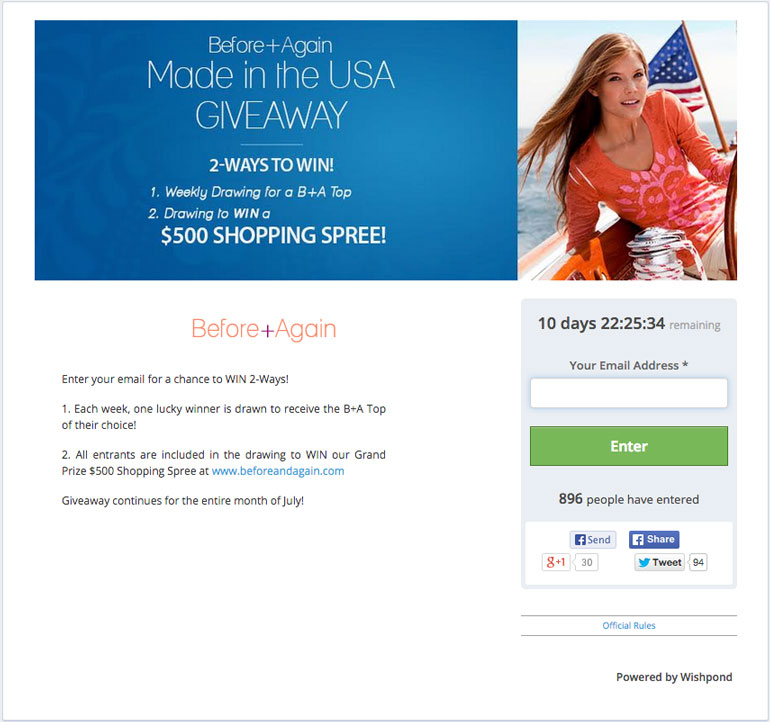 Facebook Giveaway Idea #9: Ask a Product-Related Question
---
As I mentioned earlier, sweepstakes can often be less engaging than you'd like them to be. Another way to pull entrants in is to ask a question, as London Drugs does in the example below. They ask a question related to the product to make sure entrants are interested in it, so they can be marketed to in the future with email drip campaigns. This also helps you gather user-generated content that you can use in future marketing initiatives.
An "Ask a Question" Example:

Facebook Giveaway Idea #10: Photo Contest
---
User-generated content is awesome for marketing products – it provides a genuine quality that's hard to replicate in your own marketing materials. Though asking a question (as mentioned above) is great, pictures are worth a thousand words… and videos even more. Asking users to submit a photo or video of themselves with your product (or something related to it) can make for an awesome Facebook giveaway idea.
A Photo Contest Example:
Facebook Giveaway Idea #11: Referral Contest
---
One difficulty that often arises when running a contest is how hard it can be to get it out to your target market. A great way to overcome this is to host a referral promotion – rewarding entrants based on how many of their connections enter your giveaway, too. This means you can reach members of your target market who aren't already following you on your social platforms.
A Referral Contest Example:
Facebook Giveaway Idea #12: Recurring Giveaway
---
Giveaways are one of the best ways to keep your fans and followers and engaged, while also reaching new potential customers – so why wouldn't you want to run them as often as possible? Though this can be costly (prize-wise), running a giveaway for each month (or season, or week… you get the idea) can be awesome if you find they're driving sales for your business. This also increases the chances you'll have engagement on your profile, as people will want to Like your page to stay up-to-date on the latest giveaway.
A Recurring Giveaway Example:
Facebook Giveaway Idea #13: Partnered Giveaway
---
If you really want to increase your business' reach within its target market, you need to get creative. One great way to find more customers like the ones you have now is to partner up with other similar companies to run a partnered giveaway. This doesn't mean working with your competitors – it means finding complementary businesses who you can team up with to create a really exciting prize package.
A Partnered Giveaway Example:
Facebook Giveaway Idea #14: Like Coupon
---
A large part of running a giveaway promotion is increasing social engagement and driving sales. One way to do both is to create a promotion for Facebook fans. This works especially well if you have a retail location. Create a Facebook post telling fans to show in-store that they have Liked your business' page to get a discount – for a great example of this giveaway idea, see H&M's post below!
A Like Coupon Example:
Facebook Giveaway Idea #15: Gift Card Giveaway
---
Here at Wishpond, we've found that there's one giveaway prize idea that stands head-and-shoulder above the rest: a gift card. Though it might seem like a boring prize idea, it's awesome because it ensures everyone who enters your contest is interested in your product and your brand.
A Gift Card Giveaway Example:
Facebook Giveaway Idea #16: Winner Feature
---
One of the greatest feelings as the fan of a brand is getting recognition from them. Imagine having your latest photo reposted by the official Instagram account – sounds pretty cool, right? Featuring your winners is a great incentive to get fans to enter your contest, as you can see in the Man of Steel example below!
A Winner Feature Example:
Facebook Giveaway Idea #17: Influencer Giveaway
---
An influencer is an important figure in your industry – for example, a famous trainer in the fitness industry. Partnering with an influencer for your giveaway can give it the credibility and reach it needs to succeed. Make sure the influencer also informs their followers of your giveaway – that's a big part of helping it reach as many people as possible who might be interested in your product.
A Example:
Facebook Giveaway Idea #18: Like Popup
---
Giveaways are great, but they don't mean much if you can't maintain contact with your entrants to market to them in the future with other discounts and promotions. One way to ensure you can do this is to add a Like popup to your giveaway tab, prompting entrants to Like your page before they enter your contest.
A Like Popup Example:
Facebook Giveaway Idea #19: Celebratory Giveaway
---
Another great occasion to run your giveaway is as a celebration of your company. Anything works, including the launch of a new product or your business' birthday. Frame this type of giveaway as a celebration of your fans and followers.
A Celebratory Giveaway Example:
Facebook Giveaway Idea #20: Like, Share, & Tag
---
This is as simple as Facebook giveaways get. Running a giveaway right on your Facebook page means you don't have to use an external Facebook app to put it together. Getting contest entries by asking for social engagement increases your reach on Facebook exponentially – and getting entrants to Like your page means you can market to them in the future.
A Like Share & Tag Example:
Facebook Giveaway Idea #21: Getaway Prize
---
This can be a tough one to pull off, but it's sure to get you a ton of business leads. If your business is big enough to support it, running a giveaway with a getaway prize can be hugely successful. Who doesn't want to get a free trip? If you want to run this but are worried about the cost, you can consider a nearby getaway – like Vancouver to Whistler, or something similar.
A Getaway Prize Example:
Facebook Giveaway Idea #22: Pop Culture Giveaway
---
Capitalizing on popular trends can be a great way to push your giveaway – this includes things like the latest movies, songs, and memes. Theme your giveaway around this pop culture trend, and you'll make it more shareable and engaging – check out this "The Accountant"-themed Facebook giveaway example below.
A Pop Culture Giveaway Example:
Facebook Giveaway Idea #23: Include a Freebie
---
Free stuff! One way to incentivize people to enter your giveaway with a small freebie – this helps boost conversion rates and make your contest more exciting to potential customers. This also increases the chance that they'll share it with their friends.
A Freebie Example:
Facebook Giveaway Idea #24: Include a Testimonial
---
One of the most convincing ways to get participants to enter your contest is to include a testimonial or quote in your Facebook post or contest page from a past customer or another important person from your business. This provides social proof and helps to increase the legitimacy of your contest offer.
A Testimonial Example:
Facebook Giveaway Idea #25: Prize Sharing
---
One way to make your giveaway more creative and engaging is to make the prize a "shared" prize – meaning that your winner will get two of their prize: one for them, and one for a friend. Not only is this an exciting way to make your giveaway unique, but it also increases the likelihood that your entrants will share it with friends to increase their chances of getting a prize.
A Prize Sharing Example:
Conclusion
---
Hopefully this article has given you a bit of inspiration for your next Facebook giveaway. Remember to focus on professional images, a prize related to your target market only, and a theme which taps into what your audience is thinking about.
I'd love to hear about your giveaway experiences in the comment section. Let's see if we can't get you more entries next time!

Related Resources:
james-scherer-2