How We Get Customers Using Website Popups
Popups are annoying. But they work.
They push visitors to take actions in a way that a static webpage doesn't. And when done right, they can get visitors to join your email list, book a sales call, sign up for a free trial or even make a purchase.
Here's how we use popups at Wishpond to get customers...

Pricing Page Exit Popup
People who visit your pricing page have high purchase-intent. But they also have objections: questions they need answered before they'll pull out their credit card and buy. So we use an Exit Popup with a call-to-action to book a product demo to answer their questions and turn them into customers.
Here's what it looks like: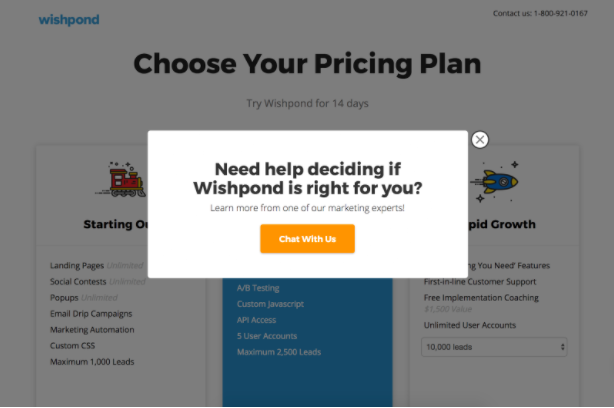 3 Tips to Boost Performance
Keep It Friendly: Paying for something or talking even talking to a person who is trying to sell you can be stressful, so we use conversational language in this Popup to help put visitors at ease
Ask the Question they're thinking: Wishpond is a platform to help you grow your business, so a lot of people want to know if it's right for them and their business. If you have an ecommerce store that sells pet products, for example, you might want to ask "Is this right for your pet?".
Avoid Stock Photos of Support Staff: I still see a lot of companies use stock photos of a person with a headset on in their "Talk with us"-type popups. Please avoid doing this at all costs. Most people can spot that they're stock photos, and it can make you look disingenuous.
Content Upgrade Click Popups
These doubled the number of leads we generate on our blog. Here's how:
Inside of our blog posts, we embed calls-to-action for Content Upgrades: Post-specific resources that people can get in exchange for filling out a form. The calls-to-action stayed the same. The change we made is what happened when a visitor clicked it.
When we first created our Content Upgrades, we linked them to a separate landing page to fill out a form to get the free resource. But in August 2015 we changed them so they opened a Click Popup on the blog post itself. The average conversion rate on the landing pages was 27.47%. For the Click Popups it was 54.84%.
Here's a full breakdown of how each of our Content Upgrades performed as landing pages vs. as Click Popups:
Here's an example of one of our Content Upgrade calls-to-action: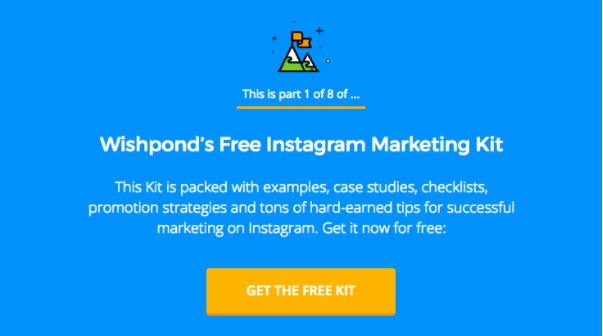 And here's the Popup that appears when you click it: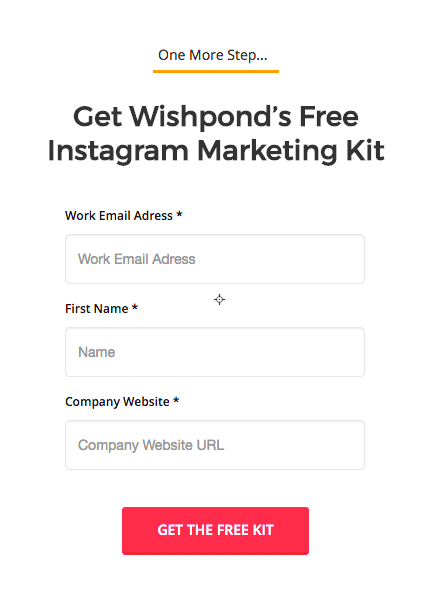 3 Tips to Boost Performance
Keep It Simple: We drastically reduced the amount of text. We found that if we were able to communicate benefit in the call-to-action itself, conversions on the popup didn't decrease even when the popup itself had no copy.
Popup Mimics the Call-to-Action: As you can see, both the text in both the title and button of the call-to-action and the popup are almost the exact same. This makes visitors more confident that they know what they are getting - and more likely they'll fill out the form.
Make them feel like they made progress: In our above example, the text "One more step" is really important in making people feel like they have made progress on something. This makes it more likely they will want to complete the task at hand
Looking to add popups to your website? Check out Wishpond's Free Shopify Popup Builder App and Free Wordpress Popup Builder App.
Free Trial Welcome Mat
Some of your website traffic is ready to buy immediately: They already have a need for what you offer. That's why we display a Welcome Mat to start a free trial when visitors land on our blog. The conversion rate isn't very high, but because our traffic is highly-targeted, it makes money. Here's what ours looks like: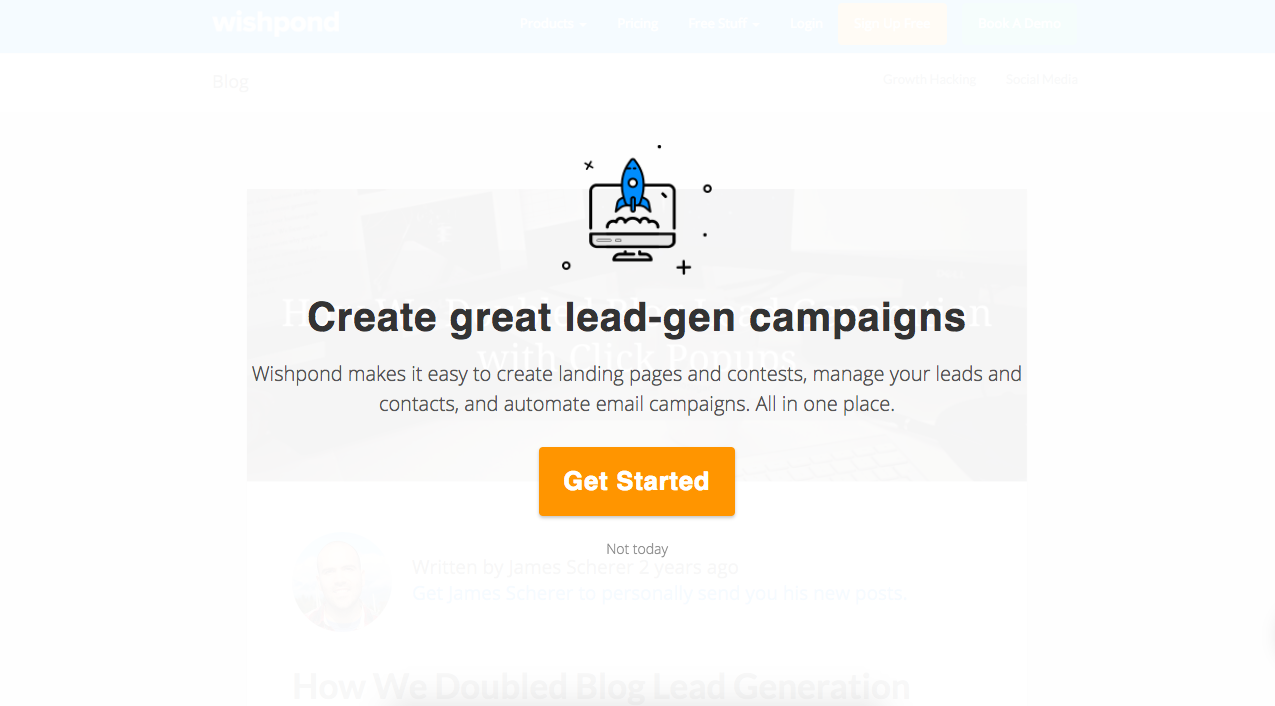 3 Tips to Boost Performance
Target the Welcome Mat Based on the Blog Post: The only people who have a need for what you offer is the people who are searching for it. This means that you need to have blog posts that are driving those people to it. At Wishpond, we show the above-mentioned Welcome Mat on our blog posts about how to create landing pages and contests to generate leads - which is exactly what the Welcome Mat's offer is for.
Make the Positive Button Big and the Negative one Small: The more in-your-face you make something, the more likely a person is going to think it's the thing they are supposed to do and click it. In all of the A/B tests we ran on this Welcome Mat, the bigger we made the Get Started button and the small we made the Not Today text, the better the results were.
What if I don't have a Free Trial?: If you don't have a free trial for your product or service, then I would offer a limited-time discount or a free consultation.

Ultimate Offer Exit Popup
Another way we use Popups to build our email list is with an Ultimate Offer Exit Popup. This Popup is triggered when a person leaves our blog. At this point a person has read one of our articles, gotten the information they need and is ready to leave. We want to make sure that on their way out we give them something they can't refuse: An Ultimate Offer.
An Ultimate Offer is your most valuable resource (or a collection of your most valuable resources). It's something that provides an incredibly high level of value and, ideally, they can't get anywhere else. Here's one of ours: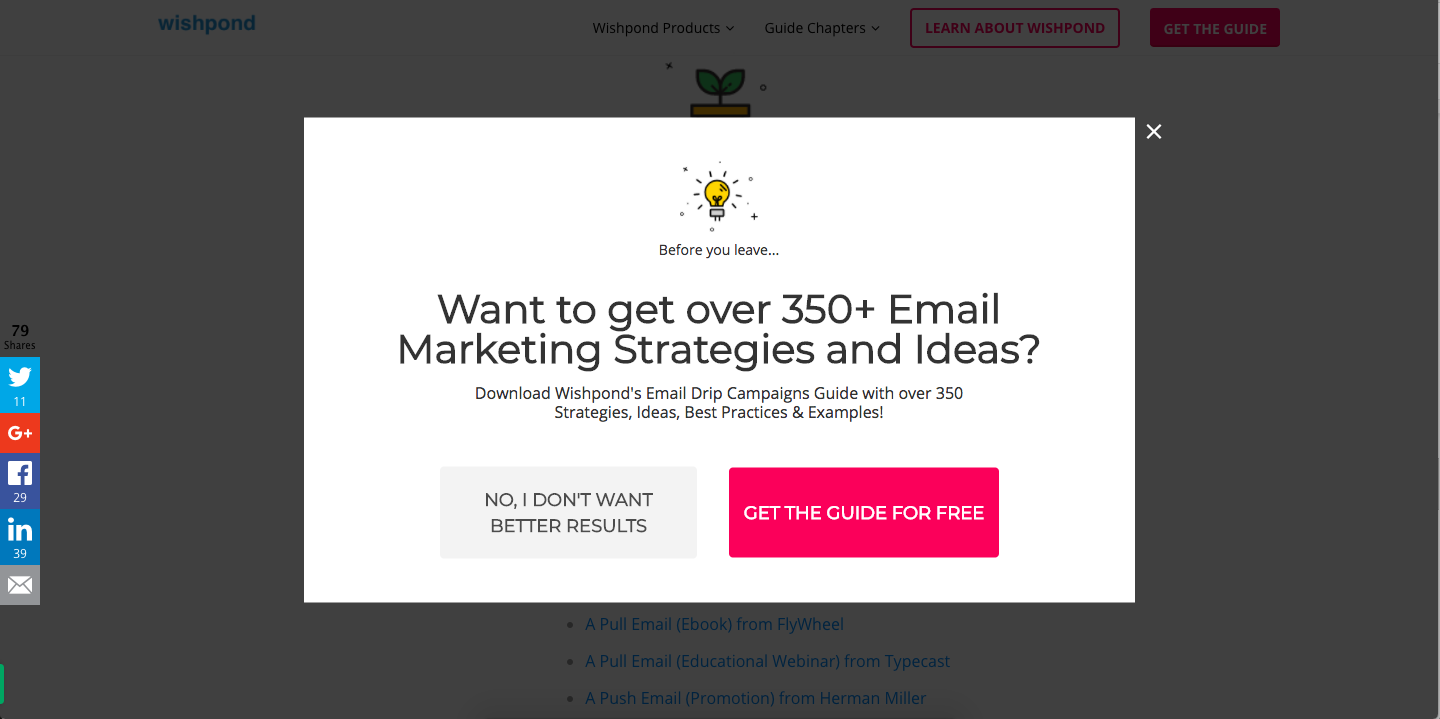 Clicking on the pink button opens this popup: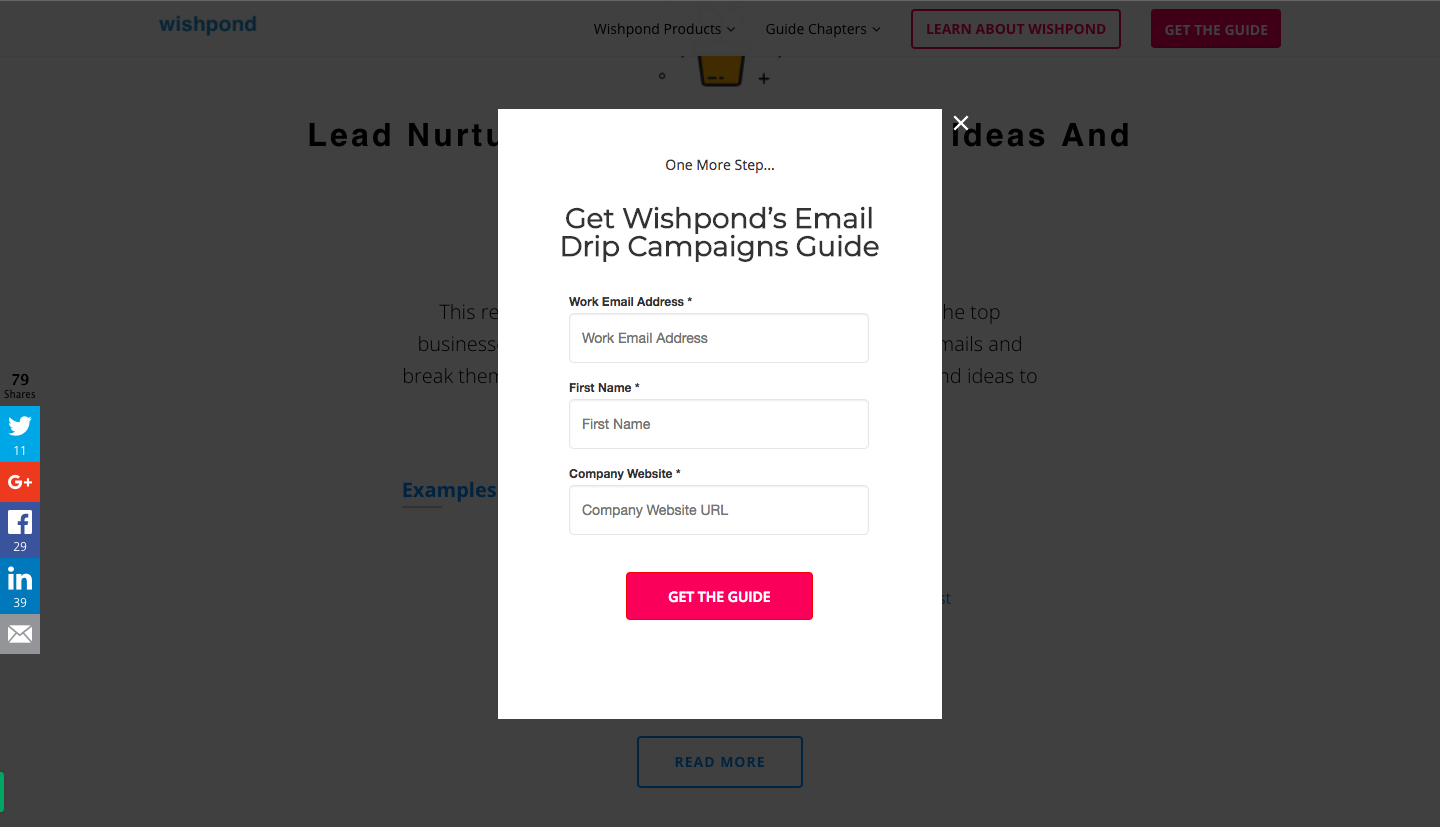 3 Tips to Boost Performance
Give them a Yes or No Choice: Instead of showing a popup with a form right away, present visitors with a choice of yes or no. Why? When presented with only a form a person is likely to be turned off by it. But by providing two buttons to click (Yes vs. No) people are only forced to consider whether they are interested in the offer or not, instead of considering whether to fill out a form. And by getting them to say Yes on the first Popup, it's much more likely that they will fill out the form
Keep it Simple: People are on the way out when they see this, so you need to keep this one super extra simple to compensate for their even-shorter-than-normal attention span.
Use a Big Number: The best way to grab people's attention is with a big number. When something has a big number attached to it, it looks valuable and important. For this reason, it's better to go with a title that has a number, such as "100 Marketing Tips" than something more generic like "The Ultimate Guide to Marketing" (even though both of those titles could essentially be for the same resource).
Conclusion
Thanks for reading! I hope you got some ideas for how to use popups to get customers on your own website. If you want to try one out, get Wishpond's Free Website Popups Tool. It's free forever and doesn't require a credit card to sign up.

If you have Shopify or use Wordpress, check out Wishpond's Free Shopify Popup Builder App and Free Wordpress Popup Builder App.