Just when you think you've gotten the hang of social media, it changes. That's because, according to Smart Insights, social media is anything but static.
Social platforms evolve, new ones are developed, and user habits change, influencing how people react to social media marketing, and how marketers reach their intended audiences.
With all these changes, marketers must constantly stay up to date with fluctuating trends in order to get the most from their social media efforts. Here are 5 social media marketing trends small business owners should be aware of for 2020:
1. Dodge the Digital Detox
Social media users have reached upwards of 3.484 billion across the globe, which amounts to 45% of the world's population.
With so many people using social media, brands are able to reach larger audiences than at any other time. But this opportunity is being overshadowed by a new "detoxing" trend in which people are opting to delete apps and profiles in order to take a break—whether temporary or permanent?—from all social media.
Take a look at the graph below to get a better understanding of why people are choosing to walk away from social media: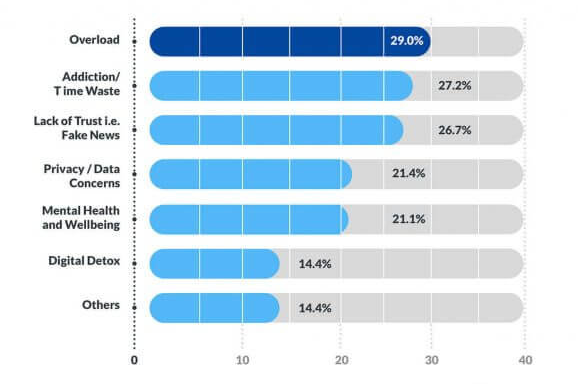 Digital detoxing can affect any brand awareness or customer acquisition campaigns launched on social media platforms. This means that an adequate budget and resources should be retained for other marketing channels, including email and search engine marketing.
Any social media presence small businesses do have must be as meaningful as possible. In other words, they must deliver content that has a memorable impact on the intended audience and provides as much value as possible.
For example, think of the message you want to broadcast in terms of a presentation in front of a large group of people and consider the words of Seth Godin:
"A presentation that doesn't seek to make a change is a waste of time and energy."
How can you make the lives of your audience members easier?
How can you help them grow, do something better or more efficient than ever before?
Giving away your best ideas for free will encourage audience members to tune in to what you have to say because they won't want to miss out on the value you offer!
2. Create a Community
"A big part of meaningful and valuable experiences on social media is the way that brands engage with their audience," says Smart Insights.
Sharing posts target audiences will enjoy will always be part of maintaining one's social media presence, but marketers also need to encourage and cultivate interactions that go beyond a like or share.
It doesn't do your brand any good to have large social media followings if your engagement levels are practically non-existent.
Consider, for example, the increasingly common practice of purchasing social media followers. While you may pick up 1000 followers for the small fee of $10, these paid followers will never engage with your content—they simply present the appearance of popularity.
"If you have genuine engagement with your community of social media followers, the rest of the world knows they genuinely love your brand and that they are real people, endorsing your product or service." ~ Scrunch
Brands must therefore build content around their audience. Content must be shareable. It needs to get people talking, encourage conversations and cultivate a sense of community.
Make sure to create a strategy, as following steps of social media content strategy will lead you to achieve best possible results
This is what keeps people engaged with your brand, while simultaneously bringing in new leads, acquiring customers and adding a human, personalized touch to B2C interaction.
3. Tap Into the Power of Micro-Influencers
Communities are a vehicle for engaging with micro-influencers who are already supporting their preferred brands. It also helps in getting these advocates to share honest views of and experiences with your products or services.
Engaged individuals want to create content about your brand, like the fans of Frank Body, who are enthusiastically applying coffee scrub to their faces and bodies and posting selfies on social media with the #letsbefrank tag.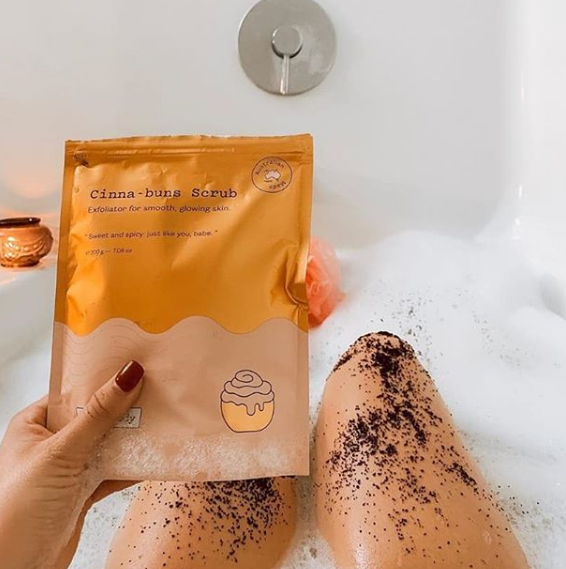 Today, smaller influencers—who are likely to be part of your communities—typically have better relationships with their followers because big influencers are often viewed as disingenuous.
With the benefit of higher trust levels, smaller influencers can increase brand engagement at a lower cost, as well as increase brand trust, leading to more conversions.
"This type of marketing creates positive brand sentiment, gets people talking about your brand and provides more insights into consumers' buying behaviour and pain points. All of this better enables you to create a genuine experience for your audience." ~ Smart Insights
Here's a helpful guide to demystifying your first influencer marketing campaign.
4. Use Alternative Online Platforms
Leviathans such as Amazon, Facebook and Google have been at the top of the game for a while now, monopolizing the majority of online traffic.
Facebook, Twitter and Instagram are generally the core platforms used by B2C brands, but many users are growing tired of these platforms. Meanwhile, brands are struggling more than ever before to achieve decent levels of organic reach and engagement.
Platforms like TikTok and Pinterest are helping to level the playing field by engaging users who are stepping away from more traditional social media platforms and garnering higher returns on ad spend.
Because Pinterest isn't just about sharing content, but discovering new things, it affects how users interact with the site.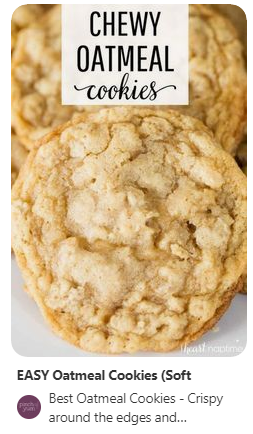 In fact, unlike other platforms, Pinterest users are twice as likely to say their time was well spent, and that it helps them learn new things (84%).
Additionally, 55% of Pinterest users say they use the platform to shop, more so than other platforms.
"Utilizing these alternative platforms allows you to engage with an audience who may not be on Instagram, Facebook or Twitter, as well as providing you with different ways to share your content. This could help deliver better results and shape your future social media marketing strategy." ~ Smart Insights
5. Enhance Customer Service
According to RevLocal, a Sprout Social survey of more than 1,000 Facebook, Twitter and Instagram users discovered that 90% of social media users have used it as a method of communicating directly with a brand.
Social media has, in fact, surpassed every other form of communication (including phone and email) as the first place consumers would turn if they had a problem with a product/service.
When you consider that 71% of people who had a positive social care experience said they would be more likely to recommend the brand to others, providing quality customer service on social media just makes good business sense.
Social media as a form of customer service is going to be a big trend for 2020, because not only do users find it convenient, but it's also a good way for them to get 24-hour service.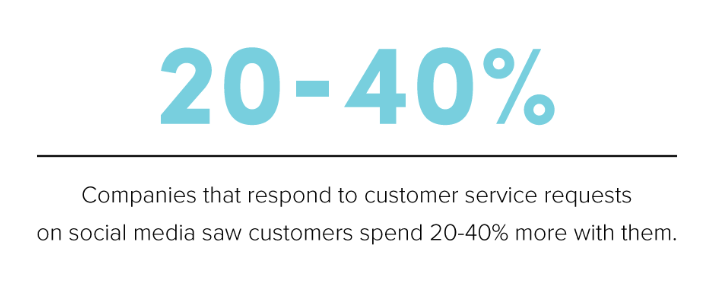 "If customer service isn't a part of your social media strategy, it's time to rethink things," says RevLocal. "Not only does social care encourage you to stay engaged with your audience, it can keep help promote positive brand mentions, boost sales and keep customers loyal to your business."
Final Thoughts…
"Social media has now become synonymous with digital marketing, going hand-in-hand with most–if not all–digital campaigns," says Smart Insights.
That being said, social media is far from static—strategies that worked a few months ago won't necessarily deliver the same results now.
Today, it's crucial to find more effective ways of engaging your followers, so you can dodge the digital detox trend and use your community to better connect with your audience.
Using the power of micro-influencers, tapping into alternative platforms, and enhancing customer service through social media will also improve your online marketing strategies for a more successful 2020.
About the Author



Sherene Funk is the author of and two small business e-books. She is a voracious reader who owns more books than she can ever read in this lifetime. A graduate of Brigham Young University, she worked in advertising for many years before moving to her current writing position at Rain Retail Software. She researches non-stop to see what successful retailers do and loves to share what she learns with small business owners.
amir