10 Local SEO Tips Your Lazy Competitors Are Neglecting
Unless you own an entirely online business, the location of your business will play an essential role in determining its success. The people closest to your brick-and-mortar store will be the most likely to buy your products and services, and that's when the entire concept of local SEO comes into the picture.
So what exactly is local SEO? In this blog post, we take a look at what local SEO is and how you can get ahead of your competitors by making the most of it.

What is Local SEO?
Local SEO is an optimization process that enhances the visibility of your business when someone searches for companies similar to yours in your area.
Let's say you run a café in Illinois and want to attract customers from Aurora. This is when local SEO can boost awareness for your business, helping you appear at the top of search engine results whenever someone searches for cafés in Illinois or the best cafes in Aurora.
If you are still confused about the importance of local SEO in 2020, get this: 72% of customers who conduct a local search end up visiting the store within five miles.
What does this mean for local businesses? If you ace the local search results on SERPs well, the chances are high that you will attract a lot of local customers.
However, local SEO optimization might not be so simple. It may involve some hits and misses. So in this article, we'll help you create the best local SEO strategy that'll get you way ahead of your competitors.
Invest in a good web hosting company.
You might not see coming this, but the hosting services you use impact your local SEO to a large extent. Various small businesses make use of cheap web hosting services as they are affordable. Still, you'll need to review the full features and services of more inexpensive web hosting options to make sure they still provide excellent value and support.
Websites hosted using cheap web hosting services may load a lot slower than regular hosts. This irks your customers, and you lose rankings on search engine results pages.
Thus, it makes sense to spend a bit more and invest in a good hosting company for the best results.
Optimizing your business' title and description.
The title and description of your website say a lot about your brand. They present the right opportunity for you to catch the target eyes and put your marketing message across.
Make sure that both your business title and description are enticing enough and provide the right idea about your business.
For instance, the title of your home page might be set to Home by default. We are sure you won't like your page's title to look this boring. If you are an apparel company, the title could look something like Best Women Apparel in Ohio.
Carmine's Italian Restaurant makes it clear that they're an Italian restaurant in Times Square.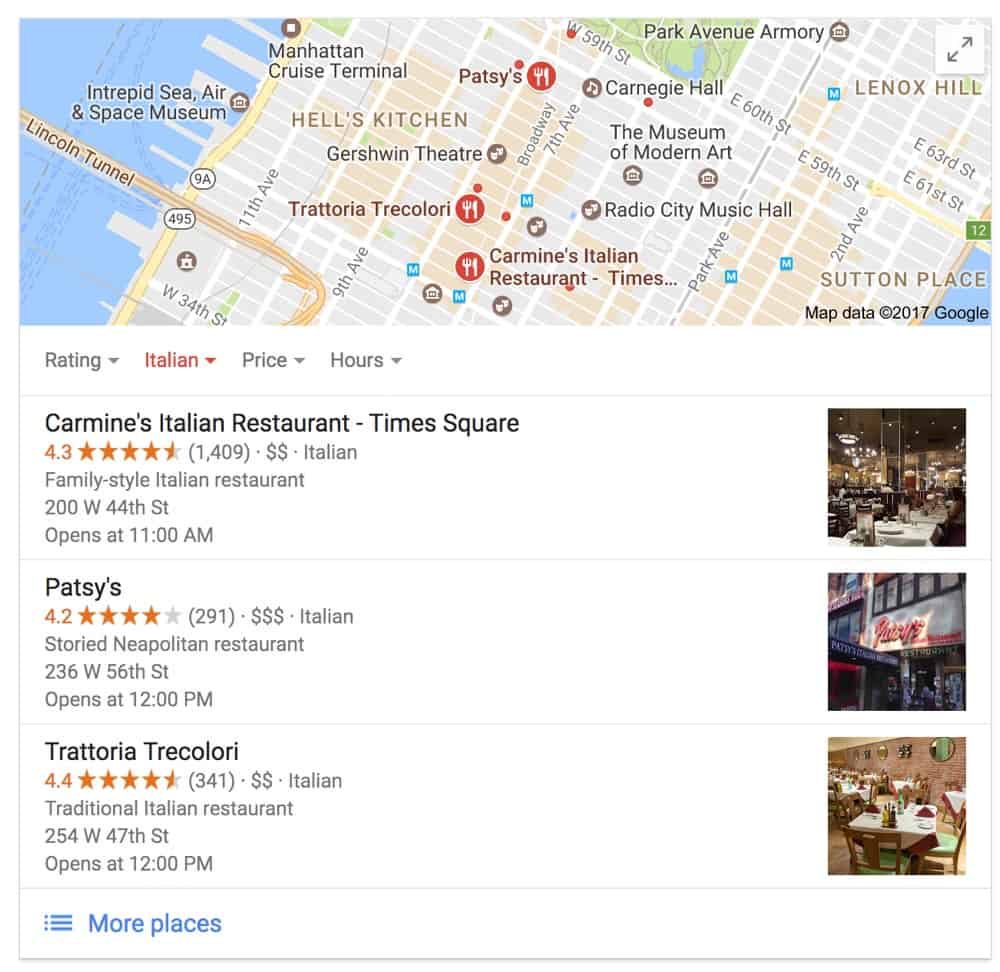 Claiming your listing on Google My Business
You might argue that Google My Business behaves just like a local directory for your business. You are correct, and this is why our business must be on it.
First of all, Google My Business is not an ordinary directory. It's managed by Google and provides your users with all the information about your local business when someone searches for it.
To get on Google My Business, all you need to do is verify your business, and claim your listing, and provide all the required information – the type of business, operating hours, and the like.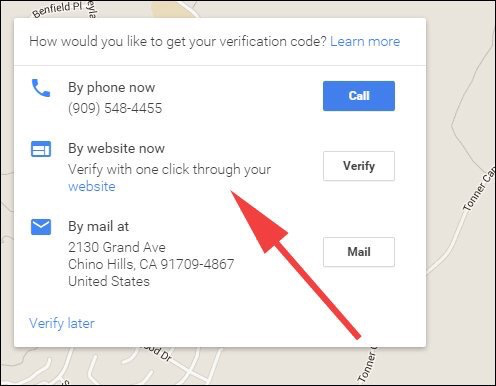 Inviting customers to leave reviews
This is a no-brainer, but your competitors might not be making the most of getting internet reviews about their businesses, so take advantage and start collecting your own.
The best way to leave a positive impression on your customers is by presenting them with enough social proof. This is why gathering online reviews and testimonies from your customers is important.
Ask your customers to leave positive reviews on your Google My Business listing, social media pages, and other niche platforms (TripAdvisor, for instance, if you are a travel agency).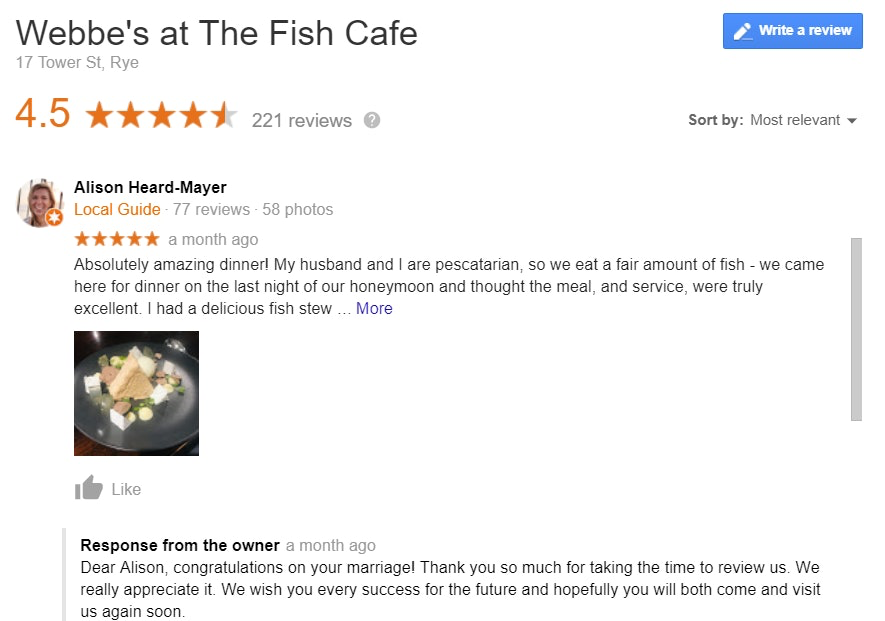 This cafe goes the extra mile and responds to customer reviews. This might be an excellent way to show you're an engaged business.
Creating a schema markup
In case this sounds new to you, schema markup is a way through which search engines get more information about our business. Google bots get to know what your website is all about, how many pages your website has, and so on.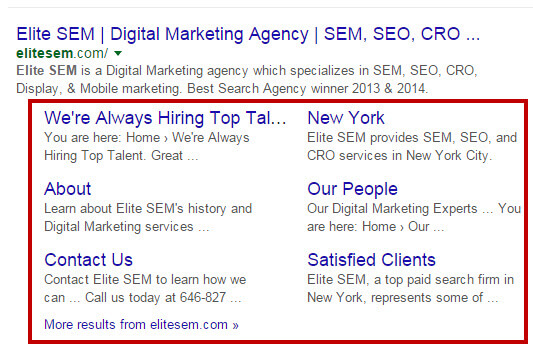 An example of schema markup in action when a relevant Google search is made, where different parent pages are shown.
There are many different ways you can use schema markup – some companies use it to present a search bar right in their Google search result, others use it to show their high ratings on Google Reviews, and the like.
It is likely that your competitors might still not be using it, so you can easily outperform your competitors by making the most out of schema markup to be at top results of Google searches.
To create a schema markup, you can start by following the steps in Google's Structured Data Markup Helper that walks you through creating your own schema markup using variables you prefer, including articles, events, product pages, or Q&A pages.
Improve your website's security
This is one thing that you must stick to, as website security affects any chances you have of landing on the first page of search results.
Your website's security is important, and rightly so because Google favors sites that have HTTPS in their URL over HTTP.
Google wants a secure web, and this is why it has been labeling non-HTTPS websites as 'not secure' since July 2018. This ensures that authentic people run your website, and its server is appropriately encrypted.
Increasing dwell time on your website
What is dwell time? It is the amount of time that a user spends on your page after getting directed from the search engine results pages. The more time a user spends on your website, the positive will be its results on your website's SEO.
This is because a higher dwell time signals Google that your website provides top-notch content, and adds value to the user.
To improve dwell times, aside from having a fast webpage loading speed, make your pages readable and have a lot of white space in between elements. Highlight important phrases and sentences that'll catch their eye and get them reading.
You might also consider adding images and infographics that will have them staying on your page longer.

Creating a content marketing strategy
While SEO is important, it is nothing without a proper content marketing strategy. Produce some great content pertaining to your industry and keeping the target audience in mind.
Identify the questions your target audiences are struggling with and provide them the related answers for your niche.
You can also use your content marketing strategy as the first step to getting more leads as a brick and mortar business.
For example, Marriott, the hotel chain, has been hailed as a content marketing genius. They consistently publish high-quality travel content and aim to be the world's best travel content publisher.
They create interesting content that often pushes the boundaries of a usual hotel chain – in fact, one of their best videos is an action-comedy short film called Two Bellmen, which showed off Marriott hotels but focusing on the story of two bellmen who must protect the hotel in which they work.
Leveraging social media for your customer service
Nothing builds the reputation of your company better than the excellent customer service that you provide. In fact, U.S. companies lose more than $62 billion annually due to poor customer service, where the average American reports a bad customer service experience at about 15 people each time.
And with social media, that number could be much higher.
You can also make use of social media to serve your customers and spread the buzz around your products or services around.
Check out Wishpond's top social media marketing trends for 2020.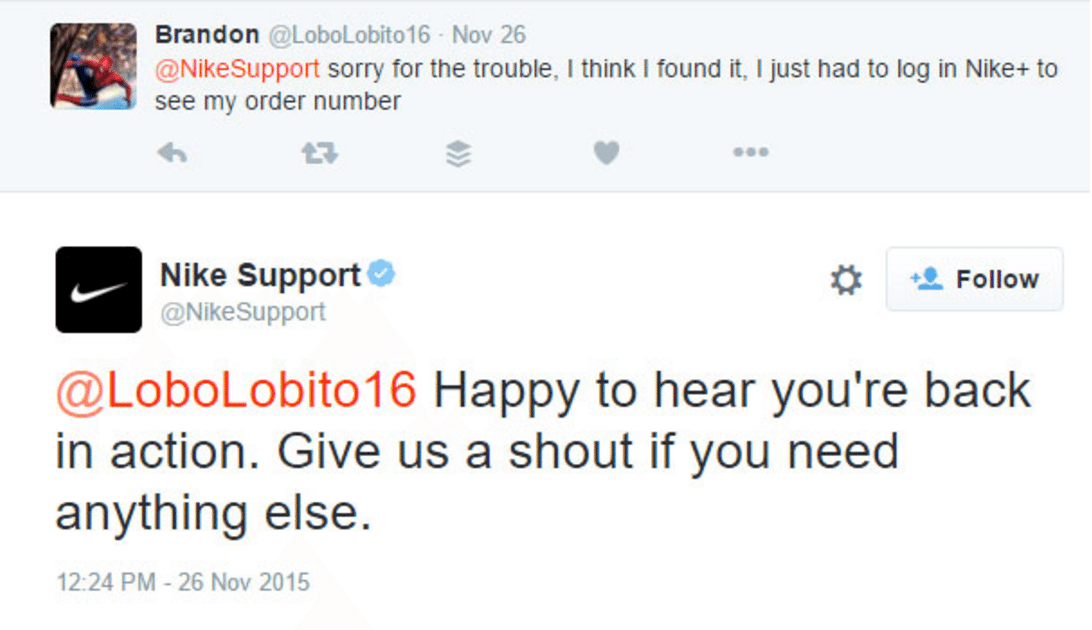 As an example, turn to Nike to see how good social media customer service is done. Their Twitter accounts often respond to customers, usually in just a few hours. Nike's Twitter Support is helpful, kind, and empathetic towards customers.
Create local events
To get locals around your business to notice your business, you might consider doing some local events to boost awareness and get customers engaging.
When you broadcast your events on social media like Facebook, there's also a chance that locals around your area can discover the event under the the Events Near You section of Facebook.
Here's an example of a local business doing local events. Hotel Yelm in Houston used to host a weekly Game of Thrones watch party.
When you plan your events, also consider sending press releases to local publications and popular bloggers in your area so they can write about your event and your business. This can help boost your local SEO by getting mentioned and featured in other people's websites.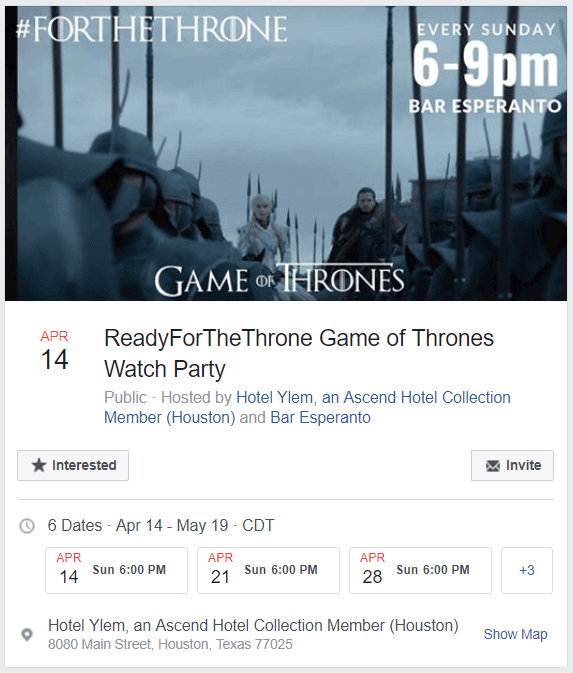 Key Takeaways
These are some of the best local SEO tips that your competitors might be neglecting in summary.
Invest in a good web hosting company.
Optimizing your business' title and description.
Claiming their listing on Google My Business
Inviting customers to leave reviews
Creating a schema markup
Improve your website's security
Increasing dwell time on your website
Creating a content marketing strategy
Leveraging social media for your customer service
Create local events
So get ahead in the game and start optimizing your business for better local SEO. The great thing about optimizing for search engines is you'll often see results pay off for several months to years, assuming you implement the best strategies to get you ranking on search engines.
If you'd prefer to leave it up to an expert then you can also hire an SEO company. Click here to learn how to choose an SEO company and what they can do for you.
About the Author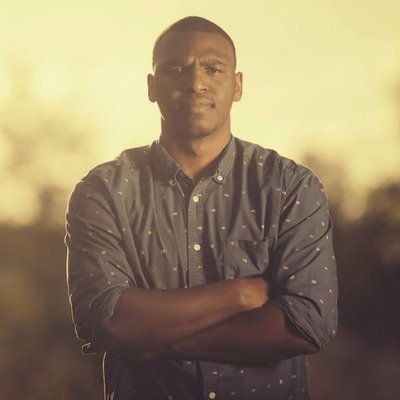 Kevin Payne is a content marketing consultant that helps software companies build marketing funnels and implement content marketing campaigns to increase their inbound leads.