5 Must-Have Features & Tools for Successful Social Commerce
The days of setting up your own online shop just to quickly rake in new eCommerce sales and then call it quits are long gone.
If your business wants to turn more of its new and recurring website visitors into purchasing customers, it's high time that it marries eCommerce with the platforms its customers use most often. We're talking, of course, about social media platforms.
Social media is the single best place to network with potential new customers and put your eCommerce brand at the forefront of their attention and focus. This doesn't come at all as a surprise, considering that modern digital consumers spend upwards of three hours on any given social platform, each and every day.
To that end, let's take a look at the top five must-have features and tools you need to put in place for your successful social commerce strategy:
---
1. Posts that lead on lifestyle
In order to achieve consistent lead generation using social media, it's important that businesses know how to prioritize placement of content on their web and mobile app pages. Strategic content placement can help businesses expand brand reach and more firmly establish their presence in the minds of both new and repeat customers.
To get a better understanding of how businesses can use their pages' real estate to widen their brand reach and produce an increase in customer conversions, let's take a closer look at social media real estate and how its size works to the advantage of simple, customer-focused messaging.
Popular social media platforms that digital customers typically use to browse eCommerce brands include Facebook, for example, where there's only so much space for marketers to make an instant user connection that has a high likelihood of converting and without driving away interest due to too heavy an emphasis on ads.
Outdoor retailer L.L. Bean has created the type of Facebook page experience that all eCommerce brands can learn from to make these types of leads instant and organic.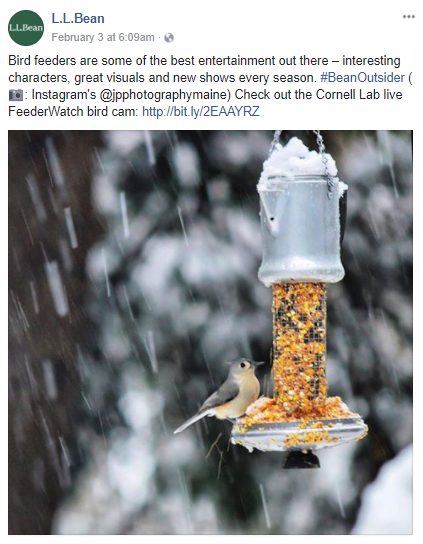 L.L.Bean uses limited space to first target their users' lifestyle to maximize immediate engagement, and then expand beyond just their product features.
Since Facebook gives businesses a means to talk with their customers as well as connect with new ones, L.L.Bean appropriately creates a non-advertorial environment to engage and direct users to their products based on shared product interest, and not the assumption that everyone is familiar and a fan of L.L.Bean's products.
Remember that one of the most important strategies for marketing an eCommerce store is to direct its customers toward the best your brand has to offer, without creating an advertorial-heavy experience.
Thoughtfully curate content using your social media real estate to direct users to Contact Us pages and at the very least obtain a means to reconnect with them in case they don't make any transactions.
2. Social checkout to quicken conversions
Busy digital customers need an omni-channel experience that brings them to your product pages in as few steps as possible. Businesses need to adopt a purchase process that cuts down on the number of web pages users need to go through before they have a chance to decide they're no longer interested.
Business owners can work with their marketing teams to leverage social checkout features by selling their products directly from organic and paid social posts.
Brands such as ColourPop Cosmetics constantly use checkout features on social media platforms like Instagram to advertise products that lead both desktop and mobile app users right through a one-click funnel to a product checkout page.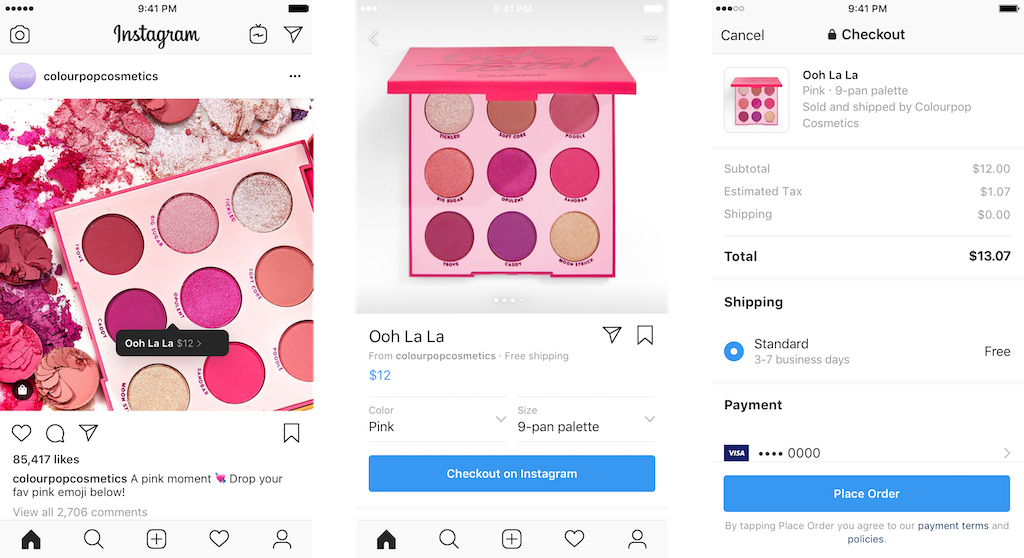 Consider the most popular websites that constantly have paid ads on them - Instagram, Google, or Facebook - and you'll realize that they're perfect for paid ads and targeted content placement that convert through a frictionless purchase process with the fewest steps possible.
Paid strategies like ColourPop Cosmetics' on Instagram work for paid ads and targeted content placement that convert through a frictionless purchase process on a platform like Instagram where users want to take the fewest steps possible to get to the content they want to see.
If you're able to accurately tag products to streamline people's path toward purchasing them, you can then place paid ads and sponsored content at the top of their landing pages to immediately move them toward your checkout screen.
Need help marketing your eCommerce store?
Book a free call to learn how our team of eCommerce experts can help you generate leads, boost traffic and drive MORE sales.
3. Content marketing that stays current
Getting your social media ads up and running is a great first step toward building successful social commerce. But once your ads are all set up, you need to keep managing them in a way that makes it worth it to track and measure their ROI.
Don't fall into the trap of thinking that anything you post on social media is worth engaging with or sharing. To keep up with the competition, you'll need to step up your content marketing game by constantly producing high-quality content that is relevant to your audience.
You need ads that consider your audience's interest and are visible to them on all your social media platforms.
Big brands like Burger King have used Twitter as a way to get a pulse on how relevant their traditional marketing (TV commercials and in-store posters) strategies are with customers - their campaign "Stranger King", based on the popular TV show Stranger Things, went viral almost instantly with viewers coming in across Burger King's omnichannel funnels.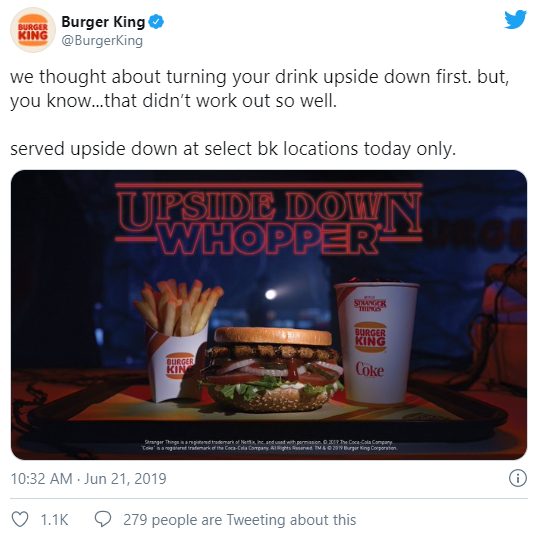 By investing in content marketing that stays current on your social media platforms, your business can build a strong long-term relationship with its social media users by keeping them up-to-date and excited about what's coming down your product pipeline with highly tailored advertorials that are worth the extra investment in time and creativity.
4. Make customer reviews more social
The omnichannel customer experience provides businesses with multiple streams of customer reviews. Considering that 52% of online customers say they trust positive reviews and testimonials to the point that it increases the chances they'll purchase a business's product, it's important to highlight positive reviews as effectively as possible.
Companies such as Super Goop are known for using real reviews from real customers to quickly transform natural posts into leads.
Smart content management assigns the right hashtags to get followers' eyes on the latest product review from someone who, according to Instagram's algorithm, has similar interests to them. Followers can then share posts with friends and generate more interest about the product in the highlighted review.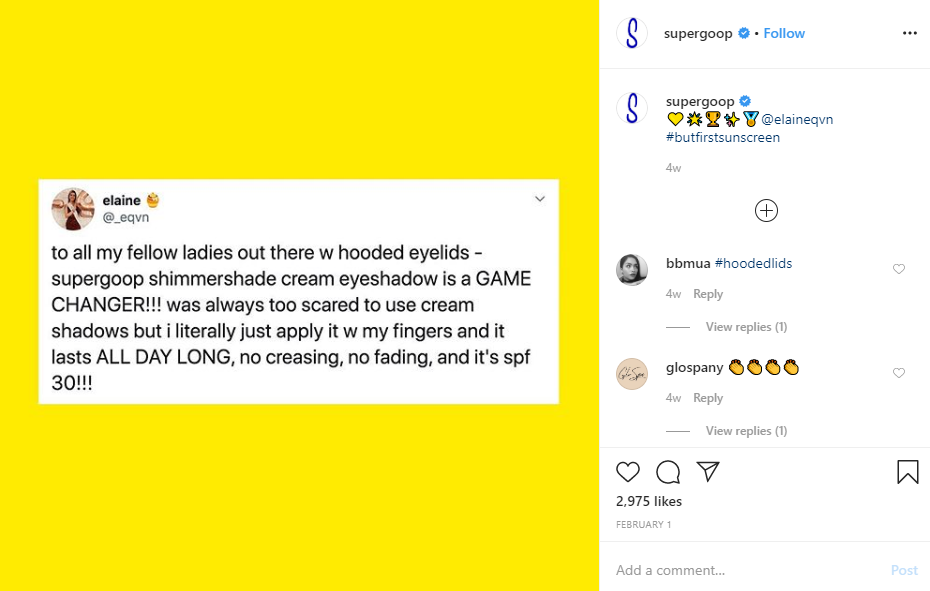 Super Goop often highlights its sunscreen beauty products with positive customer reviews. Businesses should emphasize handling negative reviews as early and earnestly as possible to give positive ads the most uptime possible.
Products with reviews are 270% more likely to be purchased than products without - yes, 270% - so there's no time to let negative or hateful social feedback linger.
5. Security considerations
It's important to consider security concerns if you're choosing an eCommerce platform with which to combine social commerce strategies.
Security should be one of your chief concerns when deciding on which platform you'll use, especially since your visitors are becoming increasingly aware of potential risks to their identity information when completing digital transactions on unfamiliar websites and platforms.
As Brisbane-based web developer and online marketer Nathan Finch of Best Web Hosting Australia says, "Think of ecommerce platforms as a storefront that includes capabilities for browsing the wares, placing them in a shopping cart and making a payment.
All of this requires a broad selection of functionalities, and the whole transaction has to be secure from beginning to end."
With this in mind, among your top security considerations should be those factors that ensure secure checkouts for your users.
Among these security factors include HTTPS and SSL certificates which ensure secure checkout capabilities and are Payment Card Industry-compliant.
Ideally, try to identify business packages, such as those offered by Shopify, that offer free SSL certificates to simplify your security customization and address your most important security considerations.
Summary
It's well worth your marketing team's time to socialize your eCommerce presence. Over the long-term and with appropriate levels of forethought and planning, you can easily invigorate your sales numbers and the rate at which you connect with digital customers.
Here's a quick recap of our five actionable tips to use social media platforms to strengthen your eCommerce sales and brand:
Take advantage of limited social media real estate with posts that lead on lifestyle topics, not with advertorials.
Reduce the steps your followers need to take to go from your social media platforms to product checkout pages.
Cultivate a strong social media personality that stays current on its followers' pop-culture-related interests.
Showcase positive user reviews on as many social media platforms as possible for a glowing reputation across your omnichannel customer experience.
Provide users with a secure platform to browse and transact your digital services and products, without compromising your data and putting both your business and your customers at risk.
About the Author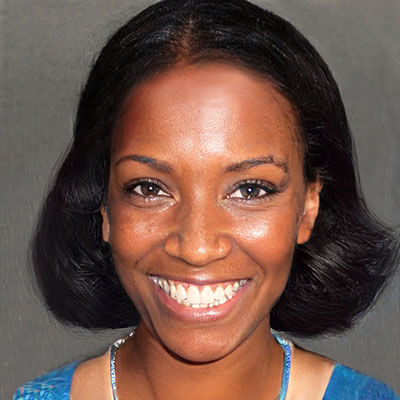 Nahla Davies is a software developer and tech writer. Before devoting her work full time to technical writing, she managed—among other intriguing things—to serve as a lead programmer at an Inc. 5,000 experiential branding organization whose clients include Samsung, Time Warner, Netflix, and Sony.