11 Common e-Commerce Marketing Mistakes (And How to Avoid Them)
Running an e-commerce site is not as easy as it looks. If you want to hit your business goals, then you will need the right marketing strategy. There are plenty of common e-commerce marketing mistakes that new businesses often fall victim to. It's important to understand these issues early on so that you can boost growth and sales without restrictions.
With e-commerce becoming the new norm in shopping, competition between sites has become really tough. Common marketing mistakes will make a huge impact on your website - holding back your customer base and revenue from really taking off.
Follow our guide below on some of the main marketing mistakes to avoid to make sure that your business really booms.


e-Commerce Marketing Mistakes to Avoid
If you make certain marketing mistakes when promoting your online store, there's a good chance you will end up repeating these mistakes over and over. An important part of building an effective digital marketing game plan is knowing what not to do and what common mistakes you need to remove. We have outlined some of the most critical e-commerce marketing mistakes below to help get your business on the right path to success.
1. Not Knowing Your Target Audience
Any good online marketing strategy starts by knowing who your potential customers are. The online space allows brands to open up their offering worldwide. Everyone is online, and your website could target all kinds of customers. Digital marketing relies on knowing exactly who you are trying to target, and using all of your tools available to get these very specific customers to your store.
To drive as much traffic as possible to your website, your marketing efforts will need to be specific about who your customers are. Having a clear buyer persona is essential for your content marketing efforts. Know who your customers are, what they are looking for, and you will be able to target them more directly.
One of the most common e-commerce marketing mistakes is when businesses try to attract too wide an audience. This ends up with very few people actually being interested in their product, resulting in unsuccessful e-commerce sales. Know what your customers want and be specific.
2. Not focusing on Average Order Value
A common setback for e-commerce businesses is when they put all of their focus on increasing their sales funnel, but they don't focus on getting customers to increase their purchases. This marketing mistake comes down to not focusing on building trust with site visitors, and not enticing them to add on to their order.
To understand the value of this, you need to look at the cost of your marketing efforts for each new customer. For example, say your site attracts three customers that each spends $20. This will cost your business more than having one customer spending $60. Increasing the average order value will make a major difference to the overall profitability of your company.
There are a few strategies that can enhance your order value. You could offer product recommendations, use product bundling strategies, set an order minimum, and focus on upselling on your online shop.
Marketing towards people who are already spending money on your site is much easier than marketing to a cold audience. You've got existing customers that have already decided to support you. Make sure that when they checkout, you have been able to gain the maximum amount of value from them.

3. Lacking social proof
Social proof is one of the most important factors for getting potential customers to make a purchase. This includes things like reviews, referrals, or product testimonials. A customer always wants to know what another customer had to say about a product. This helps to build trust and increase conversion rates.
One of the top e-commerce marketing mistakes is leaving elements of social proof out of your online store and strategy. With e-commerce, people can't go into the brick-and-mortar store to feel the quality of an item, try something on, or see how it would work. Because of this, social proof can help a customer to make up their mind on a product.
With online shopping, social proof offers transparency. Customers can openly rate and review products. New customers will be able to get a more honest and informed idea of the business.
This doesn't just have to be on the store page in the form of product reviews. It can be included in social media and content marketing efforts. You can show real people actually using your product, and offer what they have to say about it. Influencers and user-generated content can add loads of value here.

4. Using the wrong CMS
The CMS your online store uses could make or break your business. Many new businesses will go for the cheapest content management system, thinking that it will really just do the same thing as any other option. This is one of the most common e-commerce marketing mistakes to make.
If you want to offer the highest quality experience from your e-commerce business, then cutting costs on your CMS is a bad idea. You want to choose a platform that is easy to manage and can scale with your growth. Your CMS should be able to integrate with all of your backend software. It should also be a suitable fit for any marketing automation strategies.
Quite simply, the wrong CMS for your e-commerce site can really affect the user experience, as well as the way you operate. Any website relies on its CMS to provide a high-quality shopping service.
5. Bad product descriptions
The product description needs to draw your customers in, making sure they end up with a full basket on your checkout page. Your product description should explain to the audience why they need the product, not just content on what the product is about. The options should help customers to view the product as an asset, with clear instructions on how it can improve their lives.
Poor product descriptions simply list features of the product, without highlighting its benefits. These are often copied over from the manufacturer. Some e-commerce sites don't even include a description at all. Letting your target audience know that the product will add value to their lives is essential for increasing your sales.
A poor product description will also affect your SEO efforts. Descriptions that are properly optimized are more likely to rank on a search engine. You also need to make sure that your description content and headings are unique so that they stand out to a customer on a search engine. Being able to tailor your description to your specific customer base will create greater appeal which will increase conversions.

6. Forgetting About the User Experience
E-commerce is rapidly growing, with new online shops popping up every day. Customers have a huge variety of options, so naturally, they will choose a platform that offers them the best experience. If your site doesn't look good, feel good, or work well, then your customers will soon find somewhere else to shop. E-commerce marketing needs to take user experience seriously.
Your web page should be clear, attractive, and easy to navigate. The copy should perfectly fit your brand, and any other content needs to be optimized. This includes things like product descriptions and thoughtful categories. You also need a smooth checkout process.
When looking at this experience, business owners should not forget about mobile devices. More people are using mobile devices for online shopping, and sites need to provide the best possible experience for this.
A good experience doesn't end with content and the shopping platform. A company needs to offer a high level of customer service, while customers are on your pages and after they make a purchase. Good service can include following up on the customer post-purchase, asking for feedback, and building a relationship.
Online marketing relies heavily on the user experience. A positive experience for visitors will also help your store to rank better on Google and other search engines.

7. Poor Social Media Strategy
Social media connects the customer to the brand. Many e-commerce marketing errors are a result of poor social media management. If your business does not properly promote products or engage with customers through social media, then your e-commerce sales will suffer.
Social media is there to build up the presence of your business online. This is an essential part of any website marketing plan. Getting social media wrong can lead to a major marketing blunder. Something as simple as the right social media ads for e-commerce can make all the difference to your sales.
Make sure that your social media is professionally managed to avoid losses on your site.
8. Not Being Intentional About Marketing
Products don't sell themselves. This may sound obvious, but a common marketing mistake is not having a clear strategy, to begin with. Developing a strong agenda is the only way to really see results. An effective strategy relies on email marketing, social media, SEO, retargeting, and useful content. This needs to be intentional and cohesive.
Poor marketing efforts won't lead to results. Your website won't get much traffic, or you might attract the wrong customers. While your brand may have various marketing efforts already in place, if they are not carefully planned, they will not help you achieve your business goals. A well-thought-out e-commerce marketing plan is also important for marketing automation and scaling your company.
9. Overthinking Things
Any online shop has many moving parts. A common mistake that any new company often makes is overthinking all of the small details. Yes, you will make mistakes. That's just business. If you focus too much on these small issues, you will miss out on the huge opportunity that lies ahead.
Don't get too caught up in the small details. Rather, focus on the bigger picture and work towards that goal. Start by taking big steps, and fine-tune them along the way. For example, if your email marketing content is not personalized the way you want it, you can always fine-tune it at a later stage. First, get visitors to your website, then you can start to think a bit more critically about your channels as you go. Overthinking every step will just slow you down in the long run.

10. Not Analyzing Your Data
It doesn't matter how much effort you put into your marketing channels if you aren't able to properly analyze it. Any business that wants to really thrive needs to pay attention to its data to consistently optimize its marketing plan. A common mistake is to continue with marketing strategies that haven't been properly analyzed.
If this is the case, how will you know if your content is working? How will you know if your email marketing is bringing results? How will you know what to change? The only way to really find your e-commerce issues is to analyze the data and optimize your service.
11. Poor Lead Capturing
Not everyone that visits your website will end up buying something. However, this doesn't mean that you can't benefit from their visit. Every online store should offer some form of lead capturing to help you gather more potential leads.
This needs to be subtle enough not to distract customers, but clear enough to get their attention. Well-executed lead capturing will help you to benefit from the customer even if they don't actually end up being a customer.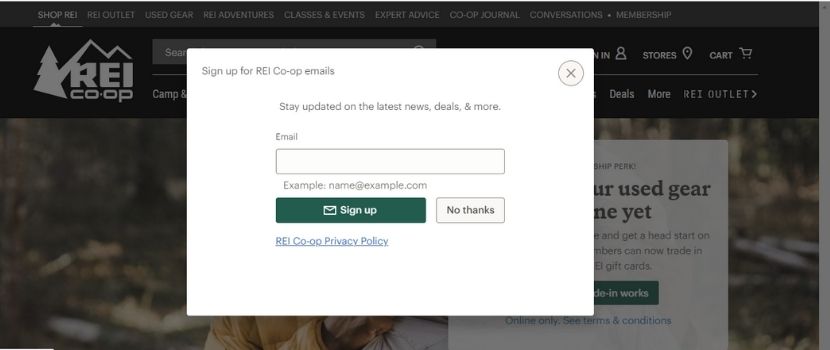 Final Thoughts
It doesn't matter how great your products are, without an effective e-commerce marketing strategy your business won't be able to reach its sales goals. Poor marketing efforts and common issues will lead to your website being lost in the competition.
For any e-commerce business, regardless of size, avoiding these common marketing mistakes is essential. As soon as you realize that you might have made one of these issues, fix it and move on. You will soon see a boost in sales!
Featured e-Commerce articles: