Do you have an Etsy store? Do you want to sell more of your products, but just don't know how?
To succeed in turning your Etsy store into a solid business, you need to have a great social media marketing plan.
Are you, for example, on Facebook? Do you have a Facebook Page for your Etsy site? Do you run Facebook group deals? Do you have your Etsy products on a Facebook Store?
Here is a quick guide to social media marketing for your Etsy store.
---
Social Media Marketing for Etsy Stores #1: Develop a Plan
---
Consider your time and resources. Are you on Etsy as a hobby? Or are you trying to make a business out of it. How much time do you have to keep up your Etsy store, market it, and keep making your awesome products.
Social Media Marketing for Etsy Stores #2: Know what you Want
---
If you want your Etsy to be a business, you need to treat it like one. Make a business plan. It doesn't have to be complicated, the important thing is to have a plan, know your goals, and develop specific, measurable, attainable and time-based objectives.
Your goals might be:
Sell product
Make money
Enjoy time with my family
Your objectives might be:
Sell 200 bracelets by September 15.
Sell 500 metallic rings by September 30.
Sell 150 green necklaces by September 12.
Make 250 red ruby anklets by September 30
Make $1500 in monthly profits by September 30.
Make $1750 in monthly profits by October 31.
Spend 4 hours/day with family.
You'll likely have more objectives than this, if you're serious about your Etsy business.These examples give you a general idea for setting up your plan.
If you have your goals thought out, it gives you a better direction for your marketing. Objectives give you a specific numbers and dates, so you can challenge yourself to achieve measurable results!
Not only that, but there is something about writing down your objectives – they suddenly become real commitments for yourself!
Social Media Marketing for Etsy Stores #3: Know your Niche Market
---
The next question you need to ask yourself is: Who buys your products?
Knowing your target market will help you to connect with and market to them.
Who are your customers?
What are their hobbies and lifestyles?
What do they like about your products?
If you've been on Etsy for a bit, and have been successful, you'll have some idea of your customer base. If you're just starting out, or need more customers, you likely have some idea of who you might market to.
Take a bit of time to list out who you think your products appeals to. Then go a bit deeper by listing out characteristics and demographics like age, location, kids or no kids, income level, social media usage (for instance, what sites are they on, how often are they on them, what do they use the sites for?)
Just going through this simple exercise, you'll get a better idea of who you're making your products for, and how you can then better connect with them to get your awesome products to them.
Now, let's get to the doing!
Social Media Marketing for Etsy Stores #4: Choose Your Social Media Platforms
---
There are tons of social platforms that you can engage on, to reach your target customers:
The Etsy site itself provides loads of opportunities to connect with fellow shop owners.
Facebookis the most popular site for Etsy buyers outside of Etsy.

Pinterest provides an amazing way to visually show your products.

Twitter is a great way to connect with niche, through hashtags.
There are tons of really specific, niche blogs that cater to your particular craft (you might even have a blog yourself!).
There are lots of websites with social elements like forum and online groups where you can find your buyers too!
Tumblrcould be where your market is.
YouTube or Vimeo provide amazing ways to connect to your buyer through videos about how to make you product and more.
Google+ can be a great way to connect to your customers through Communities, or even Video Hangouts.
And there are tons and tons more…
One thing about social media is that you don't want to stretch yourself too thin. You really want to narrow your efforts, so you can gain success in one (or two) social platforms.
So, how do you choose the social network on which to market _your _store?
My advice? Start with the social platform you are most familiar with. As you develop confidence and success, branch out to other social sites.
For most Etsy shop owners, Facebook is the best place to start. If you're on the site regularly anyway, it's a fairly simple step to add a Facebook Pagefor your shop, and start to engage with customers too.
Note: Regardless of the platform you choose, here are some great general tips for Etsy marketing from the handmadeology blog. (Tips include: Keep it simple stupid; Think like a customer; Photos, photos, photos; Be narrow; Share your expertise.)
Ok, so next, let's take a look at what your Facebook marketing strategy might look like.
Social Media Marketing for Etsy Stores #5: Facebook Marketing
---
Set up a Business Page – The first step in marketing your Etsy store on Facebook, is to make your Facebook Business Page. This is pretty straightforward to do. You can read my post on How to Set Up a Facebook Page for Business in 13 Really Easy Steps. You want to use a Business Page, not your personal site for your Etsy marketing. It makes you look more professional, and there's a lot more you can do for marketing with a Page.
Use product images in your cover image – You really want to use beautiful images of your product. Your cover page allows you 851×315 pixels to showcase your wares to anyone who checks you out on Facebook. Check out the cover of Chickadee Candle Company: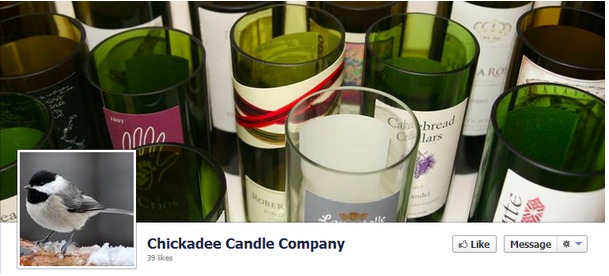 Use your brand – likely you – as your profile photo – Your profile picture is seen on all your posts, so make it friendly and recognizable.
Include a link to your Etsy store, and/ or website in your about section – The more you can connect with your market, the better. Make it easy for them to find your store and website.
Integrate your Etsy shop on Facebook – Wouldn't it be cool to be able to have your Etsy shop on your Facebook Page.
Guess what? You can. And it's not all that difficult to do, either. It's best to use an easy third party app. _(I'm biased, but I'd suggest using us at Wishpond. Just log in to your Etsy account, get our app for Etsy Facebook Store. Within a few simple clicks, you can have your Etsy store up and live on your Page. We've been working with Etsy to create the most seamless integration, and syncing abilities.
Develop a content strategy – Once you've got your Page set up, with your store connected, you need to develop your Facebook content. You want to post regularly and consistently to gain an engaged market. (Check out how to Create a Facebook Content Marketing Schedule
Think about the kinds of posts you'll make to best connect with your market. Include images of your products, but don't make that your main content. You want to connect with customer. Post about lifestyle tips, how-to's (like how to use your products), customer testimonials, updates about the progress of your products, and more.
Here's a few articles with tips on how to make engaging posts:
Or get our free eBook: Facebook Content Marketing for Businesses
Get great photos of your products. I really can't say this enough. Photos go a long way in selling your products. The better they look, the more they'll be wanted.
Offer group discounts – You can set up group discounts very easily through your Facebook Page. Discounts to a product will get you more sales. Group discounts encourage sharing and even more sales of your products. If you set a minimum participant limit, your Fans will want to get your discount. They will share your offer with their friends so they can all get it – and buy your product.
Tip: Make sure your offering is enticing to get. You might want to give a 25% discount on a popular item (so long as your margins don't go in the red), and be sure to include the best photos of your item when marketing your discount.
Host contests and giveaways – To generate excitement and awareness about your crafts, host contests and sweepstakes. It's really easy to setup promotions like this on your Facebook Page. You can get lots of easy Fan engagement with a simple vote contest, or sweepstakes. Or, you can get more involved engagement with contests like photo caption contests, essay contests, photo contests, or even video contests.
You do need a third party app to run contests and giveaways on Facebook. (Ok, here I go again – Wishpond's Social Marketing Suite includes Etsy Facebook stores, contests, sweepstakes and group offers.)
You can use Facebook contests for many reasons. Not only do they increase engagement, and get your updates seen in the News Feeds of your participants' friends – you can also use them to get to know your customers better, introduce new products, and get more awareness about your Etsy store.
Here are more articles you might want to read about setting up your Facebook contest:
Use hashtags – Facebook now has hashtags. These can be a great way to get your posts shared and liked by a lot of people – whether they are your Fans or not. There are a number of ways to use these categorized subjects.
Use hashtags as a way to:
Take part in general discussions about a niche topic (do a search for topics about your crafts, and use some of the more popular ones).
Promote your products by using trending hashtag topics.
Create interest in a marketing campaign by making a unique hashtag just for your contest.
Use more Facebook Tabs – In addition to your Etsy store tab, include other tabs to connect any other social sites you are on. If you have a Pinterest account, include a Pinterest Tab on your Page. You can do the same with your Twitter, and your blog (if you have one).
If you have videos about your products, post them – and make a tab on your Page for them, so viewers can watch your videos directly from your Facebook Page.
Try out Facebook ads – Facebook ads don't have to be an expensive venture. You can also really connect with your niche customer, by targeting your ads specifically to your market's likes, hobbies and lifestyles (as outlined above – knowing your target market helps a lot!). Facebook ads can get your promotions and products seen by specific people with specific Likes, and other very detailed demographics. You can be seen by people who are likely interested in what you make. Check out how easy it is to use Facebook Promoted Posts
Social Media Marketing for Etsy Stores #6:Measure Your Awesome Results
---
If you want your Etsy store to be a business, you need to track and measure results of your marketing. The simplest _ – and most important – _result is your sales.
You can also measure results from your Facebook marketing by using your Facebook Insights. Measure key indicators like: how many new Fans you have, how many shares or like you've gotten on a post, and how many views you get on your product pages.
Conclusion
---
Use this article as a template for your own planning. Your strategies may vary. You might be very passionate about Pinterest, or Twitter, or blogging. If you are, use these social media platforms you most enjoy._ Try out others too, to expand your reach – and learning. _These tips will give you a solid foundation for your own social media marketing efforts.
For tips on Pinterest marketing, check out:
For tips on Twitter marketing, check out:
[Infographic] How 5 Top Brands Are Using Twitter to Drive Sales
What do you think? Do you have an Etsy store? How have you gained more sales? What tips can you share?
wishpond