10 Amazing Examples of Branded Facebook Contests Done Right
I've seen a lot of contests on Facebook. Some skyrocket, some do not. The contests that succeed are ones that appeal to the lifestyle and interests of the company's target market. The ones that do not are those giving away a free iPad mini, or other incentive totally unrelated to the brand.
To give you some inspiration, I've put together this list of incredible Facebook contests. They range from multinationals to local shops. Yes, everyone can make brand-related contests.
Here are 10 amazingly branded Facebook contests:
1. Qwertee
---
Company
Qwertee
is a limited edition t-shirt maker, that sell one-of-kind t-shirts created daily. Admittedly, their t-shirts are pretty damn cool, kinda quirky and pretty cheap ($12-14).
Contest
They ran an incredibly successful Facebook Sweepstakes. Entrants simply had to like their page and submit their email for a chance to win. They ran the contest every week, to reach their goal. Their goal was to reach 100,000 Facebook likes.
Prize
They remained true to their brand, and gave away 1,000 t-shirts every week.
They achieved their goal, and now have an incredible fan base of over 297,000! (Every time I check it, their fan base has grown.)
They're now marketing their t-shirts through other simple sweepstakes offers - all brand and product related. They hit their branding right and attracted motivated Fans, turned customers.
Disclaimer: Qwertee uses Wishpond's Facebook Sweepstakes App for their contests.
2. Eggo
---
Company
I'm going to assume you know Kellog's Eggo - the makers of breakfast waffles, and part of a major multinational corporation. They have marketing budgets and teams you likely don't, but check out how they run their contest for cool branding tips.
Contest
Eggo recently hosted a two part Facebook contest. The Great Eggo Waffle Off! begins with a recipe contest, with entrants submitting their best recipes for waffles. The second part is Fans voting for their favourite recipe.
Prize
The winner receives $5,000.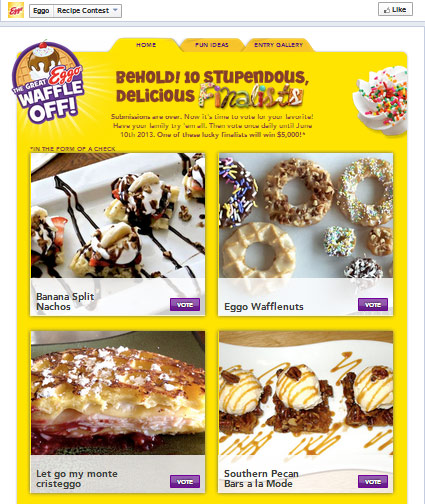 Okay, so the prize is not brand related. But the contest itself is. Eggo is asking their Fans for user-generated content - their own recipes - about their waffle product. Not only does Eggo get lots of photos of their product for their Facebook site, but with the addition of a vote element, Kellog's further extends its branding opportunity by both suggesting voters try each of the recipes (i.e. buy and use their product), and by sharing the voting with their friends.
Recipe contests like this are actually not that hard to create. They don't have to be expensive, either. Use a third party app to create an essay contest, or photo contest with voting, and you could run a contest just like Kellog's.
3. Diamond Candles
---
Company
Diamond Candles sells candles with real rings in the bottom, worth up to $5,000. They have successfully grown their company into a multi-million dollar entity with online marketing smarts. Recognition of their success include making it onto the Internet Retailer's 2013 Top 100 list.
Contest
Diamond Candles ran weekly sweepstakes, with entrants simply having to like their page, and submit their email.
Prize
The prize they gave away was not iPad mini's. They gave away their product - candles.
In less than 6 weeks, they exceeded expectations for gaining an enormous Facebook likes base - generating over 30,000 new fans. Not only that, but they created a bit of a social phenom. Facebook pages have been popping up from excited Diamond Candles fans, and organic growth of videos showing excited customers getting to their ring are now abundant.
This is brilliant marketing, using Facebook contests to spread their brand. Read the Diamond Candles case study.
Disclaimer: Diamond Candles uses Wishpond's Facebook Sweepstakes App for their contests.
4. Dove
---
Company
Dove is a multinational company that makes beauty products for women and men. They are branded globally as being "committed to helping all women realize their personal beauty potential by creating products that deliver real care."
They promote self-esteem for women and girls as part of their marketing, and use real looking models in their campaigns.
Contest
Their Real Beauty Should Be Shared contest on Facebook hit the branding bullseye. They ran a fill in the blank contest, with photos. They asked their Fans to tell them why their friend "represents Real Beauty", by filling in their friend's name, and two things that make them beautiful.
Prize
In keeping with their brand, they did not offer an iPad, or extravagant prizes. The winners will get to become the next faces of Dove.
This is a brilliantly branded campaign. Not only does Dove get a real, genuine face for further in-store marketing campaigns, but their brand is further associated with real people sharing - making their slogan more than just words.
5. London Drugs
---
Company
London Drugs is a multi-chain pharmacy and household consumer retailer. The pharmacy is the heart of their business, but they also offer a full service computer department, cosmetics ranging from lipgloss to high-end face creams, furniture, cameras, high quality photo finishing,
cordless phones and plasma televisions. They serve over 45 million customers each year.
Contest
London Drugs ran a number of weekly, targeted sweepstakes. Entrants simply had to like the London Drugs page, and submit their email.
Prize
The prize was very brand related. They gave away gift cards of up to $500 in value, for their store.
Not only did their campaign result in a massive 600% increase in their Facebook likes, but Facebook has become their #1 source of website traffic referral. By keeping their sweepstakes prize brand related, they are creating both brand awareness and brand loyalty.
Read the London Drugs case study.
Disclaimer: London Drugs uses Wishpond's _ Facebook Sweepstakes App for their contests.
6. Man of Steel (Film)
---
Company
Man of Steel is the soon to be released Warner Bros film based on Superman. They have used Facebook contests to brand their movie and build anticipation for the upcoming launch.
Contest
The Man of Steel Facebook Contest is a photo contest. Entrants simply upload a photo of themselves, depicting how they are the biggest fan of all things Superman. Once the photo is up, there is a voting element.
Prize
The prize builds excitement for the brand. The weekly winner gets to be featured on the Man of Steel Facebook Page as "fan of the week".
By asking for fans' user-generated content of a Superman related photo, Warner Bros. is building anticipation. With the addition of voting, participants will be motivated to share their entry (and the Man of Steel brand) with their Facebook friends, to generate the most votes.
You don't need to be a multi-million dollar enterprise to run a contest like this. See how easy it is to make your own pre-launch photo contest, just like Man of Steel.
7. Tires Plus
---
Company
Tires Plus is a locally based single store tire company that promises "Old Fashioned Service and promises to treat you like we would our own family".
Contest
The Facebook contest they are running is a Father's Day Clock Giveaway. Using an essay contest, they ask entrants to tell them who is the best dad. Then, entrants can vote for their favourite.
Prize
The prize is a Michelin man clock.
Tires Plus is not aiming to reach a massive global market. By keeping true to their brand, and marketing it regionally, they will attract their local, loyal customer. They could have given away a free iPad, but they would get more than their target - the Michelin man clock appeals to their loyal, handy-man type consumer.
This shows that even a company that sells tires can do something cool using social media.
8. Macy's
---
Company
We all know Macy's department stores. Founded 150 years ago, and now with over 800 stores in 45 states, Macy's knows how to appeal to their consumer. Their products range from fashion to furniture. They frequently run contests on their Facebook Page.
Contest
A recent Facebook sweepstakes, Frank Sepe Sweeps, promoted their fitness clothing, along with weekly fitness tips. To enter, contestants just have to 'like' their Page, and allow Facebook access.
Prize
The prize is a great fit - a $1,000 gift card from Macy's for a new fitness wardrobe.
The Macy's sweepstakes has general appeal and is easy to enter. They have created a whole campaign around fitness for the contest (including fitness tips and videos). This supports Macy's brand, as a broad-based, lifestyle enhancing retailer who is willing to educate its consumer.
9. Wishpond
---
Company
Wishpond makes is easy for business to create social contests and promotions, without IT. Our Social Marketing Suite is designed to empower businesses to attract, engage, understand and grow their customer base across mobile, social, online and local channels. Founded in 2009, our goal has always been to create online marketing tools for your business success. We have a team of experts ready to help with advices on how to run a sweepstakes or other types of contests.
Contest
We ran a series of Essay Contests, asking Fans for their favourite social media engagement tactic. We make it easy to enter. Simply 'like' our Page, enter your best tactic, and you're in. Then vote. The entry with the most votes wins the prize.
Prize
The prize was not an iPad mini (as a competitor of ours has been offering), but instead a free year of our Social Marketing Suite.
We chose to engage our Fans by asking a brand related question. We want to attract businesses and marketers who are looking for smart ways to increase their social marketing ROI. We get the added benefit of listening to the successful tactics of our consumers, which we can use to enhance our product for you.
With the addition of voting (this is easy to include in any UGC contest), we encourage the sharing of our brand to interested friends of participants.
10. Sephora
---
Company
Sephora is a visionary and socially savvy leading chain of beauty stores. They have a global presence in 27 countries with over 1,300 stores, with strong sales online. They have an active social following on the top seven sites.
Contest
Sephora's Sweet 15 Sephora, celebrates 15 years of a fashion partnership. They are running the contest on their Facebook Page. Entrants must complete an entry from for a chance to win.
Prize
The grand prize is a five day all-inclusive trip to Costa Rica, plus a year's supply of their Surf product.
Sephora's contest appeals to their hip, fashion conscious consumer. The grand prize of a luxurious and exotic trip, coupled with their surf product reinforces both their brand image, and their cosmetics.
Conclusion
---
I hope this article has given you some helpful tips and examples together with original prize ideas! Also check out this article on The Top 5 Mistakes to Avoid When Running a Facebook Contest.
What do you think? Should you brand your Facebook contests? Do you think it'll make them way more appealing to your market? Let us know your branding tricks.