The most challenging part of running a Facebook contest is getting new people to the contest page.
Sure, your newsletter and social media posts can get your current customers and leads to enter, but what about new prospective customers? When you run a Facebook contest, how do you attract new people who don't already like your page?
You could advertise, of course. And perhaps you should. Advertising can yield great results for a Facebook promotion. But what if you don't have the budget? Luckily, there are some great alternatives to paid advertising.
One of the best options is a Facebook share contest.
With a Facebook Share Contest, you get your contest entrants to share the word. You tap into their networks to get more entries and spread your Facebook contest to a much wider audience.
The benefit, of course, is that you can more effectively generate new prospective customers and get more Facebook users to your business pages. This article will give you a step-by-step guide to how it works to help you create a contest to increase engagement and get more participants. Let's get started!

Why Run a Facebook Like and Share Contest?
Before we get started on how to set up these giveaways, let's quickly cover why a like and share contest is such a good idea.
Quite simply, these contests help you reach a far greater audience by having your contest entrants share the giveaway on their personal timelines. This gets your giveaway seen by their friends, who could then share it with a new audience. This creates a kind of snowball effect, where it is seen by many different personal timelines and friend circles. This means more entries, more exposure for your business, and more social engagement.
There are various different Facebook referral contest ideas that you could use. The most simple example would be to provide your details to enter the contest and share it for additional entries. You could take this a step further by running photo contests, "tag your friends in this post" contests, "share on your friend's timeline to get additional entries" contests, or "post to enter" contests, to name a few. Each giveaway like this offers a new opportunity to ask people to share your giveaway with their friends. Each time they share your giveaway on a new timeline to enter, you generate more exposure for your business.
Asking people to like, tag, and share your giveaway with their friends gets them to administer promotions for you. For example, if you tell people to "tag your friends" or provide some form of user-generated content, each new Facebook user who sees this will be drawn to your page and prize. This results in more people liking your page, and more people entering your contest.
Step 1: Design your Facebook Share Contest
First thing's first: you need a Facebook contest for people to share.
My recommendation is to use a third-party Facebook contest app, as the templates and backend stuff make it far simpler than having to talk to your website admin or a developer.
Here's an example of a successful Facebook Share Contest Wishpond ran:
And here's an example from one of our customers:
A Few Facebook Share Contest Best Practices:
Feature your prize front and center in the headline, with dollar value (if applicable). If you're asking people to enter your promotion and share your contest, then they need a good prize to get them to enter.
Ensure you have a high-quality image. Many businesses find it easier to create a single image in photoshop and then adapt it for your social media posts, newsletter, and broader marketing campaign. You'll see this strategy within the examples in this article.
Include a contrasting CTA which grabs the attention of page visitors and shows them exactly where to click. This is essential to get people to share.
Create a bullet-point or numbered list of steps that visitors should take to enter your contest. A paragraph will overwhelm most visitors, and it could scare away your traffic.
Step 2: Add Your Share Incentive Popup Upon Entry
This is the most important part of your Facebook Share Contest: The "Share" part.
As soon as someone clicks "Enter" on your Facebook contest, a popup appears, incentivizing those entrants to share the campaign with their social network. In return, they get bonus entries in the contest (an increased chance of winning).
Share incentive popups work well because they display exactly at the moment that people are most "sold" on entering your contest. They've been enticed by your prize and the simplicity of entering. Giving them more chance of winning by sharing is a no-brainer for most people.
Offering this feature doesn't require any extra effort from your side, but it can mean far greater contest results. You could get more users to like your page, get more people to enter your contest, increase engagement, and boost brand awareness. Depending on your contest rules, you could use the contest to get more user-generated content, get more people to comment, get people to tag, and have your brand seen across more timelines and friend connections.
Here are a few examples from real-world Facebook Share Contests we've run: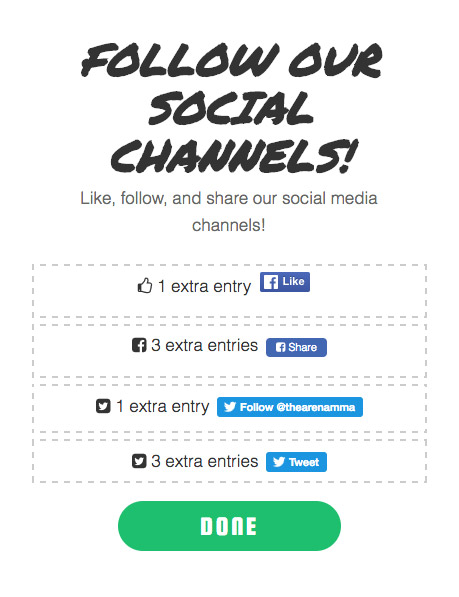 Step 3: Set Up Your Auto-Response Email
As soon as people enter your Facebook Share Contest they should receive a "Thank you" email. You can set this up as an "If/Then" auto-response within your contest tool.
Thank people for entering and then give them an easy way to share the campaign with pre-filled Facebook and Twitter share links. A simple message like "Share on your timeline for an extra entry" can go a long way to boost engagement and get your business seen by a bigger audience.
Here's a simple auto-response email that we sent after a Facebook Share Contest: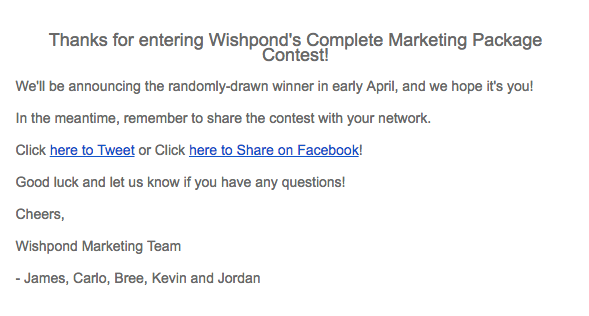 These links can be made with ClickToTweet.com and ShareLinkGenerator.com
Step 4: Send Your Subscribers a Facebook Contest Newsletter
An integral part of any Facebook Share contest is to get the maximum number of existing customers and clients to see it in the first place – so they can share with their networks.
The best way for many businesses to do this is with email marketing. Send a newsletter to your existing subscribers and prompt them to enter and share. The contest itself will have the share incentive popup, and the auto-response also encourages recipients to share (you're covered!). This is an easy way to promote your giveaways and get more participants involved in your Facebook contest.
Here's an example of a newsletter we sent for one of our Facebook share contests: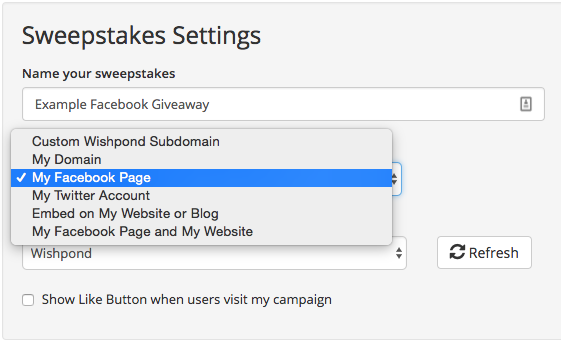 Step 5: Schedule and Send Social Media Posts to Spread the Word
The second-top strategy for spreading the word about your Facebook contest is through your Facebook posts. Of course, when running a Facebook contest, you should be using your Facebook page to promote the giveaway. This is easy, and it allows you to get the users who already like your Facebook page a chance to enter your contest.
I'd schedule three-five throughout any two-week contest. Remind Fans to share and (with the last few) frame them in terms of when the contest is ending. Try something like…
This is a reminder that our March contest is over in 72 hours! We're giving away a year's subscription to Wishpond, as well as $500 in ad budget. That's a prize worth more than $2,000 total! Head to the page, enter, and then share with your friends to get bonus entries and boost your chance of winning!
Here's an example of the Facebook Post we created for an online giveaway: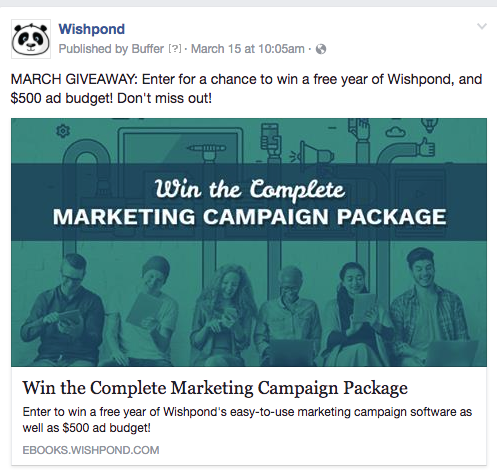 Step 6: Run a Simple Facebook & Instagram Ad Campaign
I'm not talking about anything fancy here, just a simple, couple-hundred-dollar ad budget with the same design you've used on your Facebook Post and the contest page.
Use the same copy you had within the headline of your campaign as the copy for the ad, and create an ad audience made up of your target market. This will help your giveaway to be seen by more people, getting your brand more exposure, and getting more contest traffic and engagement.
Here's an example of an Instagram Ad run by one of our fully managed campaign teams:
If you have questions about running a Facebook Ad campaign to drive people to a contest, check out my article, "How to Ensure a Successful Contest with Facebook Ads."
Step 7: Follow Up With Entrants After the Facebook Share Contest is Done
This is the most important step. Honestly.
There's no almost no point in generating a single contest entrant if none of them end up buying from you down the line. If nobody converts to a paid sale, you've given away your awesome prize for no return.
The best strategy for turning entrants into customers is a limited-time discount or credit code which you send via email once the contest is over.
Don't send this coupon while the contest is still running. Your entrants all, on some level, believe they have a chance to win. So they won't possibly convert (no matter how awesome your coupon is) if they have a chance to get it for free. However, once you have already cohen a winner for your Facebook giveaway, offering special promotions to your giveaway entrants (like a discount code), is a great marketing tactic to suddenly boost your sales.
Here are a couple of real-world examples of post-contest emails with discounts: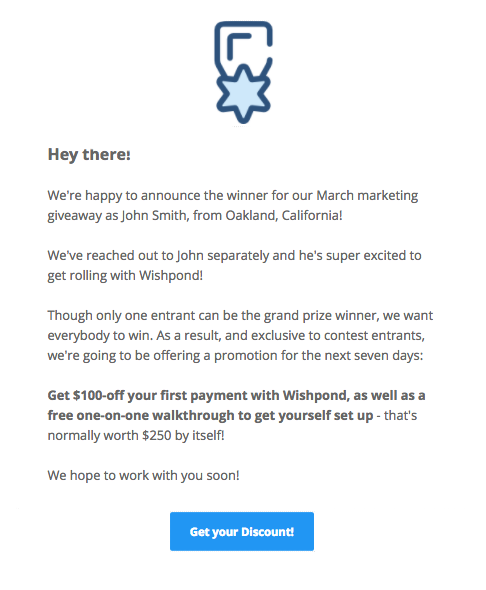 Wrapping Up
Hopefully, this article has given you a better idea of how you can use a Facebook Share Contest to drive new leads and drum up new business.
Focus on the best practices and establishing a complete marketing strategy for your giveaway. Whatever you do, don't just dive into a Facebook contest of any kind without a complete strategy on how you're going to promote it and how you're going to get entrants to become customers. Otherwise, you're just sitting there with a beautiful page, a valuable prize, and nothing to show for it.
So with careful planning, the right contest rules, and smart promotions, your Facebook share contest can be a major success. These giveaway promotions make use of your friend connections to gather more fans and engagement for your business. With the right approach, this is a simple type of promotion that can yield awesome results.
Related Reading:
james-scherer-2