Follow this guide for a complete understanding of Facebook raffle rules and how to do a raffle on Facebook. Use this rules template when running your next giveaway.
If you're running a Facebook contest, doing a Facebook raffle is one of the best ways to generate traffic, engagement, Likes, and attract new subscribers online. But the rules and regulations for running them can be tough to understand. And Facebook doesn't make it any easier by making its own policy and platform changes all the time.
In this guide, I'll show you a complete overview of creating a Facebook raffle. This includes the official rules and regulations for your Facebook contest:
Facebook's Promotions Guidelines (and what they mean)
Best practices for Facebook Raffle rules
A fill-in-the-blank Facebook Raffle Rules template
Disclaimer: The following is just a brief overview of some of the rules and guidelines for Facebook giveaways. This is not legal advice. Please obtain legal guidance from an experienced attorney before publishing your Facebook giveaway rules and regulations.
Let's get started.
Facebook Raffle Rules & Regulations: Best Practices
Let's start with a quick briefing on the best practices for running a legal Facebook raffle:
Where You Can/Cannot Run a Facebook Raffle
You can run a raffle on your Page's Timeline, on a Facebook Page Tab, and on a Facebook App page. You aren't allowed to run a raffle on your personal Profile Timeline. Make sure that you only use your business account.
What Your Facebook Raffle Must Include
Your official Facebook Raffle Rules (or a link to them)
Which people are eligible to enter your raffle (based on their age, location, etc.)
A disclaimer that your raffle isn't sponsored by or associated with Facebook itself
Legal Facebook Raffle Entry Methods
You can ask people to do each of these actions to enter your Facebook raffle:
Like a Post
Comment on a Post
Post on a Page
Message a Page
Submit personal information in an entry form
Submit a photo, video, or text content
Vote in a competition
Illegal Facebook Raffle Entry Methods
You can't ask people to do any of these things to enter your Facebook raffle:
Share a Page
Tag themselves in a photo that they aren't in
Post on their own Timeline
Share on a friend's Timeline
Like-Gating
Like-gating is a tactic in which you force a person to Like your Facebook Page before they can enter your raffle.
Facebook used to allow you to do this with a Facebook Contest App like Wishpond. But, unfortunately, they don't anymore.
How to Contact Raffle Winners
Facebook was once very strict about how you could contact winners of your Facebook raffles. They didn't want you using methods like Facebook posts and messages, as they thought it would lead to spamming. But they've since lifted those restrictions.
Here are a few methods you can use to contact your Facebook raffle winners:
Email (recommended)
Twitter
Comment on a Post on your Page's Timeline
Facebook message
Facebook Post on your Page's Timeline.
Email is recommended as it's the most reliable way we've found to reach someone.
Click here to check out more ways to announce raffle winners.
Want to run a Facebook raffle but don't have the time or expertise to make it happen? At Wishpond, we offer a team of marketing experts who can create powerful campaigns for you. Book a demo to learn more.
Facebook Page Guidelines for Promotions (Explained)
Facebook has strict guidelines of its own for running any kind of promotion, raffle, or contest on Facebook. As of now, Facebook doesn't allow you to run a raffle on a personal profile/timeline, so you need to do it through your Facebook Page.
Let's look at Facebook's Page Promotion Guidelines as quoted directly from their Facebook Page Terms:

What You Need to Know About Facebook Raffle Rules
Here's what Facebook is saying about these rules and guidelines:
You and your raffle participants cannot sue Facebook or hold them liable if anything goes wrong with your raffle. They are not liable if something changes in the Facebook Platform that causes your raffle any disruption. It also means that a raffle entrant can't hold Facebook accountable if a business runs a fraudulent giveaway.

Your Facebook raffle rules must be accessible from the raffle entry page. Generally, Facebook raffle rules are very extensive, so you will need to have a link on the raffle entry page that takes entrants to a separate page to read them.

In your Facebook raffle rules, your must specify who exactly is eligible to enter the raffle, based on their age (such as 21+) and location (such as U.S. and Canada).

You must follow all raffle/lottery laws of your country/state/province. Remember, just because you're on the internet doesn't mean you are outside of law enforcement's jurisdiction.

The raffle must be hosted on a Facebook Page Tab or Timeline. It can't be hosted on a personal Profile

You can't use the following actions as raffle entry methods:

Share on an entrant's timeline
Share on a friend's timeline
Tag yourself (or your friend) in a photo that you're not in

Facebook won't help with your raffle. Even if they make an update that disrupts your raffle, they won't help you.
You must acknowledge on the raffle entry page that the raffle is not sponsored, endorsed, or associated with Facebook. Most Facebook sweepstakes raffle apps, like Wishpond's, include this by default on the raffle page, like this:

There are also a few Facebook Page Guidelines (outside of the Promotions section) that pertain to Facebook raffles.
Collection of Data

What You Need to Know
If you ask people to enter their contact details, such as email, phone, or any images, videos, or text, you need to make it clear on your raffle page that you are collecting it and not Facebook. To comply with this rule, you need to use your own branding, company name, and imagery on the raffle page and not say, in any way, that Facebook is a part of it.
This isn't something you need to worry about unless you're trying to trick people into thinking you're Facebook.
If you ask people to submit any personal details, videos, photos, or text content, you must get their permission to reuse it in the future. This is applicable if, for example, you want to create a banner ad showing off pictures of people who entered your raffle.
The simplest method to ask people for their permission is to include an opt-in checkbox on your raffle's entry form that allows them to choose to give you their permission.
Tagging
What You Need to Know
In a nutshell, this says that you can't ask raffle entrants to tag themselves (or their friends) in a photo that they are not present in. This provision is in place to stop people from spamming their friends' Newsfeeds with erroneous content.
Facebook Raffle Rules Template
We've created an easy fill-in-the-blank template to help you create your Facebook Raffle rules. Keep in mind that this is just a guide, and you should consult a legal professional to make sure your rules comply with all applicable laws.
This template is based on a number of past Facebook raffles done by large companies and small ones – generally in North America. There may also be local regulations that this template does not discuss, but it's a good place to begin.
Can You Sell Raffles on Facebook?
Many people do run raffles on Facebook asking for paid entries. This isn't always legal due to internet gambling rules. A business generally cannot run this kind of raffle as it is deemed a form of gambling. There are exceptions to this rule, and certain non-profit raffles can be run.
Make sure that you have the correct permission to do this and that it complies with all relevant state and area laws where your business is based.
How to Do a Raffle On Facebook in 6 Steps
Now that you've got the rules sorted for your promotion, it's time to run your Facebook raffle. Here are the basic steps for doing a raffle on Facebook in a nutshell.
Step 1: Pre-Planning
Before you get started running your raffle, you need to do a little pre-planning.
The first thing you want to do is define your target market. Though you've probably got a big target market, you want to choose a relatively significant subset of them who share the same interests. This allows you to more easily choose your prize and define the theme.
Next, you'll want to establish your goals. Do you simply want to increase social media engagement? Do you want to promote one of your new products to your existing fans and followers, help spread your brand's reach to new potential customers, or highlight a collaboration with another brand?
Whatever your goal, running a successful raffle can help you achieve it. Just make sure you keep your target market and goal in mind as you move forward into putting together your Facebook raffle.
Step 2: Choose your prize
Choosing your prize is one of the most important parts of running a great raffle. As awesome or massive as your brand may be, a suboptimal prize just won't get you the best possible results for your contest. Think long and hard about what your target market wants, and pick one accordingly.
That being said, don't pick one that's totally unrelated to your brand because you think tons of people will enter to win it.
Just think about it: if you were offered a free iPad or trip for 2 to Mexico, would you even bother to see if the brand interested you at all?
Exactly. The most important rule you can follow when it comes to picking your prize is to pick one that's both exciting and relevant to your brand – that's the key to success.
Struggling to think of Facebook competition ideas? Here are a few you can use, no matter what your brand is:
Your product: Go figure! Giving away your product is exciting (well, as exciting as your product is) and serves the second purpose of ensuring all of your contest participants are interested in your brand. Whether it's an existing product or a new launch, giving away your product is a simple yet awesome prize idea.
A product bundle: Similarly, giving away a few of your products is another great idea. Many people look at the overall value of the prize when they're considering whether or not to enter. Putting together a package of a few of your products can up the value of your overall prize while keeping it directly related to your brand.
A gift card: If you'd like to give your entrants the luxury of choice, you can also give away a gift card that they can spend on your products. Though it's not quite as visually appealing as an actual product, the choice that winners get from one could actually net you more entrants.
A partnered bundle: One strategy I love is partnering with another related brand to put together an awesome prize. Choose a brand that you love within your industry that isn't a competitor, but has a related product (if you're a local tortilla chip company, you might look for a local guacamole brand). Put together a bundle to increase the reach of your Facebook raffle.
You always want to maximize the total value of your prize, while keeping in mind the total value you believe can get from the sales generated in your post-raffle efforts.
Step 3: Raffle Rules
Once you've planned your contest and decided on a prize, the next thing you'll want to do is put together your rules. Facebook can be pretty strict about how you choose to run your contest, so you want to make sure you're following all of their promotion guidelines when you're putting together your raffle.
Refresh your memory on everything you need to know about Facebook raffle rules that we outlined above.
Want to run a Facebook raffle but don't have the time or expertise to make it happen? At Wishpond, we offer a team of marketing experts who can create powerful campaigns for you. Book a demo to learn more.
Step 4: Designing Your Raffle
When you're putting together your raffle, you're going to need to choose between running it right on your page or using a third-party contest app to create an external landing page.
There are perks and problems with each of them.
Running a raffle on your page is awesome because it's simple – it's easy to create a Facebook raffle post that's eye-catching and gets people to enter. On the other hand, you can't really collect lead information because you won't have an entry form, meaning post-raffle marketing efforts will rely on Facebook's organic reach (and we know it's not so great).
Running a raffle on a landing page is great for the opposite reasons – you can collect lead information, which means you'll have the emails of your entrants. Having emails means you can create email drip campaigns and newsletters to send to them in the future, converting non-winners into sales. However, an external landing page means people need to leave Facebook to enter, which can make it difficult to maximize the number of entries your raffle receives.
Either way, you're going to want to create an awesome Facebook post to promote your raffle. Create an eye-catching image that highlights your prize; feel free to includes some raffle details (what it's called, when it runs until, etc.).
Side note – running a contest that has some sort of theme can be a lot more engaging than a random contest. Attaching your Facebook raffle to an occasion like Thanksgiving, Mother's Day or even the Superbowl is a great way to boost interest in your raffle, especially if it's related to the interests of your target market.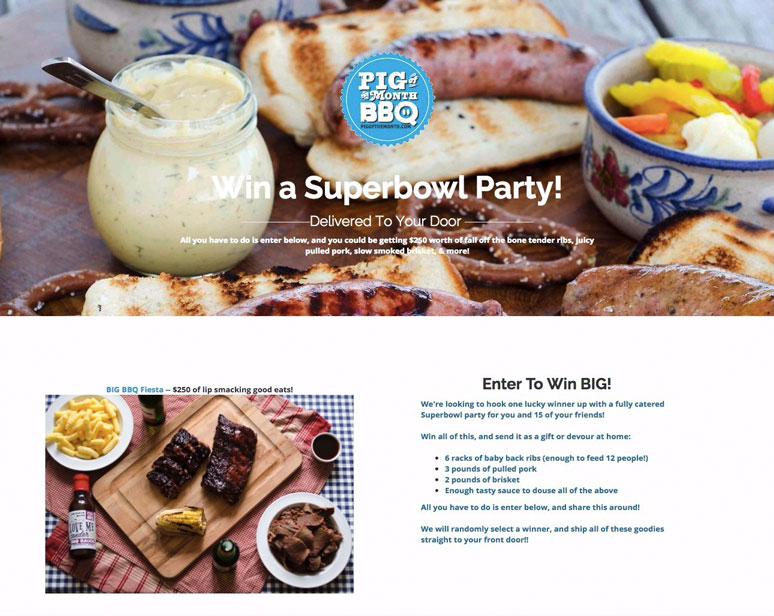 If you're running your Facebook raffle externally, you'll want to follow landing page best practices. This means having a clear, benefit-oriented headline, highlighting the value of your prize, minimizing the number of fields on your entry form, and including social share buttons to maximize the reach of your Facebook raffle.
Step 5: Raffle Promotion
The way you promote your Facebook raffle can mean the difference between contest failure and success.
First, let's take a look at a couple organic methods to promote on Facebook:
Update your cover photo: Changing your cover photo to match your contest assets and direct Facebook Page viewers to your raffle post or page is a great way to get a few extra entries.
Send a newsletter to your existing email list: Reach out to current your current email subscribers to inform them of the contest. Though it might seem counterproductive to market to people who you know already like your brand, this could help renew interest from your inactive customers.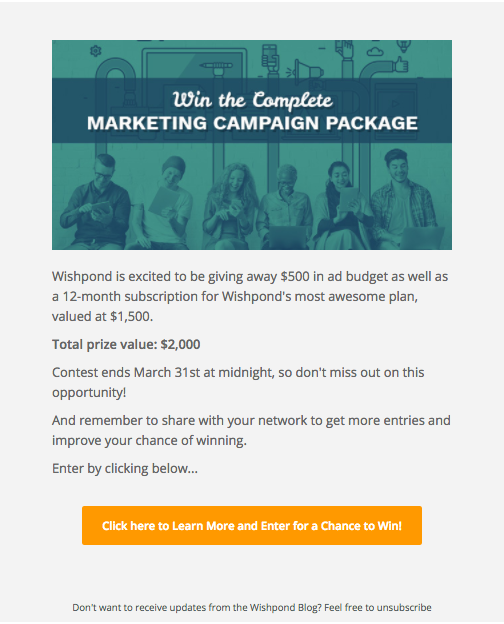 Add a popup to your website: Adding a popup to your website to direct people to your Facebook raffle is a great way to maximize the returns you get from website traffic. Make it an exit popup, so you don't distract people who are already looking to buy.
And, of course, there's paid promotion. Though you might think promoting a raffle is a waste (why not just promote your website or products directly?), often people aren't quite ready to buy when they see your brand for the first time. Entering a contest is a lower-commitment action that allows you to create connections with buyers in your target market that you can more reliably convert to sales in the future.

Use Facebook's native Ads platform to precisely target the people you want to reach with your contest. It's a tool that allows you to serve ads with incredible specificity; use that to your advantage by retargeting past visitors or targeting the people who like competing brands within your industry, in addition to targeting based on interest.
Once your promotion efforts are underway, all you need to do is let your raffle go!
Step 6: Following Up
Once your raffle is over, there's still work to be done. A raffle is random – so randomly draw your winner (using a randomizer or a more old-school method). Make sure you announce your winner(s) through Facebook. I'd suggest you include a discount code in this post, so you can turn some of the warm leads you generated through Facebook into sales for your business.
If you ran your raffle using a contest app, here's your time to shine. Email the list of (non-winning) entrants telling them they, unfortunately, didn't win, but that you'd like to give them a special discount as thanks for entering. You might even want to set up a drip, reminding customers (maybe a week out, and once again right before it ends) to use the discount before it expires.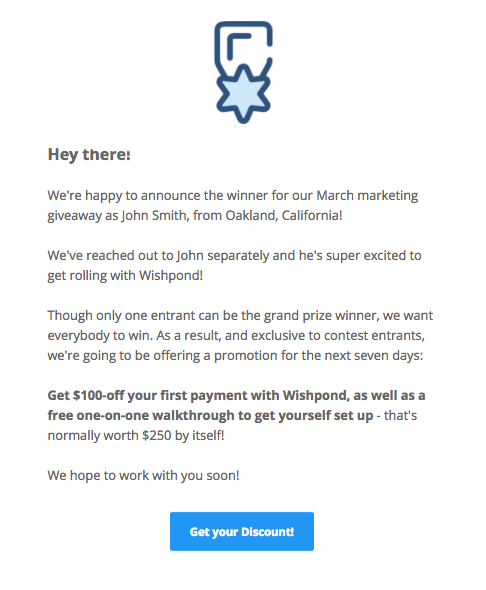 Make sure these leads get added to your normal subscription list once the contest ends, so you can continue to market to them in the future through email and turn them into sales.
Wrapping it Up
Hopefully, this article has given you a good foundation for your raffle's rules and regulations. It's essential to understand all necessary Facebook raffle rules before you begin your promotion.
If you have any questions about Facebook raffle rules, don't hesitate to reach out in the comment section below.
Related Reading
james-scherer-2