How to Create a Twitter Business Account: 13 Easy Steps (2021)
Twitter is an effective social media marketing tool for your business. With around 330 million users, your business needs to be here if it wants to reach more customers. The first step is to create a great Twitter account.
Setting up your business Twitter profile is easier than you think. We'll show you exactly how to create a Twitter business account in our step-by-step guide below. Make sure to follow these steps if you want to make the most of Twitter for business.
Should You Use Twitter for Business?
Many businesses don't actually have a Twitter account, so how do you know if yours should have one?
While you might be focused on other social media channels, having a Twitter account still offers many advantages to your business. Twitter is a great place to connect with your customer base and keep your audience updated. Twitter allows you to engage with your customers directly, as well as spread word-of-mouth marketing. In fact, 80% of Twitter users have mentioned brands in their tweets.
Here are some reasons to help you determine if you should set up a Twitter for business account:
If you want to spend more time engaging with customers on social media. Twitter is one of the best social media platforms to engage with customers on a personal level.

If you're a location-specific business. Twitter can be an excellent local marketing social media channel.

If your customer support team is under a lot of pressure and needs another channel to connect with customers.

If you want to develop a well-rounded social media marketing strategy.

If your company is targeting a Millennial or Gen Z audience.
Any type of business can join Twitter. This is a platform that offers businesses a unique communication channel directly to the customer. Once you create a business account, you will see that using Twitter can really help your business grow.
Benefits of Using Twitter for Business
Having a Twitter account for your business offers many advantages. This is one of the most popular social media channels, so setting up Twitter for business can help to really boost your marketing strategy if used properly.


Improves Communication Between Your Brand and Followers
We already mentioned that Twitter is an ideal place for engaging with your followers. This social media channel can be used to communicate directly with your customers. Many businesses dedicate their Twitter account to offering customer service and support. Communication on Twitter is quick and easy, and it can really strengthen the way your brand responds to any concerns or queries.


Increases Brand Awareness
A Twitter account allows you to access the millions of people who use Twitter. If you post regularly and use the right hashtags, your tweets could offer your company some great exposure to a much wider audience.


Keeps You Up to Date
Your business account on Twitter is the perfect place to stay up to date with industry news and trends. Beyond just sending out tweets, you should also use the platform to follow other companies and industry experts. This will keep you up to date with trends or news related to your company.


Drives More Traffic to Your Website
Using Twitter for business can help you to send more traffic to your website. Use the platform to share content with your audience with a link back to your website. Promoting content through Twitter can be powerful if you use the right hashtags. This can help you to increase your reach, getting website traffic from a wider audience.


Connects You With Influencers
Your Twitter Account offers a perfect opportunity to connect with influencers or brand ambassadors. When you use Twitter for your business, you could try to find and connect with appropriate influencers that relate to your brand's industry. Influencer marketing is powerful, and if you choose the right influencers for your company, you will be able to reach a much larger audience.


Send Out Real-Time Updates
With Twitter, you can post as frequently as you want. This is the perfect platform for tweeting live updates and communicating in real-time. This allows you to approach Twitter differently, and it can help your brand to communicate social media messages in a different kind of format.


How to Create a Twitter Business Account
Now that we know the value of Twitter business use, it's time to get your account set up. Follow this easy step-by-step guide to create your Twitter business account and start tweeting.
1. Go to Twitter.com and sign up. Use your name and your email/phone number. Use your real name and email. You will be able to customize your profile later.
Note: Twitter only allows one account per email. If you have a personal Twitter account, you will need to use a different email to set up your business Twitter account.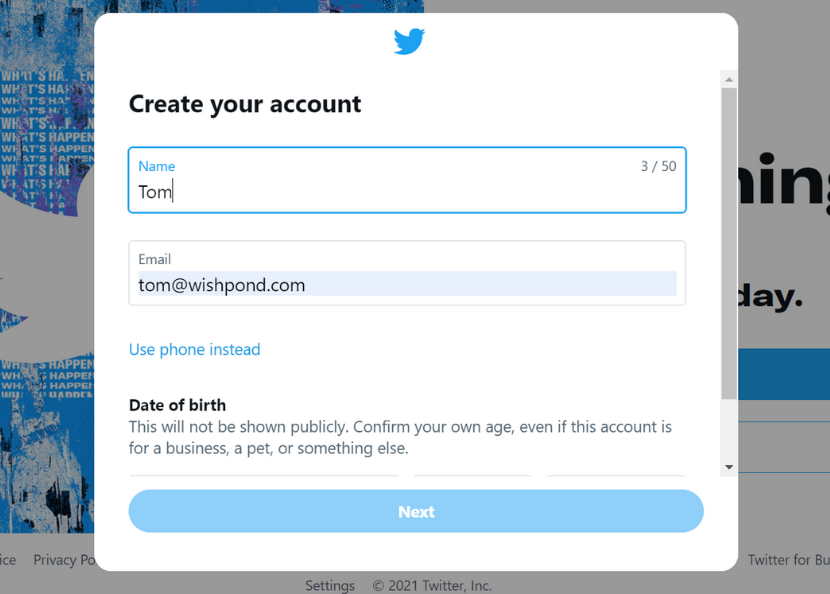 2. Join Twitter. Complete the form by entering your name, your email, a password, and a username. Then click "next".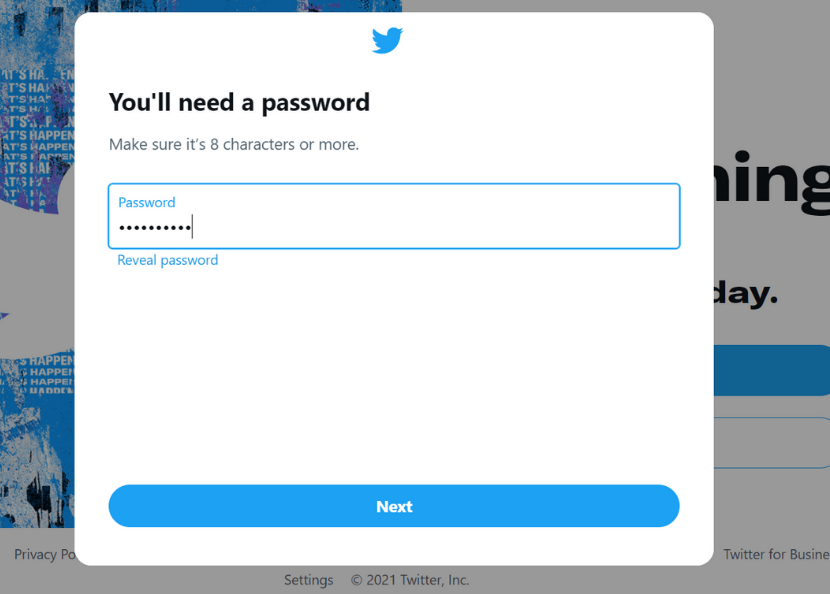 3. Confirm account. Twitter will then ask you to confirm your account. Check your email for a confirmation code, and fill this in. Click "next".
3. Click "Create my account".
4.Click "Next".
5. Build your timeline. Twitter asks you to follow 3 people from a selection it gives you. You must follow 3 people from this selection. (Why not follow @wishpond)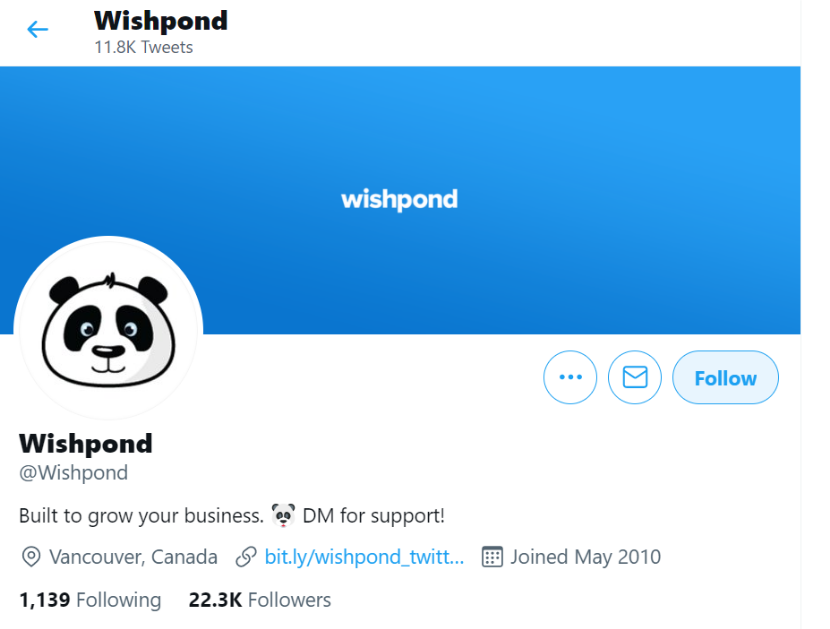 6. Build your timeline 2. Twitter will then ask you to follow 5 more, and then 5 people you know. You can skip these last two steps by clicking on the "skip" button on the bottom right side of the box.
Voila! Your Twitter account is made!
Now, you can begin to customize your business Twitter account and page.
Tip: When you are customizing your Twitter account, keep your handle, profile picture, background image, and bio consistent with your company brand, and social media strategy. Your Twitter business account should offer the same clear branding seen across your digital channels.
8. Add a profile photo. Click on "Set up profile" to get your account ready for use. Upload your profile picture. Your photo is how you appear in your Tweets to your followers. It gives your account a recognizable identity, and it will make it easier for users to engage with your Twitter business account. The maximum filesize for your photo is 700MB.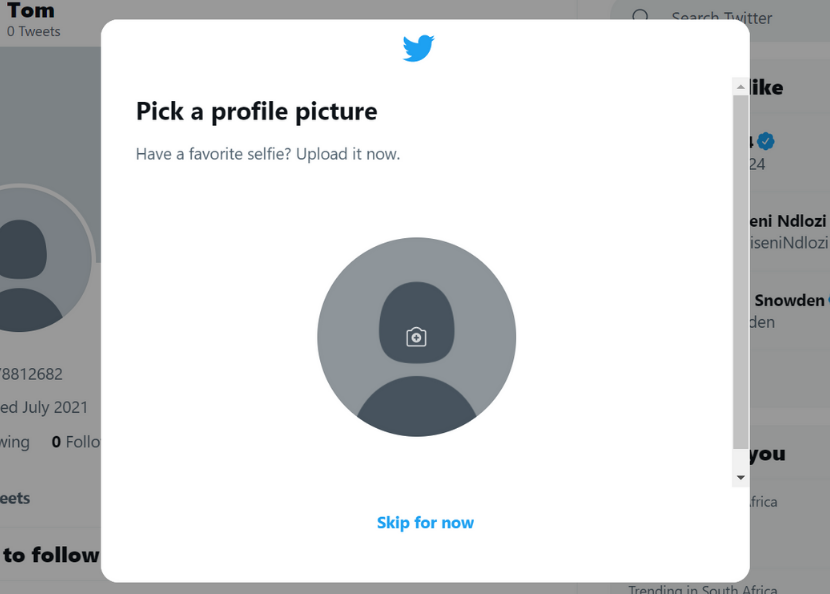 Tip: Keep your photo relevant to your brand.
9. Upload header. Your header shows up as the background to your Twitter photo. Again, keep your Twitter header branded. It shows up on mobile too, so it is important to include this in your Twitter account. The recommended dimensions for a header are 1252 x 626, with a maximum file size of 5MB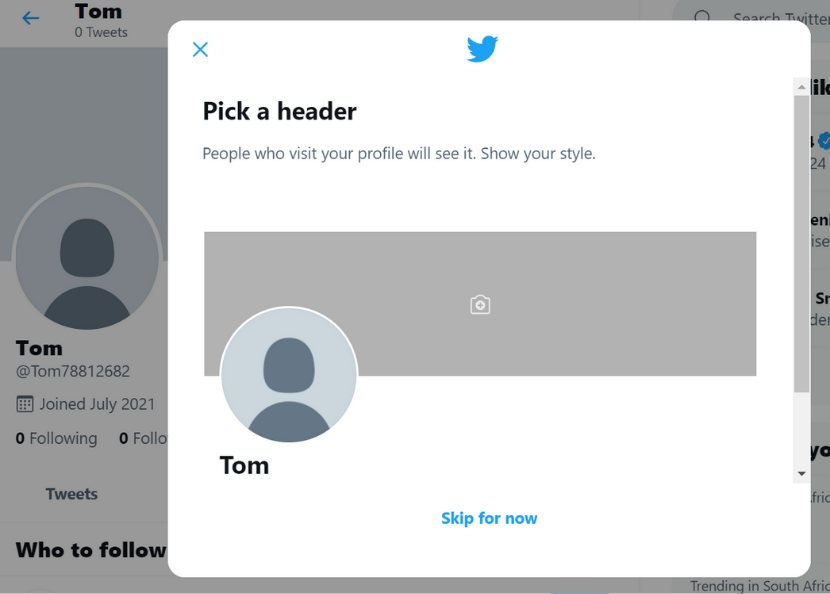 10. Add a website. Include your business website, so that your Twitter followers can easily click through to your website.
Tip: As you develop more followers on Twitter, and you use Twitter to market certain social sites or special promotions, you can change always change this website to direct your Twitter traffic to particular landing pages.
11. Add your Twitter business bio. You have 160 characters maximum to tell the world about your business. Be succinct. If you want to reach local followers, then be sure to add your location to your business account. You could also include your trading hours or any other important information that you need customers to know.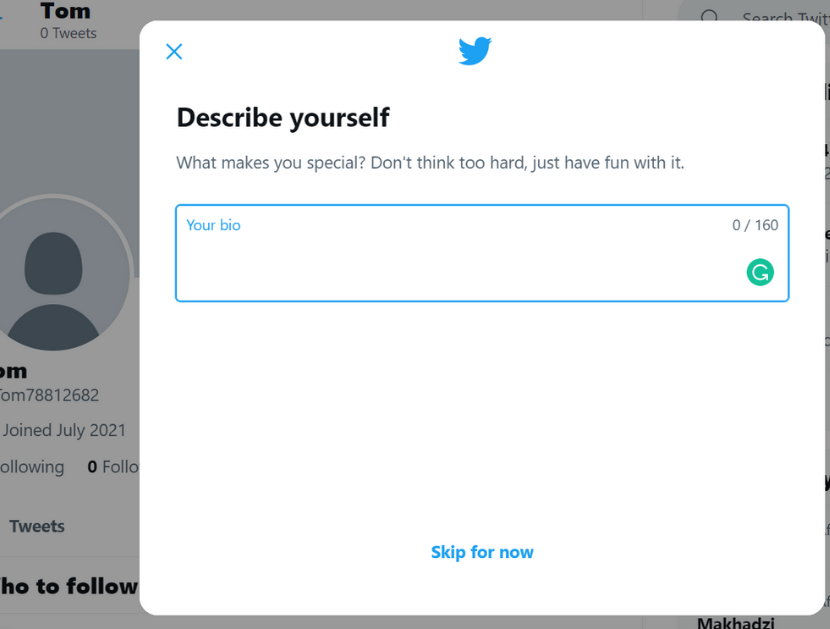 Tip: In your bio, add something personal or quirky about your company. As in most social media platforms, adding a personal touch resonates with your audience, and customers are more likely to follow you if they see your personality shine through.
12. Facebook. Twitter allows you to post your Tweets directly to your Facebook page.
Twitter and Facebook are very different platforms. Tweets are much more frequent than Facebook posts - if you connect the two, your Facebook fans will get annoyed with the posting frequency, and the tweet-like feel of your updates.
P.S. Wishpond's social media giveaway tool makes it easy to create sweepstakes, photo contests, Instagram hashtag contests & more. Looking for inspiration? Check out How to Run a Sweepstakes on Twitter.
13. Click "Save Changes".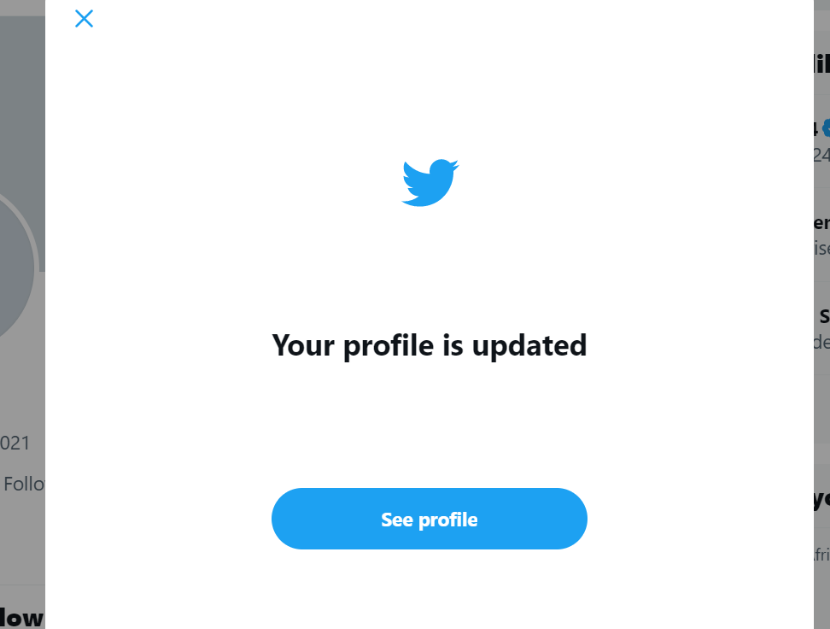 To see your completed Twitter profile, click on "Profile" in the left sidebar. You are now ready to send your first Tweet. Welcome!
Be sure to follow Wishpond @wishpond.
Tips for Getting Started on Twitter
Now that your business account is set up, it's time to get tweeting. To help steer you in the right direction, here are a few tips and best practices that your business should know when using Twitter.
Tweets are limited to 280 characters, so be succinct when tweeting.

Join trending topics in your industry and add your tweet to them. You can follow popular hashtags in your industry, and include them when you tweet. This can bring you a lot more attention from relevant Twitter users.

Spend more time engaging than tweeting. Instead of just sending out broadcast messages, you should use your Twitter account to engage with your followers and other brands.

Tweet often. You can make use of Twitter more frequently than your other social media platforms. Don't be afraid to post often.

The Retweet with Comment feature is a great way to engage with other brands and include your comments and thoughts on popular tweets.

Follow your data carefully and use this to guide your Twitter decision-making. Your Twitter analytics will give you a good idea of what you're posting is working and what isn't.

Create your own hashtags. Feel free to create your own branded hashtags. This is a great way to create user-generated content and get Twiter users talking about your brand.

Consider scheduling your tweets with the right software. This can save you plenty of time and effort.

Run a contest. Now that you're new to Twitter, you'll need to get some followers. Offering a giveaway is a great way to boost brand awareness and get more Twitter users interested in your account.
Want to run a Twitter giveaway, but aren't sure where to start? Beyond the tools we offer at Wishpond, we can also set you up with a team of dedicated experts to create campaigns for you. Book a demo to find out more.
Wrapping Up
Having a business account for Twitter is important for your social media marketing strategy. Twitter is a great channel for all kinds of businesses to use. Your business profile is a perfect platform to engage with your audience, get in touch with customers, and stay up to date with business trends and news.
When you create a business account on Twitter, make sure that keep your brand clear and easy to recognize. This will help your business to generate more interest on Twitter and it will help to tie together your overall social media strategy.
Your business Twitter account is a powerful tool, so make sure to stay active on the platform to keep your followers engaged. Happy Tweeting!
Related Content