How to Get More Likes on Instagram: 44 Easy & Powerful Tips
Want to know how to get more likes on Instagram? Of course you do. Likes play a big role in the Instagram algorithm. Basically, more likes = more Instagram success.
It's a common story - a business creates an Instagram account hoping to market their awesome product to the platform's one billion users. Fast forward a month - the company's 10 photos only have a few likes each, and there hasn't been any discernible improvement in business success.
Long gone are the days that simply posting an image on Instagram will help to grow your business. Today around 90% of Instagram users follow a business Instagram, which means there are thousands of other brands (both locally and globally) fighting to get the attention of your followers and potential customers.
In order to get the most out of Instagram for your business, you'll need to attract more followers to engage with your content, drive traffic to your website and increase your Instagram presence.
This guide will help you unlock the keys to Instagram success with 44 ideas, strategies & tips teaching you how to get more likes on Instagram.
Let's get into it.

---
Never Buy Likes
Before we teach you how to get more likes on Instagram, let's just clear something up first - never buy Instagram followers or likes. This won't do your business any favors.
Getting Instagram likes doesn't have to be hard, but it also requires some work. Taking a shortcut like buying engagement will only damage your brand in the long run. Instead, come up with a consistent posting schedule, write engaging captions, post quality content, use relevant hashtags, and engage with your audience. These are the basic steps to get more likes.
If you really want to maximize the way your content performs, then here are a few options that you should follow. Apply these strategies to your business account, and you'll see a rise in your Instagram popularity.


1. Take High-Quality Photos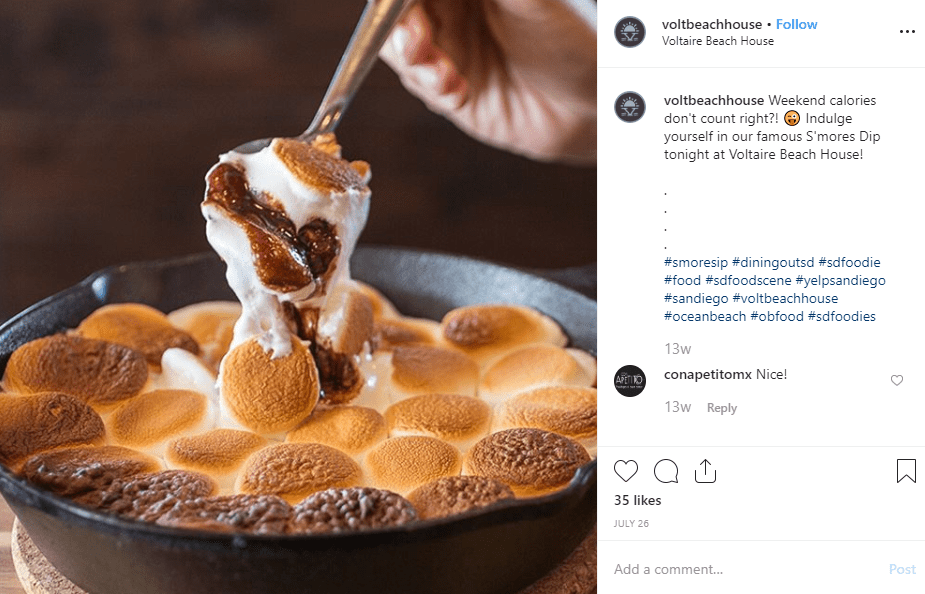 Instagram is an extremely visual social media platform. Looks matter on Instagram, so much so that people judge your brand based on a singular post before even getting to know your content or products. Yet you'd be surprised how many people don't do it.
Instagram users expect a high caliber of content from brands. Even if you're a start-up or small local company you still need to put your best foot forward when it comes to photos because your content will either be a first or second impression on a potential customer.
The better your photo is, the more likes, shares, comments, and engagement you'll get, putting you one step closer to getting more followers.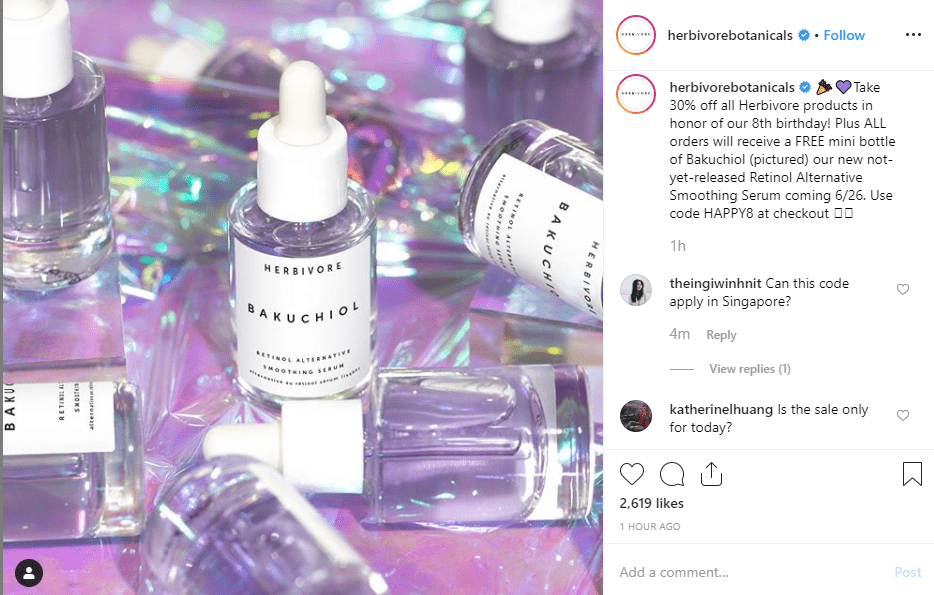 With so many photo editing apps out there you don't need a DSLR worth several thousand dollars to make a great Instagram post. The most important aspect is that your photo has great lightning and it's in focus.
Any modern smartphone should allow you to take high-quality photos.
Great photos are naturally more aesthetically pleasing - and that means more Instagram likes. Feel free to check out the 30 Best Instagram Business Tools to Help You Create Better Content.


2. Post Plenty of Reels
Short-form video content has taken over social media. If you're not including a lot of reels in your Instagram strategy, then you should definitely start.
You're probably wondering how to get more likes on Instagram with reels? Well, reels are the easiest way to go viral on Instagram. The Instagram algorithm loves reels, and posting them will get you far more visibility and reach. If you're creating great content, this will result in more engagement.
Including reels in your content strategy can help you go viral, as long as you're posting the right content. Stay on top of trends, and try to post trending content early. Have fun with reels, and experiment with different ideas. If you get it right, you could get a lot more Instagram followers and likes.
3. Social Commerce: Shop on Instagram Feature
Instagram shopping allows brands to sell directly to followers without leaving Instagram.
This social commerce feature can help you to gain more followers as you share your best sellers and gain a few sales along the way. With Instagram shop features, people can experience the joy of shopping versus the chore of buying.
This is the most convenient way to sell to your followers, and it can help you generate a lot more Instagram likes.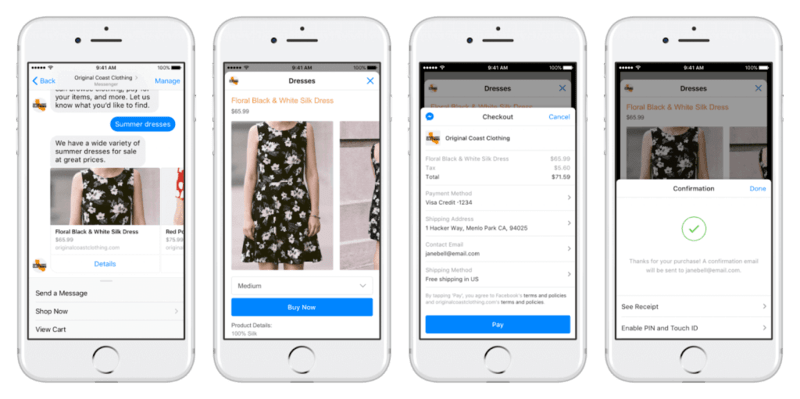 Dive in deep to learn how to master Instagram's shoppable features and more in this article, 10 Amazing eCommerce Instagram Accounts and Examples We Learned From.


4. Create Instagram Guides
Instagram Guides were launched in mid-2020 and were designed to create resources or "guides" to make discovering products or recommendations easier for followers. This can include products, influencers, public figures, brands and more to be published on Instagram.
Basically, Instagram guides are like a combination of carousel posts and blog posts. They allow you to share more information and can be a powerful source for improved Instagram engagement.
In addition to being able to group and gather your own Instagram content, guides also allow you to bring in content from other accounts. Since this is a fairly new feature, Instagram is sure to add more features to Instagram Guides as they begin to rise in popularity.
5. Create Instagram Video Ads
Get more likes and followers on Instagram with the help of linking your ads to your Instagram video content. Instagram now allows you to monetize your videos to drive more traffic to your website and boost followers on your profile.
"IGTV ads will be testing for the remainder of 2020," said a spokesperson from Instagram. "We believe that emerging creators will see the most benefit from monetization in IGTV but will test with a variety of accounts as we roll this out slowly to ensure we get the experience right. No specific plans to share on expansion at this time."
Learn more about how to make money on Instagram in our comprehensive guide.
Maximize your Instagram and Facebook ads with Wishpond's all-in-one marketing tools. Click here to get started.


6. Create Engaging Stories
Instagram stories have grown massively in popularity and use, by both followers and brands. So much so that Instagram stories are used by 500 million users every day. Instagram stories work both ways:
You can keep your current followers engaged with your brand and content in your feed.
You can add hashtags to your stories to get discovered by new followers and generate more likes.
You can upload videos, reels, repurpose your Tik Tok content, Gifs, add stickers to help get your followers involved. Another reason Instagram stories can help increase followers is that it shows that your profile is active and interesting. No one wants to follow an account that has dust gathered in their feed or story.
Since stories disappear after 24 hours which makes them easily consumable for Instagram users. This allows you to post every day on your profile if you don't plan to post daily in your feed.
Posting frequent stories is also a good tactic for the Instagram algorithm because it keeps your content fresh and timely. This means more visibility and more Instagram engagement.
7. Utilize Instagram Highlights
Earlier we spoke about using Instagram stories to help increase followers, the only downside is that your stories disappear after 24 hours. Unless you choose to add them to an Instagram highlight below your bio.
Instagram highlights allow you to save selected stories and showcase them on your profile so new and current followers can engage with them over and over again.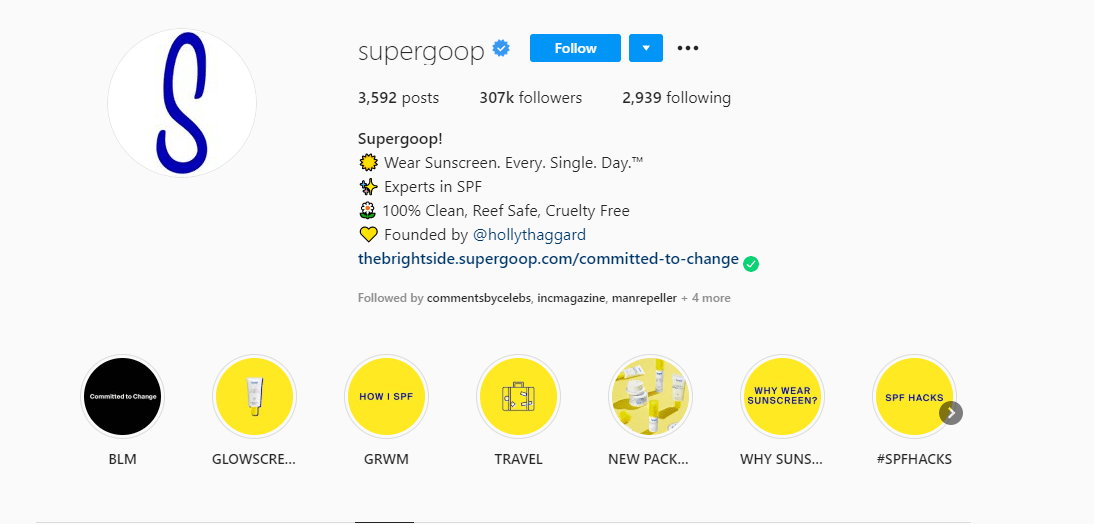 Embed Social found that the main attributes of the Highlights are:
Highlights covers: Option to add a custom image or an icon that will represent the topic of the stories that are saved inside.
Highlights name: Option to name the Highlight the same as you do with naming folders.
Highlights can be any from past Q&A sessions, product updates, features, and FAQ's you'd like to keep available for new customers.
Pro Tip: Highlight covers are just as important as the highlighted stories. Be sure to create an enticing Instagram highlight cover with Canva or try one of these 12 best Instagram story apps.

8. Learn from Your Instagram Analytics
Using your Instagram Insights can help you learn more about what attracts more followers to your account. Your analytics are based solely on the date from your Business Instagram account.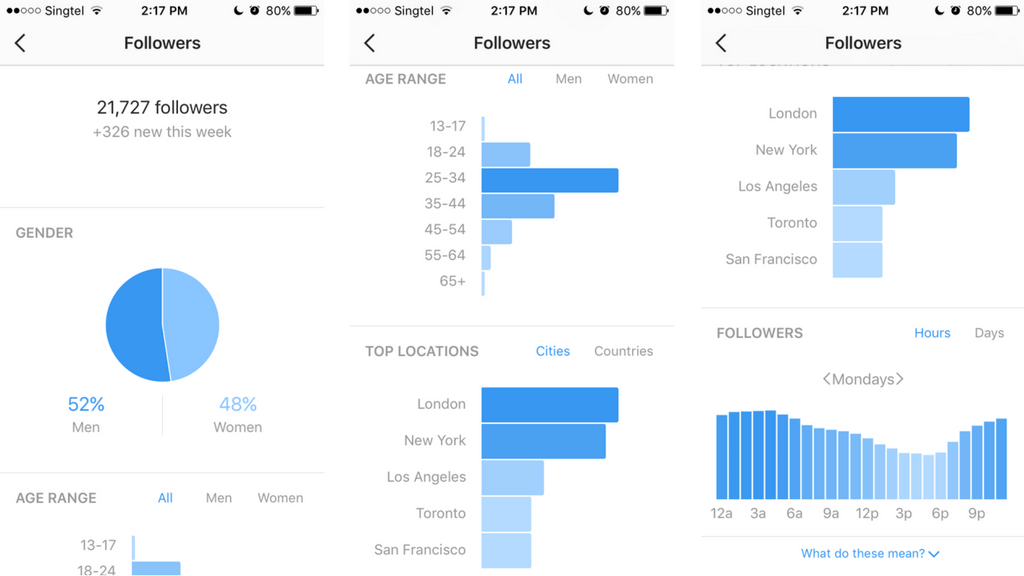 There are actually two main analytics you should be focusing on that will help to guide you on what type of content will boost followers and grow your page along the way.
Instagram Audience Analytics:
Top locations: This information allows you to see the top five cities and countries where your followers are located.
Age range: How old are your followers? This is an easy way to find out. Instagram breaks it down with the following ranges: 13-17, 18-24, 25-34, 35-44, 45-54, 55-64, 65+.
Gender: The distribution of your followers separated by men and women.
Follower hours: A very helpful statistic to see the average time of day your followers are on Instagram.
Follower days: Similarly helpful, this section shows the days of the week your followers are most active.
Individual Post Analytics:
Interactions: These are actions that were taken directly from your post. Whether that's visiting your profile, a hyperlink, or using the call/email button in your post, these items are tracked and recorded here.
Discovery: Anyone who is as addicted to Instagram as I am has likely used the discovery feature before. Instagram will then inform you of the number of accounts reached through discovery who are not currently following you.
Follows: How many new followers you received from a post.
Reach: How many unique accounts the post reached.
Impressions: The total number of times your post was viewed. Instagram also breaks this down by category to see where on the platform the post was viewed from home, from hashtags, from profile, from others.
Saves: The number of unique accounts that saved your post to their personal saved folder.
Comments: The number of comments on your post.

9. Pitch Your Brand in Your Bio
Your Instagram bio does a lot more than introduce you to new followers, it can actually help you to gain new followers. An Instagram bio can be a visually appealing message to introduce yourself. Think of your Instagram bio as an elevator pitch, you want to be as specific as possible with the least amount of words.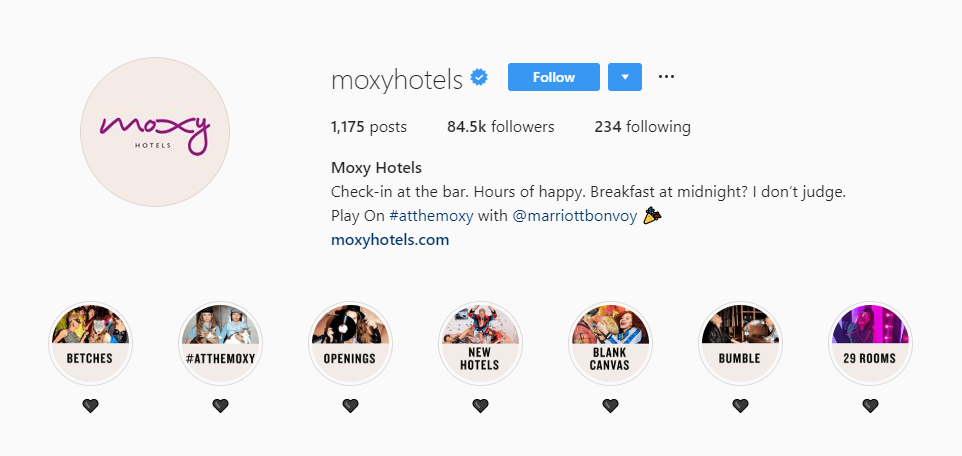 One of the best places to start is to add keywords to your Instagram bio so new followers can find your brand or products. SEO keywords will help your profile appear higher in the result pages of various online search engines and help drive more potential followers your way.
You can also use a unique or branded hashtag to establish a better connection with your online audience and will motivate your new followers to join the trend.
Take a look at your bio and then a quick look at our detailed guide on the 10 Tips to Create the Perfect Instagram Bio to Attract a Bigger Audience.


10. Use Instagram Close Friends for Exclusive Content
In December 2018, Instagram officially launched its new story feature, "Close Friends." This feature allows you to create a list of "Close Friends" you can exclusively share stories with on a day to day basis. It's perfect for posting exclusive content, which means you'll need to decide who gets access and who doesn't.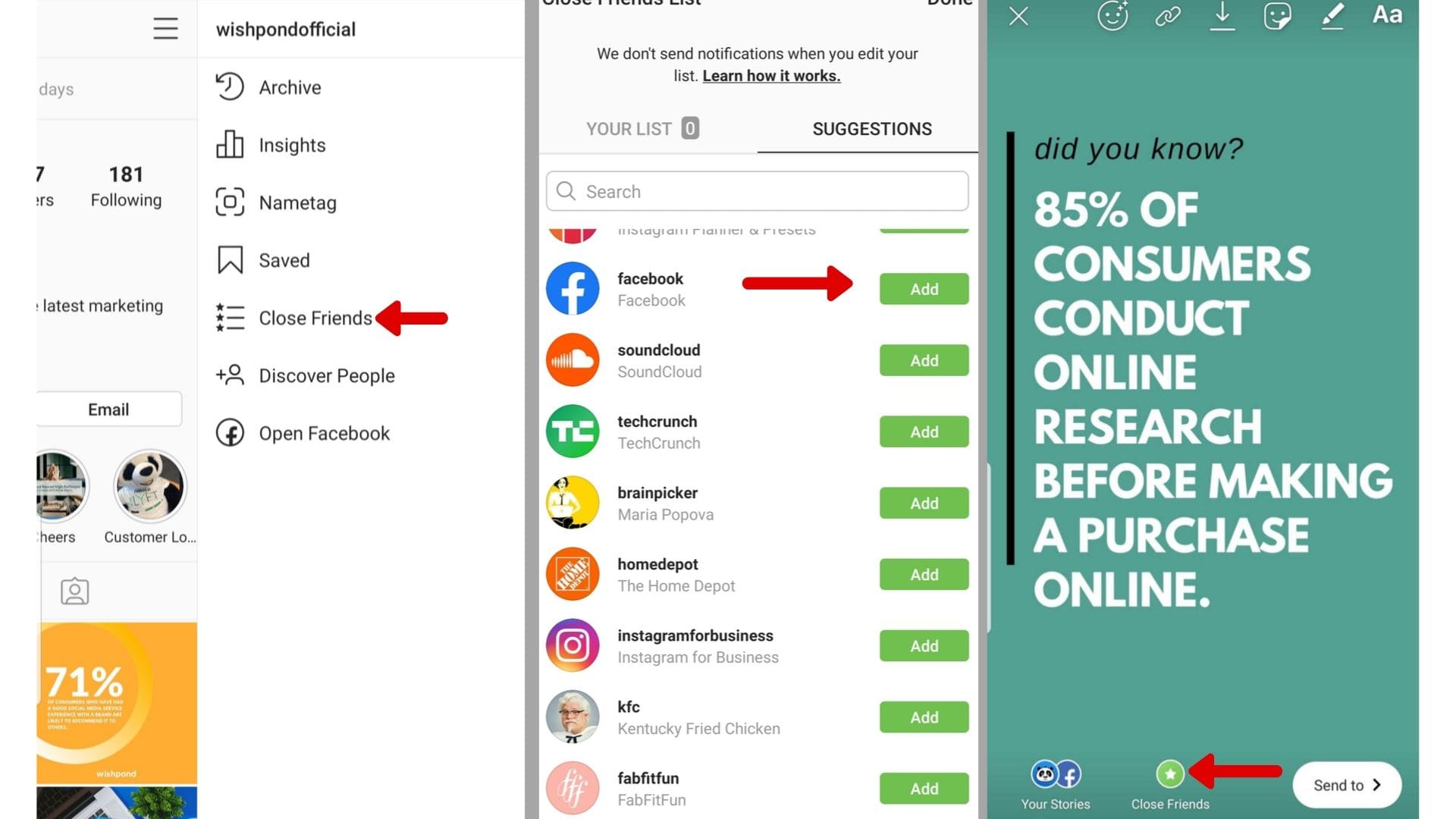 With the help of an exclusive group of people who have access to updates, discounts, and previews of products to come you can get more likes and followers that will follow. So much so we found 5 Ways to Use the Instagram Close Friends List for Business.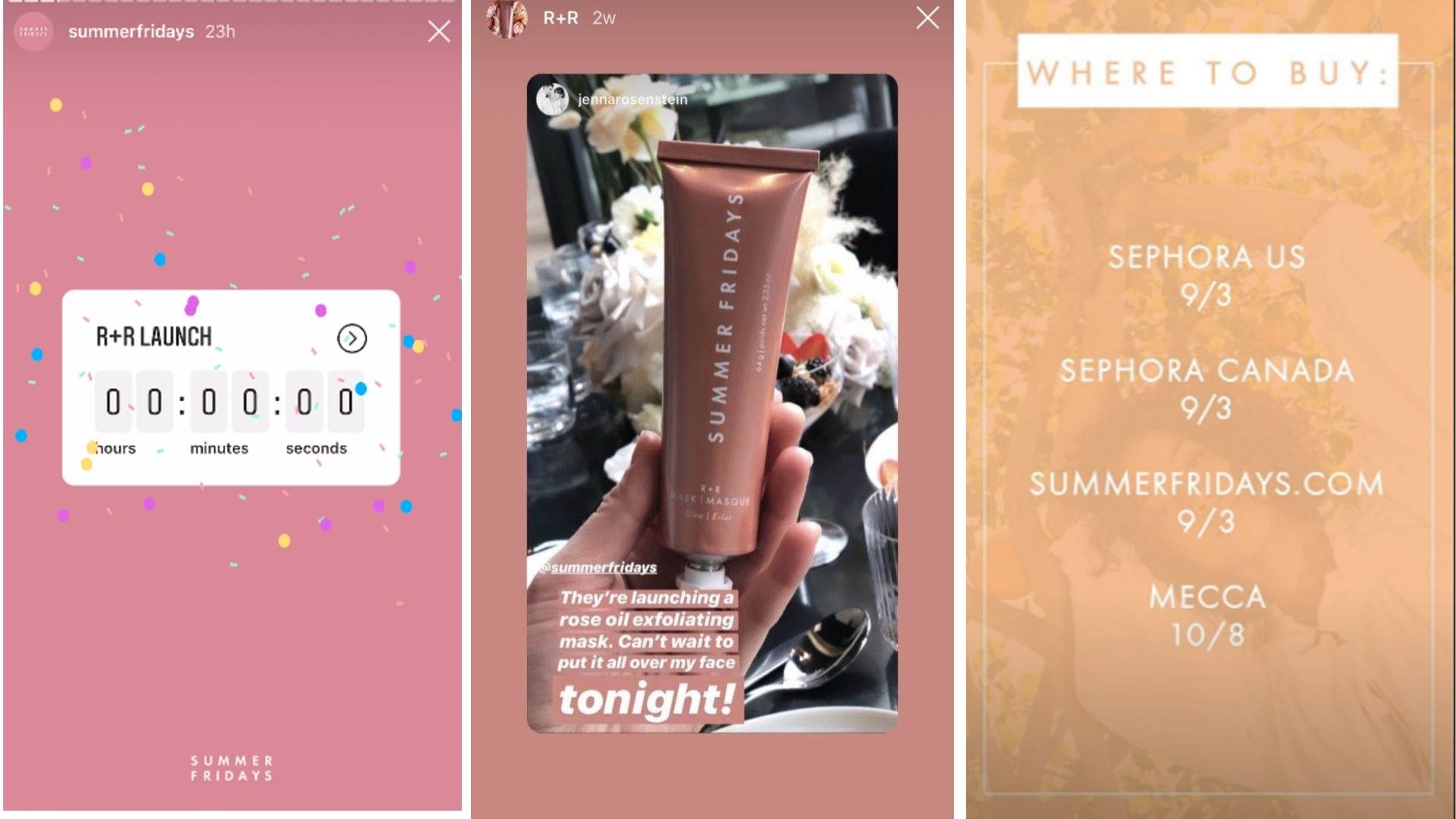 11. Don't Ignore Your Haters
With 83% of people expecting companies to respond to social media comments within a day or less, the worst thing you can do when someone comments or complaints about you (or your products) on Instagram is to take a long time to respond.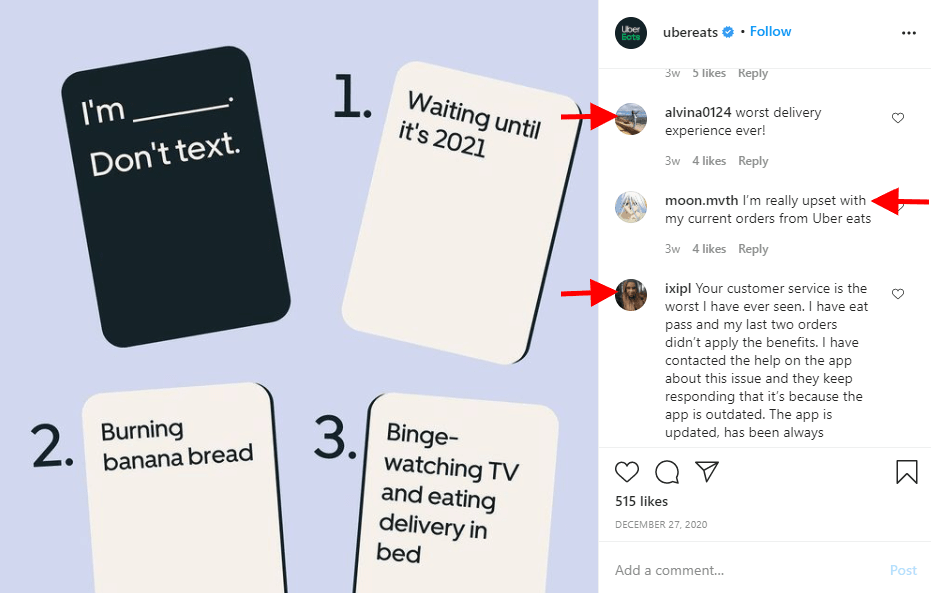 Whether the person states a negative or positive, it's your job to respond to the comment. When people see a brand that responds to comments and engagement they're most likely to follow and like their content because it means that they're being seen and heard.
That's why around 44% more people think that a brand's conversations (including direct messaging or in response to a comment posted) are more persuasive than a brand's advertising ads.
After all, it's called social media for a reason! It's all about being social. One of the key features of the best Instagram accounts, they're social, they have a consistent engagement which helps to increase followers and likes.


12. Show off Your Instagram on Your Website
Add an Instagram widget to your website to help drive more likes and followers to your account. This makes your Instagram accessible to your website traffic coming and going as well as your customers, so they can connect with you easily online.
You can also encourage your followers to post pictures for your brand using a branded hashtag so you can find them while you practice daily social listening. This is a great way to get more free Instagram likes and user-generated content.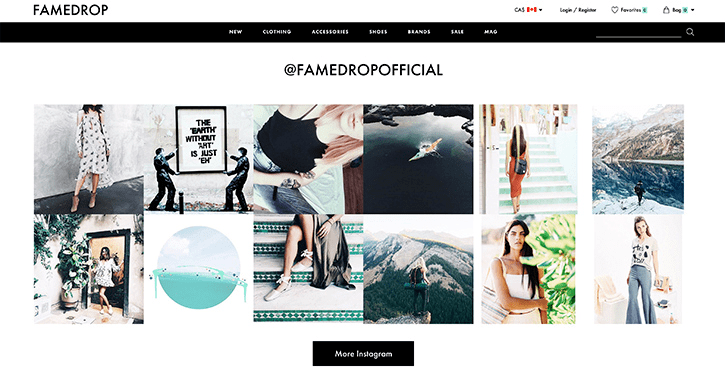 13. Add Your Instagram QR Code to Increase Followers
Instagram now allows you to have a custom QR code for your profile that you can add to your card so people can easily find you on Instagram. This code can be placed on business cards, thank you cards placed in order packages, at your till, and boxes used to ship out orders. This allows you to actively promote your Instagram profile off and online.
You can also use a QR code converter that converts URLs into QR codes.
To create your own custom Instagram QR code:
Open your Instagram app.

Go to your Instagram profile.

Press on the Name Tag icon on top of your screen (the second icon).

You will see your Name Tag screen.
14. Pin Your Top Comments
In June 2020, Instagram decided to allow pin comments to be used everywhere. Previously it was only used on Instagram live. You can pin comments from raving fans, customers, or followers who you'd like to highlight in your post. You can also pin important information you might have forgotten to add as well.
15. Use a Consistent Aesthetic
Though it might sound frivolous, being consistent in your Instagram aesthetics is one of the top ways to build your Instagram business.
You can use this by using the same filter, layout, or look/feel that helps you to maintain your visual identity on Instagram. This makes your photos instantly recognizable on your followers' feeds, increasing recognition and getting you more consistent likes. For example Old Navy: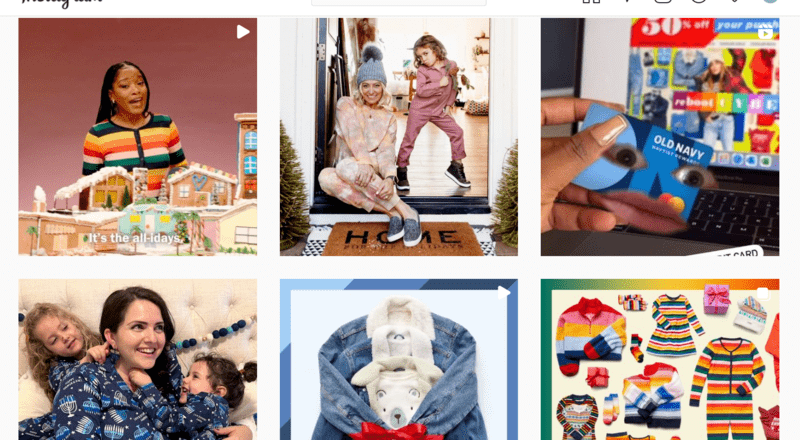 You can use tools like Later, Preview, or Vsco to help achieve this look. You can also check out the 30 Best Instagram Business Tools to Help You Create Better Content.
Want to increase your Instagram followers and engagement with giveaways made for your business? Book a demo with us to see how we can take your marketing to the next level.

16. Promote Your Instagram on Other Platforms
Link your Instagram account to your other social platforms (like Facebook and Twitter) to share your account and the media you post with your fans in other areas. This helps to leverage the profile traffic and views you generate in your other platforms to point them towards your Instagram profile, generating you more likes (and followers too).
For instance, your blog is another great place to share your Instagram posts. Instagram allows you to embed posts or you can use external widgets. You can also add a link to your header or footer to your website.


17. Use Local & Popular Hashtags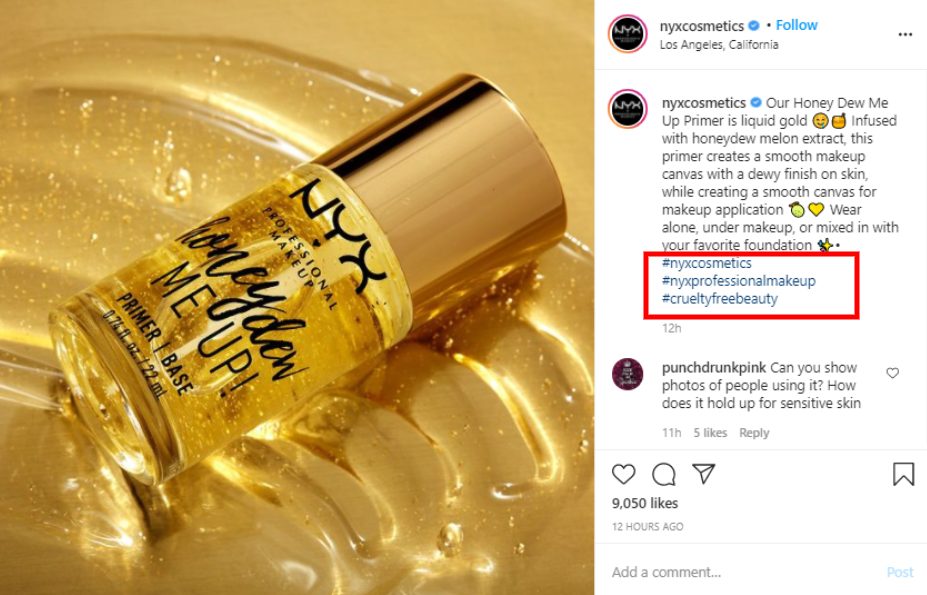 Using local hashtags is an awesome way to reach potential customers near you. Find popular local accounts (you can do a quick Google search for "top Instagram accounts in [city]") and see what hashtags they use for their photos.
Use these hashtags, and there's a good chance you can connect with people near you or accounts who might be interested in featuring your photos or your business. This can help you gain more followers and get more likes on Instagram.
Though they're not that effective when looking to reach Instagram users near you, using the most popular hashtags can be helpful when you're looking to reach a large group of Instagram users.
Using popular hashtags helps your photo be seen by more people, which is an easy way to rack up a large number of likes on your photos. Remember that they're not high-quality likes, but if you're just looking for a way to boost your account's credibility, this is a good way to go.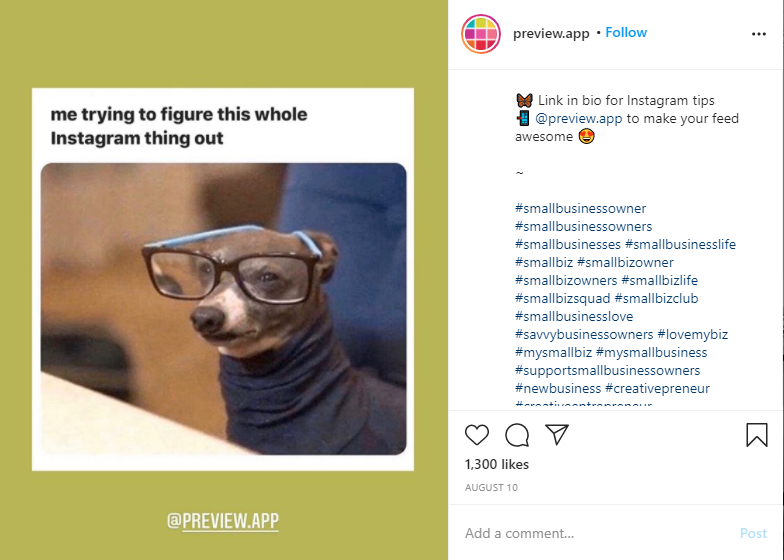 We create a few hashtag guide to help you find the best hashtags for your next Instagram post:
18. Celebrate Social Media Holidays
Celebrating social media holidays helps grow your Instagram account and get more likes. It helps you share content your followers would be interested in and helps you to easily create new content.
Social media holidays break up that monotony and allow you to step outside the box with new content ideas to post on your social media platforms.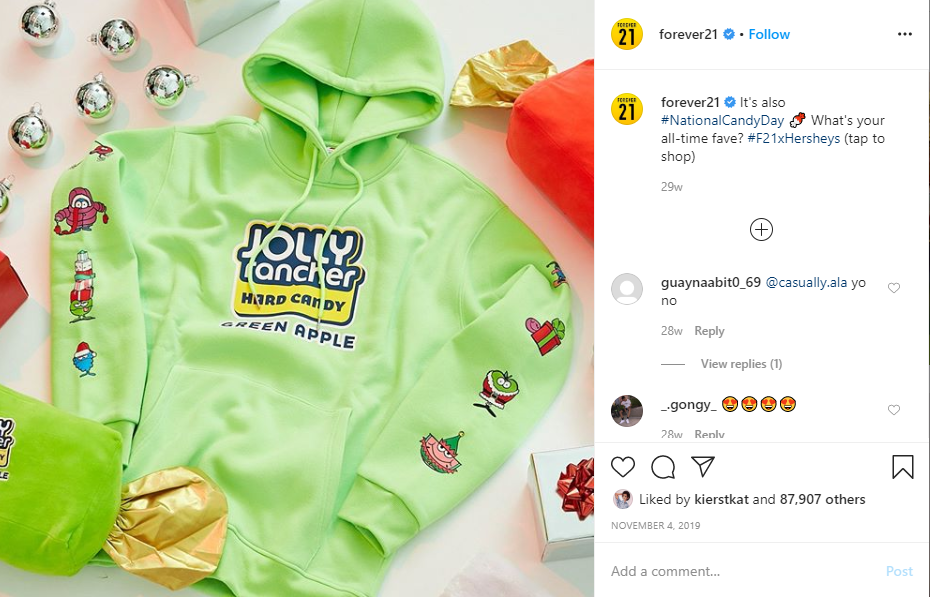 There are hundreds of social media holidays, but all you need to do is focus on the holidays that align best with your brand or your mission statement. This can be a fun social media holiday or it can be a worldwide holiday that stands for a cause.
To find out which social media holidays you should be adding to your Instagram feed we created The Ultimate Social Media Holiday Calendar.


19. Add Your Location to Your Post
Adding a location to your post helps to boost your local engagement and likes on Instagram. You can do this by adding local hashtags as we stated in our previous tips or you can add a geo-location to your post.
You can also add your location with an Instagram story sticker as well. This helps your stories to pop in the discovery feed of those nearby or in that exact location.
Tagging a location in your Instagram posts lets people in your area see your photos more easily. Tagging a general location (like "Downtown LA" instead of a specific restaurant) will increase the chances that people will see it. People looking for photos near them will be likely to engage with them, meaning you have a good chance to get more likes on your photos.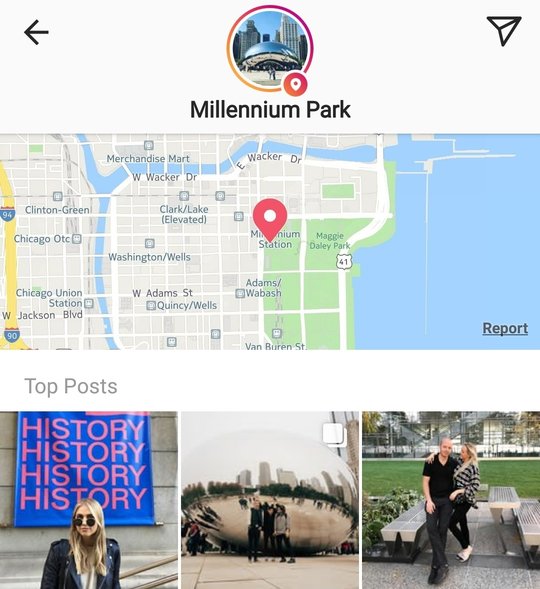 20. Share BTS (Behind-The Scene) Content
Again social media is a place where you can connect with your fans on a more intimate level with your fans and followers. This not only gets you likes but it helps to build your brand personality.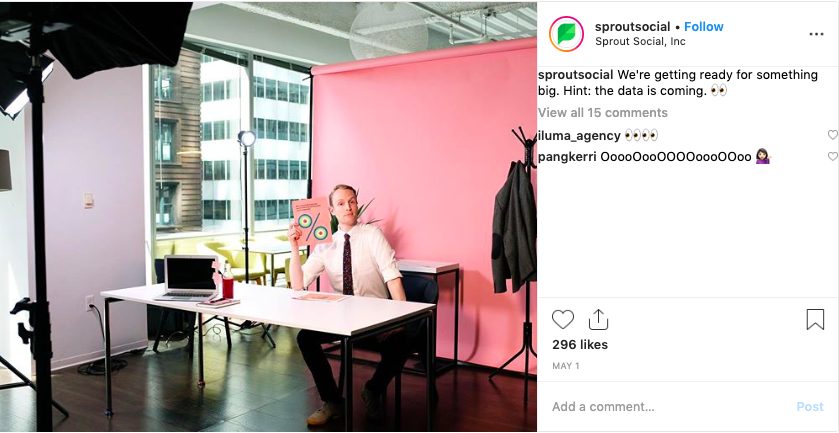 Give your followers a look behind-the-scenes of your business - preview an upcoming product, show off your employees or take them on an office tour. This type of content is unique and engaging, meaning it's likely to garner likes from your followers.
You can share a teaser of a new launch, employees in the office or you can share day-to-day activities. With features like Instagram stories, feed, reels, and IG lives you can share this type of content wherever and however long you'd like.


21. Run a "Like-to-Enter" Giveaway
Everyone loves free stuff! Running a simple like-to-enter giveaway is one of the best ways to get more likes on Instagram. Because the barriers to entry are low (it's just a double-tap away), it's easy to rack up a ton of likes on your giveaway photo.
If you want to have a successful giveaway you need to give your followers clear and precise instructions. If participants have to take multiple steps to enter, be sure to make the instructions as simple as possible.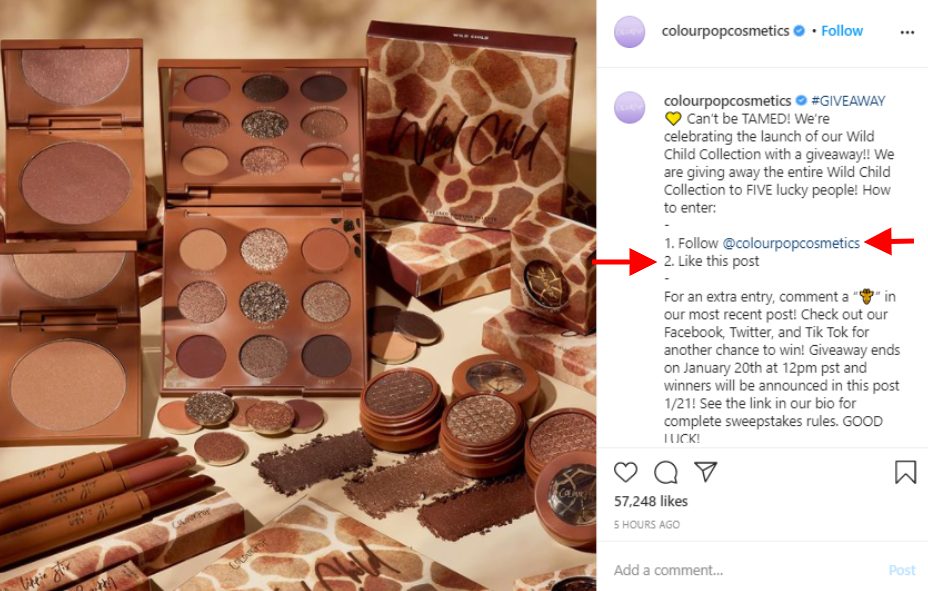 Create or use an attractive, engaging photo of your prize (your product is the best way) to grab their attention. After stating in the caption that you have to like the post to be automatically entered to win.


NEED HELP WITH YOUR NEXT CONTEST?
Book a demo to learn how our team of contest experts can help you create a high-converting social media contest today.
22. Run a "Follow to Enter" Giveaway
This is another common Instagram content method that is sure to get you more followers and likes. Just like a like-to-enter giveaway, tag-to-enter giveaways are awesome when you're looking to generate a large number of followers.
The same tactics apply, but make sure you ask entrants to tag two (or any number) of their friends to enter - this spreads the image further, increases the number of people that will see it, and achieves more entrants. This can translate easily to more followers and more likes on your future photos.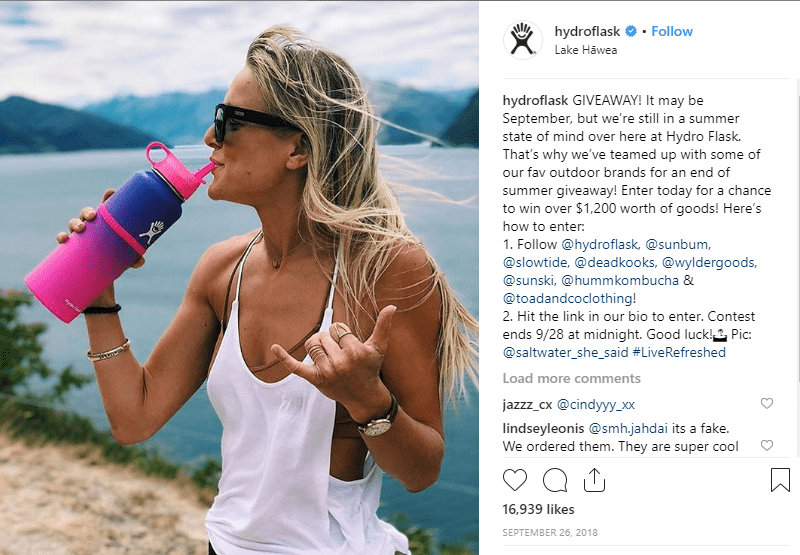 At Wishpond, we've helped to generate over 100,000 leads for businesses just like you. One of the most used lead generation tools is contests and giveaways. In fact, we helped our client earn over $100,000 in sales with one shopping spree giveaway. Click here to see what we can do for you.


23. Partner with an Influencer
Influencer marketing has been one of the top marketing trends for the past seven years, and rightfully so. Around 50% of social media users prefer getting product information from their favorite influencers rather than the brand itself.
Instagram is known for being one of the most influencer-friendly platforms, which is why they launched their Brand Collabs Manager. Brand Collabs Manager helps brands and creators find, learn more about, and connect with each other, which included but not limited to:
Boosting any of your posts for a project
Adding a custom call-to-action button to any of your posts for a project
Allowing brands to create branded content ads on behalf of your Creator account for the duration of a project
Find an influencer that compliments your brand to partner with for a post, marketing campaign or to help boost awareness. This helps your business reach more people within your target market and increases your credibility through social proof. Influencers' followers take their decisions into account - and this means the people they're posting to will be more open to buying a product from your business.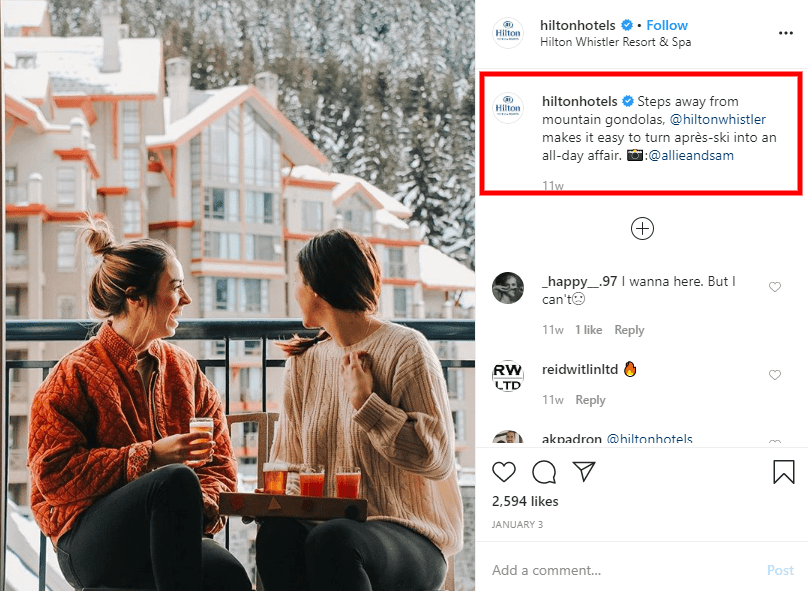 Influencer marketing is only successful when it's done right. To get you on track and answer any further questions you may have about it, view these detailed influencer marketing guides below:
24. Host an Instagram Takeover
An Instagram takeover can be done by anyone, the owner of the business, an influencer, an employee, or even a top-tier customer. An Instagram takeover is done when someone takes over your account and interrupts your regularly scheduled programming.
Make sure if you partner with an influencer that you give the influencer enough time to inform their followers in the days leading up to the takeover that they'll be on your account - this makes their followers aware of your account, increases your follower count, and gets you more likes.
Again, this helps generate credibility and traction for your brand within your influencer's fanbase.
25. Partner with Other Brands
Just like having a partnership with Instagram influencers, partnering with a brand that has a complementary product within your industry (not a competing one!) can help you reach a greater number of people in your target market.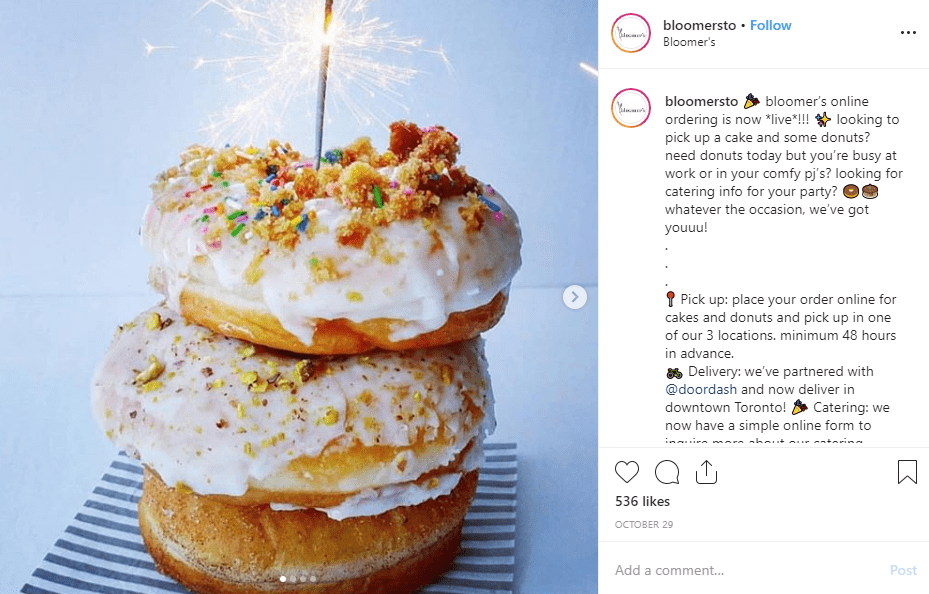 I'd go a step further and partner with the other brand to host a giveaway, featuring a prize package that has both of your products. This is super engaging and can help both of your brands share followers and get more likes on your photos - meaning more potential sales in the future.


26. Boost or Promote Your Posts
You can also "boost" your posts to get them more reach instead of going to your Facebook ads manager. This allows you to reach more people within a single post. Its powerful targeting options (it's the same as the Facebook Ads platform) allows you to select with pinpoint precision the people who will see your ads.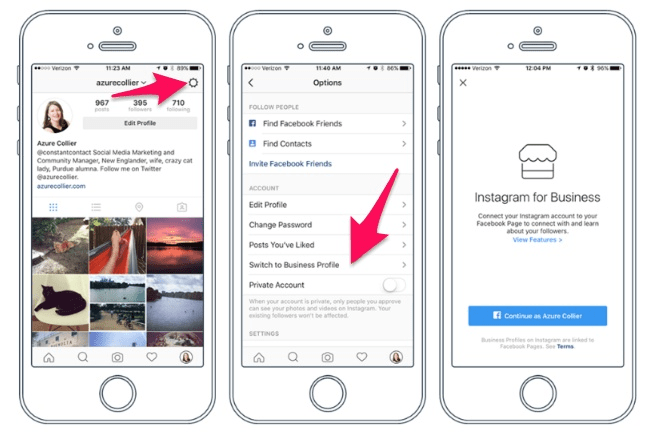 If your targeting is sound and your content is engaging, you can bet you'll gain more followers who are interested in your business, which means more likes. But boosting a post is not the same as creating an ad campaign, rather it's a mini version of it.


27. Post Videos & GIF's
Other media types are often more engaging than photos when you're looking at a crowded Instagram feed. The first of these media types is video or gifs. Hubspot found that 54% of consumers want to see more video content from a brand or business they support.
Posting a video featuring something like a "how-to" of one of your products, a sneak peek at an upcoming product, or some other engaging content idea can be a much more exciting media piece than a simple photo.
Make sure your video doesn't rely on its audio - many people browse their Instagram feeds in locations where listening to audio isn't feasible.
The only drawback is that if your video isn't interesting then you won't grab your audience's attention. Here are some video content ideas you can try whether you're B2B or a B2C brand:
28. Create a Fun Boomerang
Boomerang is sort of like a video, except it's 1 second long, you take it as a photo, and it plays back and forth (hence the name).
Posting a Boomerang is another great way to pull attention from your followers. Make sure it's something exciting - a Boomerang with quick and dramatic movement is the most engaging kind.
You can upload them to your story or feed, the key is to come up with engaging content that lasts for 1 second. You can download the app or use this feature in your Instagram story.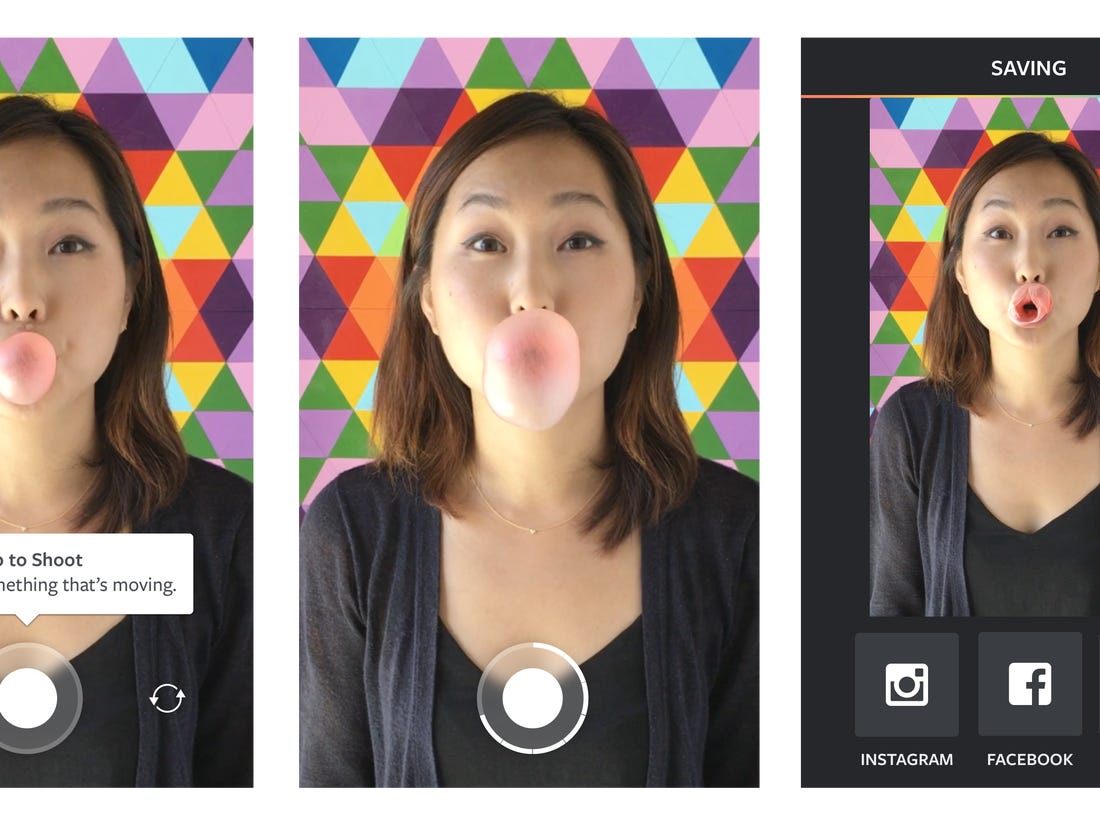 29. Shake Things Up with a Carousel
A Search Engine Journal by a study of over 22 million Instagram posts finds carousels are the most engaging type of post.
Carousel proves yet another awesome way to share media on the visual content platform. Use a carousel to showcase several different moments from an event, to create a story to share with your viewers, or to highlight a few selections from your product line.
If you do choose to use a carousel then use a combination of images and videos in the same carousel. This is known to generate the highest engagement rate per post (2.33%).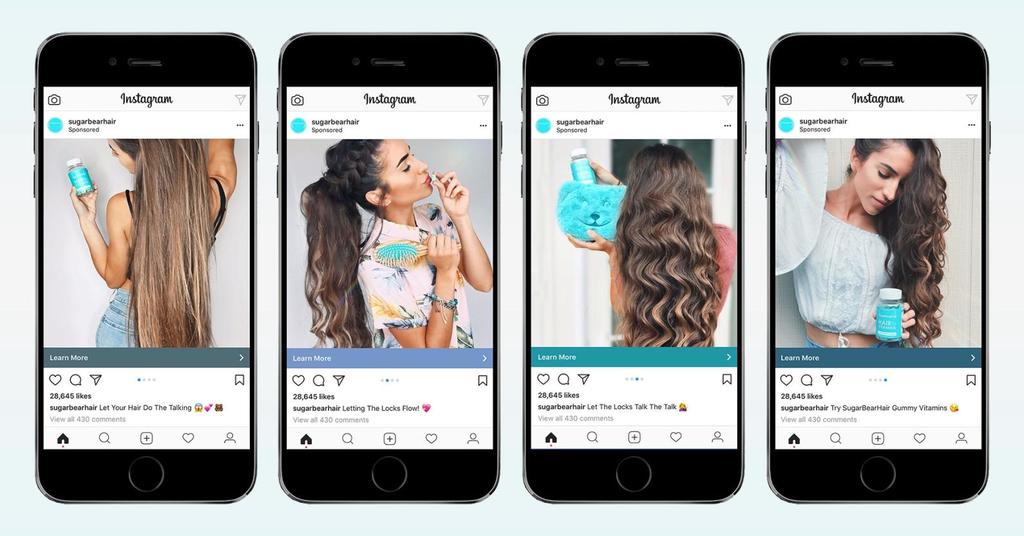 If you're new to Instagram carousel check out this guide on Instagram Carousels 101: Everything You Need to Know.


NEED HELP WITH YOUR NEXT SOCIAL MEDIA MARKETING CAMPAIGN?
Book a free call to learn how our team of marketing experts can help you create high converting social media ads and marketing today.
30. Tag Influential Accounts & Brands
Look for influential accounts within your industry, and tag these accounts in your new posts (in the photo itself, not in the caption). This is also known as a "shout-out". Not only does this inform these accounts of your new photos, but it also gets your photos to show up on their feeds in the "tagged in" section.
This is a handy way to reach other people within your target market, and could possibly get you featured on these influential accounts. But don't go off tagging people willy nilly. Ensure that your content and caption align with the person's mission, industry, and target audience.
This could be as simple as saying thank you, reposting their content, or sharing their content/products with your audience.


31. Post Pictures of Happy Customers
Posting photos of your customers and users is an awesome way to interact more intimately with the people who make your business as successful as it is.
Not only are these photos more genuine (photos with people tend to do better than those without), but they're also more engaging - meaning more likes and followers. This is a great way to use social proof in your Instagram marketing strategy.
Tagging the people featured in these posts in the photos increases the chances that they (and their followers) will see it - meaning more interactions.
32. Post Relatable & Motivational Quotes
Thinking of different content ideas to post on Instagram can be a tough task. Sked Social found that people love motivational quotes. Such content is short, witty, eye-catching, and can be very relatable to help everyone find much-needed inspiration and positivity.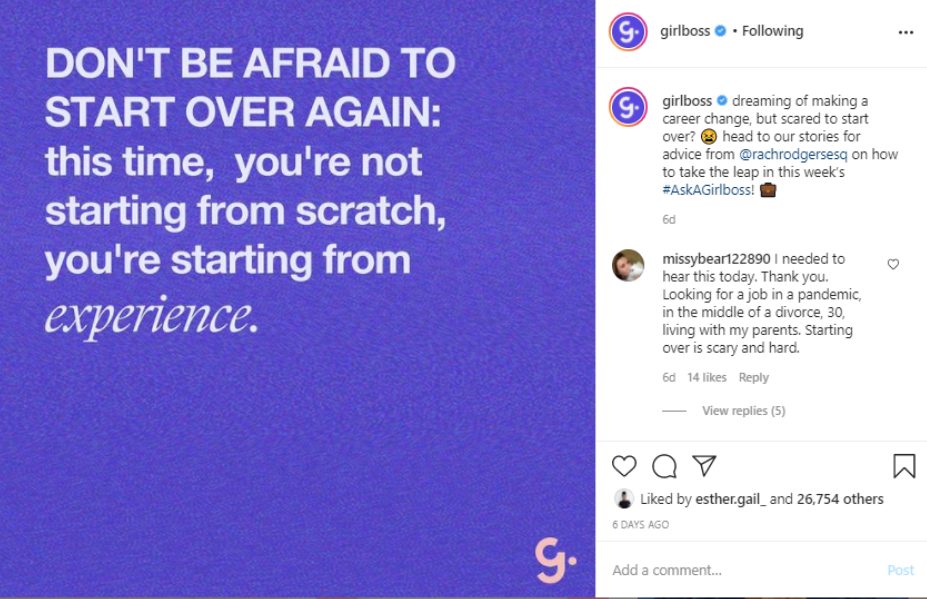 Quotes are attention-grabbing and easy to read.
Posting quotes that are relatable to your followers is a great way to get them engaged, meaning it's easy for you to get more likes on Instagram. You can instantly create a post with tools like Canva, or you can screengrab your tweets and repurpose them as quotes on Instagram like the example below: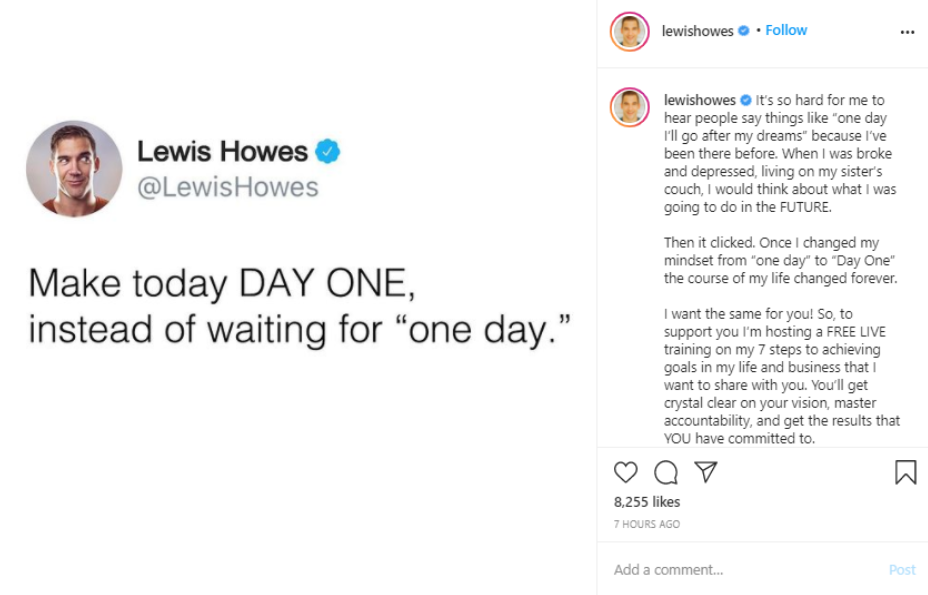 33. Post & Share User-Generated Content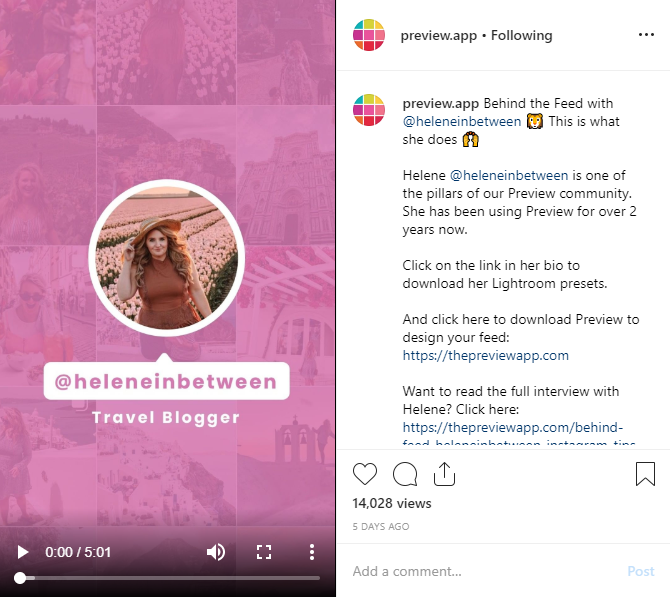 Around 86% of millennials believe that user-generated content (also known as UGC) is a good indicator of a brand or product's quality.
User-generated content (UGC) is content created by individuals outside of the business. It's authentic and created by people who love your brand.
User-generated content is one of the perks of maintaining an active social media presence. People who are fans of brands who are active on social media often post content related to these brands. Instead of simply liking these photos or even commenting, take an extra few minutes and repost their photos, giving them credit.
This is a genuine type of content and encourages other users to share their own content as well as getting more likes and helping you pad out your Instagram queue.
Here are some UGC guides you can dive into before you get started:
34. Engage & Comment on Popular Photos
Keep your account active and find new followers by engaging on popular posts or with popular accounts. This helps to show how active and approachable your brand is on Instagram.
Your explore page feed is a great way to find new content to engage with. If you follow industry-specific accounts, you'll find that your explore feed is full of relevant content. Find popular posts and comment on them - just a short, simple one will do!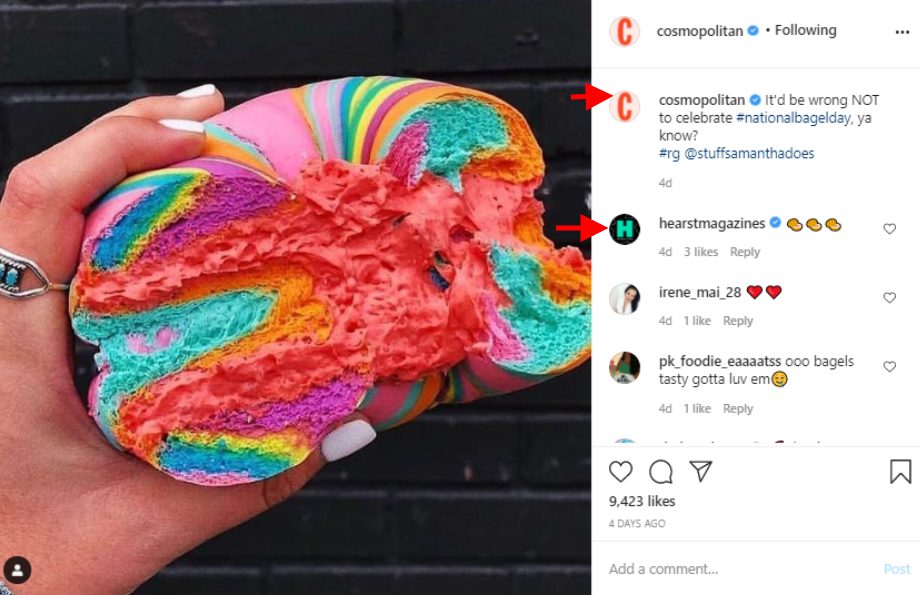 Other people who engage with that post (along with the original poster) will see your comment, and that may lead them to learn more about your brand by visiting your profile - meaning more reach, engagement, and likes.


35. Create a "Tag-A-Friend" Posts
Posting relatable content related to your industry, brand, and product is one of the most engaging ways to get more likes on Instagram. The subject matter can be anything - products other people might like, funny videos, or memes.
For example, you could post a photo of your latest product with a CTA in the caption saying something like "tag a friend who would like this!". This spreads awareness of your brand in a way that's a little more organic than most.
36. Follow Other Instagram Accounts
Following other Instagram accounts helps you get noticed, find and receive new followers. But don't just follow anyone, you'll be able to follow your employees, favorite influencers, brands, and thought leaders in your industry.
But don't just follow them, interact with these people (follow them, like their posts, and comment) and you'll find they often follow you back and engage in your photos. It's a good practice to follow a couple of new accounts a day - this also helps to bolster your own follower count, meaning your account looks more credible to future visitors.
37. Post Consistently
This might not seem like a big deal, but maintaining a consistent queue of content can go a long way towards helping you get more likes on Instagram.
It works like this: posting consistently means you're continuously engaging your current followers and gaining more followers, helping you sustain a certain level of engagement while you continue to grow.
Going long periods without posting content can cause your current followers to unfollow you, decreasing the engagement you receive on future posts. To minimize the risk of this, make sure you're posting at least every few days.


38. Post at The Best Times
Sharing a post when most of your followers are on Instagram increases the chance that they'll see it, thus increasing the chance they'll like it.
To beat the algorithm you'll have to also post at the best times. Sprout Social found that posting during the hours of 9:00 a.m. to 6:00 p.m. during weekdays can help you generate substantial engagement.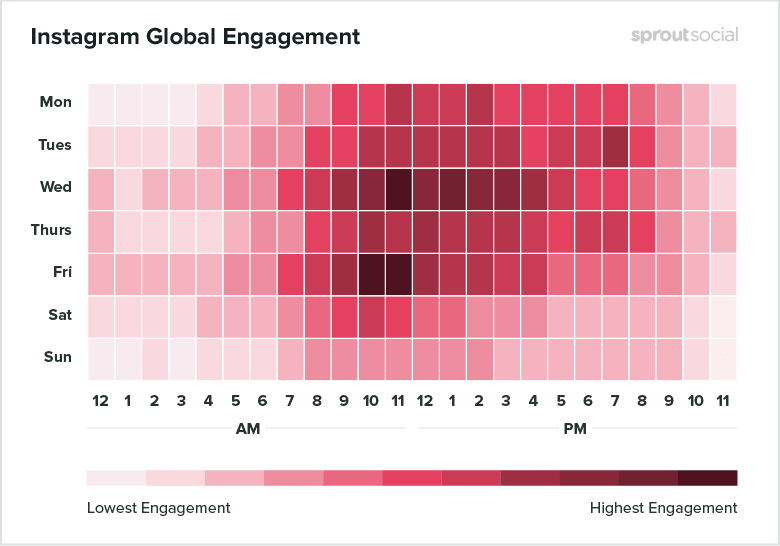 Growing your Instagram can be an uphill climb, but with the right tips and tools. For more tips check out The Best Time to Post on Instagram & Best Posting Practices to Follow.


39. Drive Engagement with Questions
A trend you'll notice in tons of high-engagement Instagram posts is that the caption is a question. A question in photo captions (related to the photo, of course) is more engaging and gets your photo viewers thinking.
People who have engaged with a post already by commenting are much more likely to like it as well - it's kind of a habitual thing that can help you get more likes on your Instagram photos.
You can also host a live Q&A session on Instagram stories where you can interact with customers in real-time and after resharing the experience in your feed or IGTV. Next to that, you can use Instagram story stickers.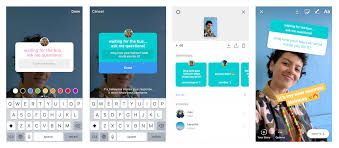 NEED HELP MARKETING YOUR ECOMMERCE STORE WITH SOCIAL MEDIA?
Book a free call to learn how our team of eCommerce experts can help you generate leads, boost traffic and drive MORE sales.

40. Capitalize on Trending Topics
There's always some trend that's sweeping the internet. Whether that's the latest meme, TikTok video, trending reel, or news item, each of these things presents an opportunity for your business to leverage it and generate more Instagram likes.
Post content related to these things as well as your brand to create a piece of content that's (usually) relatable, funny, and top-of-mind.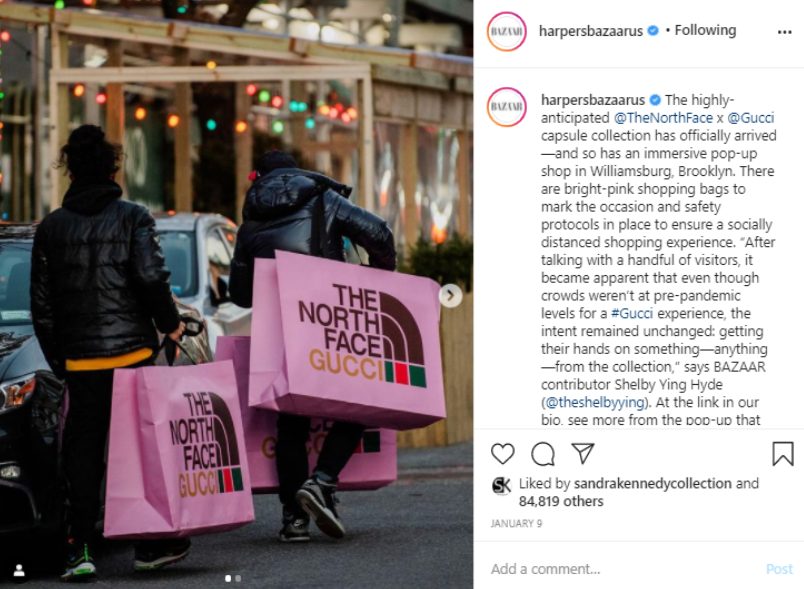 41. Share Discounts & Promotions
One of the best ways to turn your Instagram followers into sales is to post sales promotions on your page. A simple product shot with text that says something like "30% off this week!" is easy to read, and people will often save and like it to make sure they remember it.
You can go a step further and say something along the lines of, "show us you follow us in-store and get 30% off your next purchase". This increases your follower count, meaning you'll generate more likes from these people in the future.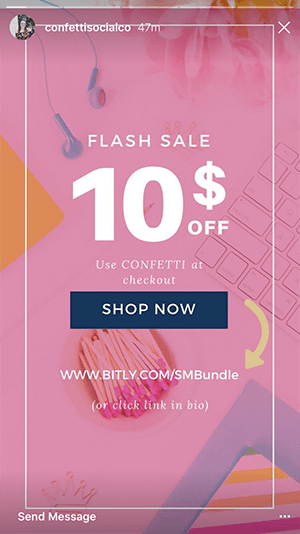 42. Use Instagram Live
Like Facebook, Instagram launched its Live platform recently to allow people to live stream (in a glorious vertical video). One engaging way to use Instagram Live is to host a Q&A where your fans and followers can ask questions about your business, brand, and products.
Post about your Q&A in the days leading up to it so people are aware of it - if you're not sure people will show up, hinting that there'll be a discount or prize given away during the stream can help boost your Live viewers.


43. Host an On-Going Series on Instagram
Hosting an on-going series is posting photos or videos that are done with a common or singular theme. This could be educational, entertainment, or both. It's done seasonally, over a short or long period of time.
The key is to build steady engagement and help to promote your brand or product. For example, Hootsuite hosts an on-going series called "Ask an Expert", where each Hootsuite employee answers questions commonly asked by their users or potential customers. The series is published on IGTV and shared in their story and feed.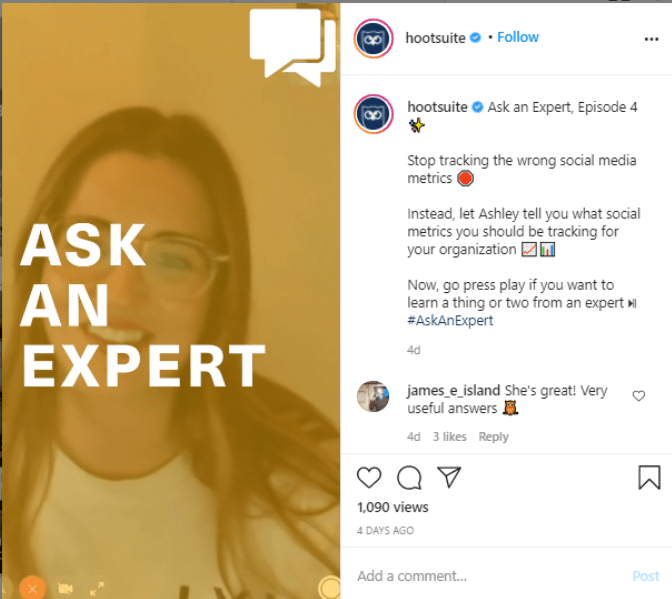 44. Get Your Content Reposted on Other Accounts
Depending on what your niche is you can ask or get noticed by another popular Instagram account to get your content reposted. This helps by exposing your content to this Instagram account's followers and driving likes to your page.
The key is to find an account that's not only popular but within your niche. For example, Food Porn finds images from amazing restaurants and tags the brand. The restaurant being tagged gets exposure and new followers. You may have to reach out to these accounts or keep posting amazing content until you get noticed.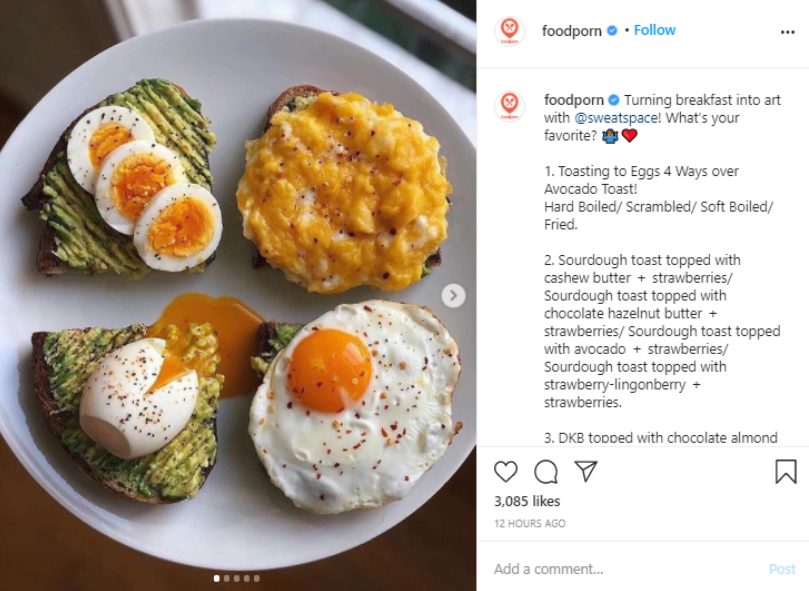 Wrapping Up
There are 44 ideas, strategies & tips to help you get more likes on Instagram. I'd like to end this article by asking you to remember that, at the end of the day, Instagram likes are a vanity metric. Remember that no matter how many likes you get, if you don't turn your followers into customers, that's all they are - just likes.
Leverage the engagement that you are getting by marketing to your followers effectively - Instagram doesn't mean much for your business if you're not working hard to monetize it.
Here's a recap of the top ways to get more likes on Instagram:
Take high-quality photos
Post Plenty of Reels
Social Commerce: Shop on Instagram Feature
Create Instagram Guides
Create IGTV Ads
Create Instagram Shopping Features
Utilize Instagram Highlights
Learn from Your Instagram Analytics
Pitch Your Brand in Your Bio
Use Instagram Close Friends for Exclusive Content
Don't Ignore Your Haters
Show off Your Instagram on Your Website
Add Your Instagram QR Code to Increase Followers
Pin Your Top Comments
Use a Consistent Aesthetic
Promote Your Instagram on Other Platforms
Use Local & Popular Hashtags
Celebrate Social Media Holidays
Add Your Location to Your Post
Share BTS (Behind-The Scene) Content
Run a "Like-to-Enter" Giveaway
Run "Follow to Enter" Giveaway
Partner with Instagram Influencers
Host an Instagram Takeover
Partner with Brands
Boost or Promote Your Posts
Post Videos & GIF's
Create a Fun Boomerang
Shake Things Up with a Carousel
Tag Influential Accounts & Brands
Post Pictures of Happy Customers
Post Relatable & Motivational Quotes
Post & Share User-Generated Content
Engage & Comment on Popular Photos
Create a "Tag-A-Friend" Posts
Follow Other Instagram Accounts
Post Consistently & At the Best Time
Post at The Best Times
Drive Engagement with Questions
Capitalize on Trending Topics
Share Discounts & Promotions
Go Instagram Live
Host an On-Going Series on Instagram
Get Your Content Reposted on Other Accounts
Good luck, 'grammers!


Related Reading